Shaming White People for Calling the Cops Is Just the First Step
Next, we have to reduce our reliance on police.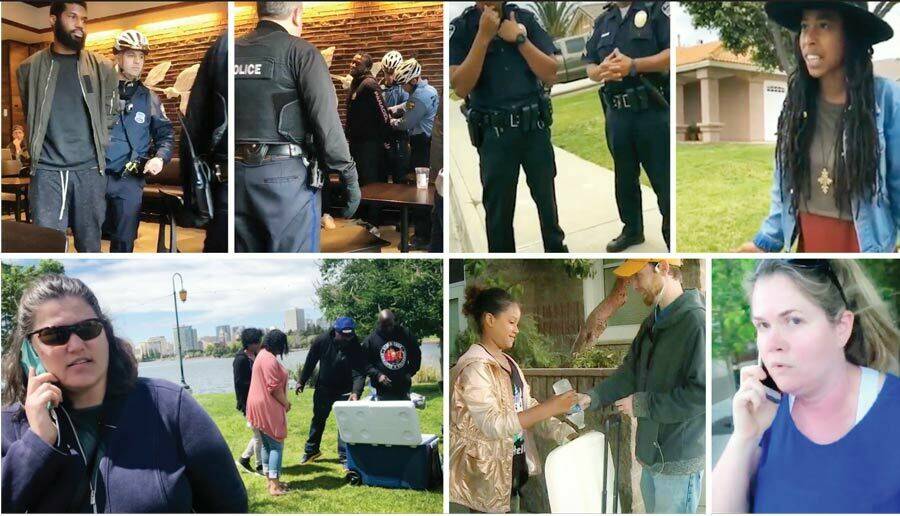 Black Twit­ter recent­ly (and hilar­i­ous­ly) high­light­ed a fre­quent source of 911 calls: annoyed white peo­ple. Con­cerned neigh­bors called police on a Black woman check­ing into her Airbnb because she did not smile or wave at them. A Star­bucks man­ag­er called police on two Black men wait­ing for a col­league (who were then arrest­ed and jailed). An envi­ron­men­tal sci­en­tist called police on Black peo­ple for bar­be­cu­ing in a park (and ​"BBQ Becky" mon­i­tored the pair for two hours until the police showed).
An abolitionist response goes further, pushing the public to face the root causes of harm and work toward a future that does not rely on police to solve problems.
These calls res­onate for two rea­sons: First, since the 1400s, white peo­ple have legal­ly and social­ly restrict­ed the move­ment of Blacks, Native peo­ple and poor­er whites. Slavers loathed run­aways and feared upris­ings. States passed laws requir­ing white peo­ple to mon­i­tor, track, cap­ture and beat peo­ple who escaped their cap­tors. As free and enslaved Black pop­u­la­tions increased, states and cities devel­oped police depart­ments to patrol and pun­ish them, with the help of white civil­ians. White peo­ple report­ed or detained Black peo­ple for vagrancy, minor per­mit issues or neglect­ing racial eti­quette (like step­ping off of a side­walk when pass­ing whites). Police then essen­tial­ly leased Black detainees back to whites for slave labor.
Sec­ond, law enforce­ment and white civil­ians still share legal and social pow­er to con­trol and kill Black peo­ple. In 2013, a jury acquit­ted George Zim­mer­man under Flori­da law after he stalked and killed Trayvon Mar­tin. ​"These ass­holes … always get away," Zim­mer­man told the 911 dis­patch­er. In states where the law requires some­one to flee a poten­tial­ly vio­lent encounter rather than ​"stand your ground," white peo­ple are 250 per­cent more like­ly to be deemed jus­ti­fied in the ​"self-defense" killing of a Black per­son than a white per­son. In ​"stand your ground" states, that num­ber jumps to 354 per­cent. Black peo­ple are almost nev­er found legal­ly jus­ti­fied in the self-defense killing of a white per­son. If Mar­tin, rather than Zim­mer­man, had sur­vived, he would like­ly be in prison.
Black peo­ple right­ly fear dual polic­ing by civil­ians and cops. On June 23, ​"Per­mit Pat­ty" hot­lined 8‑year-old Jor­dan Rodgers for sell­ing water with­out a per­mit. To quote Rodgers' moth­er: ​"To call [the police] on a child of col­or, know­ing that peo­ple have been killing black kids? That says, to me, you don't care about my child's life." Con­se­quent­ly, these inci­dents have gone viral to try to shame the callers. The goal is to lim­it 911 calls to ​"real emer­gen­cies" and avoid need­less­ly putting Black lives in danger.
While, yes, sham­ing these callers can reduce harm, it should only be the first step toward more rad­i­cal orga­niz­ing projects. An abo­li­tion­ist response goes fur­ther, push­ing the pub­lic to face the root caus­es of harm and work toward a future that does not rely on police to solve prob­lems. For exam­ple, Star­bucks con­duct­ed a sin­gle diver­si­ty ses­sion with employ­ees in response to a boy­cott after the man­ag­er called 911 on two Black men who asked to use a bath­room while wait­ing for a friend. Star­bucks has regained pub­lic favor but police pow­er has not changed. Instead, orga­niz­ers could have demand­ed the city decrim­i­nal­ize tres­pass­ing and increase pub­lic bath­rooms, and for Star­bucks to redis­trib­ute one week's prof­its annu­al­ly to co-op cof­fee shops. Mean­while, Has­ta Muerte Cof­fee, a work­er-of-col­or-owned cof­fee shop and com­mu­ni­ty space that does not serve uni­formed police offi­cers, received back­lash against their attempts to keep vul­ner­a­ble groups safe from police. The shop is also rad­i­cal­ly orga­niz­ing against gen­tri­fi­ca­tion and faces evic­tion. Has­ta Muerte is a mile from where Bay Area tran­sit police killed Oscar Grant.
Fram­ing the ques­tion sole­ly around ​"white peo­ple call­ing the police" also ignores the way much of polic­ing actu­al­ly occurs. In my South­east D.C. neigh­bor­hood, there are cops and cam­eras aplen­ty, regard­less of calls. Of any U.S. city, D.C. has the high­est police-to-pop­u­la­tion ratio, the fifth-largest tran­sit police depart­ment and the most police sur­veil­lance cam­eras. That's in addi­tion to 20 fed­er­al law enforce­ment agen­cies and six uni­ver­si­ty police depart­ments. With­out any­one call­ing in, cops still lurk. Focus­ing on when to call the police also nar­rows the con­ver­sa­tion about what vio­lence our soci­ety con­sid­ers wor­thy of state inter­ven­tion. Try call­ing the police about the rou­tine vio­lence that hap­pens in the halls of pow­er, like when Michi­gan agents decid­ed to fun­nel Flint's drink­ing water through cor­ro­sive lead pipes (caus­ing fetal deaths), and see what happens.
The last­ing effect of these ​"real emer­gency" nar­ra­tives is that police will con­tin­ue to use force against poor Black peo­ple. Hun­dreds of stud­ies have found that street vio­lence can be vir­tu­al­ly elim­i­nat­ed by pro­vid­ing peo­ple with qual­i­ty edu­ca­tion, eco­nom­ic oppor­tu­ni­ty, acces­si­ble hous­ing and guar­an­teed health­care. Instead of mak­ing these invest­ments, the state con­tin­ues to expand police pres­ence, hire more pros­e­cu­tors and build more pris­ons to cap­ture, cage and kill the most vul­ner­a­ble. The only way to stop police from poten­tial­ly killing Black peo­ple is to reduce their encoun­ters with police, reduce the ranks of police and work towards a soci­ety that does not need police at all.
Derec­ka Pur­nell
is a lawyer, writer and abo­li­tion­ist based in D.C. A proud St. Louis native, she cur­rent­ly works at Advance­ment Project's Nation­al Office.