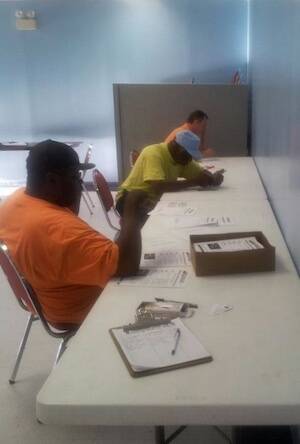 The port of Savan­nah, Geor­gia gen­er­ates some $14.9 bil­lion in income each year. The goods that flow through it are dis­trib­uted through­out the South — includ­ing to a mas­sive Wal-Mart dis­tri­b­u­tion cen­ter in the near­by city of States­boro. Savan­nah is now the coun­try's fourth largest con­tain­er port, and the fastest grow­ing. Traf­fic at the port went up 11 per­cent between 2008 and 2012 even as the rest of the coun­try suf­fered through recession.
The wealth gen­er­at­ed at the port, though, has­n't trick­led down. While Wal-Mart and oth­er retail­ers are doing just fine, the prod­ucts they sell are trans­port­ed by port truck dri­vers who still make low wages — a nation­wide aver­age of about $12 an hour. Since the indus­try was dereg­u­lat­ed in the late 1970s, port truck dri­vers have been clas­si­fied by their employ­ers as ​"inde­pen­dent con­trac­tors," mean­ing that they're paid by the load, not by the hour, and the boss­es don't shell out for tax­es or benefits.
​"We need ben­e­fits, we need retire­ment just like every­body in the office does," says port truck dri­ver John Jack­son, part of the Savan­nah Port Dri­vers Orga­niz­ing Com­mit­tee. ​"We're doing all the work and they're get­ting the gravy, in a sense. They're get­ting a salary, they don't have to pay out of their salary to try to keep equip­ment up."
The work­ers have to pay for and main­tain their own trucks, effec­tive­ly forc­ing them to pay to work. Because of that, and because the work­ers are most­ly black, a 2010 report [PDF] from the Nation­al Employ­ment Law Project and the labor fed­er­a­tion Change to Win calls the sit­u­a­tion of the truck­ers ​"share­crop­ping on wheels." Some of them are forced to lease trucks from the com­pa­nies they work for, mean­ing that they're lit­er­al­ly pay­ing their boss­es to be able to do their jobs. The report esti­mates that these costs can run up to 60 per­cent of the dri­vers' income.
​"By the time we've tak­en out for fuel, insur­ances, our cell phones that we have to have at the com­pa­nies that we're with, by the time we get all those deduc­tions, then it's time to pay bills, we're down to noth­ing," says port truck dri­ver Car­ol Cauley, anoth­er mem­ber of the orga­niz­ing com­mit­tee. ​"We kind of have to choose bills or family."
Lewis Grant, also a dri­ver and com­mit­tee mem­ber, adds, ​"With funds being low there's some tough deci­sions that I have to make on a week­ly basis. Do I buy new tires for my truck or do I put food in the refrig­er­a­tor? Do I send my kids to day care this week?"
Across indus­tries, clas­si­fy­ing work­ers as inde­pen­dent con­trac­tors is a com­mon way for employ­ers to evade the costs and respon­si­bil­i­ties of employ­ment. Wade Hen­der­son, pres­i­dent and CEO of the Lead­er­ship Con­fer­ence on Civ­il and Human Rights, in the fore­word to the report, writes, ​"Mil­lions of employ­ees are mis­clas­si­fied by their employ­ers as inde­pen­dent con­trac­tors, often as an excuse to cut costs and avoid pay­ing tax­es. Thus dis­guised, these employ­ees become work­ers who fall out­side the pro­tec­tion of most labor and employ­ment laws that our civ­il rights and labor law com­mu­ni­ties have fought so hard to secure."
The report looks at three dif­fer­ent legal frame­works for clas­si­fy­ing work­ers as employ­ees and con­cludes that the major­i­ty of port truck dri­vers are employ­ees, not inde­pen­dent entre­pre­neurs. It found that the com­pa­nies that employ the dri­vers exert sig­nif­i­cant con­trols over their behav­ior, includ­ing drug test­ing, set­ting sched­ules, and dis­patch­ing work­ers to do jobs. Dri­vers in the Savan­nah orga­niz­ing com­mit­tee tell sto­ries of hav­ing fees deduct­ed from their checks for tire replace­ment and being required to pay for com­pa­ny cell phones. They're restrict­ed to one com­pa­ny at a time, with­out the abil­i­ty to make extra mon­ey on the side.
Inde­pen­dent con­trac­tors also don't have the right to form a union, leav­ing the port truck­ers with­out an offi­cial voice. Mean­while, the com­pa­nies for which they work face con­tin­u­ing pres­sure from big-box retail­ers like Wal-Mart to low­er their costs — pres­sure which results, inevitably, in the work­ers being squeezed, with no real pow­er to resist.
The dri­vers in Savan­nah are com­ing togeth­er to chal­lenge their mis­clas­si­fi­ca­tion, but also to try to find a way to orga­nize now, whether or not they are clas­si­fied as employ­ees. The ques­tion is, ​"How can work­ers exclud­ed, not just orga­nize as a lob­by­ing force, but begin to engage in forms of col­lec­tive action?" asks Ben Speight, an orga­niz­er with Team­sters Local 728 in Geor­gia. The work done by Seat­tle-area taxi­cab dri­vers, for instance, who asso­ci­at­ed with Team­sters Local 117, is a pos­si­ble exam­ple for these port drivers.
The South presents unique chal­lenges to orga­niz­ing, cer­tain­ly — Geor­gia has long been a so-called ​"right-to-work" state, and unions have almost no foothold there. But the ports serve as an inte­gral part of the glob­al sup­ply chain and thus present an oppor­tu­ni­ty for the work­ers to exer­cise some pow­er. Fed­er­al mon­ey has been autho­rized for the dredg­ing of the Savan­nah Riv­er to deep­en the port (and to mit­i­gate envi­ron­men­tal con­se­quences from the dredg­ing), mean­ing that there will be a lot of focus on Savan­nah in the com­ing years.
On June 1, the Savan­nah dri­vers will hold a community/​driver forum with Lar­ry Ben­jamin of the U.S. Depart­ment of Labor's wage and hour divi­sion, as well as faith and com­mu­ni­ty lead­ers, and elect­ed offi­cials from the state leg­is­la­ture and Savan­nah City Coun­cil. The coali­tion host­ing the event calls itself ​"Stand Up for Savan­nah," and it's look­ing beyond just the issue of dri­ver mis­clas­si­fi­ca­tion to dis­cuss ways in which the new­found wealth at the port could ben­e­fit everyone.
Includ­ed in the dis­cus­sion, along with the wages and con­di­tions of the dri­vers, will be the ques­tion of the con­di­tion of the trucks. Because the dri­vers have to pay to main­tain their own vehi­cles, the ports are full of old, crum­bling diesel trucks, lit­er­al­ly held togeth­er in some cas­es with duct tape and bungee cords. ​"You're forced to dri­ve these con­tain­ers with these split tires down the high­way," says dri­ver Jim Myrick. ​"When a tire has a fail­ure, the dri­ver's respon­si­ble for the tire. You have to call road ser­vice, you may be on the side of the road for three to four hours wait­ing on the tire guy to come. The tire may cost more than you may even make off the run; in most cas­es it does."
Those trucks are a source of pol­lu­tion that leaves the sur­round­ing com­mu­ni­ty strug­gling with asth­ma, to say noth­ing of the effects on the dri­vers who breathe fumes all day. Dri­ver Jim­my Romero explains, ​"You idle a lot because it takes so long for you to get in and out of the port. You don't have AC, so [with the win­dows down] all the smoke is com­ing into your truck, and you're throw­ing that in the envi­ron­ment so every­one who lives near the port is get­ting all that smoke." Bring­ing com­mu­ni­ty mem­bers togeth­er with the truck­ers to dis­cuss the impact of the pol­lu­tion on them all will be part of the conversation.
​"This actu­al­ly is a cam­paign for orga­niz­ing indus­try-wide. These work­ers don't iden­ti­fy them­selves as being part of a con­trac­tor, they iden­ti­fy them­selves as a class, they see them­selves as an indus­try," Speight says. Like work­ers across the coun­try these days, suf­fer­ing from var­i­ous ver­sions of what my col­league Josh Eidel­son calls the ​"Who's the Boss" prob­lem, the port truck dri­vers can either wait for the ques­tion of who real­ly employs them to be answered, or they can reach out to com­mu­ni­ty allies and to one anoth­er and fig­ure out how to orga­nize out­side of tra­di­tion­al union frameworks.
The Savan­nah dri­vers, at least, are going for the latter.
Watch the truck­ers tell their stories:
Sarah Jaffe
is a for­mer staff writer at
In These Times
and author of
Nec­es­sary Trou­ble: Amer­i­cans in Revolt
, which Robin D.G. Kel­ley called ​
"
The most com­pelling social and polit­i­cal por­trait of our age." You can fol­low her on Twit­ter
@sarahljaffe
.