Shockingly, the Washington Post Investigated Itself for Anti-Bernie Sanders Bias and Found None
The paper had just run 16 negative stories about Sanders in 16 hours.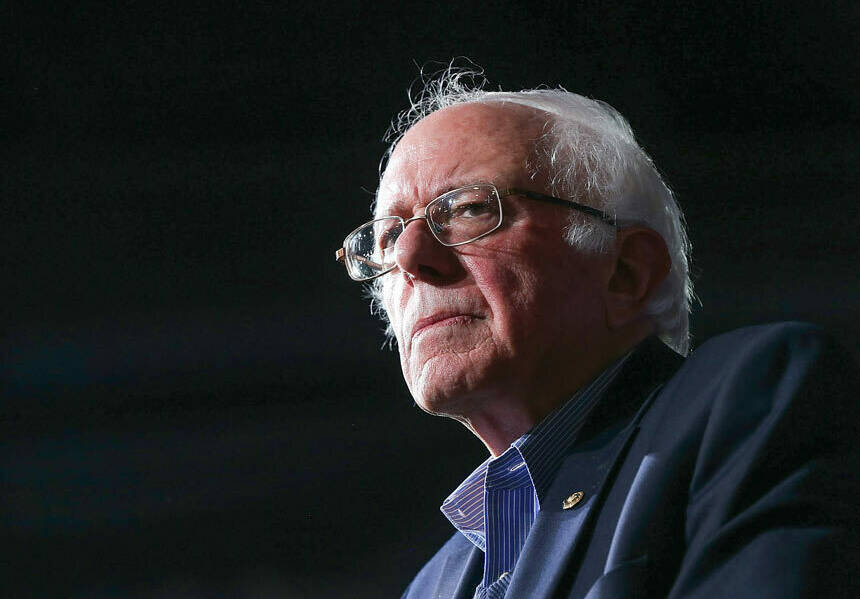 This post first appeared at FAIR​.org.
On Tues­day, FAIR pub­lished a straight­for­ward recap­ping of 16 hours of Wash­ing­ton Post sto­ries that dis­played a remark­able run of neg­a­tive arti­cles about Demo­c­ra­t­ic pres­i­den­tial can­di­date Bernie Sanders. The FAIR post and a cor­re­spond­ing tweet went viral: retweet­ed thou­sands of times, shared on Face­bookand Red­dit thou­sands more, and writ­ten up in TruthDig,The Young Turks, USUn­cut and the Dai­ly Caller.
Due to this surge of cov­er­age of our cov­er­age of its cov­er­age (yes, media crit­i­cism gets some­what meta), the Wash­ing­ton Post decid­ed to respond to our crit­i­cism, staffing out the unen­vi­able task to The Fix's Cal­lum Borchers, who gave us ​"Has the Wash­ing­ton Post Been Too Hard on Bernie Sanders This Week?"
Right off, the fram­ing is inac­cu­rate: The scope wasn't ​"this week," it was a 16-hour peri­od after the Flint, Michi­gan, debate — and fol­low­ing a week­end in which Sanders won three of four state con­tests with Hillary Clin­ton. The do-or-die stakes for Sanders in Michi­gan couldn't have been high­er, and how one of the most influ­en­tial news­pa­pers in the Unit­ed States cov­ered his debate per­for­mance and his pri­ma­ry show­ing was important.
After argu­ing that work­ing for the Wash­ing­ton Post would not impede his abil­i­ty to show why the paper was in the right, Borchers begins by cast­ing asper­sions on Sanders con­spir­a­to­r­i­al partisans:
The notion of an anti-Sanders agen­da clear­ly res­onat­ed — no sur­prise, giv­en that the Ver­mont sen­a­tor has com­plained about media cov­er­age, gen­er­al­ly, and the Post, specif­i­cal­ly.
It doesn't ​"res­onate," is the impli­ca­tion, because it's actu­al­ly true; it must be that Dear Leader has poi­soned minds with thoughts of media conspiracy.
Borchers' main effort is to nar­row the def­i­n­i­tion of a ​"neg­a­tive" story.
First, the def­i­n­i­tion of ​"neg­a­tive" — in this case and in a lot of media grip­ing — is over­ly broad. For exam­ple, the ​"neg­a­tive" cat­e­go­ry, accord­ing to FAIR, includ­ed a sto­ry by The Fix's Philip Bump with the fol­low­ing head­line: ​"Bernie Sanders Pledges the US Won't Be No. 1 in Incar­cer­a­tion. He'll Need to Release Lots of Criminals."

Bump point­ed out that to keep a cam­paign promise — ​"At the end of my first term, we will not have more peo­ple in jail than any oth­er coun­try" — Sanders would need to set free rough­ly a quar­ter of the Unit­ed States prison pop­u­la­tion, or about 567,000 criminals.

Is that neg­a­tive? I mean, it's math.
At a moment when even the Koch broth­ers are com­ing out against over­in­car­cer­a­tion, a sto­ry that thumb­nails it as ​"releas­ing lots of crim­i­nals" can indeed be con­sid­ered a neg­a­tive fram­ing, if not more impor­tant­ly one that short­changes read­ers' intel­li­gence and understanding.
Still, note that ​"neg­a­tive" is not intend­ed as the oppo­site of ​"fac­tu­al." When the George Bush Sr. cam­paign focused on Michael Dukakis' prison fur­lough pro­gram — the so-called ​"Willie Hor­ton" issue — its attacks were nom­i­nal­ly fact-based. Yet many peo­ple saw them as an unfair exploita­tion of racial fears, and it was rel­e­vant to address them on those terms.
Big­ger pic­ture: The rea­son the graph­ic and FAIR's blog post went so viral is because peo­ple can intu­itive­ly look at a litany of sto­ries over such a short peri­od and see bias. Nature made us pat­tern-seek­ing mam­mals for a rea­son, and the Wash­ing­ton Post​'s post-debate cov­er­age dis­plays an obvi­ous pattern.
And Borchers doesn't so much deny that pat­tern as attempt to jus­ti­fy it:
It is impor­tant, of course, that a newspaper's opin­ion and analy­sis pieces reflect a range of per­spec­tives. Over­all, I can con­fi­dent­ly say the Post's do. But if you're going to take a one-day sam­ple — on a day when Sanders was com­ing off a debate per­for­mance that was wide­ly panned — you're going to find a lot of opin­ion and analy­sis that reflects that consensus.
His evi­dence, though, is unper­sua­sive; for evi­dence that Sanders' debat­ing was ​"wide­ly panned," he links only to a piece by Salon's Aman­da Mar­cotte — author of such arti­cles as ​"Why I'm Sup­port­ing Clin­ton Over Sanders" and ​"Let's Storm the Sanders' He-Man Women-Haters Club."
It's true that many cor­po­rate media pun­dits thought Sanders did poor­ly in the Flint debate, and that opin­ion was the con­tent of many of the neg­a­tive sto­ries that FAIR high­light­ed. But that only spurs ques­tions about the edi­to­r­i­al choice to focus over­whelm­ing­ly on debate eti­quette in a time peri­od in which Sanders' actu­al elec­toral per­for­mance includ­ed a vic­to­ry in the Maine cau­cus­es (announced dur­ing the Flint debate) and top pollings in two out of three states. The for­mer reflects pun­dits' opin­ions, while the lat­ter reflects actu­al vot­ers' choices.
For a piece osten­si­bly intend­ed to prove the Post unbi­ased, Borchers' con­clu­sion is prob­lem­at­ic, in that it sug­gests that they are biased, but con­sid­er it compensatory:
Final­ly, even if we accept the idea that Post report­ing, analy­sis and com­men­tary com­bined to put Sanders through the wringer, I fail to see the inher­ent trou­ble. As I've writ­ten before, Sanders skat­ed through the ear­ly por­tion of the pri­ma­ry sea­son on sto­ries about his ​"yuge" crowds and bet­ter-than-expect­ed poll num­bers. It was one of the perks of being an underdog.
Read­ers and vot­ers don't ask for media to use their cov­er­age to offer ​"perks" or come­up­pances to can­di­dates as they see fit, but to ren­der accu­rate cov­er­age that reflects what vot­ers are con­cerned about.
In this case, a dry-eyed read­ing sug­gests that the range of per­spec­tives reflect­ed by the Post's pun­dit ros­ter sim­ply does not include many peo­ple who iden­ti­fy with the chal­lenge to the polit­i­cal estab­lish­ment Sanders' can­di­da­cy reflects — and con­sid­er­ably more peo­ple who feel an affin­i­ty with the net­work of polit­i­cal, eco­nom­ic and media elites who have thrown their sup­port behind Clin­ton. That this should be reflect­ed in their edi­to­r­i­al deci­sion-mak­ing is not par­tic­u­lar­ly sur­pris­ing, just wor­thy of consideration.
Adam H. John­son is a media ana­lyst for Fair­ness and Accu­ra­cy in Report­ing and co-host of the Cita­tions Need­ed podcast.