Should Democratic Socialists Be Democrats?
Democratic Socialists of America members debate how—and to what extent—socialists should engage with electoral politics.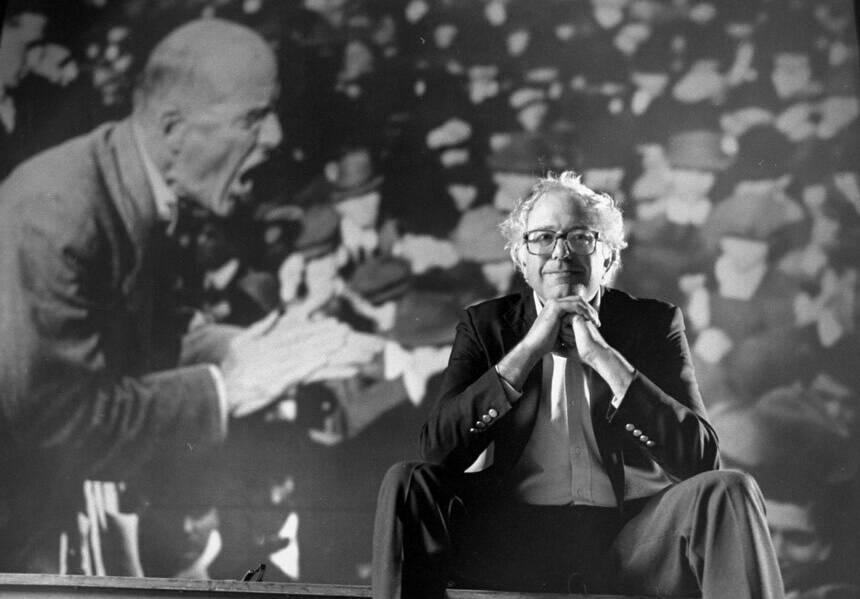 Bernie Sanders' his­toric cam­paign for the Demo­c­ra­t­ic nom­i­na­tion, accom­pa­nied by his unabashed embrace of the S‑word, has pro­pelled the con­cept of demo­c­ra­t­ic social­ism into the mainstream.
We on the Left have no choice but to build something new—as difficult as that will be.
As a result, the Demo­c­ra­t­ic Social­ists of Amer­i­ca (DSA), the only thriv­ing descen­dant of the Social­ist Par­ty of Eugene V. Debs, is being reju­ve­nat­ed. Since 2015, DSA mem­ber­ship has increased by more than 200 per­cent and now stands at more than 20,000. The num­ber of chap­ters has increased from 43 to more than 120 in 42 states. In the remain­ing eight states, local DSA groups are work­ing toward chap­ter sta­tus. The biggest change, how­ev­er, has been demo­graph­ic. In 2015, only a third of DSA's mem­bers were in their twen­ties or thir­ties. Today, thanks to the influx of young Bernie sup­port­ers, peo­ple under 40 are the vast majority.
DSA will hold its bien­ni­al con­ven­tion in Chica­go on August 3 – 6. At the top of the agen­da: What is a demo­c­ra­t­ic social­ist strat­e­gy in the Trump era? And what does that look like in the elec­toral arena?
After the fail­ure of Rep. Kei­th Ellison's (D‑Minn.) bid to chair the Demo­c­ra­t­ic Nation­al Com­mit­tee (DNC), some DSA mem­bers have become dis­en­chant­ed with the Demo­c­ra­t­ic Par­ty, and the orga­ni­za­tion is divid­ed on how — even whether — to work with the Democrats.
In These Times asked Jessie Man­nis­to, a 34-year-old librar­i­an and DSA mem­ber in D.C. who was active in Sanders' cam­paign, and Chris Maisano, a 34-year-old union staffer and Brook­lyn mem­ber of DSA's Left Cau­cus, a group that doubts the wis­dom of align­ing with the Democ­rats, to weigh in.
CHRIS: The biggest prob­lem with this debate is that the antag­o­nists typ­i­cal­ly skip over the most inter­est­ing (and most impor­tant) ques­tions in a rush to recite for­mu­las or invoke the arcana of Amer­i­can elec­toral struc­tures. More often than not, they don't even both­er to ask why (or whether) social­ists should par­tic­i­pate in elec­toral pol­i­tics in the first place. So why par­tic­i­pate, espe­cial­ly when the bar­ri­ers we face are so high? How does elec­toral activ­i­ty fit into our larg­er project? How does it help us achieve our ulti­mate goal? What are the dan­gers and lim­i­ta­tions of elec­toral par­tic­i­pa­tion (whether in the Demo­c­ra­t­ic Par­ty or out­side of it), and how do they affect our movement?
The Left focus­es on two main rea­sons for elec­toral par­tic­i­pa­tion. The first is ame­lio­ra­tion. Here, the pri­ma­ry moti­va­tion is to gain a foothold in gov­ern­ment, push reforms and block rightwing ini­tia­tives. Suc­cess is mea­sured large­ly by win­ning elec­tions and keep­ing con­ser­v­a­tives out of office. It is ori­ent­ed toward the short term, and its log­ic leads direct­ly into the Demo­c­ra­t­ic Party.
The sec­ond is oppo­si­tion. In this case, the pri­ma­ry moti­va­tion is to spread polit­i­cal ideas, agi­tate the peo­ple and mea­sure the polit­i­cal strength of the con­tend­ing social forces. Suc­cess is mea­sured large­ly by whether con­stituen­cy for social­ism is grow­ing out­side the elec­toral sys­tem, rather than by win­ning elec­tions. It is ori­ent­ed toward a longer term, and its log­ic leads pri­mar­i­ly (though not exclu­sive­ly) into polit­i­cal activ­i­ty inde­pen­dent from the Demo­c­ra­t­ic Party.
It should be said that the rel­a­tive weight of these two ori­en­ta­tions is not equiv­a­lent. Ame­lio­ra­tion is the dom­i­nant approach to elec­toral pol­i­tics on the broad Left (and with­in DSA), and has been since the New Deal and the Pop­u­lar Front. Nei­ther of these ori­en­ta­tions are par­tic­u­lar­ly sat­is­fac­to­ry. Reformism doesn't reform, and it has not suc­ceed­ed in fight­ing the Right, either. At the same time, an oppo­si­tion­al approach to elec­toral pol­i­tics seems like a recipe for marginalization.
Many will point to Bernie Sanders as evi­dence for a third option — what we might call the ​"dung heap" strat­e­gy, after the Irish rev­o­lu­tion­ary James Con­nol­ly. The Demo­c­ra­t­ic Par­ty may be a pile of crap, but per­haps one can climb on top of it to address the mass­es, as Bernie did dur­ing the Demo­c­ra­t­ic pri­maries. The trick, as Con­nol­ly rec­og­nized, is not to get cov­ered in dung.
But falling into the dung is inevitable, and we on the Left have no choice but to build some­thing new — as dif­fi­cult as that will be. I don't think that will begin to hap­pen until these lat­est attempts to climb the dung heap (e.g., the cam­paign to elect Kei­th Elli­son chair of the DNC) end up in a mess.
JESSIE: What makes this debate inter­est­ing is the enthu­si­asm around demo­c­ra­t­ic social­ism today. The Sanders cam­paign has cre­at­ed a fac­tion with­in the Demo­c­ra­t­ic Par­ty that is ready to fight for and embrace not only our ideals, but also the label ​"demo­c­ra­t­ic socialist."
The best rea­son to par­tic­i­pate in elec­toral pol­i­tics is that we've got a rare oppor­tu­ni­ty to climb that dung heap and use it to fer­til­ize some seeds. By that I mean, of course, the local, state and nation­al lead­ers who will begin the long, chal­leng­ing work of devel­op­ing poli­cies to sup­port our goals.
More­over, as demo­c­ra­t­ic social­ists, we're pre­sum­ably sup­port­ers of democ­ra­cy — so we'd bet­ter be ready to fight for the integri­ty of elec­tions. By going head to head against cor­po­rate Democ­rats, we can con­front their lack of mean­ing­ful plans to help ordi­nary Amer­i­cans and at the same time shine a light on the cor­rupt and unde­mo­c­ra­t­ic nature of the Demo­c­ra­t­ic Par­ty. That's a nar­ra­tive that res­onates, and we can use it to our advan­tage as we fight for jus­tice and free­dom under the two-par­ty system.
The pri­maries also give us a chance to reach those who agree with our cri­tiques and our pro­pos­als but who aren't inclined to see them­selves as ​"rad­i­cals" or ​"activists" — those who only tune in when it's time to vote. Our mes­sage has to res­onate out­side our base if we ever want to build mean­ing­ful social­ist insti­tu­tions. Mak­ing that case despite the system's flaws demon­strates that we're com­mit­ted, and that we're not going away just because the estab­lish­ment bribes the refs and tries to move the goal posts.
It's excit­ing and encour­ag­ing to hear the demo­c­ra­t­ic social­ist mes­sage in the elec­toral are­na. Look at South Ful­ton, Ga., where DSA's khalid kamau (spelled in the Yoru­ba African tra­di­tion) just won his first-round city coun­cil elec­tion, thanks in part to the DSA mem­bers who worked
to ampli­fy his mes­sage and turn out the vote for him. The fact that we're excit­ed about a first-round vic­to­ry in a city coun­cil elec­tion could be said to show how far we have to go, but we have to start where we are. We didn't sign up as social­ists because we thought it would be easy, and we know that pow­er con­cedes noth­ing with­out a fight. But why claim that we're doomed to fail already?
Even as I call for step­ping up the elec­toral fight against the Demo­c­ra­t­ic Par­ty estab­lish­ment, how­ev­er, I'd love to hear a good Plan B. If we were to build some­thing new, what would it look like? Must we wait until our hopes blow up in such a fiery fash­ion that a mean­ing­ful­ly mas­sive con­tin­gent opts for #DemEx­it? Is that even desir­able? Or does this Plan B exist whol­ly out­side elec­toral pol­i­tics? If there is some­thing new to be built, is it pos­si­ble to start now while chan­nel­ing the post-Bernie elec­toral energy?
CHRIS: The suc­cess of Bernie Sanders should be a source of hope for social­ists in the Unit­ed States today, but it is also impor­tant to keep that in per­spec­tive. It's a stretch to argue that, in the wake of his pres­i­den­tial run, there is now a demo­c­ra­t­ic social­ist fac­tion of any sig­nif­i­cance inside the Demo­c­ra­t­ic Par­ty. Nan­cy Pelosi's infa­mous town hall dec­la­ra­tion, ​"We're cap­i­tal­ist, and that's just the way it is," is more rep­re­sen­ta­tive of the par­ty and the views of its lead­ers than Bernie's salvoes against the bil­lion­aire class.
The dif­fer­ence between us, as far 
as I can tell, is our respec­tive views on the place of elec­toral pol­i­tics in the broad­er social­ist project. You argue that elec­tions and par­ty pol­i­tics are the best are­nas for us to spread our ideas, chal­lenge the Demo­c­ra­t­ic Par­ty estab­lish­ment and devel­op a new gen­er­a­tion of social­ist lead­ers. I don't agree that par­tic­i­pa­tion in the elec­toral process — whether as Democ­rats or inde­pen­dents — is the most effec­tive way for us to attain the goals we both share.
We should not reject elec­toral pol­i­tics entire­ly. The con­di­tions of bour­geois democ­ra­cy we live under require that we win some degree of elec­toral sup­port for our project. But it is very dif­fi­cult to use elec­toral cam­paigns as a vehi­cle for orga­niz­ing mass move­ments. To be suc­cess­ful, strikes and oth­er forms of social strug­gle require direct chal­lenges to the pow­er of an employ­er or the state, and under these con­di­tions social­ists can often play a lead­ing role.
Elec­tion cam­paigns, by con­trast, oper­ate accord­ing to a dif­fer­ent log­ic — unless you're will­ing to lose con­sis­tent­ly. Since elec­tions are all about win­ning a major­i­ty of the vote and get­ting sup­port­ers out to the polls, all oth­er con­cerns are secondary.
While most peo­ple only tune in to offi­cial pol­i­tics at elec­tion time (if they even tune in at all), they have no choice but to go to work, deal with their land­lords and raise their fam­i­lies every day of their lives. These are the are­nas where peo­ple direct­ly expe­ri­ence exploita­tion and oppres­sion, and they are where social­ists can work to orga­nize move­ments with the pow­er to win con­ces­sions and change people's consciousness.
The elec­tion of indi­vid­ual social­ists to offices scat­tered around the coun­try is not a bad thing. But in the absence of a larg­er extra-elec­toral move­ment capa­ble of bring­ing irre­sistible pres­sure to bear on the gov­ern­ment, it's more like­ly that the sys­tem will change them more than they will change the system.
Elec­toral pol­i­tics can play a con­struc­tive role in our project only if we are will­ing to take the long view and embed our­selves in work­places and com­mu­ni­ties to re-orga­nize the work­ing class. The state and the two main­stream par­ties are not neu­tral insti­tu­tions. We can't sim­ply enter them and hope to wield them for our own pur­pos­es, espe­cial­ly when the Left and social move­ments are so weak. With­out an inde­pen­dent source of social pow­er, our abil­i­ty to make gains through the elec­toral are­na will be severe­ly limited.
JESSIE: Let's frame the ques­tion care­ful­ly: Should we work with­in the Demo­c­ra­t­ic Par­ty? I'd say yes. Is it enough to work with­in the Demo­c­ra­t­ic Par­ty? Def­i­nite­ly not. I'm ener­gized by the pos­si­bil­i­ties of this polit­i­cal moment, but I still see elec­toral work as one com­po­nent of broad­er move­ment build­ing. It seems our main dif­fer­ence is our degree of optimism.
That points to the ever-present under­ly­ing ques­tion: How can we best allo­cate our lim­it­ed resources? When we spend time on elec­toral cam­paigns, we've got to think strate­gi­cal­ly and cre­ative­ly about how this work can help build our move­ment. Is it through the ideas the can­di­date is spread­ing? The allies we're mak­ing? Or the races we win?
One hur­dle stands in the way of such strate­gic think­ing: Many demo­c­ra­t­ic social­ist activists don't know what a mean­ing­ful extra-elec­toral effort looks like. Bernie's cam­paign gave us a con­crete, vivid exam­ple of how our mes­sage could res­onate and spread. It's impor­tant for our expe­ri­enced orga­niz­ers to edu­cate our new mem­bers about oth­er means of move­ment build­ing, includ­ing con­crete details of suc­cess­ful cam­paigns that pro­vide a vision to emu­late. That, in turn, would get new recruits and long-time mem­bers alike think­ing about how our elec­toral work can build upon these efforts and cre­ate some­thing that lasts after the cam­paign ends. Indeed, I joined DSA because I thought elec­tions weren't near­ly enough, and though I had an abstract sense that there was more that could be done, I had no idea what that was or how to go about doing it.
Elec­toral work isn't nec­es­sar­i­ly the best way to spread our mes­sage, but it's a way that's proven pow­er­ful of late. I've felt frus­trat­ed to the point of con­tem­plat­ing can­cel­ing my Demo­c­ra­t­ic Par­ty reg­is­tra­tion for the sec­ond time (I signed back up to vote for Bernie), but then I remind­ed myself how much eas­i­er my giv­ing up would make it for all those cor­po­rate super-del­e­gates. They'd love it if we sat at home and let them run their pri­maries with no alter­na­tive vision to stir things up (even as they'd sure­ly blame us for any loss­es if we did the same in Novem­ber). But Nan­cy Pelosi's defi­ant dec­la­ra­tion that the Demo­c­ra­t­ic Par­ty is cap­i­tal­ist — indeed, that she even had to say this! — shows that this posi­tion is now some­thing that requires their defense.
Let's keep this pres­sure up — in every place that those who are sym­pa­thet­ic to our ideas will see it. Let's shine a spot­light on what it means to be a cap­i­tal­ist apol­o­gist in an age of ris­ing inequal­i­ty and eco­nom­ic pre­car­i­ty. Pre­sum­ably, we all joined DSA because we believe it's pos­si­ble for avowed­ly social­ist ideas to res­onate with the Amer­i­can peo­ple. For that rea­son, I hope we don't exit the Demo­c­ra­t­ic Par­ty; I hope we infil­trate it.
Chris Maisano is a writer and activist based in Brook­lyn, N.Y. He has writ­ten for Demo­c­ra­t­ic Left and and is the edi­tor of The Activist.Jessie Man­nis­to is a librar­i­an and a Demo­c­ra­t­ic Social­ists of Amer­i­ca mem­ber who was active in Sen. Bernie Sanders' pres­i­den­tial campaign.