Should We Fight the System or Be the Change?
The strengths and weaknesses of prefigurative politics.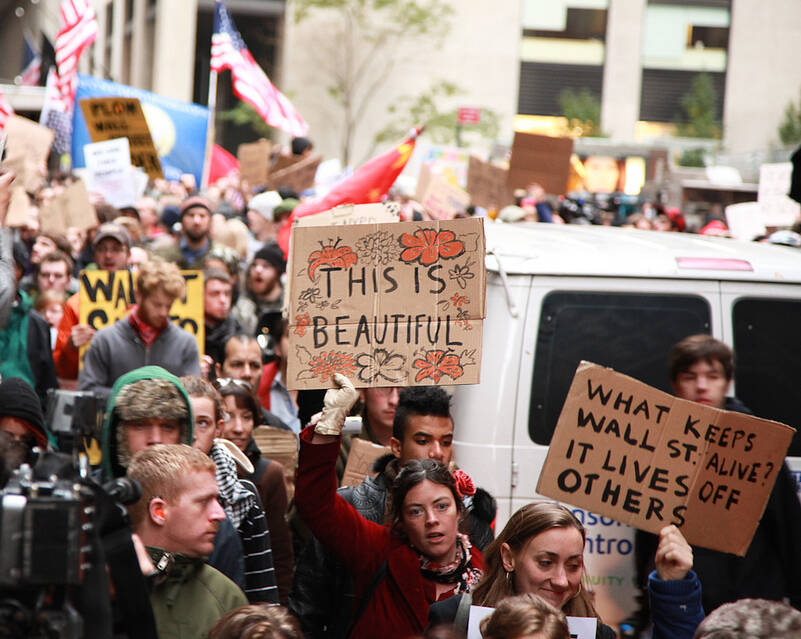 This arti­cle orig­i­nal­ly appeared at Wag­ing Non­vi­o­lence.
Instead of waiting for revolution in the future, the New Left sought to experience it in the present through the movements it created.
It is an old ques­tion in social move­ments: Should we fight the sys­tem or ​"be the change we wish to see"? Should we push for trans­for­ma­tion with­in exist­ing insti­tu­tions, or should we mod­el in our own lives a dif­fer­ent set of polit­i­cal rela­tion­ships that might some­day form the basis of a new society?
Over the past 50 years — and arguably going back much fur­ther — social move­ments in the U.S. have incor­po­rat­ed ele­ments of each approach, some­times in har­mo­nious ways and oth­er times with sig­nif­i­cant ten­sion between dif­fer­ent groups of activists.
In the recent past, a clash between ​"strate­gic" and ​"pre­fig­u­ra­tive" pol­i­tics could be seen in the Occu­py move­ment. While some par­tic­i­pants pushed for con­crete polit­i­cal reforms — greater reg­u­la­tion of Wall Street, bans on cor­po­rate mon­ey in pol­i­tics, a tax on mil­lion­aires, or elim­i­na­tion of debt for stu­dents and under­wa­ter home­own­ers — oth­er occu­piers focused on the encamp­ments them­selves. They saw the lib­er­at­ed spaces in Zuc­cot­ti Park and beyond — with their open gen­er­al assem­blies and com­mu­ni­ties of mutu­al sup­port — as the movement's most impor­tant con­tri­bu­tion to social change. These spaces, they believed, had the pow­er to fore­shad­ow, or ​"pre­fig­ure," a more rad­i­cal and par­tic­i­pa­to­ry democracy.
Once an obscure term, pre­fig­u­ra­tive pol­i­tics is increas­ing­ly gain­ing cur­ren­cy, with many con­tem­po­rary anar­chists embrac­ing as a core tenet the idea that, as a slo­gan from the Indus­tri­al Work­ers of the World put it, we must ​"build the new world in the shell of the old." Because of this, it is use­ful to under­stand its his­to­ry and dynam­ics. While pre­fig­u­ra­tive pol­i­tics has much to offer social move­ments, it also con­tains pit­falls. If the project of build­ing alter­na­tive com­mu­ni­ty total­ly eclipses attempts to com­mu­ni­cate with the wider pub­lic and win broad sup­port, it risks becom­ing a very lim­it­ing type of self-isolation.
For those who wish to both live their val­ues and impact the world as it now exists, the ques­tion is: How can we use the desire to ​"be the change" in the ser­vice of strate­gic action?
Nam­ing the conflict
Coined by polit­i­cal the­o­rist Carl Bog­gs and pop­u­lar­ized by soci­ol­o­gist Wini Breines, the term ​"pre­fig­u­ra­tive pol­i­tics" emerged out of analy­sis of New Left move­ments in the Unit­ed States. Reject­ing both the Lenin­ist cadre orga­ni­za­tion of the Old Left and con­ven­tion­al polit­i­cal par­ties, mem­bers of the New Left attempt­ed to cre­ate activist com­mu­ni­ties that embod­ied the con­cept of par­tic­i­pa­to­ry democ­ra­cy, an idea famous­ly cham­pi­oned in the 1962 Port Huron State­ment of the Stu­dents for a Demo­c­ra­t­ic Soci­ety, or SDS. In a 1980 essay, Breines argues that the cen­tral imper­a­tive of pre­fig­u­ra­tive pol­i­tics was to ​"cre­ate and sus­tain with­in the live prac­tice of the move­ment, rela­tion­ships and polit­i­cal forms that ​'pre­fig­ured' and embod­ied the desired soci­ety." Instead of wait­ing for rev­o­lu­tion in the future, the New Left sought to expe­ri­ence it in the present through the move­ments it created.
Cur­rent dis­cus­sion of pre­fig­u­ra­tive pol­i­tics has been root­ed in the expe­ri­ence of U.S. move­ments in the 1960s. How­ev­er, the ten­sion between wag­ing cam­paigns to pro­duce instru­men­tal gains with­in the exist­ing polit­i­cal sys­tem, on the one hand, and cre­at­ing alter­na­tive insti­tu­tions and com­mu­ni­ties that more imme­di­ate­ly put rad­i­cal val­ues into prac­tice, on the oth­er, has exist­ed for cen­turies. Unfor­tu­nate­ly, there is no uni­ver­sal agree­ment on the vocab­u­lary used to describe this split. Var­i­ous aca­d­e­m­ic and polit­i­cal tra­di­tions dis­cuss the two dif­fer­ing approach­es using over­lap­ping con­cepts includ­ing ​"cul­tur­al rev­o­lu­tion," ​"dual pow­er" and the­o­ries of ​"col­lec­tive iden­ti­ty." Max Weber dis­tin­guished between the ​"eth­ic of ulti­mate ends" (which roots action in heart­felt and prin­ci­pled con­vic­tion) and an ​"eth­ic of respon­si­bil­i­ty" (which more prag­mat­i­cal­ly con­sid­ers how action impacts the world). Most con­tro­ver­sial­ly, some schol­ars have dis­cussed aspects of pre­fig­u­ra­tive action as forms of ​"lifestyle politics."
Used as an umbrel­la cat­e­go­ry, the term pre­fig­u­ra­tive pol­i­tics is use­ful in high­light­ing a divide that has appeared in count­less social move­ments through­out the world. In the 1800s, Marx debat­ed utopi­an social­ists about the need for rev­o­lu­tion­ary strat­e­gy that went beyond the for­ma­tion of com­munes and mod­el soci­eties. Through­out his life, Gand­hi wavered back and forth between lead­ing cam­paigns of civ­il dis­obe­di­ence to exact con­ces­sions from state pow­ers and advo­cat­ing for a dis­tinc­tive vision of self-reliant vil­lage life, through which he believed Indi­ans could expe­ri­ence true inde­pen­dence and com­mu­nal uni­ty. (Gandhi's suc­ces­sors split on this issue, with Jawa­har­lal Nehru purs­ing the strate­gic con­trol of state pow­er and Vino­ba Bhave tak­ing up the pre­fig­u­ra­tive ​"con­struc­tive pro­gram.") Advo­cates of strate­gic non­vi­o­lence, who push for the cal­cu­lat­ed use of unarmed upris­ing, have counter-posed their efforts against long-stand­ing lin­eages of ​"prin­ci­pled non­vi­o­lence" — rep­re­sent­ed by reli­gious orga­ni­za­tions that espouse a lifestyle of paci­fism (such as the Men­non­ites) or groups that under­take sym­bol­ic acts of ​"bear­ing moral wit­ness" (such as the Catholic Workers).
Move­ment and counter-culture
With regard to the 1960s, Breines notes that the form of pre­fig­u­ra­tive pol­i­tics that emerged in the New Left was ​"hos­tile to bureau­cra­cy, hier­ar­chy and lead­er­ship, and it took form as a revul­sion against large-scale cen­tral­ized and inhu­man insti­tu­tions." Per­haps even more than advanc­ing tra­di­tion­al polit­i­cal demands, the pre­fig­u­ra­tive con­cept of social change was about prompt­ing a cul­tur­al shift.
Indeed, those who embraced a most extreme ver­sion of pre­fig­u­ra­tive prac­tice in that peri­od did not iden­ti­fy with the social move­ment ​"politi­cos" who orga­nized ral­lies against the Viet­nam War and were inter­est­ed in direct­ly chal­leng­ing the sys­tem. Instead, they saw them­selves as part of a youth counter-cul­ture that was under­min­ing estab­lish­ment val­ues and pro­vid­ing a vig­or­ous, liv­ing exam­ple of an alternative.
This split between ​"move­ment" and ​"counter-cul­ture" is vivid­ly illus­trat­ed in the doc­u­men­tary Berke­ley in the Six­ties. There, Bar­ry Melton, lead singer for the psy­che­del­ic rock band Coun­try Joe and the Fish, tells of his debates with his Marx­ist par­ents. ​"We had big argu­ments about this stuff," Melton explains. ​"I tried to con­vince them to sell all their fur­ni­ture and go to India. And they weren't going for it. And I real­ized that no mat­ter how far out their polit­i­cal views were, because they were mighty unpop­u­lar — my par­ents were pret­ty left wing — that real­ly they were [still] mate­ri­al­ists. They were con­cerned about how the wealth was divid­ed up."
Melton's pas­sion was for some­thing dif­fer­ent, a ​"pol­i­tics of hip," in which ​"we were set­ting up a new world that was going to run par­al­lel to the old world, but have as lit­tle to do with it as pos­si­ble." He explains, ​"We just weren't going to deal with straight peo­ple. To us, the politi­cos — a lot of the lead­ers of the anti-war move­ment — were straight peo­ple because they were still con­cerned with the gov­ern­ment. They were going to march on Wash­ing­ton. We didn't even want to know that Wash­ing­ton was there. We thought that even­tu­al­ly the whole world was just going to stop all this non­sense and start lov­ing each oth­er, as soon as they all got turned on."
The bound­ary between a sub­cul­ture and a pre­fig­u­ra­tive polit­i­cal move­ment can some­times be blur­ry. ​"It's amaz­ing that these two move­ments coex­ist­ed at the same time," Melton argues. "[They] were in stark con­trast in cer­tain aspects — but as the 1960s pro­gressed grew clos­er togeth­er and began tak­ing on aspects of the other."
The pow­er of the beloved community
The 1960s counter-cul­ture — with its flower chil­dren, free love and LSD trips into new dimen­sions of con­scious­ness — is easy to par­o­dy. To the extent that it inter­act­ed with polit­i­cal move­ments, it was pro­found­ly dis­con­nect­ed from any prac­ti­cal sense of how to lever­age change. In Berke­ley in the Six­ties, Jack Wein­berg, a promi­nent anti-war orga­niz­er and New Left ​"politi­co" described a 1966 meet­ing where counter-cul­tur­al activists were pro­mot­ing a new type of event. ​"They want­ed to have the first be-in," Wein­berg explains. ​"One fel­low in par­tic­u­lar, try­ing to get us real­ly excit­ed about the plan… said, ​'We're going to have so much music — and so much love, and so much ener­gy — that we are going to stop the war in Vietnam!'"
Yet pre­fig­u­ra­tive impuls­es did not mere­ly pro­duce the flights of utopi­an fan­ta­sy seen at the counter-cul­tur­al fringes. This approach to pol­i­tics also made some tremen­dous­ly pos­i­tive con­tri­bu­tions to social move­ments. The dri­ve to live out a vibrant and par­tic­i­pa­to­ry democ­ra­cy gave the New Left much of its vital­i­ty, and it pro­duced groups of ded­i­cat­ed activists will­ing to make great sac­ri­fices for the cause of social justice.
As one exam­ple, with­in the Stu­dent Non­vi­o­lent Coor­di­nat­ing Com­mit­tee, or SNCC, par­tic­i­pants spoke of the desire to cre­ate the ​"beloved com­mu­ni­ty" — a soci­ety that reject­ed big­otry and prej­u­dice in all forms and instead embraced peace and broth­er­li­ness. This new world would be based on an ​"under­stand­ing, redeem­ing good­will for all," as Mar­tin Luther King (an allied pro­mot­er of the con­cept) described it.
This was not mere­ly an exter­nal goal; rather, SNCC mil­i­tants saw them­selves as cre­at­ing the beloved com­mu­ni­ty with­in their orga­ni­za­tion — an inter­ra­cial group which, in the words of one his­to­ri­an, ​"based itself on rad­i­cal egal­i­tar­i­an­ism, mutu­al respect and uncon­di­tion­al sup­port for every person's unique gifts and con­tri­bu­tions. Meet­ings last­ed until every­one had their say, in the belief that every voice count­ed." The strong ties fos­tered by this pre­fig­u­ra­tive com­mu­ni­ty encour­aged par­tic­i­pants to under­take bold and dan­ger­ous acts of civ­il dis­obe­di­ence — such as SNCC's famous sit-ins at lunch coun­ters in the seg­re­gat­ed South. In this case, the aspi­ra­tion to a beloved com­mu­ni­ty both facil­i­tat­ed strate­gic action and had a sig­nif­i­cant impact on main­stream politics.
The same pat­tern exist­ed with­in the Clamshell Alliance, Abalone Alliance, and oth­er rad­i­cal anti-nuclear move­ments of the 1970s, which his­to­ri­an Bar­bara Epstein chron­i­cles in her 1991 book, Polit­i­cal Protest and Cul­tur­al Rev­o­lu­tion. Draw­ing from a lin­eage of Quak­er non­vi­o­lence, these groups estab­lished an influ­en­tial orga­niz­ing tra­di­tion for direct action in the Unit­ed States. They pio­neered many of the tech­niques — such as affin­i­ty groups, spokes coun­cils, and gen­er­al assem­blies — that became fix­tures in the glob­al jus­tice move­ment of the late 1990s and ear­ly 2000s, and which were also impor­tant to Occu­py Wall Street. In their time, the anti-nuclear groups com­bined con­sen­sus deci­sion-mak­ing, fem­i­nist con­scious­ness, close inter­per­son­al bonds, and a com­mit­ment to strate­gic non­vi­o­lence to cre­ate defin­ing protests. Epstein writes, ​"What was new about the Clamshell and the Abalone was that for each orga­ni­za­tion, at its moment of great­est mass par­tic­i­pa­tion, the oppor­tu­ni­ty to act out a vision and build com­mu­ni­ty was at least as impor­tant as the imme­di­ate objec­tive of stop­ping nuclear power."
The strate­gic tension
Wini Breines defends pre­fig­u­ra­tive pol­i­tics as the lifeblood of the 1960s New Left and argues that, despite its fail­ures to pro­duce last­ing orga­ni­za­tion, this move­ment rep­re­sent­ed a ​"brave and sig­nif­i­cant exper­i­ment" with last­ing impli­ca­tions. At the same time, she dis­tin­guish­es pre­fig­u­ra­tive action from a dif­fer­ent type of pol­i­tics — strate­gic pol­i­tics — that are ​"com­mit­ted to build­ing orga­ni­za­tion in order to achieve pow­er so that struc­tur­al changes in the polit­i­cal, eco­nom­ic and social orders might be achieved." Breines fur­ther notes, ​"The unre­solved ten­sion, between the spon­ta­neous grass­roots social move­ment com­mit­ted to par­tic­i­pa­to­ry democ­ra­cy, and the inten­tion (neces­si­tat­ing orga­ni­za­tion) of achiev­ing pow­er or rad­i­cal struc­tur­al change in the Unit­ed States, was a struc­tur­ing theme" of the New Left.
Ten­sion between pre­fig­u­ra­tive and strate­gic pol­i­tics per­sists today for a sim­ple rea­son: Although they are not always mutu­al­ly exclu­sive, the two approach­es have very dis­tinct emphases and present some­times con­tra­dic­to­ry notions of how activists should behave at any a giv­en time.
Where strate­gic pol­i­tics favors the cre­ation of orga­ni­za­tions that can mar­shal col­lec­tive resources and gain influ­ence in con­ven­tion­al pol­i­tics, pre­fig­u­ra­tive groups lean toward the cre­ation of lib­er­at­ed pub­lic spaces, com­mu­ni­ty cen­ters and alter­na­tive insti­tu­tions — such as squats, co-ops and rad­i­cal book­stores. Both strate­gic and pre­fig­u­ra­tive strate­gies may involve direct action or civ­il dis­obe­di­ence. How­ev­er, they approach such protest dif­fer­ent­ly. Strate­gic prac­ti­tion­ers tend to be very con­cerned with media strat­e­gy and how their demon­stra­tions will be per­ceived by the wider pub­lic; they design their actions to sway pub­lic opin­ion. In con­trast, pre­fig­u­ra­tive activists are often indif­fer­ent, or even antag­o­nis­tic, to the atti­tudes of the media and of main­stream soci­ety. They tend to empha­size the expres­sive qual­i­ties of protest — how actions express the val­ues and beliefs of par­tic­i­pants, rather than how they might impact a target.
Strate­gic pol­i­tics seeks to build prag­mat­ic coali­tions as a way of more effec­tive­ly push­ing for­ward demands around a giv­en issue. Dur­ing the course of a cam­paign, grass­roots activists might reach out to more estab­lished unions, non-prof­it orga­ni­za­tions or politi­cians in order to make com­mon cause. Pre­fig­u­ra­tive pol­i­tics, how­ev­er, is far more wary of join­ing forces with those com­ing from out­side the dis­tinc­tive cul­ture a move­ment has cre­at­ed, espe­cial­ly if prospec­tive allies are part of hier­ar­chi­cal orga­ni­za­tions or have ties with estab­lished polit­i­cal parties.
Coun­ter­cul­tur­al cloth­ing and dis­tinc­tive appear­ance — whether it involves long hair, pierc­ings, punk stylings, thrift-store cloth­ing, kef­fiyehs or any num­ber of oth­er vari­a­tions — helps pre­fig­u­ra­tive com­mu­ni­ties cre­ate a sense of group cohe­sion. It rein­forces the idea of an alter­na­tive cul­ture that rejects con­ven­tion­al norms. Yet strate­gic pol­i­tics looks at the issue of per­son­al appear­ance very dif­fer­ent­ly. Saul Alin­sky, in his book Rules for Rad­i­cals, takes the strate­gic posi­tion when he argues, ​"If the real rad­i­cal finds that hav­ing long hair sets up psy­cho­log­i­cal bar­ri­ers to com­mu­ni­ca­tion and orga­ni­za­tion, he cuts his hair." Some of the politi­cos of the New Left did just that in 1968, when Sen­a­tor Eugene McCarthy entered the Demo­c­ra­t­ic pres­i­den­tial pri­ma­ry as an anti-war chal­lenger to Lyn­don John­son. Opt­ing to ​"Get Clean for Gene," they shaved beards, cut hair and some­times donned suits in order to help the cam­paign reach out to mid­dle-of-the-road voters.
Tak­ing stock of prefiguration
For those who wish to inte­grate strate­gic and pre­fig­u­ra­tive approach­es to social change, the task is to appre­ci­ate the strengths of pre­fig­u­ra­tive com­mu­ni­ties while avoid­ing their weaknesses.
The impulse to ​"be the change we wish to see" has a strong moral appeal, and the strengths of pre­fig­u­ra­tive action are sig­nif­i­cant. Alter­na­tive com­mu­ni­ties devel­oped ​"with­in the shell of the old" cre­ate spaces that can sup­port rad­i­cals who chose to live out­side the norms of worka­day soci­ety and to make deep com­mit­ments to a cause. When they do take part in wider cam­paigns to change the polit­i­cal and eco­nom­ic sys­tem, these indi­vid­u­als can serve as a ded­i­cat­ed core of par­tic­i­pants for a move­ment. In the case of Occu­py, those most invest­ed in pre­fig­u­ra­tive com­mu­ni­ty were the peo­ple who kept the encamp­ments run­ning. Even if they were not those most involved in plan­ning strate­gic demon­stra­tions that brought in new allies and drew larg­er crowds, they played a piv­otal role.
Anoth­er strength of pre­fig­u­ra­tive pol­i­tics is that it is atten­tive to the social and emo­tion­al needs of par­tic­i­pants. It pro­vides process­es for indi­vid­u­als' voic­es to be heard and cre­ates net­works of mutu­al sup­port to sus­tain peo­ple in the here and now. Strate­gic pol­i­tics often down­plays these con­sid­er­a­tions, putting aside care for activists in order to focus on win­ning instru­men­tal goals that will result in future improve­ments for soci­ety. Groups that incor­po­rate pre­fig­u­ra­tive ele­ments in their orga­niz­ing, and thus have a greater focus on group process, have often been supe­ri­or at inten­sive con­scious­ness-rais­ing, as well as at address­ing issues such as sex­ism and racism with­in move­ments themselves.
But what works well for small groups can some­times become a lia­bil­i­ty when a move­ment tries to scale up and gain mass sup­port. Jo Freeman's land­mark essay, ​"The Tyran­ny of Struc­ture­less­ness," makes this point in the con­text of the women's lib­er­a­tion move­ment of the 1960s and 1970s. Free­man argued that a pre­fig­u­ra­tive rejec­tion of for­mal lead­er­ship and rigid orga­ni­za­tion­al struc­ture served sec­ond-wave fem­i­nists well ear­ly on when the move­ment ​"defined its main goal, and its main method, as con­scious­ness-rais­ing." How­ev­er, she con­tends, when the move­ment aspired to go beyond meet­ings that raised aware­ness of com­mon oppres­sion and began to under­take broad­er polit­i­cal activ­i­ty, the same anti-orga­ni­za­tion­al pre­dis­po­si­tion became lim­it­ing. The con­se­quence of struc­ture­less­ness, Free­man argues, was a ten­den­cy for the move­ment to gen­er­ate ​"much motion and few results."
Per­haps the great­est dan­ger inher­ent in pre­fig­u­ra­tive groups is a ten­den­cy toward self-iso­la­tion. Writer, orga­niz­er and Occu­py activist Jonathan Matthew Smuck­er describes what he calls the ​"polit­i­cal iden­ti­ty para­dox," a con­tra­dic­tion that afflicts groups based on a strong sense of alter­na­tive com­mu­ni­ty. ​"Any seri­ous social move­ment needs a cor­re­spond­ing­ly seri­ous group iden­ti­ty that encour­ages a core of mem­bers to con­tribute an excep­tion­al lev­el of com­mit­ment, sac­ri­fice and hero­ics over the course of pro­longed strug­gle," Smuck­er writes. ​"Strong group iden­ti­ty, how­ev­er, is a dou­ble-edged sword. The stronger the iden­ti­ty and cohe­sion of the group, the more like­ly peo­ple are to become alien­at­ed from oth­er groups, and from soci­ety. This is the polit­i­cal iden­ti­ty paradox."
Those focused on pre­fig­ur­ing a new soci­ety in their move­ments — and pre­oc­cu­pied with meet­ing the needs of an alter­na­tive com­mu­ni­ty — can become cut off from the goal of build­ing bridges to oth­er con­stituen­cies and win­ning pub­lic sup­port. Instead of look­ing for ways to effec­tive­ly com­mu­ni­cate their vision to the out­side world, they are prone to adopt slo­gans and tac­tics that appeal to hard­core activists but alien­ate the major­i­ty. More­over, they grow ever more averse to enter­ing into pop­u­lar coali­tions. (The extreme fear of ​"co-opta­tion" among some Occu­piers was indica­tive of this ten­den­cy.) All these things become self-defeat­ing. As Smuck­er writes, ​"Iso­lat­ed groups are hard-pressed to achieve polit­i­cal goals."
Smuck­er cites the noto­ri­ous 1969 implo­sion of SDS as an extreme exam­ple of the polit­i­cal iden­ti­ty para­dox left unchecked. In that instance, ​"Key lead­ers had become encap­su­lat­ed in their oppo­si­tion­al iden­ti­ty and grown more and more out of touch." Those most intense­ly invest­ed in SDS at the nation­al lev­el lost inter­est in build­ing chap­ters of stu­dents that were just begin­ning to be rad­i­cal­ized — and they became entire­ly dis­en­chant­ed with the main­stream Amer­i­can pub­lic. Giv­en what was hap­pen­ing in Viet­nam, they grew con­vinced that they need­ed to ​"bring the war home," in the words of one 1969 slo­gan. As a result, Smuck­er writes, ​"Some of the most com­mit­ted would-be lead­ers of that gen­er­a­tion came to see more val­ue in hol­ing up with a few com­rades to make bombs than in orga­niz­ing mass­es of stu­dents to take coor­di­nat­ed action."
The self-destruc­tive iso­la­tion of the Weath­er­men is a far cry from SNCC's beloved com­mu­ni­ty. Yet the fact that both are exam­ples of pre­fig­u­ra­tive pol­i­tics shows that the approach is not some­thing that can sim­ply be embraced or reject­ed whole­sale by social move­ments. Rather, all move­ments oper­ate on a spec­trum in which dif­fer­ent pub­lic activ­i­ties and inter­nal process­es have both strate­gic and pre­fig­u­ra­tive dimen­sions. The chal­lenge for those who wish to pro­duce social change is to bal­ance the com­pet­ing impuls­es of the two approach­es in cre­ative and effec­tive ways — so that we might expe­ri­ence the pow­er of a com­mu­ni­ty that is com­mit­ted to liv­ing in rad­i­cal sol­i­dar­i­ty, as well as the joy of trans­form­ing the world around us.