'Si, Se Pudo!': New Yorkers Win Paid Sick Days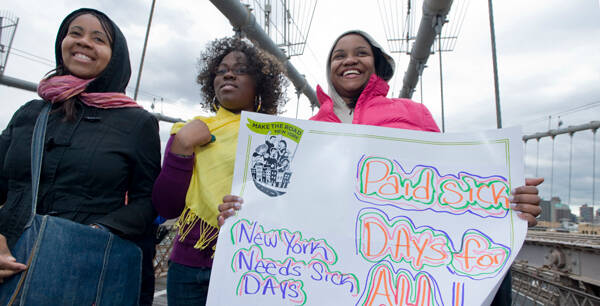 At a press conference that at times became a raucous rally — members of Make the Road New York and New York Communities for Change could be heard chanting ​"Si se pudo!" (yes we could), for example — Quinn and Gale Brewer, the bill's sponsor, addressed the crowd and provided details of the bill.
The compromise bill, which Brewer later admitted is still being written, will cover 964,000 workers when it goes into effect on April 1, 2014. On that date, the bill will require businesses with 20 or more employees to provide up to five paid sick days for those workers. Sick time will be accumulated at the rate of one hour for every 30 hours worked — meaning that all employees, part- and full-time, are covered, though it will take longer for part-time workers to accumulate days off. On October 1, 2015, businesses with fewer than 20 but more than 15 employees will also have to provide paid sick days, which Brewer said will cover another 75,000 workers.
According to SEIU 32BJ president Hector Figueroa, who was deeply involved in the negotiations, the bill will also allow for an examination of its impact in 2016 and a possible reconsideration of the bottom threshold for coverage. (The original bill, the one that Quinn held up for three years, required businesses with five or more workers to provide paid sick days.) Workers at businesses below the thresholds will receive unpaid sick days, accumulated at the same rate. A few industries are exempted, including manufacturing; Brewer said that decision was made because of a similar exception in Connecticut's statewide paid sick days law. ​"We want to be competitive," she said. The bill also includes exceptions for work-study and other types of student work.
Enforcement of the bill was a contentious issue at last week's hearings, with business representative after business representative complaining that the bill would be administered by the city's health department. This new bill will instead be administered by the New York City Department of Consumer Affairs and will require that workers who have a complaint bring it to the agency. Workers will have nine months after an infraction to make their complaint. Quinn stressed several times during the press conference that fines had been lowered for businesses that didn't comply and administrative paperwork simplified. According to Brewer, the fine for businesses that don't comply will now be $500 for a first offense and will go up from there.
Another of the compromise features in the bill is a trigger: If the New York Federal Reserve's Index of Economic Coindicators is lower on January 1, 2014 than it was on January 2, 2012, the bill will not go into effect. Quinn stressed that this would protect businesses in case of a sudden economic downturn, but the bill's supporters said that the city is well above that point now, and they doubt it will be a problem.
​"It took 500 — I counted! — conference calls, rallies, meetings," Brewer told the crowd.
Working Families Party co-founder Bill Lipton added, ​"Today I think all of us take a big step forward in building a society built on solidarity."
Quinn was asked about New York Mayor Michael Bloomberg, who remains steadfastly opposed to paid sick days and was widely perceived to be the force behind her holdout. ​"The mayor and I disagreed about two things this week; we agreed on many more," she said. ​"We'll agree on a lot more, and when we disagree, we'll disagree respectfully."
The rally at times felt like a campaign event, with union leaders who'd been pressuring Quinn thanking her for her ​"leadership" and praising her skills. Some reporters felt that way as well, asking Quinn whether the timing of the deal had more to do with the relentless pressure from her opponents for the mayoral race than with policy. Quinn at one point responded by saying, ​"I have always said that it was never a question of if" she supported paid sick leave, ​"but a question of when." Perhaps realizing that she seemed to have inadvertently confirmed suspicions, she quickly reiterated that her decision was about policy and about the economy. ​"The economy got to a place when it got there …. Sometimes it takes a while to get good policy," she said.
Asked if his union might endorse Quinn after this move, 32BJ president Hector Figueroa told reporters, ​"Now we have four candidates who have been in favor of paid sick days." He stressed that his union has a democratic process for endorsements, but that today's deal sent the message ​"that the next mayor has to care about working New Yorkers."
The Rise of a New Left
"An engrossing, behind-the-scenes account of our decade's breakout political movement." –Atossa Araxia Abrahamian
For a limited time, when you donate $30 or more to support In These Times, we'll send you a copy of the new book, The Rise of a New Left: How Young Radicals Are Shaping the Future of American Politics, by Raina Lipsitz.

Sarah Jaffe is a Type Media Center Fellow, co-host (with Michelle Chen) of Dissent magazine's Belabored podcast, and a columnist at The Progressive. She was formerly a staff writer at In These Times and the labor editor at AlterNet. Her previous books are Work Won't Love You Back: How Devotion to Our Jobs Keeps Us Exploited, Exhausted and Alone and Necessary Trouble: Americans in Revolt, which Robin D.G. Kelley called ​"The most compelling social and political portrait of our age." You can follow her on Twitter @sarahljaffe.