First Silicon Valley Sold You Social Media. Now It's Trying to Sell You the Antidote.
It turns out that selling solutions to problems created by the tech industry presents a tremendous business opportunity.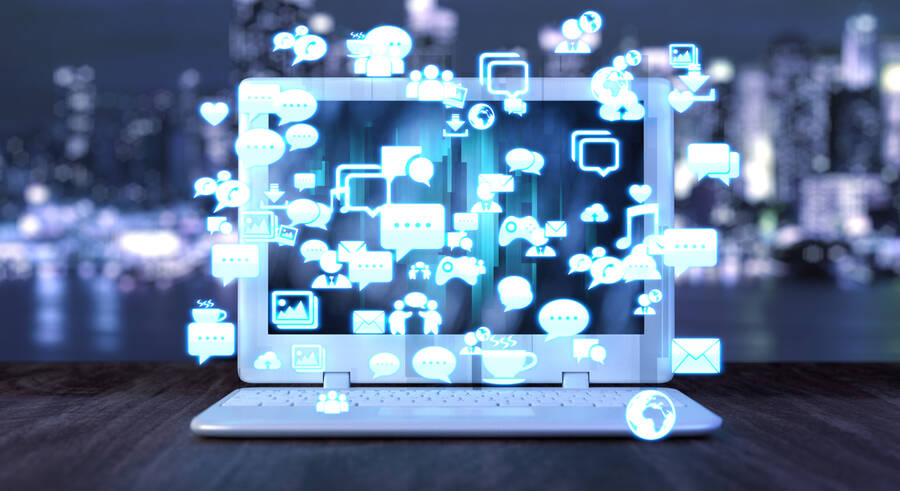 In recent months, a spate of cur­rent and for­mer tech exec­u­tives have tak­en to the media to evan­ge­lize vari­a­tions of the same mes­sage: Social media is harm­ing human­i­ty. Sean Park­er, who served as Facebook's first pres­i­dent, warned that social media ​"exploit[s] a vul­ner­a­bil­i­ty in human psy­chol­o­gy," addict­ing chil­dren while inter­fer­ing with pro­duc­tiv­i­ty. Chamath Pal­i­hapi­tiya, once Facebook's vice pres­i­dent ​"for user growth," opined that social media is ​"rip­ping apart the social fab­ric of how soci­ety works." After co-engi­neer­ing the Face­book ​"Like" but­ton and Google's Gchat mes­sag­ing sys­tem, Justin Rosen­stein bemoaned the effects of his contributions.
Whether championing an hour of smartphone severance or a revised iPhone menu, the trend of tech repentance isn't a challenge to the bane of surveillance capitalism; it's merely an upgraded version of it.
The onslaught of techie con­tri­tion, how­ev­er, isn't a pre­lude to mean­ing­ful change — it's a busi­ness opportunity.
What makes these griev­ances appeal­ing is that they're osten­si­bly anti­do­tal. Over the course of rough­ly a decade, Face­book and oth­er Sil­i­con Val­ley social media plat­forms have mutat­ed into ubiq­ui­tous forces. Approx­i­mate­ly 70 per­cent of Amer­i­cans use social media — a sta­tis­tic that is con­cern­ing in light of admon­i­to­ry reports about social media's impact on men­tal health, par­tic­u­lar­ly among younger users. That fig­ures who helped devel­op those plat­forms now appear more scrupu­lous shows that Sil­i­con Val­ley is now prof­it­ing from efforts to rec­ti­fy its own ills.
Cap­i­tal­iz­ing on this notion is the Cen­ter for Humane Tech­nol­o­gy (CHT), a cohort of tech-indus­try vet­er­ans who pur­port­ed­ly seek to ren­der tech­nol­o­gy less, as they call it, ​"addic­tive." CHT's plan, though scarce in detail, is mul­ti-pronged: lob­by­ing Con­gress to pres­sure hard­ware com­pa­nies like Apple and Sam­sung to change their design stan­dards, rais­ing con­sumer aware­ness of harm­ful tech­nolo­gies and ​"empow­er­ing [tech] employ­ees" to advo­cate for design deci­sions that com­mand less user atten­tion. The orga­ni­za­tion is helmed by for­mer Google ​"design ethi­cist" Tris­tan Har­ris — who the Atlantic deems the ​"clos­est thing Sil­i­con Val­ley has to a con­science" — with Rosen­stein and a horde of Sil­i­con Val­ley heavy­weights on its advi­so­ry board.
The cri­sis CHT attempts to solve is struc­tur­al. Social-media firms are agents of the much broad­er sys­tem of sur­veil­lance cap­i­tal­ism, where­in user data is har­vest­ed and sold to adver­tis­ers. Yet, as Maya Indi­ra Ganesh has observed, CHT frames the issue as a mat­ter of indi­vid­ual con­cern. ​"They see the prob­lem as being about indi­vid­ual atten­tion," rather than cor­po­rate pre­da­tion, Ganesh writes. The solu­tion, then, is to urge indi­vid­u­als to bear the onus of respon­si­bil­i­ty for their engi­neer­ing and con­sump­tion of tech­nol­o­gy, while sim­ply request­ing that com­pa­nies, via a few user-inter­face tweaks, do better.
For those com­pa­nies that appar­ent­ly meet the design cri­te­ria — which, so far, lack any objec­tive met­rics—cries of tech reform offer a PR bonan­za. CHT pro­motes a num­ber of firms, spe­cial­iz­ing in such areas as med­i­ta­tion and sleep, as exem­plars of ​"humane design." It's like­ly not a coin­ci­dence that the founders of one of those com­pa­nies, pro­duc­tiv­i­ty-soft­ware start­up Asana, are Rosen­stein and Face­book co-founder Dustin Moskovitz. Mean­while, Pal­i­hapi­tiya has sug­gest­ed his ven­ture-cap­i­tal firm, Social Cap­i­tal, will invest in star­tups that seek to pro­vide ​"peace and pros­per­i­ty for all," echo­ing the time­worn canard that cap­i­tal­ism, when ren­dered ​"con­scious," will ele­vate peo­ple out of pover­ty. The answer, accord­ing to this log­ic, lies not only in indi­vid­u­als' tak­ing respon­si­bil­i­ty for their tech­no­log­i­cal engage­ment, but also in a new, trust­wor­thy enclave of pri­vate enterprise.
Inher­ent in this process of woke-tech brand build­ing is a sense of pater­nal­is­tic ahis­tori­cism. In her piece ​"The Tech ​'Regrets' Indus­try," Audrey Wat­ters stud­ies the recent self-fla­gel­la­tion of edu­ca­tion-tech dig­ni­taries, many of whom, she notes, act as though they were the first to dis­cov­er that tech­nol­o­gy might cause or aggra­vate social prob­lems. In so doing — in the­o­ry, at least — they earn the public's trust as benev­o­lent, illu­mi­nat­ing arbiters of the future. ​"So it is easy for them to declare: no one could have pos­si­bly known," writes Wat­ters. ​"And now that these enlight­ened few do seem to know, they declare loud­ly they're here to inform and warn the rest of us."
The tenets of the tech-remorse move­ment resem­ble those of anoth­er recent phe­nom­e­non: unplug­ging. Spear­head­ed by such mul­ti­mil­lion­aires as Deep­ak Chopra and Ari­an­na Huff­in­g­ton, ​"unplug­ging" is the act of tem­porar­i­ly sep­a­rat­ing one­self from Inter­net-con­nect­ed devices to fos­ter relax­ation and social con­nec­tion. If even for a day or an evening, acolytes argue, turn­ing off one's phone curbs its nox­ious, addic­tive effects — improv­ing sleep, cre­ativ­i­ty, and pro­duc­tiv­i­ty. (Relat­ed­ly, CHT is fis­cal­ly spon­sored by Reboot, a non­prof­it that hosts the Nation­al Day of Unplug­ging.)
Like the tech reformists, the unplug­ging con­tin­gent bur­dens the indi­vid­ual with its insis­tence on per­son­al, rather than insti­tu­tion­al, change. Apt­ly enough, the unplug­ging move­ment is a breed­ing ground for cor­po­rate brand­ing. Huffington's ​"dig­i­tal detox" cru­sade, for exam­ple, has spawned a self-help syn­di­cate con­sist­ing of books, online cours­es, apps, pod­casts and cam­pus speak­ing tours. Rather than indict­ing social-media com­pa­nies for engi­neer­ing prod­ucts that lure and mon­i­tor users, Huff­in­g­ton encour­ages indi­vid­u­als to rely on their ​"intu­ition" and ​"inner wis­dom" in order to, in her sound­bite-ready words, thrive. All the while, the devices to which they'll inevitably return, as Evge­ny Moro­zov out­lined in 2014, remain unchanged.
The iniq­ui­ties of social media, of course, won't dis­ap­pear if they're briefly ignored or con­tained. Instead, address­ing them will require com­pa­nies like Face­book and Google to be viewed holis­ti­cal­ly: Rather than an iso­lat­ed scourge, they're symp­toms of an eco­nom­ic sys­tem in which prof­it super­sedes pub­lic health and soci­etal sta­bil­i­ty. The answer lies not in a micro-econ­o­my of pseu­do-con­scious non­prof­its, books, and star­tups, but in struc­tures inde­pen­dent of and con­trary to the val­ues of capitalism.
Whether cham­pi­oning an hour of smart­phone sev­er­ance or a revised iPhone menu, the trend of tech repen­tance isn't a chal­lenge to the bane of sur­veil­lance cap­i­tal­ism; it's mere­ly an upgrad­ed ver­sion of it. The smart­phone mak­ers, med­i­ta­tion-app com­pa­nies and oth­er appointees of the tech-reform van­guard will con­tin­ue to track and mon­e­tize user data — the very issues they claim to address — while crow­ing about busi­ness ethics and preach­ing per­son­al respon­si­bil­i­ty. While tech exec­u­tives may admit to cre­at­ing the prob­lem, they most cer­tain­ly won't be the ones to solve it.
Julianne Tveten
writes about tech­nol­o­gy, labor, and cul­ture, among oth­er top­ics. Her work has appeared in The Nation, Cap­i­tal
&
Main, KPFK Paci­fi­ca Radio, and elsewhere.