Singapore's Useful Peasants
As they power a robust recovery, the city-state's foreign-born workers face a growing backlash.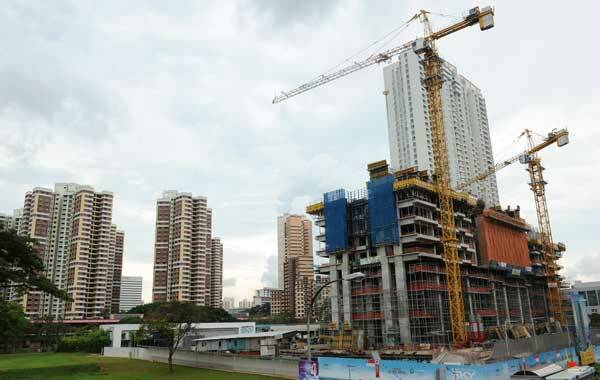 SIN­GA­PORE – This city's most famous expa­tri­ate writer, W. Som­er­set Maugh­am, once wrote of South­east Asia's peas­ant workers:
The peasant worker still has 'his immemorial usages.' He still builds the temples and citadels, but he rarely gets to enjoy them.
These patient, indus­tri­ous folk car­ry on the same yokes, the same bur­dens as their ances­tors car­ried so many gen­er­a­tions back. The cen­turies have passed leav­ing no trace upon them. … n these coun­tries of the East the most impres­sive, the most awe-inspir­ing mon­u­ment of antiq­ui­ty is nei­ther tem­ple, nor citadel, nor great wall, but man. The peas­ant with his immemo­r­i­al usages belongs to an age far more ancient than Angkor Wat, the Great Wall of Chi­na, or the Pyra­mids of Egypt.
In many ways, those words are just as true today as they were in 1930.
This cross­roads of Chi­nese, Malay, Indi­an and west­ern cul­tures was recent­ly ranked the most com­pet­i­tive econ­o­my in the world. Fuel­ing that econ­o­my are the descen­dants of those ​"patient, indus­tri­ous folk." Near­ly two out of every five res­i­dents in this city of 5 mil­lion is for­eign-born. More than a half-mil­lion migrant work­ers from Bangladesh, India, Malaysia, Indone­sia, the Philip­pines and Chi­na do the back­break­ing work that helped Sin­ga­pore emerge from its worst reces­sion in his­to­ry with 15.5 per­cent growth in the first quar­ter of this year.
One of the Pacif­ic Rim's eco­nom­ic ​"tigers," Sin­ga­pore is a citadel of neo-lib­er­al­ism. Cor­po­rate tax­es are low, and unem­ploy­ment is 2.3 per­cent. Yet sales tax­es are high, and blue-col­lar wages are abysmal. There's no min­i­mum wage, and the gov­ern­ment offers scant pro­tec­tions against abuse and a lim­it­ed social safe­ty net. In the past 10 years, immi­gra­tion has near­ly dou­bled. And many of the migrants who clean the rooms and build the sky­scrap­ers live in crowd­ed, rat-infest­ed dor­mi­to­ries with lit­tle relief from the swel­ter­ing trop­i­cal heat.
"[The gov­ern­ment] has made some reforms, shown a real com­mit­ment to coun­ter­ing the worst abus­es of work­ers, but this still leaves a long way to go," says John Gee, pres­i­dent of the Sin­ga­pore-based Tran­sient Work­ers Count Too organization.
Work­ers have few means to protest their con­di­tions. Under the semi-author­i­tar­i­an, half-cen­tu­ry rule of the People's Action Par­ty (PAP) and mod­ern Singapore's founder and cur­rent ​"Min­is­ter Men­tor," Lee Kuan Yew, pub­lic protest is strict­ly limited.
This is the city where Amer­i­can Michael Fay was famous­ly caned for theft and van­dal­ism in 1994. Many Sin­ga­pore­ans cred­it Min­is­ter Men­tor Lee – offi­cial­ly retired but still a for­mi­da­ble pres­ence as the father of cur­rent Prime Min­is­ter Lee Hsien Loong – and the tough mea­sures he and PAP imposed for lift­ing the city out of the Third World.
"Lots of for­eign­ers come here to work," says Abo Rhaman B Abo Samad, a 55-year-old taxi dri­ver. ​"Every­body has a job if you are not too choosy." As for Lee Kuan Yew, Abo says, ​"He's a smart man, a swell leader, a great leader. We have noth­ing, no nat­ur­al resources. This man took us out of nothing."
Ang Peng Hwa, who heads the jour­nal­ism pro­gram at Nanyang Tech­no­log­i­cal Uni­ver­si­ty in Sin­ga­pore, says, ​"Wages are kept down for work­ing peo­ple by immi­grant work­ers, and the dif­fer­en­tial between the wealthy and the poor is growing."
A back­lash against immi­grant work­ers is grow­ing. ​"Some quite ven­omous anti-migrant work­er state­ments may be heard in casu­al con­ver­sa­tion," Gee says. ​"It is easy pol­i­tics all over the world: blame the foreigner."
Yet, Gee says, ​"The con­struc­tion sec­tor would grind to a halt with­out migrant work­ers; like­wise, the ship­yard sec­tor. Prob­a­bly clean­ing ser­vices would be bad­ly hit, too. … Most peo­ple know that if for­eign work­ers were exclud­ed tomor­row, it would be cat­a­stroph­ic for the nation­al economy."
In oth­er words, the peas­ant work­er still has ​"his immemo­r­i­al usages." He still builds the tem­ples and citadels, but he rarely gets to enjoy them.
Joseph B. Atkins
is the author of
Cov­er­ing for the Boss­es: Labor and the South­ern Press
.