Sleepwalking Through Seattle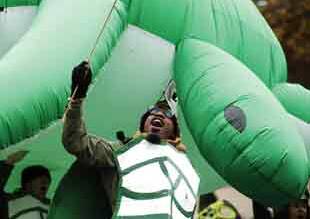 About halfway through Bat­tle in Seat­tle, writer/​director Stu­art Townsend's cin­e­mat­ic drama­ti­za­tion of the 1999 World Trade Orga­ni­za­tion (WTO) protests in Seat­tle, a group of activists are watch­ing a local TV station's cov­er­age of the explo­sive events on the streets. Upon hear­ing the con­fronta­tions between the pro­test­ers and the police dubbed ​"The Bat­tle in Seat­tle," one of the activists deri­sive­ly scoffs, ​"Bat­tle in Seat­tle? Sounds like a mon­ster truck show!"
Battle in Seattle's tedious earnestness and total lack of boisterous ingenuity do a real disservice to the protesters who the film ostensibly aims to salute.
The statement's implic­it cri­tique – of a main­stream media that prefers hyp­ing the sala­cious rather than exam­in­ing the sub­stance of com­plex events, thus reduc­ing them to sim­plis­tic, bina­ry clash­es – is on-tar­get. But it's hard to over­look that this scorn­ful line is deliv­ered in a film that is itself titled ​"Bat­tle in Seattle."
It's a micro­cosm for the film as a whole – a well-inten­tioned effort that ulti­mate­ly miss­es the mark, cov­er­ing its uncon­ven­tion­al sub­ject with­in a drea­ri­ly con­ven­tion­al framework.
Bat­tle in Seat­tle sounds like the type of movie that would warm the cock­les of any leftist's (or anarchist's) heart. First-time direc­tor Townsend – an actor who you might (or might not) remem­ber from such films as The Best Man and Queen of the Damned – has clear­ly done his home­work. Though his film is not a doc­u­men­tary, Townsend does a good job out­lin­ing the con­se­quences of the labor, envi­ron­men­tal, agri­cul­tur­al and patent-law issues at stake in the WTO negotiations.
His pro­tag­o­nists are four direct-action pro­test­ers, played by Mar­tin Hen­der­son, Jen­nifer Car­pen­ter, Michelle Rodriguez and Andre Ben­jamin, of the band Out­Kast. Townsend sketch­es them sym­pa­thet­i­cal­ly (per­haps too sym­pa­thet­i­cal­ly), accu­rate­ly por­trays some of their most effec­tive tac­tics to dis­rupt the meet­ings and essen­tial­ly endors­es their dis­sent. His vil­lains are super­fi­cial TV pro­duc­ers, indif­fer­ent trade reps, timid politi­cians and macho police­men, eager to beat the non­vi­o­lent pro­test­ers. What's not to like?
Sad­ly, quite a bit. Townsend clear­ly wish­es to counter the car­i­ca­tures of direct-action anar­chists reg­u­lar­ly put forth in the media – best typ­i­fied by New York Times' Thomas Friedman's dis­missal of the Seat­tle pro­test­ers as ​"a Noah's Ark of flat-earth advo­cates." (This, of course, came before Fried­man him­self penned a book titled The World Is Flat.) But in cor­rect­ing these car­toon­ish phan­toms of the elite's imag­i­na­tion, Townsend cre­ates some of his own, draw­ing char­ac­ters who are impos­si­bly good: intel­li­gent, kind, com­mit­ted, moral and emi­nent­ly reasonable.
The prob­lem isn't that such char­ac­ter­i­za­tions are untrue; the above adjec­tives would cer­tain­ly fit the direct-action activists I've met. But, at var­i­ous times, so might a few oth­ers: neu­rot­ic, intense, imma­ture, pet­ty, self right­eous. (Many also had an admirable indif­fer­ence – if not out­right hos­til­i­ty – toward per­son­al appear­ance and hygiene that, despite the best efforts of the film's cos­tume design­er, the phe­nom­e­nal­ly good-look­ing cast of Bat­tle in Seat­tle can't quite pull off.)
Worse than a crime against verisimil­i­tude, this one-dimen­sion­al char­ac­ter­i­za­tion is a dra­mat­ic mis­take. There's plen­ty of con­flict in Bat­tle in Seat­tle, but it is near­ly com­plete­ly exter­nal – between police and pro­test­ers, ​"good" NGO rep­re­sen­ta­tives and indif­fer­ent WTO bureau­crats, etc. But these fig­ures almost all arrive on screen already ful­ly formed, leav­ing the view­er with lofty ideals to aspire to, not lived (and ongo­ing) strug­gles to relate to.
What's more, it leav­ens the film with a tedious­ly dull earnest­ness that does a dis­ser­vice to the very pro­test­ers Bat­tle in Seat­tle means to salute. Say what you want about the inter­na­tion­al grass­roots move­ment that's arisen to dis­rupt the anti-demo­c­ra­t­ic prac­tices of elite insti­tu­tions like the WTO, but its par­tic­i­pants are rarely (sole­ly) earnest and nev­er dull. (Indeed, I would say they are objec­tive­ly pro-fun.) These activists might put their bod­ies in front of police trun­cheons to express their beliefs, but many of them do so while dressed in ridicu­lous­ly imag­i­na­tive cos­tumes, all the while scream­ing dada chants, like ​"The Piz­za. Unit­ed. Will Nev­er Be Divid­ed," or the delight­ful­ly meta ​"Three Word Chant! Three Word Chant!"
The only time such play­ful­ness appears on screen in Bat­tle in Seat­tle is when Townsend inter­cuts footage of the actu­al WTO protests with his reen­act­ments. The bois­ter­ous­ness and inge­nu­ity on dis­play by the real-life par­tic­i­pants arrive like breaths of fresh air, pro­vid­ing all too fleet­ing relief from the staid con­ven­tions that the film's fic­tion­al nar­ra­tive adheres to.
Chief among those con­ven­tions is Townsend's shame­less use of melo­dra­ma, which reach­es a nadir of banal­i­ty in a sub­plot involv­ing a cop (played by Woody Har­rel­son) and his preg­nant wife (Char­l­ize Theron), who is caught up in a swirl of pro­test­ers and – in an ​"iron­ic twist" – is punched by anoth­er cop in the stom­ach. When she (inevitably) suf­fers a mis­car­riage, one half expects Townsend to ful­ly embrace cliché and have her sob, ​"And I was going to name her Justice!"
Townsend uses the same schtick with his protest­ing pro­tag­o­nists, giv­ing them dra­mat­ic back­sto­ries that help ​"explain" why they are so gosh darned angry at the WTO. (Appar­ent­ly, it wouldn't be believ­able enough for them to be moti­vat­ed sole­ly by the exis­tence of cor­po­rate sweat­shops, the extinc­tion of species or a world in which the rich­est 1 per­cent of the pop­u­la­tion has rough­ly the same amount of income as the poor­est 60 per­cent.) They must instead have been ​"per­son­al­ly" affect­ed by the WTO's policies.
In the case of the lead orga­niz­er Jay (Hen­der­son), this means that his broth­er was killed while protest­ing a tim­ber com­pa­ny. (This is pre­sum­ably based on the real-life death of the Earth­First! activist David Chain, who was killed in 1998 when a log­ger felled a tree that land­ed on top of him.) As the film's pro­duc­tion notes explain, ​"For these pro­test­ers, this is very per­son­al and the stakes are high­er than mere politics."
But with this ele­va­tion of per­son­al griev­ances over ​"mere pol­i­tics," Bat­tle in Seat­tle fol­lows the same log­ic of the neolib­er­al ide­ol­o­gy at the heart of groups like the WTO, an ide­ol­o­gy that priv­i­leges per­son­al free­dom (and indi­vid­ual wealth) over any col­lec­tive polit­i­cal action that aims to redis­trib­ute wealth or nat­ur­al resources more equi­tably and sustainably.
Of course, per­son­al free­dom and more equi­table wealth are not nec­es­sar­i­ly at odds with one anoth­er. Indeed, they are mutu­al­ly rein­forc­ing. But the film's focus on the per­son­al rather than the polit­i­cal obscures the protests' most impor­tant legacy.
This comes through clear­ly at the film's end, which shows our four pro­tag­o­nists walk­ing toward the hori­zon, togeth­er again, after three of them have been released from jail. The scene has the feel of a com­e­dy, as it's clas­si­cal­ly defined: a re-unit­ing of the social world, after it has been torn apart.
But what makes the WTO protests most sig­nif­i­cant – and this isn't meant to belit­tle or slight the very real and empow­er­ing sense of sol­i­dar­i­ty that its indi­vid­ual par­tic­i­pants may have expe­ri­enced – is their trag­ic ele­ment, again as clas­si­cal­ly defined. The pro­test­ers rup­tured the WTO's ​"New World Order," cre­at­ing a break that exists to this day. (There have been very few agree­ments reached at WTO meet­ings since Seat­tle.) It's only by focus­ing on this ini­tial polit­i­cal fis­sure that we can see the slim utopi­an space, where, per­haps, we can tru­ly be ourselves.
Bri­an Cook
was an edi­tor at In These Times from
2003
to
2009
. He now works on the edi­to­r­i­al staff of Play­boy magazine.