SLIDESHOW: Glimpses of Gaza
One year after "Operation Cast Lead" concluded, a look back at its aftermath.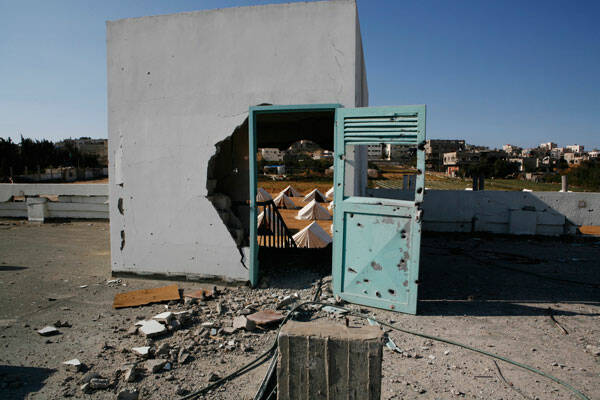 Twenty-two days of non-stop Israeli bombardment left the Gaza Strip devastated. Armed with F-16 fighter jets, Apache attack helicopters, battleships, unmanned aerial drones, tanks and ground troops, beginning in late December 2008 Israel destroyed homes, mosques, medical facilities, elementary schools, universities, farms, factories and businesses in Gaza.
Nearly 1,400 Palestinians were killed, and more than 5,000 injured – the overwhelming majority civilians. Palestinians, armed with smaller weaponry, including rockets – the ostensible reason behind Israel's assault – killed 13 Israelis, 10 of whom were soldiers. The widely condemned attacks were part of Israel's ongoing siege of the Gaza Strip that began in 2006 shortly after the Islamist Hamas movement won a majority of seats in parliamentary elections held in the Occupied Palestinian Territories. [Text continues below slideshow…]
All photos
Like nearly everyone in the Arab world during the attacks, in Beirut I watched Al-Jazeera's around-the-clock coverage of the assault. Its reporters had been in Gaza prior to the attacks, and the Arabic-language satellite channel aired raw and uncut footage of the killing and destruction. The outrage across the Middle East was widespread, as hundreds of thousands of people took to the streets in protest. Most foreign media were prevented from entering the territory by Israel once the attacks started, and were forced to cover events from afar. Switching between Al-Jazeera and CNN International, it was difficult to believe both stations were covering the same events.
After the attacks ended in January, Israel and Egypt temporarily opened their borders with Gaza, allowing foreign journalists and small amounts of humanitarian aid to enter. I quickly flew from Beirut to Cairo and traveled by land through the Sinai desert until I reached the Gaza Strip. I was surprised to discover that most of the hundreds of journalists massed along the border waiting to enter Gaza did not enter once the attacks ended and they had the chance to do so. As one Palestinian journalist said to me in Gaza, ​"no one pays attention once the bombs stop falling."
As I traveled across Gaza during the next eight days, I saw building after building in ruins. Because of the large artillery and bombs used during the attacks, Gaza felt more like the scene of a natural disaster than war. There were few structures partially damaged – in Gaza, it was all or nothing. Reconstruction since my visit has been very difficult, as the ongoing siege blocks cement from entering the territory. Some have begun using an age-old technique of building homes out of mud to compensate.
As with all my trips to Palestine, when I went to Gaza after the assault I was surprised by Palestinians' fortitude. A population that was already mostly refugees when Israel was created in 1948 now survives on basic goods smuggled through underground tunnels on the border with Egypt. One year after the bombs stopped falling, still under a tight siege and occupation, 1.5 million Palestinians in Gaza continue to eke out a fragile existence.
The Rise of a New Left
"An engrossing, behind-the-scenes account of our decade's breakout political movement." –Atossa Araxia Abrahamian
For a limited time, when you donate $30 or more to support In These Times, we'll send you a copy of the new book, The Rise of a New Left: How Young Radicals Are Shaping the Future of American Politics, by Raina Lipsitz.

Matthew Cassel
is a photographer and journalist from Chicago who has lived in the Middle East since
2004
. He worked with various human rights organizations in occupied Palestine before starting a media school for youth in a West Bank refugee camp. He is currently based in Beirut, Lebanon. His website is
Jus​tIm​age​.org
.