SLIDESHOW: Glimpses of Gaza
One year after "Operation Cast Lead" concluded, a look back at its aftermath.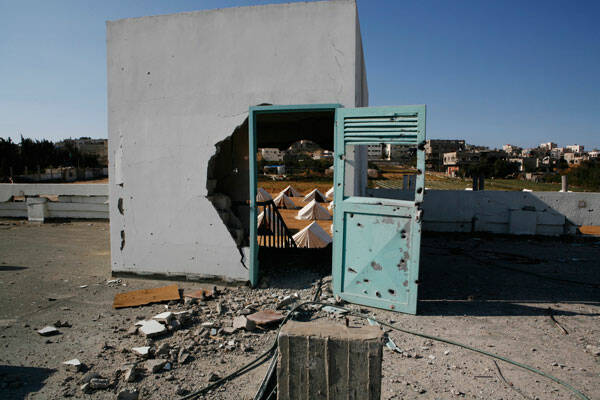 Twen­ty-two days of non-stop Israeli bom­bard­ment left the Gaza Strip dev­as­tat­ed. Armed with F‑16 fight­er jets, Apache attack heli­copters, bat­tle­ships, unmanned aer­i­al drones, tanks and ground troops, begin­ning in late Decem­ber 2008 Israel destroyed homes, mosques, med­ical facil­i­ties, ele­men­tary schools, uni­ver­si­ties, farms, fac­to­ries and busi­ness­es in Gaza.
Near­ly 1,400 Pales­tini­ans were killed, and more than 5,000 injured – the over­whelm­ing major­i­ty civil­ians. Pales­tini­ans, armed with small­er weapon­ry, includ­ing rock­ets – the osten­si­ble rea­son behind Israel's assault – killed 13 Israelis, 10 of whom were sol­diers. The wide­ly con­demned attacks were part of Israel's ongo­ing siege of the Gaza Strip that began in 2006 short­ly after the Islamist Hamas move­ment won a major­i­ty of seats in par­lia­men­tary elec­tions held in the Occu­pied Pales­tin­ian Ter­ri­to­ries. [Text con­tin­ues below slideshow…]
All pho­tos
Like near­ly every­one in the Arab world dur­ing the attacks, in Beirut I watched Al-Jazeera's around-the-clock cov­er­age of the assault. Its reporters had been in Gaza pri­or to the attacks, and the Ara­bic-lan­guage satel­lite chan­nel aired raw and uncut footage of the killing and destruc­tion. The out­rage across the Mid­dle East was wide­spread, as hun­dreds of thou­sands of peo­ple took to the streets in protest. Most for­eign media were pre­vent­ed from enter­ing the ter­ri­to­ry by Israel once the attacks start­ed, and were forced to cov­er events from afar. Switch­ing between Al-Jazeera and CNN Inter­na­tion­al, it was dif­fi­cult to believe both sta­tions were cov­er­ing the same events.
After the attacks end­ed in Jan­u­ary, Israel and Egypt tem­porar­i­ly opened their bor­ders with Gaza, allow­ing for­eign jour­nal­ists and small amounts of human­i­tar­i­an aid to enter. I quick­ly flew from Beirut to Cairo and trav­eled by land through the Sinai desert until I reached the Gaza Strip. I was sur­prised to dis­cov­er that most of the hun­dreds of jour­nal­ists massed along the bor­der wait­ing to enter Gaza did not enter once the attacks end­ed and they had the chance to do so. As one Pales­tin­ian jour­nal­ist said to me in Gaza, ​"no one pays atten­tion once the bombs stop falling."
As I trav­eled across Gaza dur­ing the next eight days, I saw build­ing after build­ing in ruins. Because of the large artillery and bombs used dur­ing the attacks, Gaza felt more like the scene of a nat­ur­al dis­as­ter than war. There were few struc­tures par­tial­ly dam­aged – in Gaza, it was all or noth­ing. Recon­struc­tion since my vis­it has been very dif­fi­cult, as the ongo­ing siege blocks cement from enter­ing the ter­ri­to­ry. Some have begun using an age-old tech­nique of build­ing homes out of mud to compensate.
As with all my trips to Pales­tine, when I went to Gaza after the assault I was sur­prised by Pales­tini­ans' for­ti­tude. A pop­u­la­tion that was already most­ly refugees when Israel was cre­at­ed in 1948 now sur­vives on basic goods smug­gled through under­ground tun­nels on the bor­der with Egypt. One year after the bombs stopped falling, still under a tight siege and occu­pa­tion, 1.5 mil­lion Pales­tini­ans in Gaza con­tin­ue to eke out a frag­ile existence.
Matthew Cas­sel
is a pho­tog­ra­ph­er and jour­nal­ist from Chica­go who has lived in the Mid­dle East since
2004
. He worked with var­i­ous human rights orga­ni­za­tions in occu­pied Pales­tine before start­ing a media school for youth in a West Bank refugee camp. He is cur­rent­ly based in Beirut, Lebanon. His web­site is
Jus​tIm​age​.org
.