SlutWalk NYC: Real Empowerment, Corsets and All
The SlutWalk movement is not the future of feminism. That doesn't mean it's not important.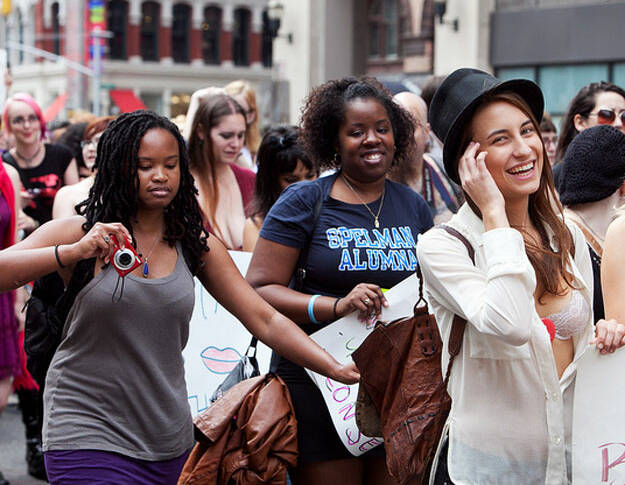 NEW YORK CITY — The girl on the mobile strip­per pole exe­cutes a fly­ing spin; body held hor­i­zon­tal to the bicy­cle-drawn cart she's danc­ing on, legs spread wide in a fly­ing V, her clenched hands the only thing keep­ing her in the air. She lands; pos­es; blows a kiss to the cam­era­man crouched behind her. And sev­er­al dozen fem­i­nists erupt in spon­ta­neous cheers.
No matter how hyped SlutWalk had been, no matter how global their reach was, no one ever imagined we could book Radiohead.
Yes, that's right: This is your piece from Slut­Walk, the most wide­ly cov­ered, most con­tro­ver­sial fem­i­nist move­ment of the year, which reached New York City's streets on Sat­ur­day, Octo­ber 1. The future of fem­i­nism! The end of fem­i­nism! A rebel­lion against sex­u­al stan­dards! A con­ces­sion to the sex­u­al demands of patri­archy! Etcetera. That dancer, and the women cheer­ing, could be any of those things; it's my job to tell you which ones. Prefer­ably with pic­tures of corset-clad girls attached. Because, no mat­ter how often we debate SlutWalk's pol­i­tics, what peo­ple real­ly want to hear about are the outfits.
I did see a few women wear­ing corsets at Slut­Walk. They were easy to find — you just had to look for the cam­era crews — but there weren't many. More women went top­less. This, I soon real­ized, was bril­liant; the press cam­eras had to stay away from them. The men on the side­walk were less inhib­it­ed; they gath­ered on stoops, at inter­sec­tions, or in their fire escapes, hold­ing out phone cam­eras, rapt with preda­to­ry fas­ci­na­tion. When the mobile pole rolled down Astor Place, men walked out into traf­fic to get a clear shot.
This, some women say, is SlutWalk's prob­lem. The name, the out­fits; it's all an implic­it demand for atten­tion. Lots of peo­ple won­der whether that atten­tion is pro­duc­tive. Those iPhones were not whipped out to record the chants of ​"blame the sys­tem, not the vic­tim." And I didn't see any film crew sur­round­ing the girl in den­im shorts and a t‑shirt, hold­ing a sign that read ​"this is what I wore when I was raped."
"When Slut­Walk start­ed it was very reac­tionary," Slut­Walk NYC orga­niz­er Rachel Steele tells me. ​"I can't speak for the orga­niz­ers that start­ed the Toron­to Slut­Walk. My sense is that this is a move­ment that has just tak­en off."
When Slut­Walk start­ed, prob­a­bly no one imag­ined that there would be a New York City march. (Full dis­clo­sure: I attend­ed one New York orga­niz­ing meet­ing at the orga­niz­ers' request. I dropped out, how­ev­er, to focus on oth­er projects.) That first march was orga­nized in response to some­thing spe­cif­ic: Toron­to police con­sta­ble Michael San­guinet­ti told a group of stu­dents that women should avoid dress­ing ​"like sluts" in order not to get raped. This was clas­sic vic­tim-blam­ing: Imply­ing that the behav­ior of sex­u­al assault vic­tims is the pri­ma­ry cause of rape, rather than plac­ing blame square­ly on rapists. A march was orga­nized to protest his statement.
This is what gets lost in the provoca­tive pho­tos: That dancer on the cart, the girls in the span­gled bras, the peo­ple who spent the entire­ty of a leisure­ly ear­ly Octo­ber walk wear­ing noth­ing but shoes and panties, were all issu­ing an implic­it chal­lenge. This is not yours, they were say­ing; I can do all this, and you're not allowed to hurt me. ​"My body is not an invi­ta­tion," went one pop­u­lar slogan.
SlutWalk's premise was catchy and rel­e­vant; it summed up decades of ardu­ous anti-rape edu­ca­tion and protest­ing with a sim­ple, high­ly visu­al mes­sage. So the march­es spread. There have been Slut­Walks every­where from Chica­go and Indi­anapo­lis to Buenos Aires and Johan­nes­burg. The sheer num­ber of women protest­ing rape cul­ture is, of course, inspir­ing to fem­i­nists, who have long been dis­missed and unheard.
But with growth came con­tro­ver­sy. Steele sin­gled out as espe­cial­ly dis­tress­ing a New York Times mag­a­zine piece by Rebec­ca Trais­ter, in which she con­fessed ​"irri­ta­tion that strip­ping down to skivvies and call­ing our­selves sluts is pass­ing for keen retort." Trais­ter hadn't both­ered to speak with any Slut­Walk orga­niz­ers before writ­ing it, Steele said.
Speak­ing to Steele, how­ev­er, raised uncom­fort­able ques­tions. At one point, she referred to Slut­Walk as the ​"next glob­al fem­i­nist move­ment," and said that there hadn't been any­thing like it ​"in the last 20 years." She also said that ​"I don't think the media would be pay­ing atten­tion to us if we were called, you know, ​'March To End Sex­u­al Violence.'"
It's pre­cise­ly this – the impli­ca­tion that Slut­Walk is not only a fem­i­nist protest but the fem­i­nist protest; the uncom­fort­able feel­ing that despite the long-term work of many fem­i­nist anti-rape activists, and a New York fem­i­nist com­mu­ni­ty which orga­nized a huge ral­ly against the acquit­tal of the NYPD ​"rape cops" and mul­ti­ple protests against the han­dling of the Dominique Strauss-Kahn rape case this sum­mer alone, fem­i­nism itself is now being effec­tive­ly rebrand­ed and sub­sumed into the media-friend­ly pres­ence of Slut­Walk – that many peo­ple find prob­lem­at­ic. There is con­cern that Slut­Walk pro­motes itself to the exclu­sion of oth­er fem­i­nist protests and com­mu­ni­ties; that it has pitched itself so eager­ly as the ​"next" fem­i­nist move­ment, and maybe the first real fem­i­nist move­ment in decades, that it has inad­ver­tent­ly deval­ued the move­ments that exist.
To steer away from the idea that Slut­Walk rep­re­sent­ed the only siz­able fem­i­nist protest since 1991, I asked Steele whether Slut­Walk wasn't com­pa­ra­ble to Take Back the Night, an inter­na­tion­al fem­i­nist protest against rape that began in 1975, and has been a pres­ence on Amer­i­can col­lege cam­pus­es for the past three and a half decades.
"I'm only twen­ty-six," she said. ​"I can't speak about stuff that I can't remem­ber. But since ​'Take Back the Night,' I can't remem­ber some­thing like this."
On the day I marched with Slut­Walk, 700 pro­test­ers were arrest­ed in New York City. They weren't at Slut­Walk, of course; that protest attract­ed between 1,000 and 4,000 peo­ple (reports have var­ied wild­ly), and there were no report­ed arrests. The 700 were part of the main event: the protest downtown.
It was hard to ignore Occu­py Wall Street that day. Pro­test­ers dis­cussed it amongst them­selves while march­ing; on the fringes of the protest, peo­ple hand­ed out the Occu­pied Wall Street Jour­nal. That protest – describ­ing itself as a ​"resis­tance move­ment" against ​"greed and cor­rup­tion," and com­par­ing itself explic­it­ly to the Arab Spring, which if noth­ing else shows that overblown self-pro­mo­tion­al lan­guage is not just a Slut­Walk prob­lem – was in its third week, and had sur­vived bad weath­er, report­ed police bru­tal­i­ty, and a false rumor that Radio­head would be play­ing a free show there.
I had been stay­ing away from Occu­py Wall Street. I wasn't sure why; I, like every oth­er pro­gres­sive in the city, had been exhort­ed to attend, remind­ed that it was both my right and my duty. As a reces­sion casu­al­ty, and a woman from a work­ing-class fam­i­ly, I often thought that my lack of mon­ey con­trolled my life, and brought vio­lence and suf­fer­ing into it, just as much as my gen­der had. But the exhor­ta­tions made me resent­ful, for rea­sons I couldn't name. It was some­thing to do with the big, sexy, non-spe­cif­ic tar­gets; some­thing to do with the lan­guage of duty; some­thing to do with the fact that men who had rou­tine­ly giv­en me gen­tle or not-so-gen­tle crap for my own activism were now Tweet­ing con­stant­ly about the pow­er of the peo­ple and the oblig­a­tion of the mass­es to protest.
It wasn't until I marched in Slut­Walk that I final­ly got it. It was sim­ply this: No mat­ter how hyped Slut­Walk had been, no mat­ter how long the march­es had been going on or how glob­al their reach was, no one ever imag­ined we could book Radio­head. We had all known that wasn't our place; it wasn't a degree of recog­ni­tion we felt enti­tled to, even in our fan­tasies. Even on the day we marched, we weren't the biggest show in town. We had accept­ed that. We didn't tell the Wall Streeters it was their duty to join forces with us; we didn't express resent­ment that more of them hadn't come uptown. We were just fem­i­nists, after all. We might well be the next wave, but to the pro­gres­sive com­mu­ni­ty we looked a lot like the fem­i­nist waves before us: A sort of women's aux­il­iary to the real move­ment. Maybe admirable, most­ly irrelevant.
This invis­i­bil­i­ty and era­sure, as much as any­thing else, is respon­si­ble for women in their twen­ties not know­ing about Take Back the Night. It was also what had fueled much of my own pre-Slut­Walk protest. But here I was, in 2011. The men I knew who had been Occu­py­ing Wall Street were still not there with me at the year's most heav­i­ly pro­mot­ed anti-rape protest. I still couldn't ratio­nal­ly expect them to be. The ​"next glob­al fem­i­nist move­ment" still wasn't mov­ing strong­ly enough to occu­py the city for three weeks. Or even one whole day.
It was pre­cise­ly this resent­ment – this feel­ing of being a sec­ond-class cit­i­zen with­in a move­ment that nom­i­nal­ly spoke for me – that made me inter­est­ed in speak­ing to the women who had dropped out of Slut­Walk. The fem­i­nist move­ment, of course, is not immune to priv­i­lege. And Slut­Walk, in par­tic­u­lar, has been crit­i­cized on these grounds.
Before the New York Slut­Walk, an ​"Open Let­ter from Black Women to Slut­Walk Orga­niz­ers" was pub­lished in numer­ous out­lets. ​"For us," it read in part, ​"the prob­lem of triv­i­al­ized rape and the absence of jus­tice are inter­twined with race, gen­der, sex­u­al­i­ty, pover­ty, immi­gra­tion and com­mu­ni­ty. As Black women in Amer­i­ca, we are care­ful not to for­get this or we may com­pro­mise more than we are able to recov­er." It pushed for Slut­Walk to re-brand, and to incor­po­rate some sub­stan­tial engage­ment with these problems.
When I con­tact­ed Mandy van Deven, a writer and activist who had signed the let­ter, I found that she had been sched­uled to speak at Slut­Walk, but had dropped out after read­ing the Open Let­ter. She wrote in an e‑mail: ​"Time and time again, the crit­i­cisms spo­ken by women of col­or, queers, trans folks, and oth­ers were dis­missed or tac­ti­cal plan­ning was giv­en pri­or­i­ty. I saw this response echoed when the Open Let­ter was released, and as a queer, work­ing-class iden­ti­fied white woman, I felt oblig­ed to resign."
"I planned to par­tic­i­pate to share my per­son­al per­spec­tives as a woman of col­or liv­ing in a vic­tim-blam­ing and sham­ing world," Jamia Wil­son, anoth­er speak­er who dropped out, wrote me. She, too, stepped down after hear­ing that some Slut­Walk orga­niz­ers had respond­ed to the Open Let­ter with a desire to do ​"dam­age con­trol," rather than engag­ing. ​"There were some strong voic­es with­in the Slut­Walk orga­niz­ing body who believed strong­ly in keep­ing SlutWalk's orig­i­nal brand­ing and main­tain­ing the sta­tus quo until after the march," she said.
This is anoth­er dan­ger of the media-friend­ly, heav­i­ly ​"brand­ed" fem­i­nism rep­re­sent­ed by Slut­Walk. Brands erase diver­si­ty with­in the field to ensure their own sur­vival; it's just how they work. And invest­ment in the brand, the image, the name that gets more atten­tion than ​"March to End Sex­u­al Vio­lence," can hin­der will­ing­ness to change when nec­es­sary. Steele, I should point out, stressed her oblig­a­tion ​"as a fem­i­nist, an activist, and as a human" to lis­ten to crit­i­cisms like these. But the Slut­Walk brand, pow­er­ful as it is, may sim­ply prove too much to give up.
But it works. By the end of Slut­Walk, I did feel safer. I did feel more pow­er­ful. I was tak­ing phone-cam­era shots of the leer­ing men on side­walks and in win­dows, gig­gling when they ran away. This had as much to do with my own priv­i­lege as my dis­com­fort with Occu­py Wall Street had to do with my lack of it, and my ambiva­lence nev­er ful­ly left me. But as we round­ed the cor­ner and head­ed back to Union Square, I noticed the pro­test­ers in front of me look­ing up at a near­by win­dow. And this time, they were cheer­ing. Three old­er women were stand­ing there, beam­ing and wav­ing at us. And they were ful­ly topless.
I cheered for them too. I didn't believe Slut­Walk was the future of fem­i­nism. I didn't believe it rep­re­sent­ed all of fem­i­nism. And I cer­tain­ly hoped it wasn't feminism's end point. But in the moment, it was impos­si­ble to believe get­ting those ladies' atten­tion and sup­port was not a good thing.