Once again, folks, repeat: No WMDs in Iraq. The Boston Globe reports that the search for chemical and biological weapons in Iraq has "quietly concluded." House Minority Leader Nancy Pelosi released a written statement that said:Now that the search is finished, President Bush needs to explain to the American people why he was so wrong, for so long, about the reasons for war. A New York Times article, just released, reports: "Some administration officials have suggested that some arms might have been moved out of Iraq, perhaps to Syria." White House spokesman Scott McClellan apparently ruled this out, but it sounds like some officials want to keep their options open…. Read the press briefing with McClellan, and watch him dodge questions by resorting to platitudes like: "The President knows that by advancing freedom in a dangerous region, we are making the world a safer place."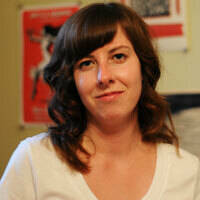 Emily Udell
is a writer for Angie's List Magazine in Indianapolis. In
2009
, she finished a stint drinking bourbon and covering breaking news for
The Courier-Journal
in Louisville, Ky. Her eclectic media career also includes time at the Associated Press,
Punk Planet
(R.I.P.),
The Daily Southtown
in southwest Chicago, and Radio Prague in the Czech Republic. She co-hosted and co-produced
In These Times
' radio show ​
"
Fire on the Prairie
" from
2003
to
2006
.