Socialists Practice Internal Democracy, Endorse Cynthia Nixon—And the Media Is Riveted
Mainstream outlets can't stop writing about how the NYC DSA's endorsement of Cynthia Nixon was a model of democracy in action, unlike the Democratic Party.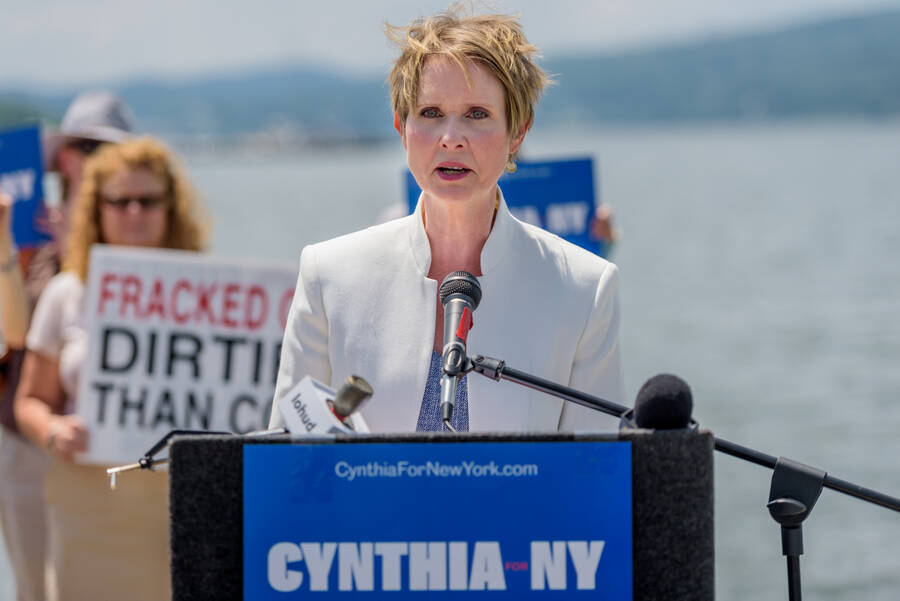 Since when did the inter­nal debates with­in a social­ist orga­ni­za­tion become nation­al news?
In mainstream coverage of DSA's gubernatorial endorsement process, there seems to be as much fascination about the organization's democracy as with its commitment to socialism.
Over the past month, out­lets rang­ing from Politi­co to the Huff­in­g­ton Post have been assid­u­ous­ly track­ing what they see as a key endorse­ment in the New York governor's race: that of the Demo­c­ra­t­ic Social­ists of Amer­i­ca (DSA). Accord­ing­ly, on Sun­day, main­stream out­lets were on deck to cov­er the announce­ment that the New York City chap­ter of DSA — fol­low­ing a lengthy debate — decid­ed to offi­cial­ly endorse Cyn­thia Nixon for New York gov­er­nor, along with Jumaane Williams, a com­mu­ni­ty orga­niz­er, pro­gres­sive City Coun­cil mem­ber and can­di­date for Lieu­tenant Governor.
Incum­bent Gov. Andrew Cuo­mo did not seek the group's endorse­ment, nor did his Lieu­tenant Gov­er­nor Kathy Hochul.
Asked why her team was eager to receive DSA's back­ing, Nixon spokesper­son Lau­ren Hitt tells In These Times that, ​"Cyn­thia appre­ci­ates and admires the work that DSA has been doing in New York and across the coun­try to cre­ate a real vol­un­teer army capa­ble of lift­ing up crit­i­cal issues like sin­gle-pay­er and rent con­trol — and then doing the hard work of orga­niz­ing to elect can­di­dates who cham­pi­on those issues."
In a state­ment, Nixon says, ​"DSA knows that pol­i­tics hap­pens at the grass­roots lev­el and have shown they are ready to do the work. From being instru­men­tal in Alexan­dria Oca­sio-Cortez's vic­to­ry to cam­paign­ing for uni­ver­sal rent con­trol and sin­gle-pay­er health care, DSA is build­ing a move­ment from the bot­tom up. That's why I'm proud to receive this endorse­ment and look for­ward to work­ing with DSA's mem­bers to knock on doors and orga­nize to defeat Andrew Cuo­mo and his Wall Street-backed agen­da on Sep­tem­ber 13."
The rush of atten­tion has been a change of pace for an orga­ni­za­tion that — now 47,000 mem­bers strong — count­ed just 6,000 peo­ple among its ranks in 2015, and whose orga­niz­ing work has hap­pened in rel­a­tive obscu­ri­ty. Fol­low­ing last month's shock­ing pri­ma­ry vic­to­ry of DSA mem­ber and DSA-endorsed Con­gres­sion­al can­di­date Alexan­dria Oca­sio-Cortez, polit­i­cal reporters around the state and the coun­try have come to see the three-decade old social­ist group as an elec­toral force to be reck­oned with. In a piece titled ​"Social­ists Divid­ed Over Cyn­thia Nixon," Politico's Albany Bureau Chief Jim­my Vielk­land detailed inter­nal divi­sions when Nixon went before the city­wide mem­ber­ship ear­li­er this month, and briefly described the group's ​"estab­lished endorse­ment process."
So what did that process look like? After fill­ing out a lengthy ques­tion­naire — com­pil­ing ques­tions from sev­er­al NYC-DSA work­ing groups — Nixon spoke to around 150 DSA mem­bers from across the city and answered their ques­tions, after which an in-room straw poll was con­duct­ed where she gar­nered about one-third sup­port — one-third were unde­cid­ed and anoth­er third opposed.
NYC-DSA also sent out an online poll to all of its mem­bers, which showed more than 70 per­cent sup­port for Nixon. From there, each of the six branch­es with­in the larg­er New York City chap­ter debat­ed amongst them­selves over the endorse­ment and vot­ed indi­vid­u­al­ly. Then, NYC-DSA's 35-mem­ber Cen­tral Lead­er­ship Coun­cil (CLC) — com­prised of rep­re­sen­ta­tives from each of the six geo­graph­ic branch­es, the city­wide Labor Branch and the Young Demo­c­ra­t­ic Social­ists of Amer­i­ca, along with city­wide elect­ed offi­cers — vot­ed to endorse Nixon, with around a two-thirds major­i­ty. The CLC vot­ed unan­i­mous­ly to endorse Williams.
On July 10, just hours before first meet­ing with NYC-DSA, Nixon told Politi­co that she iden­ti­fied as a demo­c­ra­t­ic social­ist. ​"She had­n't called her­self a demo­c­ra­t­ic social­ist pre­vi­ous­ly but her val­ues and what she's fight­ing for are direct­ly aligned with demo­c­ra­t­ic social­ism," Hitt elab­o­rates to In These Times in an email. ​"She believes that being a demo­c­ra­t­ic social­ist means stand­ing up against inequal­i­ty in all its forms and tak­ing strong action to equal­ize wealth and pow­er in our coun­try and society."
In main­stream cov­er­age of DSA's guber­na­to­r­i­al endorse­ment process, there seems to be as much fas­ci­na­tion about the organization's democ­ra­cy as with its com­mit­ment to social­ism. ​"I think peo­ple are real­ly inter­est­ed and curi­ous about what it means to be a demo­c­ra­t­ic orga­ni­za­tion, to have these val­ues and a strat­e­gy," Abdul­lah Younus, co-chair of NYC-DSA, says. ​"This process has been real­ly eye-open­ing for people."
The debate was heat­ed among NYC-DSA's mem­ber­ship, with lengthy dis­cus­sions tak­ing place both online and in per­son. Annie Shields, also a mem­ber of the CLC, vot­ed against endors­ing Nixon out of con­cern for how much impact the city's chap­ter could actu­al­ly have on the out­come of the statewide race, among oth­er rea­sons. Her Bronx-Upper Man­hat­tan branch vot­ed against the endorse­ment two-to-one. And as a rep­re­sen­ta­tive to the city­wide lead­er­ship body, she says, ​"I felt I had a man­date to vote no."
Still, Shields feels hap­py with the way the process unfold­ed. ​"Even when you don't agree nec­es­sar­i­ly with the out­come, what's most impor­tant to me is that we have a demo­c­ra­t­ic process," she says.
Younus empha­sizes that the endorse­ment is much more than ​"just a rub­ber stamp of approval," explain­ing that the chap­ter sees it as ​"a com­mit­ment to a part­ner­ship with a can­di­date to build work­ing class pow­er in New York State."
"Elec­toral cam­paign­ing is just a part of our broad­er strat­e­gy to build social­ist pow­er and win social­ist poli­cies in New York," he says. ​"Our work and momen­tum in this cam­paign is going to car­ry us well beyond the pri­maries in September."
Younus says NYC-DSA plans to ​"hit the ground run­ning" for Nixon in the North Brook­lyn dis­trict of State Sen­ate can­di­date and DSA mem­ber Julia Salazar, who the group had already vot­ed to back. Nixon and Salazar also recent­ly wel­comed one another's endorse­ments in a joint press con­fer­ence. ​"Broad­ly," Younus says, ​"we're ready to mobi­lize our sig­nif­i­cant vol­un­teer base to knock on doors, make phone calls and fundraise for these can­di­dates, because this slate rep­re­sents the best pos­si­ble chance to win poli­cies that ben­e­fit work­ing peo­ple in New York."
In addi­tion to pro­vid­ing a height­ened plat­form for demo­c­ra­t­ic social­ism statewide and at the nation­al lev­el, the phone-bank­ing, door knock­ing and fundrais­ing DSA mem­bers engage in through cam­paigns help equip them with skills that can boost oth­er grass­roots work. DSA mem­bers are involved in cam­paigns on a range of issues, from Medicare for All and immi­gra­tion to afford­able hous­ing and cli­mate jus­tice. Much of that work doesn't direct­ly engage with elec­toral pol­i­tics, and Shields esti­mates that efforts to sup­port can­di­dates makes up rough­ly ​"20 to 30 per­cent of the stuff that's going on in any giv­en day" through­out NYC-DSA.
There might be oth­er upsides to the NYC-DSA's approach to elec­toral pol­i­tics. Shields added that main­stream atten­tion to the organization's endorse­ment process ​"shows that the poten­tial author­i­tar­i­an notions peo­ple might have about what social­ism is are actu­al­ly not accu­rate when it comes to what we're doing. The way we prac­tice our pol­i­tics is quite the opposite."
She con­trast­ed the DSA's approach to how endorse­ments take place with­in the Demo­c­ra­t­ic Par­ty: ​"The par­ty endorsed Cuo­mo and I'm not sure what that process looked like, but I don't think it was as grass­roots as ours."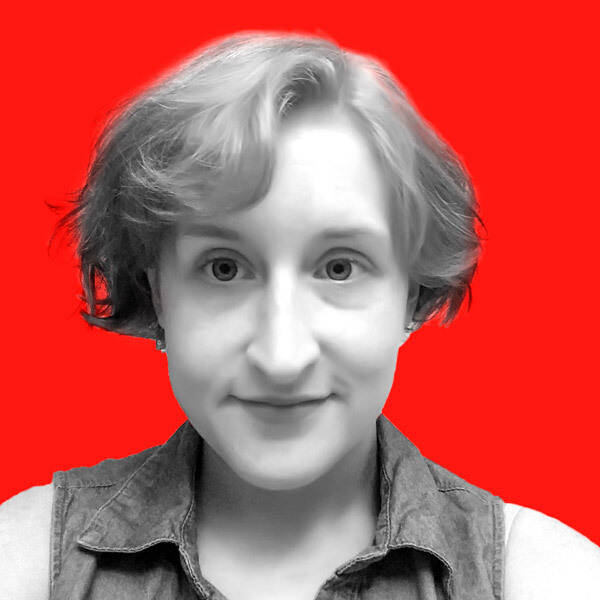 Kate Aronoff
is a Brook­lyn-based jour­nal­ist cov­er­ing cli­mate and U.S. pol­i­tics, and a con­tribut­ing writer at The Inter­cept. Fol­low her on Twit­ter @katearonoff.