Socialists in the House: A 100-Year History from Victor Berger to Alexandria Ocasio-Cortez
American socialists have a long and proud tradition in elected office. Alexandria Ocasio-Cortez and Rashida Tlaib are the latest to carry the torch.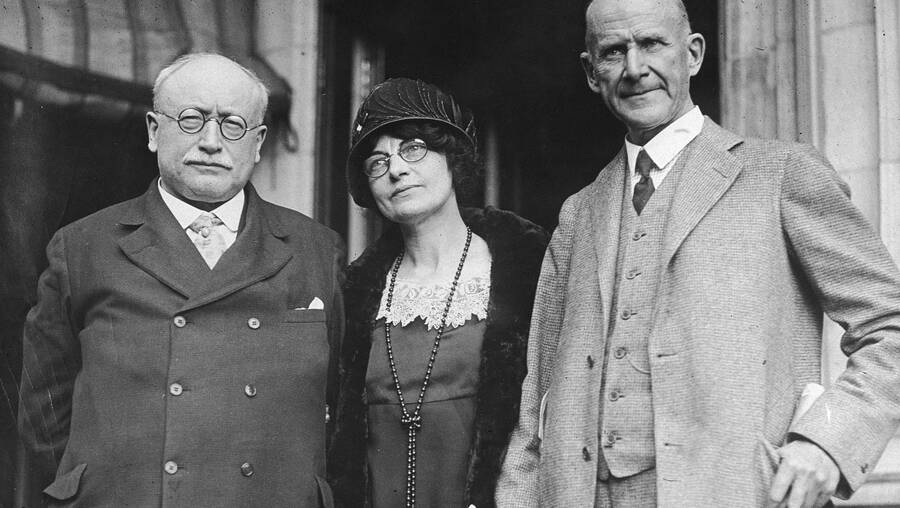 On Tues­day, Novem­ber 6, Rashi­da Tlaib, born and raised in Detroit, the daugh­ter of Pales­tin­ian immi­grants, won elec­tion in Michigan's 13th dis­trict, mak­ing her one of the first Mus­lim women, as well as the first Pales­tin­ian-Amer­i­can woman, elect­ed to the House of Rep­re­sen­ta­tives. Alexan­dria Oca­sio-Cortez, whose father was born in the Bronx and whose moth­er was born in Puer­to-Rico, won elec­tion in New York's 14th dis­trict and will be the youngest woman ever to serve in the House.
Socialists in Congress are a rare but not unknown phenomenon in American political history.
There's some­thing else that sets them apart from their new col­leagues in Wash­ing­ton, DC: Both are mem­bers of the Demo­c­ra­t­ic Social­ists of Amer­i­ca (DSA). As a result, he 116th Con­gress will con­sist of two social­ists and four hun­dred and thir­ty-three rep­re­sen­ta­tives of oth­er per­sua­sions. It's a start.
Social­ists in Con­gress are a rare but not unknown phe­nom­e­non in Amer­i­can polit­i­cal his­to­ry (although nev­er until now Con­gress­women). Two served in the years lead­ing up to the First World War, an era which saw over a thou­sand mem­bers of the Social­ist Par­ty elect­ed to local and state offices. In 1910, two years before social­ist pres­i­den­tial can­di­date Eugene Debs attract­ed over a mil­lion votes (6 per­cent of the total cast) in the pres­i­den­tial race, Vic­tor Berg­er, an immi­grant from Aus­tria-Hun­gary and found­ing mem­ber of the Social­ist Par­ty, was elect­ed to Con­gress from Mil­wau­kee, Wisconsin.
Defeat­ed for re-elec­tion in 1912, six years lat­er the ​"sew­er social­ist" was again vot­ed in, even after being indict­ed for vio­la­tion of the Espi­onage Act, a fed­er­al law tar­get­ing anti-war dis­senters. Demo­c­ra­t­ic norms count­ed for lit­tle in the hys­te­ria of wartime and the post-war Red Scare, and the House of Rep­re­sen­ta­tives twice refused to seat him, even when he won a spe­cial elec­tion in 1919 for the same seat. Final­ly, in 1922, after his Espi­onage Act con­vic­tion was over­turned by the U.S. Supreme Court, Berg­er was once again elect­ed to Con­gress and allowed to take his seat. He was re-elect­ed twice more before retiring.
The oth­er social­ist Con­gress­man in the Debs era, Mey­er Lon­don, an immi­grant from Lithua­nia and anoth­er found­ing mem­ber of the Social­ist Par­ty, was elect­ed to Con­gress from a dis­trict on the Low­er East Side of Man­hat­tan in 1914, re-elect­ed in 1916, but defeat­ed in 1918. He ran a suc­cess­ful re-elec­tion cam­paign in 1920, serv­ing a final term.
It would be anoth­er half cen­tu­ry before avowed social­ists were again ele­vat­ed to the halls of Con­gress. Demo­c­ra­t­ic social­ist Ron Del­lums rep­re­sent­ed the Bay Area from 1971 through 1998, and Major Owens rep­re­sent­ed Brook­lyn vot­ers from 1983 through 2007. Both joined DSA after its found­ing in 1982, and both ran for office on the Demo­c­ra­t­ic tick­et (much like Oca­sio-Cortez and Tlaib).
Bernie Sanders was elect­ed to rep­re­sent Ver­mont as an Inde­pen­dent in the House in 1990, where he served for 16 years. In 2006, he was elect­ed to the U.S. Sen­ate where he con­tin­ues to serve today. Sanders is like­ly the most high-pro­file open­ly social­ist elect­ed offi­cial in the Unit­ed States, and great­ly helped raise the pro­file of demo­c­ra­t­ic social­ism through his Demo­c­ra­t­ic pres­i­den­tial run in 2015 and 2016. Sanders is not a mem­ber of DSA, though he has spo­ken at events for the orga­ni­za­tion dur­ing his polit­i­cal career.
Vot­ers who cast their bal­lots for Berg­er and Lon­don in the ear­ly 20th cen­tu­ry knew exact­ly who and what they were vot­ing for — the Social­ist Par­ty, the caus­es it embraced, and the ulti­mate goal of cre­at­ing a social­ist soci­ety. For Del­lums and Owens, both of whom had held polit­i­cal office long before join­ing DSA, their demo­c­ra­t­ic social­ist alle­giance was more of an inci­den­tal aspect of their appeal to the aver­age vot­er. Each pub­licly acknowl­edged their mem­ber­ship in DSA, and the orga­ni­za­tion proud­ly adver­tised their mem­ber­ship. But nei­ther Del­lums nor Owens were depen­dent on DSA polit­i­cal­ly. They cer­tain­ly didn't feel oblig­ed to con­sult with the orga­ni­za­tion to decide how to vote, although both proved reli­ably progressive.
A half-cen­tu­ry ear­li­er, Berg­er and Lon­don had much stronger orga­ni­za­tion­al ties to the social­ist move­ment. But even then, they chart­ed their own course, based on polit­i­cal con­vic­tion — or polit­i­cal expe­di­en­cy. Berg­er spoke out against WWI and wound up fac­ing heavy jail time as a result, as well as the denial of his right­ful seat in Con­gress. Lon­don opposed Amer­i­can entry into the war, but once war was declared he reluc­tant­ly decid­ed to sup­port it. There was grum­bling from the social­ist ranks about his apos­ta­sy, but no offi­cial con­dem­na­tion or sanc­tions. (While Berg­er was fur­ther left than Lon­don on the ques­tion of oppos­ing the war, he was to London's right on oth­er issues, such as the restric­tion of immi­gra­tion. Social­ist Par­ty pol­i­tics in the Debs era were com­pli­cat­ed. For a good guide on these mat­ters, see In These Times founder James Weinstein's clas­sic study, The Decline of Social­ism in Amer­i­ca, 1912 – 1925.)
What then can we expect of the like­ly post-elec­tion rela­tion­ship between the two new social­ist Con­gress­women and DSA? Tlaib already had made her mark in Michi­gan state pol­i­tics before join­ing DSA. Oca­sio-Cortez, on the oth­er hand, made her first run for polit­i­cal office with­in a year of join­ing DSA; vol­un­teers and staff from New York City DSA were vital to her suc­cess. Nonethe­less, as in the ear­li­er case of Del­lums and Owens, the demo­c­ra­t­ic social­ist label was like­ly of lit­tle impor­tance to most of those who vot­ed for either can­di­date in the gen­er­al elec­tion, since they both ran as Democ­rats in heav­i­ly Demo­c­ra­t­ic districts.
And now that they are in Con­gress, both Tlaib and Oca­sio-Cortez will almost cer­tain­ly devel­op broad­ened polit­i­cal bases large­ly inde­pen­dent of DSA. Orga­nized labor and lib­er­al advo­ca­cy groups will be in their camp now. The Con­gress­women may, out of con­vic­tion or good will, con­tin­ue to pay DSA dues, and show up for ral­lies, fundrais­ers or oth­er social­ist gath­er­ings, as Del­lums and Owens did. But it's unlike­ly they'll have the time or incli­na­tion to devote much more in terms of direct involve­ment. If they are going to do their jobs right, serve their con­stituents — and get re-elect­ed — they are going to be very busy and in a much big­ger arena.
Vol­un­teer pow­er from DSA, how­ev­er, did help both Tlaib and, per­haps more so, Oca­sio-Cortez, win their con­test­ed pri­maries. That involve­ment shows what kind of an impact the orga­ni­za­tion can have on elec­toral races, and will like­ly inspire oth­er insur­gent can­di­dates to seek DSA's endorse­ment in future races. And as more politi­cians begin to adopt the label of ​"demo­c­ra­t­ic social­ist" — while advanc­ing the val­ues and pol­i­cy pri­or­i­ties of the group, DSA will con­tin­ue to grow in pow­er as a play­er in Amer­i­can politics.
It is this growth that is more impor­tant for the organization's con­tin­ued suc­cess than dis­cus­sions of strict account­abil­i­ty to DSA. After all, as elect­ed rep­re­sen­ta­tives, Tlaib and Oca­sio-Cortez are account­able to a num­ber of dif­fer­ent groups that helped elect them, and first and fore­most — and right­ly so in a demo­c­ra­t­ic sys­tem — to the vot­ers of the dis­tricts they rep­re­sent. And as a mat­ter of prac­ti­cal­i­ty, DSA cur­rent­ly needs Tlaib and Oca­sio-Cortez more than either of them need DSA.
This real­i­ty is worth remem­ber­ing if the new­ly reen­er­gized DSA is to help expand the social­ist cau­cus in the House of Rep­re­sen­ta­tives beyond the two it cur­rent­ly counts.
Mau­rice Isser­man
, a char­ter mem­ber of Demo­c­ra­t­ic Social­ists of Amer­i­ca, is the author of The Oth­er Amer­i­can: The Life of Michael Har­ring­ton (
2000
)