How Electrifying Railroads Could Help Us Transition from Fossil Fuels and Power Rural Economies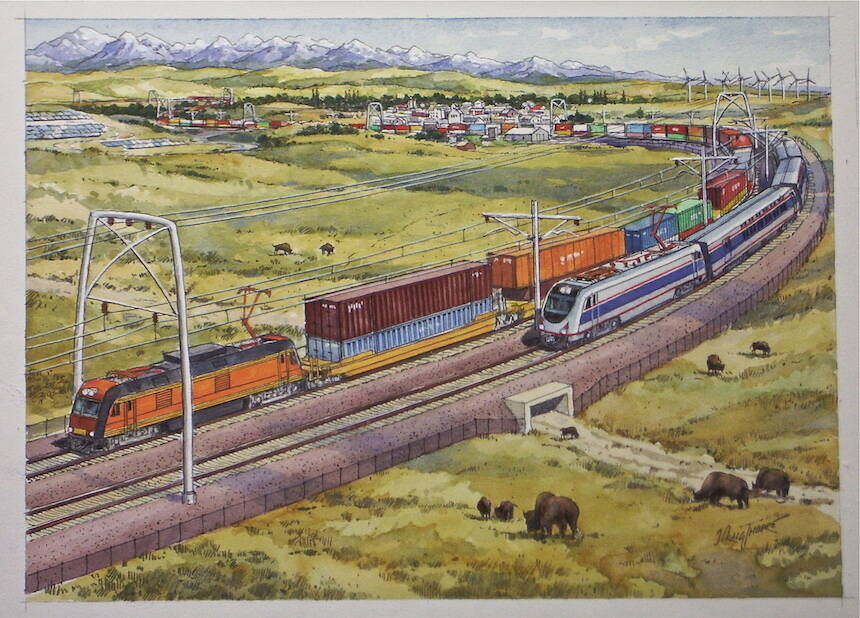 We wanted to make sure you didn't miss the announcement of our new Sustainer program. Once you've finished reading, take a moment to check out the new program, as well as all the benefits of becoming a Sustainer.

On June 3, a train carrying crude from the Bakken oil fields derailed outside Moiser, Ore., and caught fire. Under the headline ​"Mosier Really Dodged a Bullet," the Oregonian reported the following day, ​"A half-mile east, and the inferno would've burned a few feet beneath a block of modular homes… . Another mile-and-a-half, and leaking tank cars would've landed on the bank of the Columbia River during peak spring Chinook salmon migration." The list of tragic possibilities was endless.
Only the Fates get credit for averting human tragedy, but the Mosier derailment has energized the already robust extraction resistance and climate justice movement in the Pacific Northwest — amplifying the call to stop fossil fuel industry plans from using the region as a transport corridor for fossil fuel commodities destined for Asia.
In the weeks since the accident, regular people in small Washington towns like Hoquiam, Aberdeen and Mount Vernon have put aside political differences to express mutual outrage. Many, like their urban counterparts, are now insisting that elected officials say ​"No" to Bakken oil trains and other transport infrastructure that threaten their communities and the environment.
Meanwhile, activists in the Pacific Northwest — known as Blockadia — are already well trained and battle tested following years of action camps, public engagement campaigns, protests and complex mobilizations like sHellNo! and Break Free PNW. They've been fighting (and increasingly succeeding) against coal ports, oil terminals, refineries and pipelines — even tipping the balance on massive projects like Arctic drilling.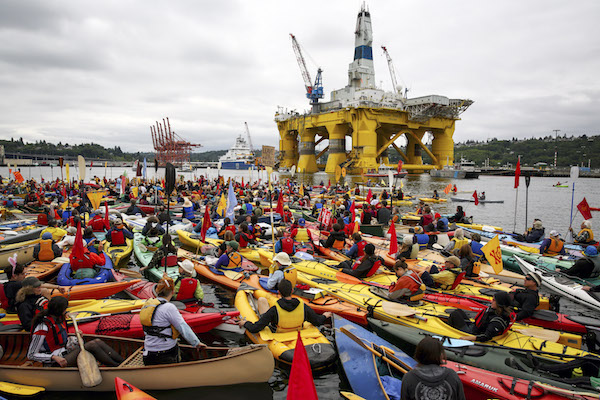 May 16, 2015: Kayaktivists gather in Elliot Bay to demonstrate against Shell's arctic drilling plans. The rig known as the ​"Polar Pioneer" docked in Seattle before heading north. Despite a $7 billion investment, citing a lack of profitability and environmental concerns, the company later decided it would not drill in the Chukchi Sea off the coast of Alaska. (Photo: Flickr)
Activist or not, many rational people realize that society's addiction to fossil fuel is killing us — polluting our land, water, and air while cooking our climate. But when it comes to the ​"modern" railroad industry, few understand the scope of the alliance between rail companies, and big coal and big oil. The transportation of soon-to-be outdated energy has been built into their business models — essentially creating a systemic dependence upon the continuous shipment of fossil fuel commodities. In other words, railroads are now tied to the boom and bust nature of the extractive economy.
But this wasn't always (and doesn't need to be) the case. Already the most efficient form of ground transportation, rail has an unparalleled capacity to provide clean freight and passenger mobility. Unlike other forms of heavy, long-haul transportation such as ships, planes and semi-trailer trucks, rail can be electrified, and electricity is increasingly coming from clean sources such as sun and wind.
A brief history
Railroad companies began getting drafted into the fossil fuel economy when, under President Dwight Eisenhower, the U.S. government created the Interstate highway system. The creation of a publicly subsidized highway infrastructure was a major cause of high-value freight and passengers abandoning privately owned trains for trucks and cars. Coal, which needed to be shipped on trains year round, was the customer that saved the railroads. The industry's dependence on coal grew.
In 1970, the federal government bailed out struggling railroad companies by taking over and subsidizing the transport of people, creating Amtrak. Other railroad companies further scuttled service to communities, eliminating timely delivery of discretionary freight and stranding rural communities. Despite their common carrier obligations, the railroad business model in the United States became increasingly contingent on transporting heavy commodities, further favoring only the largest customers.
This dependency on heavy commodities soon did away with regular schedules — today, freight trains depart when deemed full. As a result, rail employees, known as ​"rails," are on call 24/7. This not only creates an uncertain work environment, it's dangerous and unsustainable. The absence of regular work schedules fosters a fatigue-plagued, unsafe work environment that endangers workers, our communities and the environment. But being that the problem is systemic — inherent to the way railroads do business — it is not something that can be easily negotiated or regulated.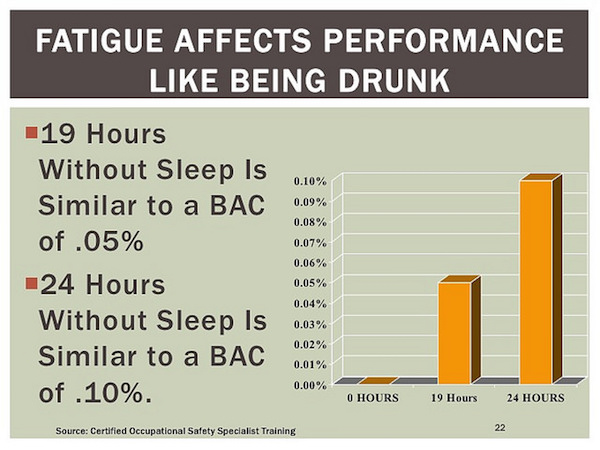 According to the U.S. Department of Transportation, the risk of a ​"human factors accident" on railways is elevated from 11 to 65 percent above chance by exposure to fatigue. (Image: Certified Occupational Safety Specialist Training, University of Iowa)
Looking toward the future and the ​
"

post-binge withdrawl"

Until recently, railroads were an industry in denial of their precarious and fossil fuel dependent business model. They were riding high on the bulk shipments of coal and oil that many economists predicted would keep growing.

That was not to be. Fossil fuel interests both here and abroad are increasingly on their heels, facing an uncertain future. The largest U.S. coal companies have declared bankruptcy while a global oil supply glut has caused many high-cost oil shale and tar sands operations to halt production.

Over the first quarter of 2016, BNSF Railway (owned by Warren Buffett's Berkshire Hathaway and, after the Department of Defense, the second largest consumer of diesel in the United States) laid off about 10 percent of its workforce due to declining coal and oil shipments. Many rail workers are now sitting at home on indefinite furlough while locomotive fleets sit idle in remote yards. These current troubles underscore how the boom-and-bust cycles of the fossil fuel economy batter the industry, workers and communities.

The post-binge withdrawals have begun and the codependent railroad industry is also in a moment of crisis.

What the above should make clear is that railroads and trains are not the problem. Rather, their dependence on an unsustainable, destructive business model is. Rail itself has unparalleled potential to play a pivotal role in making a just transition away from society's dependence on fossil fuels. But it is time for the U.S. rail industry's failing and toxic business model to cast aside its own fossil fuel habit and partner with public authorities to create the infrastructure our society needs and deserves.
The Backbone Campaign
In 2003, I co-founded the Backbone Campaign—an organization striving to provide creative organizing strategies and artful tactical tools to bolster a progressive populism in the United States — and have been directing it ever since. Based in the Pacific Northwest, we remain confronted with the dilemma of both fighting fossil fuel transport by rail but wanting a vibrant railroad infrastructure. So, in 2013 we convened a national team of rail experts, economists, and public interest and rail labor advocates. The concerns and passions of those assembled ranged from climate disruption to the public health and safety threats caused by railroad freight, but all were motivated by a common belief that 21st century rail had great unfulfilled potential.
The multi-pronged challenge was to develop a proposal that would both reduce reliance on fossil fuel transportation and make rail itself an engine to build an economy based on clean, renewable energy while at the same time providing new economic options for rail and fossil fuel infrastructure dependent workers.
We call the result of these meetings Solutionary Rail.
The proposal
Solutionary Rail proposes overhead rail electrification, powered by renewable energy accomplished in conjunction with track modernization. This infrastructural investment will bring to the United States the reliable, electrified, higher-speed service now common on public railroads in Europe, Asia and elsewhere.
Such service can draw significant portions of freight and passenger service lost to highways and aviation back to the tracks. Increased speeds and efficiency will allow the restoration of rail service that will revitalize rural communities along the tracks: Farmers will be able to ship their crops to market in a timely manner, public health problems caused by diesel exhaust will be greatly reduced and (eventually) coal dust will be eliminated in rural and urban communities alike. Meanwhile freeways, less burdened by the toll of long-haul trucking, will become safer.
Higher speed freight and passenger rail capacity, with top speeds of 80mph/​120mph respectively, will draw higher value, more profitable freight off of trucks and planes and back onto the rails. Over time, this new business model serving new customers will displace slow moving, low value coal or dangerous crude oil. Passengers and freight will not be chronically delayed behind bulk coal and oil trains. Clogging the tracks with will become less profitable and eventually a liability rather than the foundation of railroads' current business model. The narrowly averted human and environmental tragedy in Mosier, the costly tragedy in Lac-Mégantic, and the constant endangerment of communities along the tracks will no longer be consider an acceptable risk and cost of doing business.
Electrified rail can be an engine for moving the economy as a whole beyond reliance on fossil fuels. The electrification infrastructure above the tracks will pass through diverse weather systems and countless rural power cooperative, municipal and tribal utility service areas. Currently, utilities like Yakama Power are stifled in their ability to build additional generation capacity, because access to finance requires a customer for surplus electrons generated during peak production. The rail electrification infrastructure would serve as that customer and in so doing unlock stranded renewable energy resources all along rail corridors.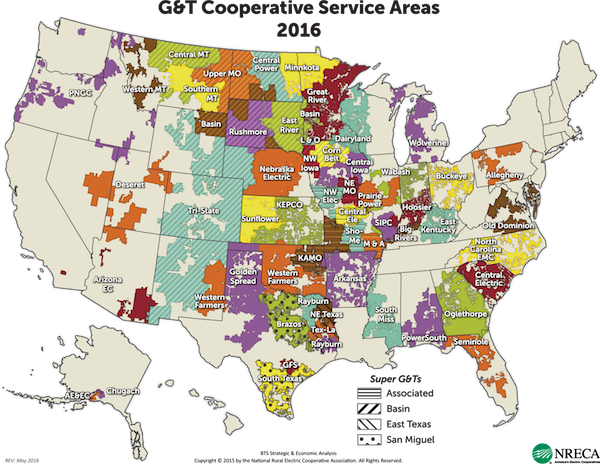 Owned by the customers they serve, there are two kinds of electric cooperatives in the United States — distribution and generation and transmission (G&T). Currently, 840 Distribution and 65 G&T energy cooperatives serve an estimated 42 million people in 47 states. (Image: NRECA)
Stacking efficient high-voltage transmission lines above the catenary lines for the trains will serve as superhighways for electrons, moving energy from remote wind and solar sources to metropolitan markets. Combined, these will unleash the massive untapped generation potential of distributed renewable energy.
Accessing renewable energy generation across diverse geographies makes overall supply more predictable and reliable. This will in large part provide a solution to the variability of solar and wind sources, the most persistent impediment to transitioning off of fossil fuels.
Electrifying the Northern Transcon
The Solutionary Rail team proposes jump-starting U.S. rail electrification with a demonstration from the Great Lakes to the Salish Sea, principally on BNSF's Northern Transcon. The Northern Transcon and 
connecting branches, often referred to as the northern corridor, total around 4,400 track miles. Our priority would be to electrify the major 2,200-mile intermodal portion of this corridor, carrying containers between the Northwest and Midwest. This nationally important freight transport route, crosses diverse weather patterns and regional economies, offering the perfect opportunity to successfully demonstrate rail electrification's potential to deliver renewed vitality for U.S. railroads and the economy they serve.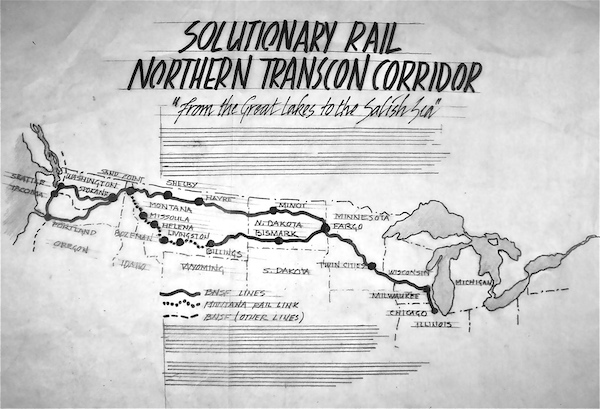 The Northern Transcon route, extending from the Illinois to Washington state, is the most northerly railroad route in the western United States. (Illustration: J. Craig Thorpe)
Indeed, this is a major infrastructural transformation proposal that will require a larger investment than any railroad company would do on its own. We therefore propose that states along the lines jointly create what we are calling a Steel Interstate Development Authority (SIDA). The SIDA would be a not-for-profit corporation operating under a board appointed by participating states. It would be chartered with the authority to raise funds for infrastructure investment on both publicly and privately owned rights-of-way. The SIDA would leverage the ability of public agencies to issue bonds and provide low-interest capital to invest in rail electrification in partnership with railroads and oversee funding and construction of electrification infrastructure.
The electrification infrastructure and potentially some tracks would remain publicly owned. This would begin to restore our national infrastructure, our economy and society. It would mark a reversal in the trend of privatization that has robbed the public of the shared prosperity and accountability over recent decades.
A Solutionary Rail demonstration along the Northern Transcon will require a broad alliance, including BNSF and its owner, Warren Buffett. Governors and legislators of states along the route will need to be pressed into leadership by a coalition of stakeholders ranging from railroad workers to municipal governments, agricultural, tribes, ports and major industries along the route. Rail electrification will provide phenomenal benefits to BNSF and other railroad companies. In return, some key public benefits will must be part of the bargain. One of those is a fair deal for rail labor. This is an integral element of the Solutionary Rail vision.
Now is the time to advance projects and policies for a just transition for both rail and fossil fuel industry workers away from dependence on jobs in extreme extraction and transport and toward a sustainable, clean energy economy. As the United Steelworkers recently stated in their just transition resolution: ​"A clean energy job is any job that helps our nation achieve our goals of reducing greenhouse gas emissions and protecting our environment." Perhaps no other industry is better positioned to play a more pivotal role in the just transition to clean, renewable energy as the railroads.
All rail jobs can be clean energy jobs.
Rail enthusiasts and rails recall the time in American history when thriving railroads served as the circulatory system for vibrant communities with strong local economies. Solutionary Rail celebrates the tradition from which these workers hail, identifies a public interest in their well-being and the sustainability of their vocation.
Cities and towns on and near rail lines used to rely on rail service to access the world, to transport people and products to and from their regions. Much of the United States, in fact, grew on and around rail lines. Communities competed with one another to draw rail service, knowing their livelihoods depended on it. With Solutionary Rail, these days can return.
Solutionary Rail charts a path forward to revitalize this infrastructural treasure. For farmers, utilities, tribes and rail communities large and small, electrified and modernized railroads can be a source of renewal and vitality.
Together, we can build an unstoppable coalition to force dysfunctional elected leadership take unified action for a railroad infrastructure and transportation model that serves us all. Solutionary Rail helps the rail industry pivot from being part of the problem to become a fundamental source of economic, social and climate solutions in communities and a world that urgently need them.
For more information about the Backbone Campaign, and to join the Washington State Labor Council in support of Solutionary Rail click here.
To find out how to make a contribution to the people-powered grassroots Solutionary Rail campaign click here.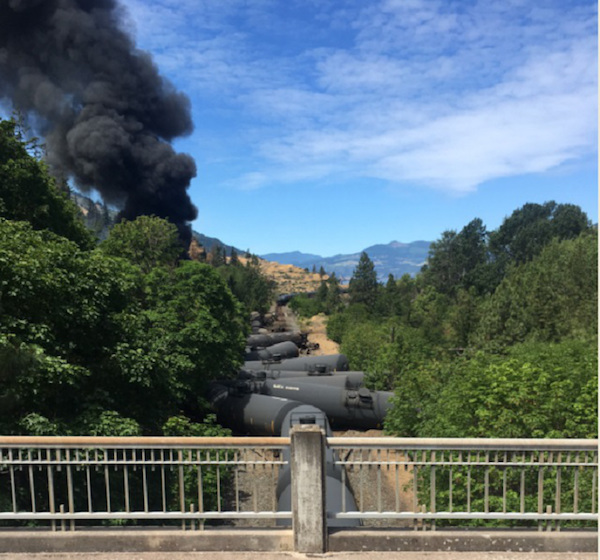 A plume of smoke rises on June 3, 2016 in Mosier, Ore. following oil train derailment. (Photo: DOT111​.info)
Be a Sustainer
We surveyed thousands of readers and asked what they would like to see in a monthly giving program. Now, for the first time, we're offering three different levels of support, with rewards at each level, including a magazine subscription, books, tote bags, events and more—all starting at less than 17 cents a day. Check out the new Sustainer program.
Bill Moyer
co-founded the Backbone Campaign in
2003
with artist friends on Vashon Island, WA. Responding to Bush administration policies, they applied lessons of the performing arts and their creativity to help invigorate a progressive movement for nonviolent social change. Bill has served as Backbone's executive director since
2004
. Through Backbone he and his team have designed and co-produced hundreds of creative actions; trained over a thousand artful activists in everything from grand strategy to creative tactics such as the giant flying banners, the use of stage lights to project messages, and Backbone's recent hallmark innovation: kayaktivism. Bill humbly coordinates the talented Solutionary Rail team and is extremely proud of their upcoming book on the future of U.S. Railroads. He lives in the woods of Vashon with his wife and teenage daughter.