On June 3, a train car­ry­ing crude from the Bakken oil fields derailed out­side Moi­s­er, Ore., and caught fire. Under the head­line ​"Mosier Real­ly Dodged a Bul­let," the Ore­gon­ian report­ed the fol­low­ing day, ​"A half-mile east, and the infer­no would've burned a few feet beneath a block of mod­u­lar homes… . Anoth­er mile-and-a-half, and leak­ing tank cars would've land­ed on the bank of the Colum­bia Riv­er dur­ing peak spring Chi­nook salmon migra­tion." The list of trag­ic pos­si­bil­i­ties was endless.
Only the Fates get cred­it for avert­ing human tragedy, but the Mosier derail­ment has ener­gized the already robust extrac­tion resis­tance and cli­mate jus­tice move­ment in the Pacif­ic North­west — ampli­fy­ing the call to stop fos­sil fuel indus­try plans from using the region as a trans­port cor­ri­dor for fos­sil fuel com­modi­ties des­tined for Asia.
In the weeks since the acci­dent, reg­u­lar peo­ple in small Wash­ing­ton towns like Hoquiam, Aberdeen and Mount Ver­non have put aside polit­i­cal dif­fer­ences to express mutu­al out­rage. Many, like their urban coun­ter­parts, are now insist­ing that elect­ed offi­cials say ​"No" to Bakken oil trains and oth­er trans­port infra­struc­ture that threat­en their com­mu­ni­ties and the environment.
Mean­while, activists in the Pacif­ic North­west — known as Blocka­dia — are already well trained and bat­tle test­ed fol­low­ing years of action camps, pub­lic engage­ment cam­paigns, protests and com­plex mobi­liza­tions like sHell­No! and Break Free PNW. They've been fight­ing (and increas­ing­ly suc­ceed­ing) against coal ports, oil ter­mi­nals, refiner­ies and pipelines — even tip­ping the bal­ance on mas­sive projects like Arc­tic drilling.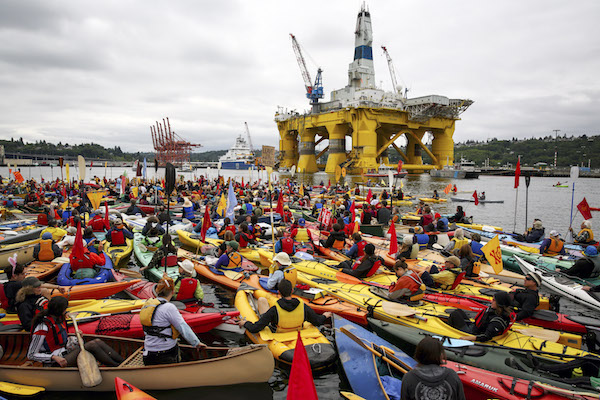 May 16, 2015: Kayak­tivists gath­er in Elliot Bay to demon­strate against Shel­l's arc­tic drilling plans. The rig known as the ​"Polar Pio­neer" docked in Seat­tle before head­ing north. Despite a $7 bil­lion invest­ment, cit­ing a lack of prof­itabil­i­ty and envi­ron­men­tal con­cerns, the com­pa­ny lat­er decid­ed it would not drill in the Chukchi Sea off the coast of Alas­ka. (Pho­to: Flickr)
Activist or not, many ratio­nal peo­ple real­ize that soci­ety's addic­tion to fos­sil fuel is killing us — pol­lut­ing our land, water, and air while cook­ing our cli­mate. But when it comes to the ​"mod­ern" rail­road indus­try, few under­stand the scope of the alliance between rail com­pa­nies, and big coal and big oil. The trans­porta­tion of soon-to-be out­dat­ed ener­gy has been built into their busi­ness mod­els — essen­tial­ly cre­at­ing a sys­temic depen­dence upon the con­tin­u­ous ship­ment of fos­sil fuel com­modi­ties. In oth­er words, rail­roads are now tied to the boom and bust nature of the extrac­tive economy.
But this wasn't always (and doesn't need to be) the case. Already the most effi­cient form of ground trans­porta­tion, rail has an unpar­al­leled capac­i­ty to pro­vide clean freight and pas­sen­ger mobil­i­ty. Unlike oth­er forms of heavy, long-haul trans­porta­tion such as ships, planes and semi-trail­er trucks, rail can be elec­tri­fied, and elec­tric­i­ty is increas­ing­ly com­ing from clean sources such as sun and wind.
A brief history
Rail­road com­pa­nies began get­ting draft­ed into the fos­sil fuel econ­o­my when, under Pres­i­dent Dwight Eisen­how­er, the U.S. gov­ern­ment cre­at­ed the Inter­state high­way sys­tem. The cre­ation of a pub­licly sub­si­dized high­way infra­struc­ture was a major cause of high-val­ue freight and pas­sen­gers aban­don­ing pri­vate­ly owned trains for trucks and cars. Coal, which need­ed to be shipped on trains year round, was the cus­tomer that saved the rail­roads. The industry's depen­dence on coal grew.
In 1970, the fed­er­al gov­ern­ment bailed out strug­gling rail­road com­pa­nies by tak­ing over and sub­si­diz­ing the trans­port of peo­ple, cre­at­ing Amtrak. Oth­er rail­road com­pa­nies fur­ther scut­tled ser­vice to com­mu­ni­ties, elim­i­nat­ing time­ly deliv­ery of dis­cre­tionary freight and strand­ing rur­al com­mu­ni­ties. Despite their com­mon car­ri­er oblig­a­tions, the rail­road busi­ness mod­el in the Unit­ed States became increas­ing­ly con­tin­gent on trans­port­ing heavy com­modi­ties, fur­ther favor­ing only the largest customers.
This depen­den­cy on heavy com­modi­ties soon did away with reg­u­lar sched­ules — today, freight trains depart when deemed full. As a result, rail employ­ees, known as ​"rails," are on call 24⁄7. This not only cre­ates an uncer­tain work envi­ron­ment, it's dan­ger­ous and unsus­tain­able. The absence of reg­u­lar work sched­ules fos­ters a fatigue-plagued, unsafe work envi­ron­ment that endan­gers work­ers, our com­mu­ni­ties and the envi­ron­ment. But being that the prob­lem is sys­temic — inher­ent to the way rail­roads do busi­ness — it is not some­thing that can be eas­i­ly nego­ti­at­ed or regulated.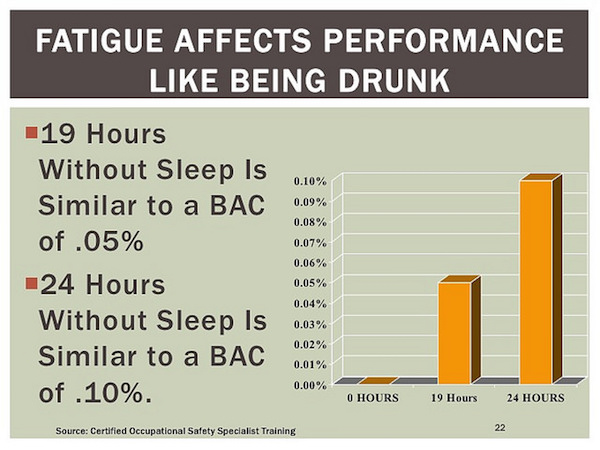 Accord­ing to the U.S. Depart­ment of Trans­porta­tion, the risk of a ​"human fac­tors acci­dent" on rail­ways is ele­vat­ed from 11 to 65 per­cent above chance by expo­sure to fatigue. (Image: Cer­ti­fied Occu­pa­tion­al Safe­ty Spe­cial­ist Train­ing, Uni­ver­si­ty of Iowa)
Look­ing toward the future and the ​
"

post-binge withdrawl"

Until recent­ly, rail­roads were an indus­try in denial of their pre­car­i­ous and fos­sil fuel depen­dent busi­ness mod­el. They were rid­ing high on the bulk ship­ments of coal and oil that many econ­o­mists pre­dict­ed would keep growing.

That was not to be. Fos­sil fuel inter­ests both here and abroad are increas­ing­ly on their heels, fac­ing an uncer­tain future. The largest U.S. coal com­pa­nies have declared bank­rupt­cy while a glob­al oil sup­ply glut has caused many high-cost oil shale and tar sands oper­a­tions to halt production.

Over the first quar­ter of 2016, BNSF Rail­way (owned by War­ren Buffett's Berk­shire Hath­away and, after the Depart­ment of Defense, the sec­ond largest con­sumer of diesel in the Unit­ed States) laid off about 10 per­cent of its work­force due to declin­ing coal and oil ship­ments. Many rail work­ers are now sit­ting at home on indef­i­nite fur­lough while loco­mo­tive fleets sit idle in remote yards. These cur­rent trou­bles under­score how the boom-and-bust cycles of the fos­sil fuel econ­o­my bat­ter the indus­try, work­ers and communities.

The post-binge with­drawals have begun and the code­pen­dent rail­road indus­try is also in a moment of crisis.

What the above should make clear is that rail­roads and trains are not the prob­lem. Rather, their depen­dence on an unsus­tain­able, destruc­tive busi­ness mod­el is. Rail itself has unpar­al­leled poten­tial to play a piv­otal role in mak­ing a just tran­si­tion away from society's depen­dence on fos­sil fuels. But it is time for the U.S. rail industry's fail­ing and tox­ic busi­ness mod­el to cast aside its own fos­sil fuel habit and part­ner with pub­lic author­i­ties to cre­ate the infra­struc­ture our soci­ety needs and deserves.
The Back­bone Campaign
In 2003, I co-found­ed the Back­bone Cam­paign—an orga­ni­za­tion striv­ing to pro­vide cre­ative orga­niz­ing strate­gies and art­ful tac­ti­cal tools to bol­ster a pro­gres­sive pop­ulism in the Unit­ed States — and have been direct­ing it ever since. Based in the Pacif­ic North­west, we remain con­front­ed with the dilem­ma of both fight­ing fos­sil fuel trans­port by rail but want­i­ng a vibrant rail­road infra­struc­ture. So, in 2013 we con­vened a nation­al team of rail experts, econ­o­mists, and pub­lic inter­est and rail labor advo­cates. The con­cerns and pas­sions of those assem­bled ranged from cli­mate dis­rup­tion to the pub­lic health and safe­ty threats caused by rail­road freight, but all were moti­vat­ed by a com­mon belief that 21st cen­tu­ry rail had great unful­filled potential.
The mul­ti-pronged chal­lenge was to devel­op a pro­pos­al that would both reduce reliance on fos­sil fuel trans­porta­tion and make rail itself an engine to build an econ­o­my based on clean, renew­able ener­gy while at the same time pro­vid­ing new eco­nom­ic options for rail and fos­sil fuel infra­struc­ture depen­dent workers.
We call the result of these meet­ings Solu­tion­ary Rail.
The pro­pos­al
Solu­tion­ary Rail pro­pos­es over­head rail elec­tri­fi­ca­tion, pow­ered by renew­able ener­gy accom­plished in con­junc­tion with track mod­ern­iza­tion. This infra­struc­tur­al invest­ment will bring to the Unit­ed States the reli­able, elec­tri­fied, high­er-speed ser­vice now com­mon on pub­lic rail­roads in Europe, Asia and elsewhere.
Such ser­vice can draw sig­nif­i­cant por­tions of freight and pas­sen­ger ser­vice lost to high­ways and avi­a­tion back to the tracks. Increased speeds and effi­cien­cy will allow the restora­tion of rail ser­vice that will revi­tal­ize rur­al com­mu­ni­ties along the tracks: Farm­ers will be able to ship their crops to mar­ket in a time­ly man­ner, pub­lic health prob­lems caused by diesel exhaust will be great­ly reduced and (even­tu­al­ly) coal dust will be elim­i­nat­ed in rur­al and urban com­mu­ni­ties alike. Mean­while free­ways, less bur­dened by the toll of long-haul truck­ing, will become safer.
High­er speed freight and pas­sen­ger rail capac­i­ty, with top speeds of 80mph/​120mph respec­tive­ly, will draw high­er val­ue, more prof­itable freight off of trucks and planes and back onto the rails. Over time, this new busi­ness mod­el serv­ing new cus­tomers will dis­place slow mov­ing, low val­ue coal or dan­ger­ous crude oil. Pas­sen­gers and freight will not be chron­i­cal­ly delayed behind bulk coal and oil trains. Clog­ging the tracks with will become less prof­itable and even­tu­al­ly a lia­bil­i­ty rather than the foun­da­tion of rail­roads' cur­rent busi­ness mod­el. The nar­row­ly avert­ed human and envi­ron­men­tal tragedy in Mosier, the cost­ly tragedy in Lac-Mégan­tic, and the con­stant endan­ger­ment of com­mu­ni­ties along the tracks will no longer be con­sid­er an accept­able risk and cost of doing business.
Elec­tri­fied rail can be an engine for mov­ing the econ­o­my as a whole beyond reliance on fos­sil fuels. The elec­tri­fi­ca­tion infra­struc­ture above the tracks will pass through diverse weath­er sys­tems and count­less rur­al pow­er coop­er­a­tive, munic­i­pal and trib­al util­i­ty ser­vice areas. Cur­rent­ly, util­i­ties like Yaka­ma Pow­er are sti­fled in their abil­i­ty to build addi­tion­al gen­er­a­tion capac­i­ty, because access to finance requires a cus­tomer for sur­plus elec­trons gen­er­at­ed dur­ing peak pro­duc­tion. The rail elec­tri­fi­ca­tion infra­struc­ture would serve as that cus­tomer and in so doing unlock strand­ed renew­able ener­gy resources all along rail corridors.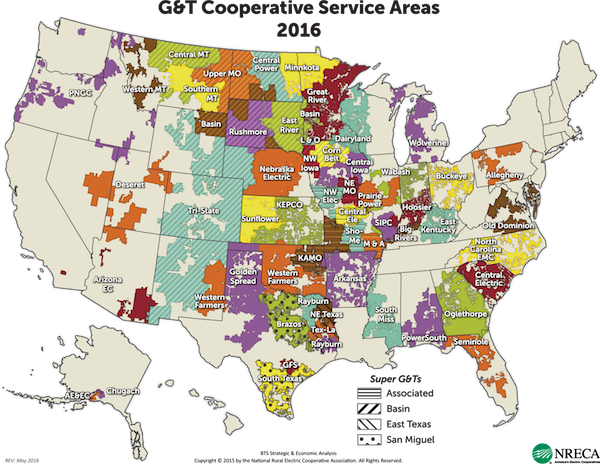 Owned by the cus­tomers they serve, there are two kinds of elec­tric coop­er­a­tives in the Unit­ed States — dis­tri­b­u­tion and gen­er­a­tion and trans­mis­sion (G&T). Cur­rent­ly, 840 Dis­tri­b­u­tion and 65 G&T ener­gy coop­er­a­tives serve an esti­mat­ed 42 mil­lion peo­ple in 47 states. (Image: NRECA)
Stack­ing effi­cient high-volt­age trans­mis­sion lines above the cate­nary lines for the trains will serve as super­high­ways for elec­trons, mov­ing ener­gy from remote wind and solar sources to met­ro­pol­i­tan mar­kets. Com­bined, these will unleash the mas­sive untapped gen­er­a­tion poten­tial of dis­trib­uted renew­able energy.
Access­ing renew­able ener­gy gen­er­a­tion across diverse geo­gra­phies makes over­all sup­ply more pre­dictable and reli­able. This will in large part pro­vide a solu­tion to the vari­abil­i­ty of solar and wind sources, the most per­sis­tent imped­i­ment to tran­si­tion­ing off of fos­sil fuels.
Elec­tri­fy­ing the North­ern Transcon
The Solu­tion­ary Rail team pro­pos­es jump-start­ing U.S. rail elec­tri­fi­ca­tion with a demon­stra­tion from the Great Lakes to the Sal­ish Sea, prin­ci­pal­ly on BNSF's North­ern Transcon. The North­ern Transcon and 
con­nect­ing branch­es, often referred to as the north­ern cor­ri­dor, total around 4,400 track miles. Our pri­or­i­ty would be to elec­tri­fy the major 2,200-mile inter­modal por­tion of this cor­ri­dor, car­ry­ing con­tain­ers between the North­west and Mid­west. This nation­al­ly impor­tant freight trans­port route, cross­es diverse weath­er pat­terns and region­al economies, offer­ing the per­fect oppor­tu­ni­ty to suc­cess­ful­ly demon­strate rail elec­tri­fi­ca­tion's poten­tial to deliv­er renewed vital­i­ty for U.S. rail­roads and the econ­o­my they serve.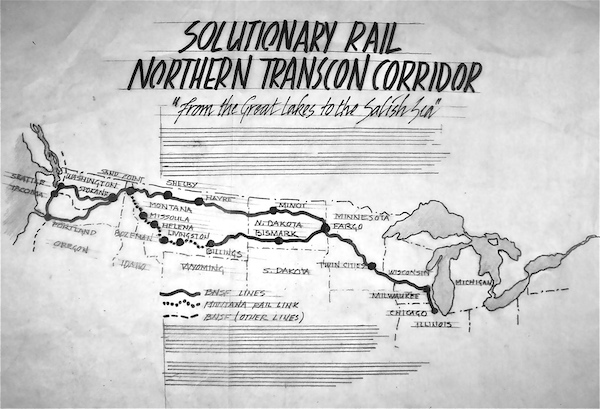 The North­ern Transcon route, extend­ing from the Illi­nois to Wash­ing­ton state, is the most norther­ly rail­road route in the west­ern Unit­ed States. (Illus­tra­tion: J. Craig Thorpe)
Indeed, this is a major infra­struc­tur­al trans­for­ma­tion pro­pos­al that will require a larg­er invest­ment than any rail­road com­pa­ny would do on its own. We there­fore pro­pose that states along the lines joint­ly cre­ate what we are call­ing a Steel Inter­state Devel­op­ment Author­i­ty (SIDA). The SIDA would be a not-for-prof­it cor­po­ra­tion oper­at­ing under a board appoint­ed by par­tic­i­pat­ing states. It would be char­tered with the author­i­ty to raise funds for infra­struc­ture invest­ment on both pub­licly and pri­vate­ly owned rights-of-way. The SIDA would lever­age the abil­i­ty of pub­lic agen­cies to issue bonds and pro­vide low-inter­est cap­i­tal to invest in rail elec­tri­fi­ca­tion in part­ner­ship with rail­roads and over­see fund­ing and con­struc­tion of elec­tri­fi­ca­tion infrastructure.
The elec­tri­fi­ca­tion infra­struc­ture and poten­tial­ly some tracks would remain pub­licly owned. This would begin to restore our nation­al infra­struc­ture, our econ­o­my and soci­ety. It would mark a rever­sal in the trend of pri­va­ti­za­tion that has robbed the pub­lic of the shared pros­per­i­ty and account­abil­i­ty over recent decades.
A Solu­tion­ary Rail demon­stra­tion along the North­ern Transcon will require a broad alliance, includ­ing BNSF and its own­er, War­ren Buf­fett. Gov­er­nors and leg­is­la­tors of states along the route will need to be pressed into lead­er­ship by a coali­tion of stake­hold­ers rang­ing from rail­road work­ers to munic­i­pal gov­ern­ments, agri­cul­tur­al, tribes, ports and major indus­tries along the route. Rail elec­tri­fi­ca­tion will pro­vide phe­nom­e­nal ben­e­fits to BNSF and oth­er rail­road com­pa­nies. In return, some key pub­lic ben­e­fits will must be part of the bar­gain. One of those is a fair deal for rail labor. This is an inte­gral ele­ment of the Solu­tion­ary Rail vision.
Now is the time to advance projects and poli­cies for a just tran­si­tion for both rail and fos­sil fuel indus­try work­ers away from depen­dence on jobs in extreme extrac­tion and trans­port and toward a sus­tain­able, clean ener­gy econ­o­my. As the Unit­ed Steel­work­ers recent­ly stat­ed in their just tran­si­tion res­o­lu­tion: ​"A clean ener­gy job is any job that helps our nation achieve our goals of reduc­ing green­house gas emis­sions and pro­tect­ing our envi­ron­ment." Per­haps no oth­er indus­try is bet­ter posi­tioned to play a more piv­otal role in the just tran­si­tion to clean, renew­able ener­gy as the railroads.
All rail jobs can be clean ener­gy jobs.
Rail enthu­si­asts and rails recall the time in Amer­i­can his­to­ry when thriv­ing rail­roads served as the cir­cu­la­to­ry sys­tem for vibrant com­mu­ni­ties with strong local economies. Solu­tion­ary Rail cel­e­brates the tra­di­tion from which these work­ers hail, iden­ti­fies a pub­lic inter­est in their well-being and the sus­tain­abil­i­ty of their vocation.
Cities and towns on and near rail lines used to rely on rail ser­vice to access the world, to trans­port peo­ple and prod­ucts to and from their regions. Much of the Unit­ed States, in fact, grew on and around rail lines. Com­mu­ni­ties com­pet­ed with one anoth­er to draw rail ser­vice, know­ing their liveli­hoods depend­ed on it. With Solu­tion­ary Rail, these days can return.
Solu­tion­ary Rail charts a path for­ward to revi­tal­ize this infra­struc­tur­al trea­sure. For farm­ers, util­i­ties, tribes and rail com­mu­ni­ties large and small, elec­tri­fied and mod­ern­ized rail­roads can be a source of renew­al and vitality.
Togeth­er, we can build an unstop­pable coali­tion to force dys­func­tion­al elect­ed lead­er­ship take uni­fied action for a rail­road infra­struc­ture and trans­porta­tion mod­el that serves us all. Solu­tion­ary Rail helps the rail indus­try piv­ot from being part of the prob­lem to become a fun­da­men­tal source of eco­nom­ic, social and cli­mate solu­tions in com­mu­ni­ties and a world that urgent­ly need them.
For more infor­ma­tion about the Back­bone Cam­paign, and to join the Wash­ing­ton State Labor Coun­cil in sup­port of Solu­tion­ary Rail click here.
To find out how to make a con­tri­bu­tion to the peo­ple-pow­ered grass­roots Solu­tion­ary Rail cam­paign click here.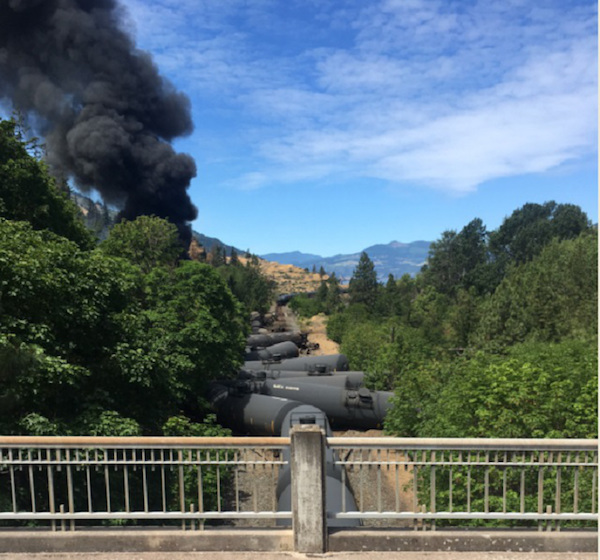 A plume of smoke ris­es on June 3, 2016 in Mosier, Ore. fol­low­ing oil train derail­ment. (Pho­to: DOT111​.info)