Yes, Rahm Has Brought Businesses To Chicago—But Their Labor Records Aren't Pretty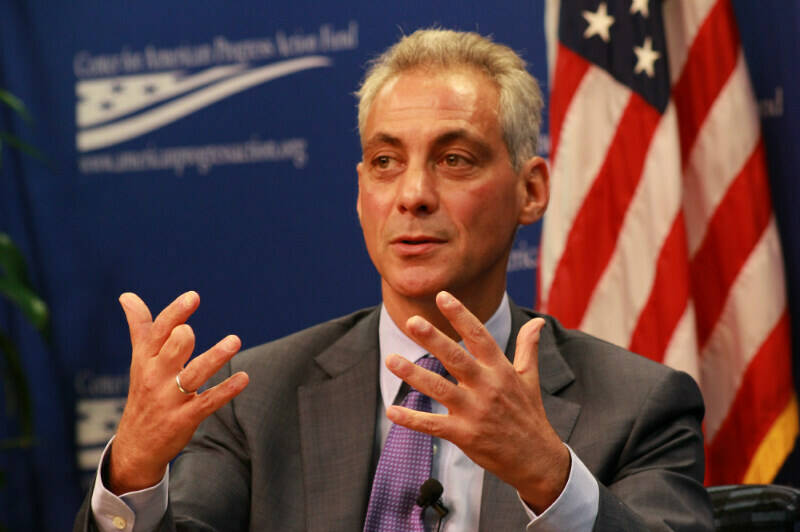 It's election day in Chicago, and the city's residents are heading to the polls to weigh the record of Mayor Rahm Emanuel against the promises of the man who pushed him into a runoff: challenger Jesus ​"Chuy" Garcia.
Emanuel's reelection campaign has hinged on his claims of bringing businesses and jobs to the city. In 2012, during his first year as mayor, Emanuel put forward a Plan for Economic Growth and Jobs. The 61-page document was authored by the pro-business research group World Business Chicago, a public-private partnership created by Emanuel whose board of directors reads like a who's who of technology, medical and banking executives. It laid out steps to turn the city into a hub of manufacturing and make it a national leader in exports. But what was missing from the plan — and from the press releases that would greet each new business setting up headquarters in Chicago — was any mention of conditions for workers at the companies the mayor says he helped bring to the city.
In fact, some of the companies touted by Emanuel for bringing jobs and economic opportunity to the city have a history of labor complaints — some quite recent.
Take the announcement on March 6, 2015, that Livingston International would be locating its new U.S. headquarters in Chicago. Livingston, a logistics company focused on trade and customs compliance, expected to add 75 employees to a new office at the Chicago Board of Trade. Only months before the company announced it would be moving its U.S. headquarters to Chicago, in October 2014, a triumvirate of high-profile Canadian law firms launched an $85 million class action suit against Livingston on behalf of thousands of non-management employees, contending that the company had failed to pay them overtime.
There are a number of other examples of Emanuel welcoming, or at least glad-handing, companies with tainted labor records or allegations of bad business practices. In January, Emanuel touted a new Exelon-sponsored STEM program in Chicago high schools, just 11 months after 70 operators at Exelon's nuclear plants filed a class action lawsuit against the company for short-changing them on pay. Rahm announced a state-wide initiative in favor of immigration reform while standing next to Caterpillar CEO Doug Oberhelman. A year earlier, striking workers had accused the Caterpillar of cutting their wages and health benefits to unsustainable levels. Real estate mogul John Buck, CEO of the Chicago-based John Buck Company, is on the board of directors at Rahm's World Business Chicago. His company, the partner on a new mixed-use development announced in October 2014, has been accused of discriminating against people with disabilities in one of its developments in New York.
When In These Times asked Chicago's Business Affairs and Consumer Protection Bureau for comment on these labor issues, the questions were forwarded to Emanuel's press team, which did not respond to repeated requests for comment.
Bob Bruno, professor of labor and employment relations at the University of Illinois, says that while Chicago should be encouraged to bring in jobs, it should aim to attract high-level employers. And that means they shouldn't have a poor labor record, he says. ​"They should be paying a fair wage, they should never have a record of wage complaints."
He says that while some complaints may happen after the business comes to Chicago, the onus is on the city to look into any concerns. ​"The city should aggressively investigate those complaints, and put conditions on further operations in the city on fixing those complaints," Bruno says.
For a business to operate in the city of Chicago, it has to apply for a business license, a multi-step process. The city did not respond to requests for comments on how the applications are vetted.
Several recent attempts have been made to make ethical labor the rule in Chicago, at least in some respects. Last year, the City Council passed a binding ordinance requiring Chicago to buy all city workers' uniforms from companies with adequate workplace safety protections. According to an interview with Chicago Fair Trade, the group responsible for developing the ordinance, an Anti-Sweatshop Action Committee will be overseeing the process to ensure that the city buys its uniforms fairly, but so far the ordinance is in the initial phases of implementation.
There are also wage theft ordinances on the books in both Chicago and Cook County. In Chicago, the ordinance says that a business owner found guilty of wage theft may have her license revoked. The county-level ordinance blocks companies' access to county contracts and tax incentives if they don't pay minimum wage, incorrectly classify employees or don't pay overtime. While the city bringing in businesses with past wage or labor complaints likely doesn't violate these directly, it is in conflict with their spirit.
Who has really benefited from Emanuel's economic development has been a key issue in the mayoral run-off. A 2013 report by the Grassroots Collaborative, an umbrella group of several community organizations, found that while billions in incentives may have created jobs downtown, few of those positions went to black and Latino workers.
"Prioritizing downtown to the exclusion of neighborhoods is an economic development strategy failing most of the people in the city," said lead author Eric Tellez in a statement announcing the report.
It's been a point that Emanuel's challenger, Jesus ​"Chuy" Garcia, has repeatedly hammered home on the campaign trail.

​"Chicago is becoming a city of the very rich and the very poor, with fewer and fewer people in between. We are becoming a city of glittering buildings surrounded by crumbling neighborhoods. A city with the finest restaurants surrounded by communities full of people who can't afford a decent meal," said Garcia in a recent speech to the City Club of Chicago. ​"That's the record of this mayor, and it's not a record to tout."
Yana Kunichoff
is a Chicago-based investigative journalist and documentary producer. Her work has appeared in the Guardian, Pacific Standard and the Chicago Reader, among others. She can be reached at yanakunichoff at gmail​.com.