Nine weeks after Pres­i­dent Trump tapped Son­ny Per­due to head the Depart­ment of Agri­cul­ture (USDA), the for­mer Geor­gia gov­er­nor is sched­uled to appear before the Sen­ate Agri­cul­ture, Nutri­tion and Forestry Com­mit­tee today (Thurs­day, March 23) for his nom­i­na­tion hearing.
Per­due was Trump's sec­ond-to-last cab­i­net pick and is one of two yet to be con­firmed. A for­mer Demo­c­rat who became a Repub­li­can in 1998, Per­due has spent most of his pro­fes­sion­al life involved in dif­fer­ent agribusi­ness sec­tors. Poten­tial con­flict-of-inter­est dis­clo­sures and oth­er required paper­work report­ed­ly delayed the con­fir­ma­tion process but have since been sub­mit­ted and com­plet­ed. A known quan­ti­ty in the Big Ag realm, Per­due boasts broad sup­port from large farm groups, like the Farm Bureau, and indus­try exec­u­tives. The sus­tain­able food move­ment is less excited.
In addi­tion to clar­i­fy­ing his stance on a wide range of issues fac­ing rur­al com­mu­ni­ties (includ­ing the dire need for a sane 2018 Farm Bill), Per­due will like­ly be asked to com­ment on Amer­i­ca First: A Bud­get Blue­print to Make Amer­i­ca Great Again—the new administration's cut­ting edge plan to dras­ti­cal­ly reduce fed­er­al spend­ing in cer­tain areas in order to buy fight­er jets with­out rais­ing taxes.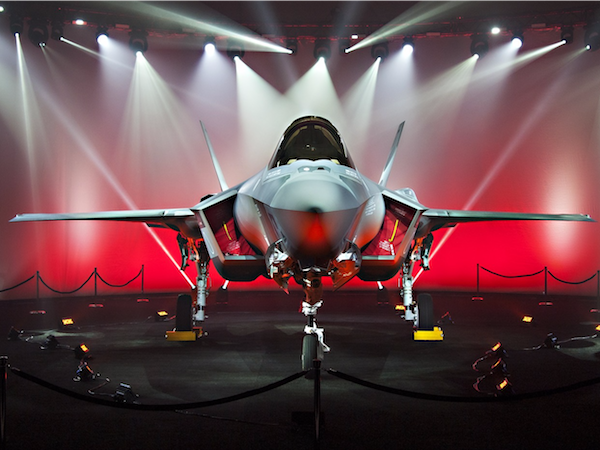 The Lock­heed Mar­tin F‑35A Light­ning II shown above. Already $163 biil­lion over bud­get, the F35 is the most expen­sive weapons sys­tem in his­to­ry and has been described as ​"too big to kill." (Image: busi​nessin​sid​er​.com / Lock­heed Martin)
The Depart­ment of Agri­cul­ture con­sists of 29 dif­fer­ent agen­cies and ser­vices that employ more than 100,000 peo­ple. But accord­ing to the recent­ly released 53-page ​"skin­ny" bud­get pro­pos­al, USDA is fac­ing a $4.7 bil­lion — or near­ly 21 per­cent — decrease in cur­rent dis­cre­tionary spend­ing levels.
Short on dev­il­ish details, the proposal:
Reduces staffing in USDA's Ser­vice Cen­ter Agen­cies to stream­line coun­ty office oper­a­tions, reflect reduced Rur­al Devel­op­ment work­load, and encour­age pri­vate sec­tor con­ser­va­tion planning.
Reduces fund­ing for USDA's sta­tis­ti­cal capa­bil­i­ties, while main­tain­ing core depart­men­tal ana­lyt­i­cal func­tions, such as the fund­ing nec­es­sary to com­plete the Cen­sus of Agriculture.
Elim­i­nates the duplica­tive Water and Waste­water loan and grant pro­gram, a sav­ings of $

498

mil­lion from the

2017

annu­al­ized Con­tin­u­ing Res­o­lu­tion lev­el. Rur­al com­mu­ni­ties can be served by pri­vate sec­tor financ­ing or oth­er Fed­er­al invest­ments in rur­al water infra­struc­ture, such as the Envi­ron­men­tal Pro­tec­tion Agency's State Revolv­ing Funds.
Reduces duplica­tive and under­per­form­ing pro­grams by elim­i­nat­ing dis­cre­tionary activ­i­ties of the Rur­al Busi­ness and Coop­er­a­tive Ser­vice, a sav­ings of $

95

mil­lion from the

2017

annu­al­ized CR level.
Elim­i­nates the McGov­ern-Dole Inter­na­tion­al Food for Edu­ca­tion pro­gram, because pur­port­ed­ly there is no evi­dence that it is being effec­tive­ly imple­ment­ed to reduce food insecurity.
Agri­cul­ture orga­ni­za­tions and politi­cians on both sides of the aisle have wide­ly crit­i­cized this por­tion of Trump's pro­pos­al, point­ing out these cuts will neg­a­tive­ly affect many of the same rur­al com­mu­ni­ties that helped pro­pel the Emmy-nom­i­nat­ed tele­vi­sion star to vic­to­ry last November.
For a more in-depth look at what's in store for Son­ny Per­due and what's at stake for rur­al Amer­i­ca, check out ​"Trump Nom­i­nates a Sec­re­tary of Agri­cul­ture (and, No, It's Not Wen­dell Berry)." Impor­tant to note: Son­ny Per­due and U.S. Sen. David Per­due (R‑GA) are cousins but not relat­ed to the own­ers and oper­a­tors of Per­due Farms.
To view live footage of the hear­ing, sched­uled to begin at 10 a.m., click here.
[If you like what you've read, help us spread the word. ​

"

Like" Rur­al Amer­i­ca In These Times on Face­book. Click on the ​

"

Like Page" but­ton below the bear on the upper right of your screen. Also, fol­low RAITT on Twit­ter @RuralAmericaITT]