Sonny Perdue Heads to Senate Ag Committee for Confirmation Hearing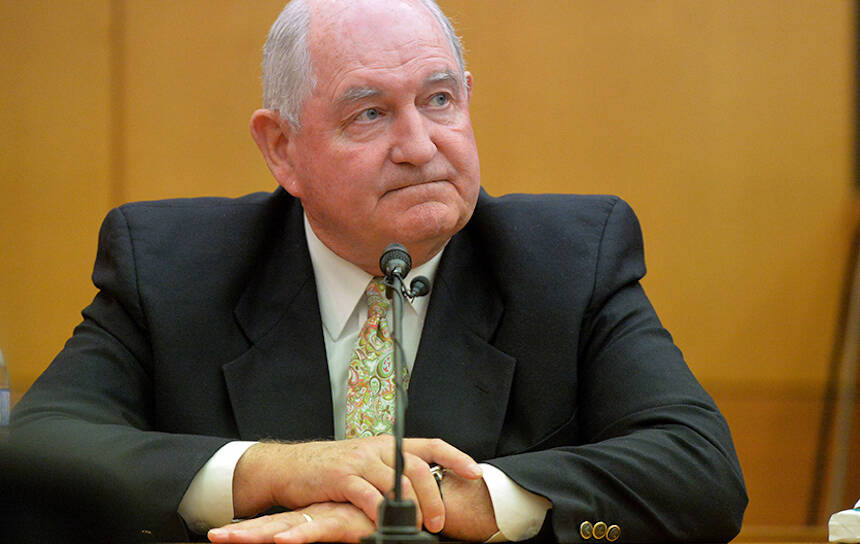 Nine weeks after President Trump tapped Sonny Perdue to head the Department of Agriculture (USDA), the former Georgia governor is scheduled to appear before the Senate Agriculture, Nutrition and Forestry Committee today (Thursday, March 23) for his nomination hearing.
Perdue was Trump's second-to-last cabinet pick and is one of two yet to be confirmed. A former Democrat who became a Republican in 1998, Perdue has spent most of his professional life involved in different agribusiness sectors. Potential conflict-of-interest disclosures and other required paperwork reportedly delayed the confirmation process but have since been submitted and completed. A known quantity in the Big Ag realm, Perdue boasts broad support from large farm groups, like the Farm Bureau, and industry executives. The sustainable food movement is less excited.
In addition to clarifying his stance on a wide range of issues facing rural communities (including the dire need for a sane 2018 Farm Bill), Perdue will likely be asked to comment on America First: A Budget Blueprint to Make America Great Again—the new administration's cutting edge plan to drastically reduce federal spending in certain areas in order to buy fighter jets without raising taxes.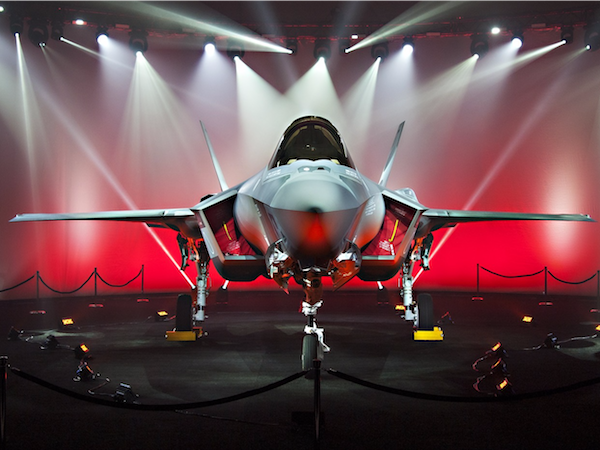 The Lockheed Martin F‑35A Lightning II shown above. Already $163 biillion over budget, the F35 is the most expensive weapons system in history and has been described as ​"too big to kill." (Image: busi​nessin​sid​er​.com / Lockheed Martin)
The Department of Agriculture consists of 29 different agencies and services that employ more than 100,000 people. But according to the recently released 53-page ​"skinny" budget proposal, USDA is facing a $4.7 billion — or nearly 21 percent — decrease in current discretionary spending levels.
Short on devilish details, the proposal:
Reduces staffing in USDA's Service Center Agencies to streamline county office operations, reflect reduced Rural Development workload, and encourage private sector conservation planning.
Reduces funding for USDA's statistical capabilities, while maintaining core departmental analytical functions, such as the funding necessary to complete the Census of Agriculture.
Eliminates the duplicative Water and Wastewater loan and grant program, a savings of $

498

million from the

2017

annualized Continuing Resolution level. Rural communities can be served by private sector financing or other Federal investments in rural water infrastructure, such as the Environmental Protection Agency's State Revolving Funds.
Reduces duplicative and underperforming programs by eliminating discretionary activities of the Rural Business and Cooperative Service, a savings of $

95

million from the

2017

annualized CR level.
Eliminates the McGovern-Dole International Food for Education program, because purportedly there is no evidence that it is being effectively implemented to reduce food insecurity.
Agriculture organizations and politicians on both sides of the aisle have widely criticized this portion of Trump's proposal, pointing out these cuts will negatively affect many of the same rural communities that helped propel the Emmy-nominated television star to victory last November.
For a more in-depth look at what's in store for Sonny Perdue and what's at stake for rural America, check out ​"Trump Nominates a Secretary of Agriculture (and, No, It's Not Wendell Berry)." Important to note: Sonny Perdue and U.S. Sen. David Perdue (R‑GA) are cousins but not related to the owners and operators of Perdue Farms.
To view live footage of the hearing, scheduled to begin at 10 a.m., click here.
[If you like what you've read, help us spread the word. ​

"

Like" Rural America In These Times on Facebook. Click on the ​

"

Like Page" button below the bear on the upper right of your screen. Also, follow RAITT on Twitter @RuralAmericaITT]
This blog's mission is to provide the public service of helping make the issues that rural America is grappling with part of national discourse.