Trump's Space Force Is No Joke
China, Russia, and the U.S. are already militarizing space. Here's why that's dangerous.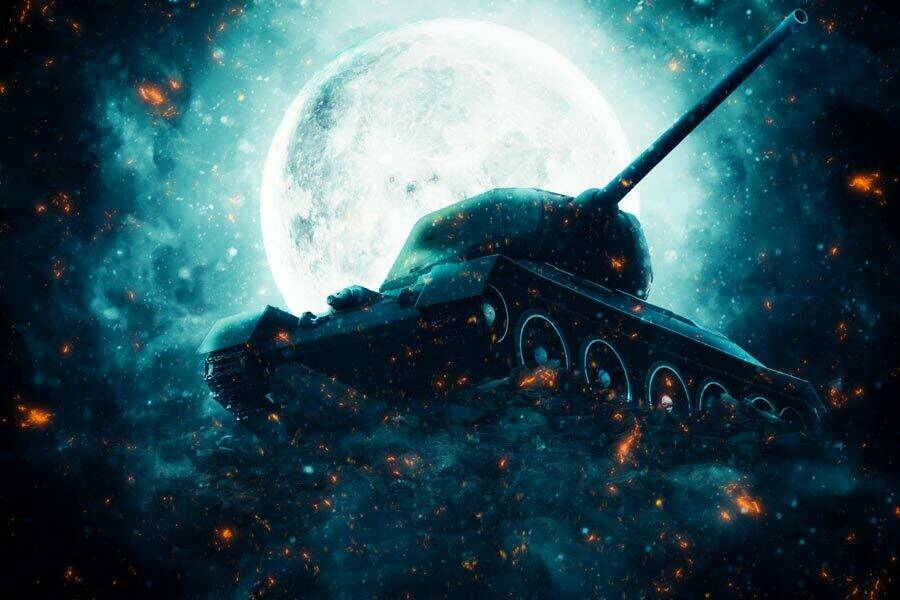 Update: On Dec. 11, 2019, the Demo­c­ra­t­ic-con­trolled House passed a $738 bil­lion defense bill that includ­ed the cre­ation of Trump's long-sought Space Force.
President Donald Trump's Space Force contributes to a further militarization entrenchment and feeds money to defense contractors.
In the rush to heap scorn upon the Trump admin­is­tra­tion, the president's crit­ics some­times miss the for­est for the trees. Such was the case in June when Don­ald Trump announced the cre­ation of the socalled Space Force, a sixth branch of the U.S. military.
Crit­ics mocked the idea as ​"ridicu­lous," ​"stu­pid" and part of an ​"imag­i­nary space war." ​"There's no threat in space! Who are we fight­ing?" asked Stephen Col­bert. Vox won­dered if the Space Force would car­ry lightsabers.
It was easy to miss that the idea is not unique­ly Trumpian — and pos­es a real threat. For all intents and pur­pos­es, a space force already exists in the form of the Air Force Space Com­mand (AFSPC), a 36,000-person divi­sion of the Air Force that's been oper­at­ing since 1982.
Where Trump's pro­pos­al dif­fers is that it forms an entire­ly new mil­i­tary branch devot­ed to space, some­thing James Clay Moltz, asso­ciate pro­fes­sor at the Naval Post­grad­u­ate School and author of The Pol­i­tics of Space, says is ​"large­ly unprecedented."
Accord­ing to Vice Pres­i­dent Mike Pence, the Space Force would include a new cen­tral­ized com­mand struc­ture for space oper­a­tions that would take over satel­lite-based mil­i­tary tasks such as sur­veil­lance and nav­i­ga­tion for ground troops, as well as mon­i­tor­ing and track­ing mis­sile launch­es, all cur­rent­ly per­formed by the AFSPC. It'll also take charge of any offen­sive capa­bil­i­ties devel­oped for space, such as anti-satel­lite weapons (ASATs), intro­duce an ​"elite group of joint war-fight­ers" to sup­port the rest of the armed forces, and over­see a new agency ded­i­cat­ed to devel­op­ing ​"cut­ting-edge warfight­ing capa­bil­i­ties" for space.
The pro­pos­al is viewed by the space-savvy in the mil­i­tary as ​"either unwise, unnec­es­sary or pre­ma­ture," Moltz says — and almost cer­tain­ly expen­sive. It's on the basis of its poten­tial waste­ful­ness and redun­dan­cy that crit­ics such as Defense Sec­re­tary James Mat­tis, ex-astro­nauts Mark and Scott Kel­ly, Air Force sec­re­tary Heather Wil­son and oth­er mem­bers of the mil­i­tary have assailed the idea.
But there's a much big­ger debate to be had. Inter­na­tion­al con­flict in space is no longer a plot­line ripped from a sci-fi paper­back. A space war is becom­ing more and more likely.
THE GEOPOL­I­TICS OF SPACE
U.S. mil­i­tary dom­i­nance in space is real­ly about main­tain­ing mil­i­tary dom­i­nance back on Earth. Space infra­struc­ture, par­tic­u­lar­ly satel­lites, is key to the U.S. military's glob­al reach, ser­vic­ing every­thing from nav­i­ga­tion to weapons tar­get­ing to com­mu­ni­ca­tions. A 2018 report from the Cen­ter for Strate­gic and Inter­na­tion­al Stud­ies (CSIS) trum­pets: ​"Space capa­bil­i­ties enable the Amer­i­can way of warfare."
The glob­al space arms race began with the Cold War, when both the Unit­ed States and the USSR began test­ing ground-based anti-satel­lite (ASAT) weapons. Reagan's Air Force became the first to test one on a space­craft, destroy­ing an old obser­va­tion satel­lite in 1985. (Rea­gan also, infa­mous­ly, attempt­ed to put in place the so-called ​"Star Wars" pro­gram, which would have used space­based lasers to shoot down incom­ing Sovi­et nuclear warheads.)
The 1990 Gulf War — known now as the first ​"space war" — made U.S. empire and satel­lites insep­a­ra­ble. With 24-hour satel­lite sup­port, U.S. forces could not only com­mu­ni­cate across broad chan­nels, but map out ter­rain, observe and pre­dict ene­my actions, and use new guid­ed, ​"smart" weapons that were, in the­o­ry, less indis­crim­i­nate. Satel­lites make today's drone war­fare possible.
While the Unit­ed States and Rus­sia have adhered to what Lau­ra Grego, senior sci­en­tist in the Glob­al Secu­ri­ty Pro­gram of the Union of Con­cerned Sci­en­tists, calls an ​"unof­fi­cial mora­to­ri­um" on sta­tion­ing ded­i­cat­ed weapons in space (as opposed to ground-based sys­tems that tar­get space­craft), the Unit­ed States — and, increas­ing­ly, its rivals — con­tin­ue to invest in oth­er forms of space militarization.
The Unit­ed States leads the way in satel­lite capac­i­ty and space mil­i­tary tech­nol­o­gy, and has opposed past demil­i­ta­riza­tion efforts. In 2006, the George W. Bush admin­is­tra­tion blocked a UN res­o­lu­tion on arms con­trol in space, issu­ing a Nation­al Space Pol­i­cy that pledged to resist ​"new legal regimes or oth­er restric­tions," includ­ing arms con­trol agree­ments, on U.S. use of space. In response to this and oth­er steps by the Unit­ed States, oth­er coun­tries have moved to shore up their own space capabilities.
Chi­na test­ed an ASAT in 2007, and both it and Rus­sia have increas­ing­ly invest­ed in counter-space capa­bil­i­ties, such as ASAT tech­nol­o­gy and jam­ming GPS receivers. Chi­na and Russia's advances left Wash­ing­ton spooked. In 2014, the Pen­ta­gon invest­ed an extra $2 bil­lion into clas­si­fied offen­sive space pro­grams. In 2015, the ​"emerg­ing threats" of Rus­sia and Chi­na were used to jus­ti­fy a $3 bil­lion add-on for nation­al secu­ri­ty space capa­bil­i­ties, as offi­cials open­ly talked about fight­ing a war in space.
We're still a long way, how­ev­er, from ray guns and X‑wing dog­fights. While in-orbit ASAT weapons exist, for the time being any space con­flict would be fought from the Earth. For exam­ple, all three coun­tries have capac­i­ty to dis­rupt ene­my satel­lites by jam­ming them with their own, or to hack into a satellite's ground operation.
But increased reliance on satel­lites for war­fare— not to men­tion every­day life — opens up ​"a crit­i­cal vul­ner­a­bil­i­ty," warns the CSIS. Space infra­struc­ture is frag­ile, vul­ner­a­ble to hack­ing and able to be brought down by oth­er space­craft inten­tion­al­ly ram­ming into it, by ground-based ASAT mis­siles or even by loose pieces of debris.
Because space is unfa­mil­iar ter­rain, nations don't know how to inter­pret oth­ers' behav­ior. Accord­ing to Cas­san­dra Steer, an inde­pen­dent con­sul­tant on space secu­ri­ty and for­mer exec­u­tive direc­tor of the McGill Uni­ver­si­ty Cen­tre for Research on Air and Space Law, when the Unit­ed States and its allies have run war games cen­tered on space, they can quick­ly esca­late to nuclear war.
"If one major pow­er thinks the oth­er is about to take out its satel­lites, it could take rec­i­p­ro­cal action, or even launch a con­ven­tion­al or nuclear attack," says William Har­tung, direc­tor of the Arms and Secu­ri­ty Project at the Cen­ter for Inter­na­tion­al Pol­i­cy.
And as space becomes increas­ing­ly clut­tered with space­craft, the chance of acci­den­tal calami­ty increas­es. Pen­ta­gon offi­cials warn that space is becom­ing increas­ing­ly crowd­ed. The U.S. alone oper­ates 859 gov­ern­ment and com­mer­cial satel­lites, near­ly one in five of which are military.
For the first time, two satel­lites col­lid­ed in Feb­ru­ary 2009, pro­duc­ing a ​"debris cloud" that added to the approx­i­mate­ly 500,000 pieces of debris cur­rent­ly in orbit, threat­en­ing to tear through space­craft and add yet more debris to this total. The destruc­tion of space­craft by ASAT tests, too, adds to the debris.
The more debris in orbit, the greater the threat to the non­mil­i­tary use of space that makes mod­ern life pos­si­ble. Traf­fic lights, bank­ing sys­tems, tele­phones, the inter­net, plane trav­el—all rely on satel­lites whose destruc­tion could sud­den­ly leave us in the dark.
"If we have no infor­ma­tion and we're in a black­out, peo­ple hit the pan­ic but­ton," Steer says. ​"And that may mean an actu­al weapons button."
BACK TO EARTH
Giv­en these dan­gers, many diplo­mats and activists are push­ing to declare space a weapon-free glob­al com­mons. But there's been lit­tle move­ment on any legal­ly bind­ing agree­ment. Although ​"weapons of mass destruc­tion" have been banned in space since the 1967 Out­er Space Treaty, inter­na­tion­al reg­u­la­tion is sparse.
In 2008, Rus­sia and Chi­na put for­ward a draft treaty on the Pre­ven­tion of the Place­ment of Weapons in Out­er Space (PPWT), which lacked a spe­cif­ic ver­i­fi­ca­tion régime and includ­ed a carve-out for the kind of ground-based ASAT weapons both coun­tries had been test­ing. Still, flawed as it was, Project Ploughshares called the PPWT ​"undoubt­ed­ly the most sub­stan­tive effort thus far" to make weapon-free space a mat­ter of inter­na­tion­al law. The Unit­ed States, how­ev­er, said it couldn't sup­port such a ​"fun­da­men­tal­ly flawed" proposal.
Many ana­lysts say a treaty is unlike­ly in the near future, and look to oth­er avenues of demilitarization.
A more real­is­tic solu­tion, Steer says, is non-bind­ing instru­ments like guide­lines that reg­u­late con­duct in space, which can work due to polit­i­cal buy-in and reci­procity. These norms might include, for exam­ple, best prac­tices on approach­ing anoth­er country's spacecraft.
The Unit­ed States could be amenable to such agree­ments. John Hyten, com­man­der of the U.S. Strate­gic Com­mand and a pro­po­nent of the Space Force, has urged the cre­ation of ​"inter­na­tion­al norms of behav­ior in space."
"Very few mil­i­tary off icers are enthu­si­as­tic about weaponiz­ing space," James Moltz says. ​"That said, many in the mil­i­tary are skep­ti­cal that war and weapons can be kept from space forever."
SPACE PROF­I­TEERS
The deeply vest­ed inter­ests involved — inter­ests that have the ear of U.S. politi­cians — also make it dif­fi­cult to roll back or halt the mil­i­ta­riza­tion of space.
The Nation­al Space Coun­cil, a group of cab­i­net mem­bers who shape U.S. space pol­i­cy, has a ​"users' advi­so­ry group" whose mem­bers include the CEOs of Lock­heed Mar­tin, Boe­ing, Northrop Grum­man and oth­er corporations.
The Aero­space Indus­tries Asso­ci­a­tion (AIA), a trade group that counts these and oth­er com­pa­nies as mem­bers, fund­ed the 2018 CSIS report call­ing for gov­ern­ment invest­ment in nation­al secu­ri­ty space assets, and has called for greater nation­al secu­ri­ty invest­ment in space at the annu­al Space Sym­po­sium.
The Sym­po­sium, now in its 34th year, embod­ies the close ties between indus­try and gov­ern­ment on space pol­i­cy. Co-spon­sored by the AIA and its defense con­trac­tor mem­bers, the Sym­po­sium pro­vides an oppor­tu­ni­ty for indus­try to net­work with rep­re­sen­ta­tives of think tanks and edu­ca­tion­al insti­tu­tions, for­eign lead­ers, and mil­i­tary, nation­al secu­ri­ty and oth­er gov­ern­ment officials.
This year's event in April saw speech­es from Vice Pres­i­dent Mike Pence, Com­merce Sec­re­tary Wilbur Ross, U.S. sen­a­tors and Air Force offi­cials. The cur­rent AFSPC com­man­der, Lee Levy, declared that plans for warfight­ing in space were no longer sim­ply a dis­cus­sion, and that the U.S. mil­i­tary need­ed to ​"gain and main­tain space superiority."
Indus­try influ­ence extends to the politi­cians who advo­cate fur­ther space mil­i­ta­riza­tion. Rep. Mike Rogers (R‑Ala.), report­ed­ly instru­men­tal in sell­ing Trump on the Space Force, has received hun­dreds of thou­sands of dol­lars from the defense indus­try. Reps. Doug Lam­born (R‑Colo.) and Adam Schiff (D‑Calif.), both big boost­ers of a more aggres­sive space pol­i­cy, rep­re­sent dis­tricts pop­u­lat­ed by the defense indus­try and have raked in sim­i­lar­ly large donations.
The Space Force con­tributes to this build-up, fur­ther entrench­ing mil­i­ta­riza­tion and feed­ing mon­ey to defense con­trac­tors. ​"Pres­i­dent Trump's enthu­si­asm for the Space Force," Har­tung says, ​"cre­ates a dan­ger that exist­ing norms, like keep­ing weapons out of space, are more like­ly to be set aside." He says the result­ing space arms race ​"could spark a gen­er­al war."
Yet before efforts to rein in weaponiza­tion can gain momen­tum, pub­lic aware­ness must be raised, a task made hard­er by wide­spread media deri­sion of Trump's Space Force pro­pos­al. Con­flict in space is a clear and present dan­ger. We need to take it seriously.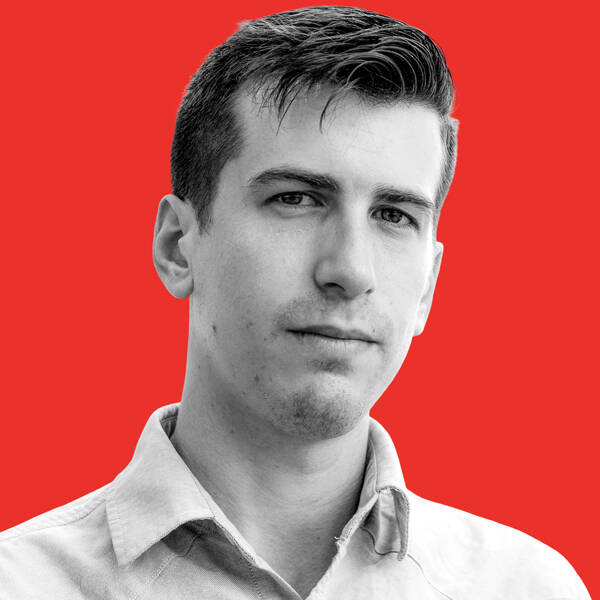 Branko Marcetic
is a staff writer at Jacobin mag­a­zine and a
2019
 – 
2020
Leonard C. Good­man Insti­tute for Inves­tiga­tive Report­ing fel­low. He is work­ing on a forth­com­ing book about Joe Biden.