Will St. Paul, Minnesota Teachers Soon Be Out on Strike?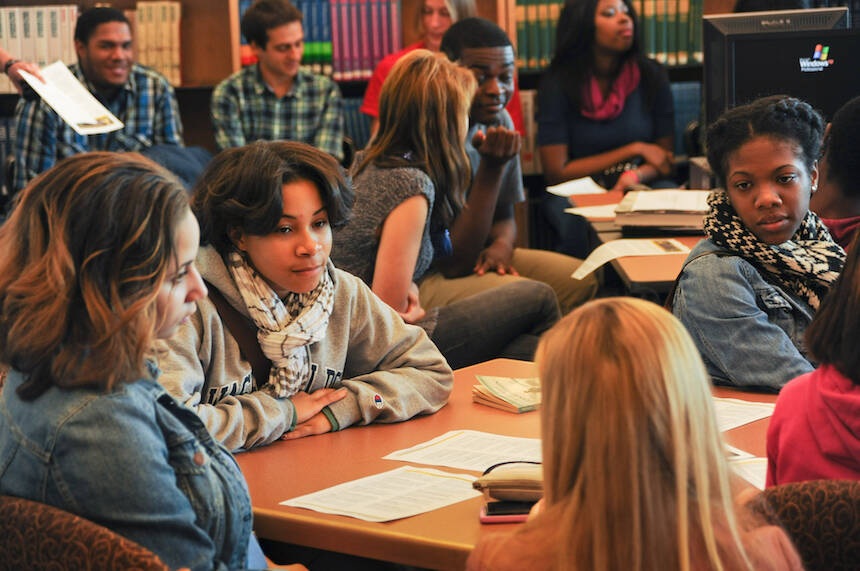 On Friday, December 4, a St. Paul Central High School teacher says she was attacked by a student while trying to break up a lunchroom fight. The teacher was reportedly slammed to the ground and choked by the student until he blacked out. A few days later, a 13-year-old girl in another St. Paul school allegedly punched a teacher in the face in the middle of a dispute.
And now, the St. Paul Federation of Teachers is ready to go on strike to prevent such violent incidents from happening.
Some St. Paul residents see the union's threat to strike — if mediation with the district fails — as a reactionary move designed to protect ​"good" teachers from ​"bad" students. St. Paul Pioneer Press columnist Ruben Rosario brought heat to this fire through a December 18 column titled, ​"We are afraid." In the column, Rosario shared an email he says he received from a longtime teacher who insisted on anonymity. The teacher's email describes out of control classrooms and traumatic working conditions, where ​"many of us (veterans and nontenured teachers alike) often go home in tears," and claims many teachers feel ​"powerless" and afraid.
The email inspired lots of supportive comments, according to Rosario's column, but it also helped spike a backlash against teachers, mostly on social media sites devoted to all things St. Paul. This is because the email included loaded terms such as ​"poverty kids" and mentioned teachers being afraid of ​"some" students and parents. Because discipline data in St. Paul falls along the same color lines found across the United States, where the majority of kids who get suspended are black, while the majority of teachers are white, this selective fear struck some community members as coded, racist language.
But St. Paul teachers union organizer Patrick Burke says that the union has been practicing proactive behavior prevention strategies for a while now, with virtually no support from the district. The latest round of shocking school-based incidents, then, stand as more of a final straw than first steps on the road to a walk out.
The union and district began contract negotiations in May of 2015, and Burke says the St. Paul Federation of Teachers put 25 proposals on the table; to date, the district has responded to just four of these. Many of the union's priorities center around prevention strategies for behavior issues, such as increased funding and support for restorative justice practices, and a $100,000 budget for each school in the district, to be dedicated to the development of localized school climate teams, where parents, teachers, and school staff can hammer out behavior strategies together. (The union has already implemented these teams at several schools, but would like to expand this approach.)
Publicly, the district is saying that SPFT's proposals are too costly. St. Paul Public Schools's superintendent, Valeria Silva, has further hinted that SPFT might instead be interested in striking because its members are seeking a 2.5 percent salary increase over the next two years. In a recent St. Paul Pioneer Press article, Silva also said that she ​"recently created a new administrative department" that will focus on school climate, and that she wants this committee to do a year-long study on ​"possible solutions" to discipline problems.
But some parents with kids in the St. Paul schools say they don't have a year to wait while the district studies the problem. Becki Lessard-Sanchez has two students at St. Paul's Wellstone Elementary School, and says that, if St. Paul teachers decide to strike over behavior issues, she would ​"absolutely" support them. When asked why, she points to what she sees as the union's progressive strategies for making building-level change. ​"They are action-step oriented," Lessard-Sanchez insisted, before offering examples of what has taken place at her children's school, where 93 percent of the kids are considered poor, according to federal guidelines.
"I have been on the Wellstone school climate improvement team, and it has provided an opportunity for an open dialogue between teachers, who are on the front lines, witnessing and handling student behavior, and parents," Lessard-Sanchez explained. Through the work of this climate team, Lessard-Sanchez says the team has pinpointed when the majority of the behavior issues are taking place, so that teachers and parents alike can come up with ways to address and, hopefully, prevent the kind of violent outbursts that she says happen frequently at the school. (The expansion of these school climate teams is a key aspect of the union's current contract negotiations.)
She has also found value in the whole-class conferences she has participated in at Wellstone. In this approach, all of the classroom's parents are invited in for an evening conference with the teacher, where the focus is on academics — and not behavior.
"This brings the entire classroom together as a cohort," Lessard-Sanchez says," and helps parents learn specific at-home activities they can do with their children." The value in this, according to Lessard-Sanchez, is that she, as a parent, has learned to take a step back and remember that, ​"this isn't just about my child; it's about the whole class." This has helped her get to know the other parents in her child's class, and has fostered both a sense of community, and of shared responsibility for what goes on at school. The idea is that student behavior will improve when classrooms are more like shared community spaces, where parents, teachers and students work as a team.
In Lessard-Sanchez's view, these strategies have come from the union, in conversation with parents, but have not been fully supported by the St. Paul schools. In contrast, she says that the district's plan to launch a one-year study of what schools need is simply ​"not enough."
Her fellow Wellstone Elementary School parent, Kirinda Anderson, also has been disappointed with the district's approach to behavior problems, and says she, too, would fully support SPFT if its members go on strike. ​"There are definitely behavior and discipline issues in the schools," says Anderson, who has a third grade daughter at Wellstone. She feels that, when the Central High School teacher was assaulted recently, the district seemed to act surprised.
"But parents and teachers have been asking for more resources for years," she insists, because of an increase of students in need who are acting out in the classroom. She recalls an incident she learned about at her child's school, where a student was threatened by a classmate who promised to bring a knife to school and ​"kill the kid." Soon enough, a knife was discovered at school, causing fear and uncertainty to ripple through the school community.
Anderson says parents and teachers were not adequately informed about this frightening incident, which resulted in the child who brought the knife to school being placed back in the classroom, with no follow up or explanation from school administrators. Such unsatisfying responses stand in contrast to what Anderson has seen as a member of the school's climate improvement team, and she believes that this model — of parents and teachers working together at the school level — is making a difference. ​"It's a proactive approach," she notes, that started with asking the five W questions — who, what, when, where and why — about the school's behavior problems, so that concrete solutions could be developed.
Burke, whose organizing work for the St. Paul Federation of Teachers focuses on school support staff, says that the union, along with parents, have been working together on school-based behavior and safety strategies for two years now, when the district put higher needs kids, such as those who need special ed or English language support, into mainstream classrooms — without, many teachers and parents say, providing enough additional resources to help schools cope with this change.
"This is a good practice, pedagogically," Burke asserts, ​"but only if the right supports are in place. But they are not, so instead, we have teachers and staff feeling unsupported."
Teachers have been asking for more counselors, social workers, nurses and support staff, according to Burke, and they want more time to work directly with students. If the St. Paul Public Schools will not agree to support this platform, as a behavior prevention approach, then the St. Paul Federation of Teachers will soon be ready to hit the picket line.
Sarah Lahm is a Min­neapo­lis-based writer and for­mer Eng­lish Instruc­tor. She writes the Midwest Dispatch column for the Progressive magazine, and her work has appeared in other local and national outlets.