Starting in the Classroom: A Chicago Advocacy Group Helps Kids Rethink Food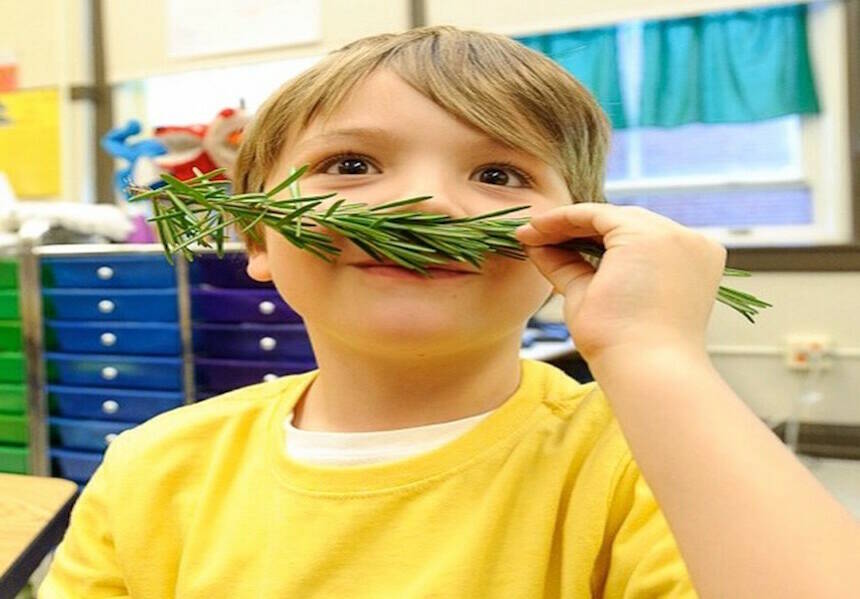 Get­ting kids excit­ed about veg­eta­bles (while teach­ing how they're grown and sourced) could mean health­i­er lifestyles in Chica­go Pub­lic Schools (CPS). That's the phi­los­o­phy behind Pilot Light, a non­prof­it orga­ni­za­tion of some of Chicago's top chefs on a mis­sion to make pro­fi­cien­cy in nutri­tion a main­stay of ele­men­tary education.
Pilot Light began in 2010 with four chefs — Jason Ham­mel, Paul Kahan, Matthias Merges and Ryan Poli — who had a vision for a cur­ricu­lum that gives stu­dents the tools they need to make healthy choic­es for them­selves and the envi­ron­ment through food.
Instead of intro­duc­ing nutri­tion as its own sub­ject, Pilot Light's lessons are inte­grat­ed into the exist­ing cur­ricu­lum. Stu­dents explore top­ics such as food access, dietary habits around the globe and cook­ing skills. Les­son plans align with the Com­mon Core, a state stan­dard­ized cur­ricu­lum that was adopt­ed by CPS in 2015. ​"We teach kids about all aspects of food," says Alexan­dra DeS­or­bo-Quinn, the group's exec­u­tive director.
Pilot Light's pro­grams have proven effec­tive. Accord­ing to the organization's out­come eval­u­a­tions, 76 per­cent of stu­dents who have par­tic­i­pat­ed will try new foods, and 71 per­cent will ask their par­ents for health­i­er foods. Though it's a pop­u­lar belief that kids will not eat nutri­tion­al fare because it doesn't taste as good as a burg­er and fries, Pilot Light's data sug­gests that the obsta­cle is sim­ply a lack of education.
Around 50 per­cent of sixth graders in CPS are over­weight — more than twice the nation­al aver­age. Pilot Light's attempts to cur­tail this grow­ing health issue are based on the idea that if stu­dents have an under­stand­ing of healthy food from a young age they will be equipped to make good dietary choic­es through­out their lives.
The obe­si­ty epi­dem­ic dis­pro­por­tion­ate­ly affects low-income com­mu­ni­ties in Chica­go. This cor­re­lates with major dis­crep­an­cies in the avail­abil­i­ty of healthy food through­out Chica­go neigh­bor­hoods. Accord­ing to Mari Gallagher's 2006 study on the impact of food deserts on pub­lic health in Chica­go, around 400,000 Chicagoans live in areas with close access to fast food but high­ly lim­it­ed access to fresh, healthy food from gro­cery stores. The lack of phys­i­cal prox­im­i­ty to healthy food out­lets con­tributes sig­nif­i­cant­ly to increased obe­si­ty rates, and height­ens the risk of dia­betes, can­cer, car­dio­vas­cu­lar dis­ease and oth­er chron­ic illnesses.
One aspect of Pilot Light's mis­sion is to advo­cate changes that pro­mote health­i­er lifestyles for all chil­dren. As a part of their 4th Grade Change Mak­ers series, a stu­dent who attends Anna R. Lang­ford Com­mu­ni­ty Acad­e­my in Engle­wood wrote to May­or Emanuel describ­ing the lack of access to healthy food in his neigh­bor­hood. He said, ​"We do not have a lot of gro­cery stores in our com­mu­ni­ty. We need to build more gro­cery stores in our com­mu­ni­ty so peo­ple do not have to walk far to the store."
Stu­dents at Lang­ford learned about the rela­tion­ship between food and the Civ­il Rights Move­ment in Pilot Light's social stud­ies unit. By map­ping food out­lets in their own com­mu­ni­ty, they found that Engle­wood is a food desert. As their final project the stu­dents took action by writ­ing for­mal let­ters to nation­al leaders.
"We have healthy snacks at Lang­ford. The fresh fruits and veg­eta­bles are very good. I would like to have food like that in our neigh­bor­hood gro­cery stores," one stu­dent wrote in a let­ter to Michelle Obama.
Big cities like Chica­go are not the only regions that are afflict­ed with food deserts. Defi­cien­cy of food access can be an even larg­er prob­lem for rur­al coun­ties, 20 per­cent of which are con­sid­ered food deserts, where all res­i­dents live more than 10 miles away from a super­mar­ket. Pilot Light con­struct­ed their pro­gram with this in mind. ​"We are cre­at­ing a cur­ricu­lum that will make sense no mat­ter what com­mu­ni­ty a teacher is in," says DeSorbo-Quinn.
The young orga­ni­za­tion plans to expand in the future so that their lessons will be avail­able to rur­al school sys­tems. But before tak­ing that on, Pilot Light hopes to broad­en its reach in Chicago.
The orga­ni­za­tion brings their team of all-star chefs three to four times a year to pre­pare a lunch tast­ing for stu­dents at Dis­ney II Mag­net — Pilot Light's ​"incu­ba­tor" school where they exper­i­ment with and refine their pro­gram­ming. Bring­ing the tast­ings to oth­er part­ner schools in the city is at the top of the organization's agen­da. ​"It's such a unique and spe­cial aspect of what we do," says DeSorbo-Quinn.
"We are excit­ed for next year," says DeS­or­bo-Quinn, in ref­er­ence to Pilot Light's expan­sion plans. The orga­ni­za­tion has demon­strat­ed that pro­vid­ing edu­ca­tion about good food elic­its enthu­si­asm from stu­dents. As more chil­dren grow up know­ing the val­ue of fresh pro­duce and a bal­anced diet, Pilot Light hopes those will become increas­ing­ly available.
Maia Wel­bel
is an intern at Rur­al Amer­i­ca In These Times. She is a ris­ing junior at Pomona Col­lege where she stud­ies envi­ron­men­tal analy­sis and dance. She is also a con­trib­u­tor to The Stu­dent Life.