Ohio's Surprise War on Women
In what could become a blueprint for the Right, the state rushed through harsh restrictions on abortion rights.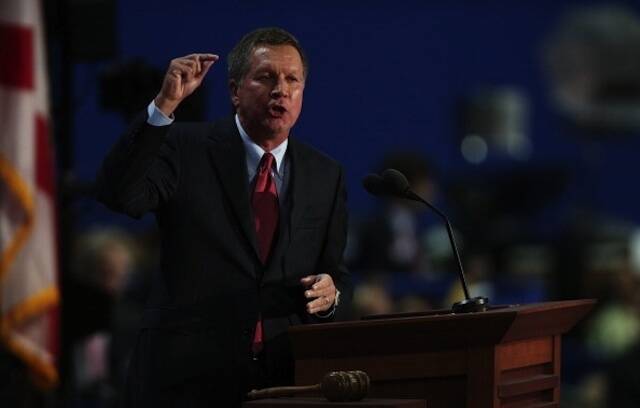 Women in Ohio did­n't see this com­ing. The state's new two-year bud­get, approved by Gov­er­nor John Kasich on June 30, includes sev­er­al breath­tak­ing restric­tions on abor­tion and repro­duc­tive health clin­ics, and stands to strip fund­ing from many rape cri­sis cen­ters if they don't com­ply with gag orders. And it passed so quick­ly that many Ohioans only found out about the anti-choice mea­sures after they had tak­en effect. Now, the pro-choice vot­ers of Ohio find them­selves fac­ing a worst-case sce­nario: try­ing to pick up the pieces and regain their rights before too many women are hurt or killed by laws they did­n't have time to fight.
There's plenty of progressive talk about a "war on women," but this wasn't a battle. It was an assassination: quick, unexpected and catastrophic.
The abor­tion pro­vi­sions were added to the bud­get on June 25, after only a week or two of dis­cus­sion, and were passed into law five days lat­er, giv­ing media out­lets and pro­tes­tors less than a week to raise aware­ness or oppo­si­tion. This is not to say there was no oppo­si­tion before the bud­get's pas­sage — only that it was­n't wide­spread enough, or quick enough, to have a real effect. Doc­tors spoke at the Ohio State­house, call­ing the pro­vi­sions dan­ger­ous and uneth­i­cal. But there weren't enough of them, or enough peo­ple will­ing to take them seri­ous­ly, and so it did­n't matter.
State Sen. Nina Turn­er sent out e‑mails to con­stituents warn­ing them of an attack on women. ​"I have been fight­ing on your behalf and I'm not alone, but we are out­num­bered in a leg­is­la­ture run by ide­o­logues," she wrote — but there was noth­ing as eye-catch­ing as Wendy Davis' epic fil­i­buster, and so the media cov­er­age was light. As the week went on, Tex­an pro­test­ers num­bered in the thou­sands, while on June 28, the Colum­bus Dis­patch reports, only about 100 pro­test­ers were present at the Ohio Statehouse.
Texas is the state that abor­tion rights activists are look­ing to for inspi­ra­tion. But Ohio is the state they should look to as a cau­tion­ary tale. There's plen­ty of pro­gres­sive talk about a ​"war on women," but this was­n't a bat­tle. It was an assas­si­na­tion: quick, unex­pect­ed and cat­a­stroph­ic. The sto­ry of Ohio is a sto­ry about how any Amer­i­can, even those who don't believe their repro­duc­tive rights are par­tic­u­lar­ly endan­gered, can wake up one morn­ing to find them gone.
​"I had­n't actu­al­ly heard about House Bud­get 59 until it passed, via the Huff­in­g­ton Post, late the night it hap­pened," says pro­test­er Aman­da Park­er-Wol­ery, in Cleve­land. ​"This both­ered me, as an avid fol­low­er of the news. Some­thing seemed amiss that not more peo­ple were talk­ing about this before­hand. Come to find out, I was­n't the only one."
She was­n't. ​"Very few peo­ple in our state even knew what was going on," says Alliea Phipps, state direc­tor of the the non-prof­it wom­en's orga­ni­za­tion Unite​Women​.org, who worked to oppose the pro­vi­sions before they were passed into law.
Now, much of the work on the ground con­sists not just of fig­ur­ing out ways to regain lost ground, but of mak­ing sure that fel­low Ohioans know which rights they've lost. Bel­la Sin, anoth­er Cleve­land pro­test­er who immi­grat­ed to the U.S. from Mex­i­co, said that one of the most impor­tant parts of her work involves try­ing to get the word out to peo­ple for whom it's oth­er­wise inac­ces­si­ble: ​"I'm trans­lat­ing all of this infor­ma­tion into Span­ish, let­ting peo­ple know what happened."
There's rea­son to believe that it sim­ply could­n't have hap­pened if the peo­ple of Ohio had been allowed to decide the mat­ter direct­ly. Ohio is not a state that tol­er­ates polit­i­cal extrem­ism of any stripe. It's a swing state, a mod­er­ate state, so res­olute­ly mid­dle-of-the-aisle that its vot­ing pref­er­ences can famous­ly be used to deter­mine the out­come of nation­al elec­tions. As Ohio goes, so goes the nation.
And yet, Kasich's restric­tions are unapolo­get­i­cal­ly out-there. Overnight, the nation's polit­i­cal barom­e­ter has become an anti-choice fanat­ic's wet dream. Any­one seek­ing an abor­tion will be forced to sub­mit to a state-man­dat­ed ultra­sound — and to pay for that ultra­sound after it is forced on them. Planned Par­ent­hood has been effec­tive­ly stripped of state fund­ing, but so-called ​"cri­sis preg­nan­cy cen­ters" — unreg­u­lat­ed anti-abor­tion dis­in­for­ma­tion cen­ters famous for plac­ing mis­lead­ing ads, pro­vid­ing med­ical­ly unsound advice and using coer­cive tac­tics — will be receiv­ing tax­pay­er mon­ey. Any clin­ic pro­vid­ing abor­tions will be required, by law, to enter into a con­tract with a near­by hos­pi­tal, guar­an­tee­ing trans­port if a client expe­ri­ences com­pli­ca­tions and needs urgent care. But pub­lic hos­pi­tals will be pre­vent­ed by law from enter­ing into such con­tracts, mean­ing that clin­ics will be shut down if they can't find a local, pri­vate­ly owned hos­pi­tal will­ing to com­ply. The state's rape cri­sis cen­ters are also under attack: If they refer a preg­nant sur­vivor to abor­tion ser­vices, or even men­tion the word ​"abor­tion," they too will be defund­ed. Accord­ing to Phipps, the law even endan­gers peo­ple who mis­car­ry. Sur­gi­cal abor­tions are often nec­es­sary after a first-trimester mis­car­riage to pre­vent hem­or­rhag­ing or infec­tions. But the Kasich bud­get requires a 48-hour wait­ing peri­od unless a doc­tor deter­mines that the patient is at imme­di­ate risk of death.
So this, too, is a way the nation can go. If the repro­duc­tive rights bat­tle in Texas is a sto­ry about how even con­ser­v­a­tive states can be brought to feel the pow­er of pro-choice vot­ers, then Ohio is a sto­ry about how, even in a state where most peo­ple do not share extrem­ist anti-choice views, a few suf­fi­cient­ly con­ser­v­a­tive men in posi­tions of pow­er can bul­ly their way into enact­ing extrem­ist anti-choice poli­cies. A poll released short­ly before the bud­get passed indi­cat­ed that 52 per­cent of vot­ers said they did not sup­port the pro­posed restric­tions. Indeed, when sim­i­lar­ly rad­i­cal bills have been put for­ward on their own, and not with­in the con­text of a bud­get, as in the case of 2012's ​"heart­beat bill," they've been shot down. But because Repub­li­cans con­trol the state leg­is­la­ture, the anti-abor­tion rad­i­cals have the edge.
So what's left? How can Ohioans regain those rights after they've been wiped off the books?
​"I don't think there's any­thing we can do about it," Sin says frankly. ​"I've spo­ken to the [oth­er pro-choice] orga­ni­za­tions and we can either wait for [Kasich] to get out of office or… I don't know if we can over­turn it. The long-range goal should be activism and fig­ur­ing out how to fund those par­tic­u­lar places that were defund­ed." She's plan­ning a ral­ly, with the social media hash­tag #cle4women, and a bur­lesque ben­e­fit to raise funds.
Phipps is more hope­ful. Although the state leg­is­la­ture is on sum­mer break now, she says, there may be a chance to address the mat­ter soon.
​"There's a strong belief that Gov­er­nor Kasich will call the leg­is­la­ture back to deal with Med­ic­aid," she says, refer­ring to a Med­ic­aid expan­sion pro­posed by Kasich that did not make it into the final bud­get. The think­ing seems to be that if the bud­get is reopened on this issue, pro-choicers may gain a nec­es­sary inroad to chal­leng­ing the abor­tion restric­tions. ​"If not, we have to wait until Sep­tem­ber," she says. ​"There are oth­er pos­si­bil­i­ties, and if you've been read­ing the nation­al news, very few of these archa­ic laws have been found legal… in that case, the tax­pay­ers will have to pay for a court battle."
Guber­na­to­r­i­al can­di­date Ed FitzGer­ald has spo­ken of ini­ti­at­ing such a court bat­tle. He has also indi­cat­ed that he would put the abor­tion restric­tions to a vote dur­ing the guber­na­to­r­i­al elec­tion itself, in Novem­ber of 2014. If he can col­lect 118,000 sig­na­tures, FitzGer­ald will be able to cre­ate a cit­i­zen-ini­ti­at­ed statute to repeal the anti-choice pro­vi­sions, which then — assum­ing he can col­lect the same num­ber of sig­na­tures — would be put to a vote in Novem­ber. Phipps says that Unite​Women​.org has been run­ning vot­ing dri­ves — and that they've been suc­cess­ful, with many peo­ple who say they've nev­er vot­ed before sign­ing up in the hopes of defeat­ing the legislation.
Park­er-Wol­ery has set up a Change​.org peti­tion demand­ing that the law be over­turned, and a Face­book page, and is plan­ning a ral­ly for ear­ly August. She shares the long-term goal of get­ting Kasich out of office.
​"We will reg­is­ter peo­ple to vote, go door-to-door, dri­ve peo­ple to the polls if we have to," Park­er-Wol­ery told me. ​"This will end."
As for her short-term def­i­n­i­tion of vic­to­ry, it's fair­ly sim­ple: In a world where pro-choicers are win­ning, ​"every sin­gle per­son in Ohio would know what hap­pened on June 30," she says. There may be a long, hard bat­tle com­ing in Ohio, but at least this time, every­one will know the stakes.