Here's Why Thousands of Steelworkers Just Voted to Authorize a Strike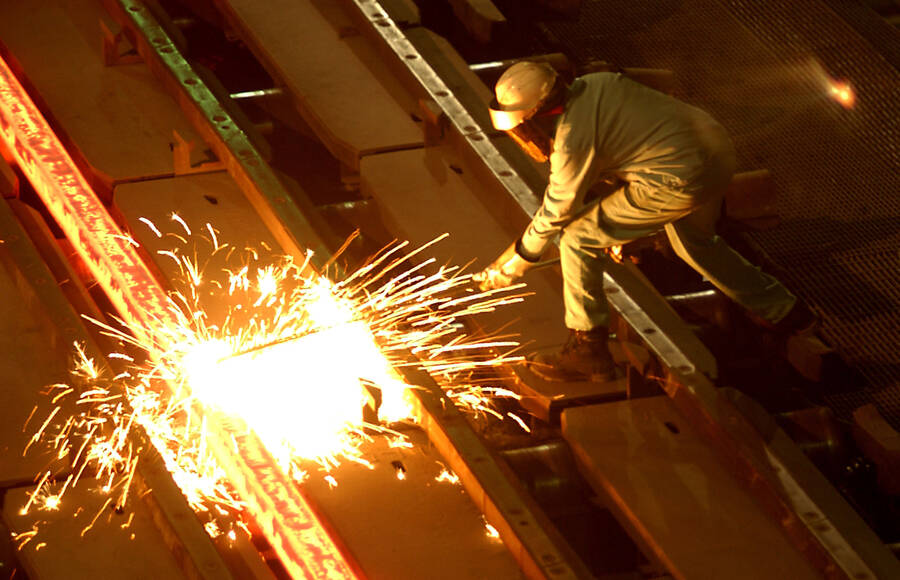 ​U.S. Steel is poised to rake in close to $2 bil­lion in prof­its this year, and the work­ers who helped make that hap­pen want their fair share of the wealth — as well as a way to shore up rapid­ly ris­ing health­care costs. That's part of what prompt­ed thou­sands of Unit­ed Steel­work­ers to vote to autho­rize a strike vote, announced Sep­tem­ber 10, while engaged in con­tract nego­ti­a­tions with U.S. Steel at the company's Pitts­burgh offices. Unit­ed Steel­work­ers rep­re­sents over 16,000 employ­ees who work at U.S. Steel plants in a hand­ful of states from Penn­syl­va­nia to Texas.
The steel­work­ers' cur­rent con­tract expired on Sep­tem­ber 1, and work­ers are now labor­ing under an agreed-upon exten­sion of exist­ing terms. The con­tract is a holdover from 2015, when earn­ings were down at U.S. Steel. At that time, work­ers agreed to a wage freeze, says R.J. Huf­nagel, a writer and edi­tor for Unit­ed Steelworkers.
"It's a dif­fer­ent envi­ron­ment now," Huf­nagel tells In These Times, not­ing that because U.S. Steel is in a bet­ter finan­cial posi­tion this time around, work­ers are expect­ing to have more bar­gain­ing power.
U.S. Steel is one of a hand­ful of domes­tic steel man­u­fac­tur­ers who have seen a sig­nif­i­cant bump in prof­its in 2018, thanks to increased demand for steel, as well as new tar­iffs imposed by the Trump admin­is­tra­tion. The tar­iffs have pushed up the cost of steel and helped pad the bot­tom line for large cor­po­ra­tions such as U.S. Steel, a pub­licly trad­ed com­pa­ny worth over $6 billion.
The ques­tion now is whether or not work­ers will share equal­ly in the largesse gen­er­at­ed by today's boom times for steel pro­duc­tion. Writ­ing for the Unit­ed Steel­work­ers web­site on Sep­tem­ber 10, Huf­nagel argued that U.S. Steel man­age­ment has scored ​"more than $50 mil­lion in pay and bonus­es since 2015 while the hourly work force has not received a wage increase over the same peri­od." What's more, he wrote, U.S. Steel also appears to be try­ing to squeeze work­ers when it comes to health­care costs—a com­mon theme in recent nego­ti­a­tions for Unit­ed Steelworkers.
A Sep­tem­ber 12 con­tract nego­ti­a­tion update pro­vid­ed by Unit­ed Steel­work­ers picks apart the lat­est offer from U.S. Steel, and includes a focus on health­care cov­er­age. The union alleges that U.S. Steel is no longer offer­ing the cur­rent health plan work­ers have, which requires much less in out of pock­et costs, and is instead try­ing to ​"bribe" employ­ees into accept­ing a ​"high deductible high cost" insur­ance plan. In exchange, U.S. Steel has said they will reward those who switch to the high-deductible health­care plan with an annu­al pay­out of $1,500 for the next six years.
U.S. Steel main­tains its own nego­ti­a­tions web­site where the com­pa­ny's most cur­rent offers are post­ed. The lat­est update, dat­ed Sep­tem­ber 12, states, ​"The revised six-year pro­pos­al, which we strong­ly believe is in the best long-term inter­est of all U.S. Steel stake­hold­ers, includes a 14% base wage increase over the term of the agree­ment, guar­an­teed prof­it shar­ing, and health­care pre­mi­ums off­set with tran­si­tion payments."
While Huf­nagel warns that con­tract talks are ongo­ing, and thus spe­cif­ic details are sub­ject to change, he did acknowl­edge that health­care cov­er­age is a ​"major stick­ing point right now." That's because ​"U.S. Steel has made pro­pos­als that would increase mem­bers' out of pock­et health care costs by thou­sands of dol­lars per year," Huf­nagel says. This is in keep­ing with recent news reports doc­u­ment­ing the ris­ing cost of health care pre­mi­ums for Amer­i­can workers.
Some exam­ples of this include a 2017 Bloomberg News report which found that increas­ing health insur­ance costs are ​"eat­ing up the wage gains won by Amer­i­can work­ers, who are being asked by their employ­ers to pick up more of the hefti­er tab." Reporter Zachary Trac­er used gov­ern­ment data and research from the Kaiser Fam­i­ly Foun­da­tion to show that, in recent years, ​"pre­mi­ums for an employ­er-pro­vid­ed fam­i­ly insur­ance plan have climbed 19 per­cent, while work­er pay increased by 12 percent."
A 2018 USA Today piece also cov­ered what it deemed the shock­ing cost of health­care cov­er­age for fam­i­lies, while also not­ing that the cost to employ­ers is ris­ing fast, too. Stag­nant wages in the Unit­ed States can be blamed in part on the increas­ing cost of employ­er-pro­vid­ed health care, accord­ing to reporter Guy Boulton.
The sharp rise in health insur­ance cov­er­age fees is not the only point of dis­agree­ment between Unit­ed Steel­work­ers and U.S. Steel. Bar­gain­ing team updates post­ed to the Unit­ed Steel­work­ers web­site call atten­tion to oth­er dis­putes, includ­ing a poten­tial change to incen­tive pay for hourly employ­ees. Pro­duc­tiv­i­ty-based pay bumps worth a few extra dol­lars per hour are not ​"per­fect," the Unit­ed Steel­work­ers say, but they do form an ​"impor­tant com­po­nent of com­pen­sa­tion" that has been part of steel­work­ers' col­lec­tive bar­gain­ing agree­ments since 1947.
Now, Unit­ed Steel­work­ers is con­cerned that U.S. Steel is try­ing to take incen­tive pay pro­grams out of the union's hands and ​"align" them with man­age­ment-con­trolled options, called Oper­a­tions Incen­tive Plans. This would effec­tive­ly put non-union and union employ­ees under the same pay increase sys­tem — a sys­tem the union alleges has not been clear­ly artic­u­lat­ed, except for a few key points such as this: ​"U.S. Steel's CEO has the unlim­it­ed dis­cre­tion to amend, sus­pend, or mod­i­fy the incen­tive benefits."
Huf­nagel says it is not clear how long nego­ti­a­tions will take: It could be ​"weeks or months," he cau­tions, while point­ing out that the last con­tract talks, done in 2015, went on through Decem­ber. The out­come, includ­ing any strike activ­i­ty, is unclear as well, as the two sides con­tin­ue their talks behind closed doors in Pittsburgh.
Sarah Lahm is a Min­neapo­lis-based writer and for­mer Eng­lish Instruc­tor. She writes the Mid­west Dis­patch col­umn for the Pro­gres­sive mag­a­zine, and her work has appeared in oth­er local and nation­al outlets.