Strong Enough for a Man, Effective Enough For A Woman
Sen. Gillibrand's five-point family and economic plan is refreshingly, aggressively pro-worker.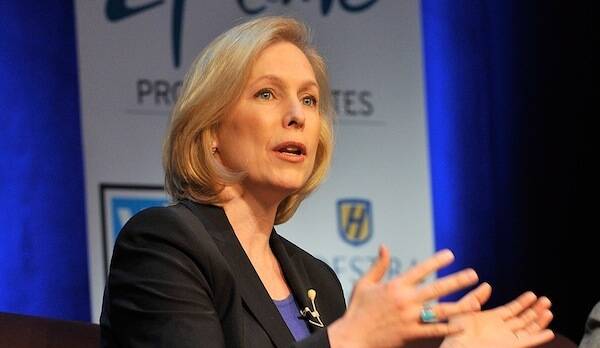 We wanted to make sure you didn't miss the announcement of our new Sustainer program. Once you've finished reading, take a moment to check out the new program, as well as all the benefits of becoming a Sustainer.

Senator Kirsten Gillibrand (D‑N.Y.) has emerged as a leader within the Senate on what are commonly regarded as ​"women's issues:" everything from sexual assault in the military to preserving funding for Planned Parenthood.
To critics who would claim that funding Pre-K is simply too expensive, the Senator had a ready reply. 'Budgets are all about choices. They're about priorities, and they're about who we are as a nation.'
But in unveiling her five-point family and economic policy plan at the Center for American Progress on September 27 in Washington, D.C., Gillibrand stressed that almost every part of the plan applies to all workers, not just women. Ensuring families have access to quality child care, family leave, decent (and equitable) wages and pre-kindergarten education would benefit a large portion of the workforce.
Talking about family policy can be a double-edged sword. Gillibrand hasn't shied away from issues of particular concern to women — she told one reporter, ​"Sometimes people say, ​'Well, why do you just focus on women's issues?' Well, why do you focus on issues that pertain to 52 percent of the population? It's pretty important." And yet to assume that family policy is only a woman's issue is to accept the stereotype that caring for children and family members is women's work, not men's, and to allow people to write it off as something that just pertains to the ladies.
Even though, as Gillibrand pointed out in her speech, only a fifth of American households have the 50s model of a male breadwinner and a stay-at-home mother, U.S. family policy acts as though they all do — and women continue to do a disproportionate share of the caring work. We haven't kept up with other countries when it comes to family policy, especially paid family leave. And as I wrote recently, true gender equality requires good family policy that encourages an equitable distribution of labor, both at the office and in the home.
The Family and Medical Leave Act (FMLA) of 1993 requires only that U.S. employers provide unpaid leave for workers in the case of the birth or adoption of a child, of serious illness or to care for a family member or spouse with a serious illness. As the senator pointed out, 50 percent of workers aren't even eligible for that unpaid leave because they work at places too small to be covered by the law, which applies only to businesses with 50 or more employees, or because they've worked at their job for less than 12 months. Gillibrand also noted that 43 percent of those eligible can't take it because they can't afford to give up the wages. The current system, she said, ​"basically lets [a worker's] boss decide how much time [she can take off], whether she'll have time, and whether she'll have opportunities when she comes back."
To combat this, Gillibrand plans to introduce new legislation called the Family and Medical Insurance Leave Act, (FAMILY Act for short) as the first part of her plan. The act would create a new, independent trust fund within the Social Security Administration to collect funds and pay out benefits. Employers and employees would each pay 0.2 percent of the employee's wages into the program, which could pay out benefits equal to 66 percent of that worker's typical monthly wages (up to a capped maximum that would adjust for inflation) for up to three months. She stressed that this new program would be an earned benefit available to every worker in the country, part-time workers included, and that it would be available not just to parents, but to anyone who needed to care for a sick family member or had an illness themselves. It would bring the United States up close to the level of leave offered in the UK and actually surpass that available in Australia. Of course, it would still be nowhere near the levels of paid leave offered in France, Canada, Sweden and Germany, who offer from 22 to 47 weeks.
Ai-Jen Poo of the National Domestic Workers Alliance, who spoke on a panel with the senator after her speech, pointed out that many Americans are facing a double bind of care these days, as they are responsible not only for young children but for aging parents or relatives Gillibrand's proposed legislation would cover both of those caregiving needs. Many of those older workers, Gillibrand mentioned on the panel, are also facing additional financial struggles: Pensions are being slashed both for public and private sector workers around the country, which takes away an important source of income when workers have almost no opportunity to replace it. This puts an even heavier burden of care on the family, who then in turn rely on domestic and home-care workers who, like so many other workers in today's economy, make barely more than — or in some cases, less than — minimum wage.
Part two of Gillibrand's plan is support for Sen. Tom Harkin (D‑Iowa)'s bill increasing the minimum wage to $10.10 an hour. In her speech, Gillibrand drove home the point that the minimum wage, too, is a women's issue. 64 percent of minimum wage earners are women, she noted — that's 17 million women and 33 million people total who would get a raise through Harkin's bill. She also pointed out that one-third of all single parents make minimum wage. Though a raise to $10.10 is unlikely to help all — or even most — minimum wage workers begin saving for retirement, it's certainly a step.
Much of the conversation about women and wages centers on equal pay for equal work — which is point three of Gillibrand's five-point agenda, in the form of support for the Paycheck Fairness Act, which would strengthen enforcement efforts for the existing Equal Pay Act (which dates back, somewhat unbelievably, to 1963) and help women negotiate for higher wages. But when Susan Molinari of Google, another panelist, brought up the statistic that women are less likely to self-promote or push for a raise, Gillibrand was uninterested in going down the Lean In path. ​"If minimum wage women tried to negotiate, I wouldn't be surprised if 9 out of 10 got fired," she said. And Poo noted that more than half of paid care workers are single mothers, who are in no position to risk losing their jobs by angering their bosses with demands.
On the other hand, Gillibrand did go out of her way to stress the benefits of her agenda to business. She repeatedly noted that employees would be ​"really grateful" to bosses who provided good benefits, and Poo was the only representative of a workers' group on the panel. Still, the senator's focus on raising wages at the lowest end of the scale is praiseworthy from a progressive perspective.
While switching gears to the question of funding child care, for instance, Gillibrand kept her emphasis on helping low-wage women. Noting that the cost of care is an average of $6,700 a year, she pointed out that ​"women making $15,000 can't pay that."
Her solution? Point four of the plan: ​"Double the tax credit families get for child care, and allow families to deduct child care as a business expense." Gillibrand supports the Right Start Child Care and Education Act, which would increase the Dependent and Child Care Tax Credit (DCTC) from its current $3,000 cap to $6,000 per child, and make the tax credit fully refundable for low-income workers who have little or no tax liability. It would also introduce a child-care deduction, allowing families to deduct up to $14,000 of child care expenses from their taxes as a business expense if they don't take the DCTC. Tax credits could build on the existing system of subsidized child care, which often falls short. But tax credits don't fill all the gaps or ensure that providers themselves make a living wage. Still, the ideological work done by considering child care a business expense is intriguing, as it may help us move closer to understanding unpaid care as work.
The most interesting part of this bill, perhaps, is the one Gillibrand didn't really talk about on Friday — a tax credit for college students who specialize in child care and work in a child care facility. Child care, particularly for younger children and infants, is a low-wage, low-prestige occupation — many child care workers, paid by the government, don't even make minimum wage. Trying to change that (both the wages and the prestige) is a laudable goal, though it may take more than a $2,000 tax credit to do it.
To lower child care expenses still further (and, of course, to provide a good education to children), the fifth point of Gillibrand's plan is a push for Sen. Mazie Hirono's (D‑Hawaii) Providing Resources Early (PRE‑K) Act. Hirono's bill would award grants to states to ​"enhance or improve" state-funded Pre‑K programs through improving the pay and benefits of qualified teachers, extending the length of the programs and improving student-to-teacher ratio. Though the bill will financially prioritize low-income children, it would not universally guarantee free pre-kindergarten education. But it would be a step toward such a thing.
To critics who would claim that funding Pre‑K is simply too expensive, the Senator had a ready reply. ​"Budgets are all about choices. They're about priorities, and they're about who we are as a nation."
As I've written before, good family policy is essential to advancing women's economic equality, but one of the tough questions remains how to get men to take on more responsibility for doing unpaid labor in the home. One audience member, who identified herself as a Department of Labor employee, asked that same question, and the panelists had little to suggest beyond the fact that family medical leave, child care, minimum wage increases and universal pre‑K are good for everyone. That's true, of course. In practice, however, even with equal pay mandated for equal work, women tend to be concentrated in lower-wage occupations (something Gillibrand touched on many times) and jobs with shorter hours and less prestige, and thus wind up responsible for more unpaid labor in the home even in households that believe they should be egalitarian. A truly ambitious equality and family policy agenda will have to take those issues into account.
Gillibrand's plan may not be perfect, but she's is off to a good start here, and she's putting the weight of her ​"Off The Sidelines" political action committee behind it, as well as marshaling allies in business and labor to help her in the process. She'll have an uphill battle, of course, getting anything — much less an aggressive workers' rights agenda — through Congress at present, but she's already proven to be an avid campaigner, and it's refreshing to see an ambitious young senator decide to make a political priority of what's often written off as ​"women's work."
Be a Sustainer
We surveyed thousands of readers and asked what they would like to see in a monthly giving program. Now, for the first time, we're offering three different levels of support, with rewards at each level, including a magazine subscription, books, tote bags, events and more—all starting at less than 17 cents a day. Check out the new Sustainer program.
Sarah Jaffe is a Type Media Center Fellow, co-host (with Michelle Chen) of Dissent magazine's Belabored podcast, and a columnist at The New Republic and New Labor Forum. She was formerly a staff writer at In These Times and the labor editor at AlterNet. Her previous book is Necessary Trouble: Americans in Revolt, which Robin D.G. Kelley called ​"The most compelling social and political portrait of our age." You can follow her on Twitter @sarahljaffe.