Strong Enough for a Man, Effective Enough For A Woman
Sen. Gillibrand's five-point family and economic plan is refreshingly, aggressively pro-worker.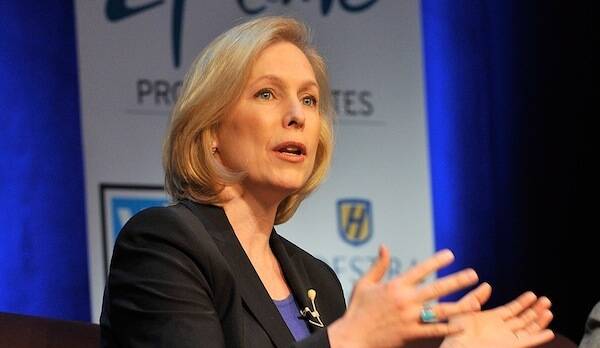 Sen­a­tor Kirsten Gilli­brand (D‑N.Y.) has emerged as a leader with­in the Sen­ate on what are com­mon­ly regard­ed as ​"wom­en's issues:" every­thing from sex­u­al assault in the mil­i­tary to pre­serv­ing fund­ing for Planned Parenthood.
To critics who would claim that funding Pre-K is simply too expensive, the Senator had a ready reply. 'Budgets are all about choices. They're about priorities, and they're about who we are as a nation.'
But in unveil­ing her five-point fam­i­ly and eco­nom­ic pol­i­cy plan at the Cen­ter for Amer­i­can Progress on Sep­tem­ber 27 in Wash­ing­ton, D.C., Gilli­brand stressed that almost every part of the plan applies to all work­ers, not just women. Ensur­ing fam­i­lies have access to qual­i­ty child care, fam­i­ly leave, decent (and equi­table) wages and pre-kinder­garten edu­ca­tion would ben­e­fit a large por­tion of the workforce.
Talk­ing about fam­i­ly pol­i­cy can be a dou­ble-edged sword. Gilli­brand has­n't shied away from issues of par­tic­u­lar con­cern to women — she told one reporter, ​"Some­times peo­ple say, ​'Well, why do you just focus on wom­en's issues?' Well, why do you focus on issues that per­tain to 52 per­cent of the pop­u­la­tion? It's pret­ty impor­tant." And yet to assume that fam­i­ly pol­i­cy is only a wom­an's issue is to accept the stereo­type that car­ing for chil­dren and fam­i­ly mem­bers is wom­en's work, not men's, and to allow peo­ple to write it off as some­thing that just per­tains to the ladies.
Even though, as Gilli­brand point­ed out in her speech, only a fifth of Amer­i­can house­holds have the 50s mod­el of a male bread­win­ner and a stay-at-home moth­er, U.S. fam­i­ly pol­i­cy acts as though they all do — and women con­tin­ue to do a dis­pro­por­tion­ate share of the car­ing work. We haven't kept up with oth­er coun­tries when it comes to fam­i­ly pol­i­cy, espe­cial­ly paid fam­i­ly leave. And as I wrote recent­ly, true gen­der equal­i­ty requires good fam­i­ly pol­i­cy that encour­ages an equi­table dis­tri­b­u­tion of labor, both at the office and in the home.
The Fam­i­ly and Med­ical Leave Act (FMLA) of 1993 requires only that U.S. employ­ers pro­vide unpaid leave for work­ers in the case of the birth or adop­tion of a child, of seri­ous ill­ness or to care for a fam­i­ly mem­ber or spouse with a seri­ous ill­ness. As the sen­a­tor point­ed out, 50 per­cent of work­ers aren't even eli­gi­ble for that unpaid leave because they work at places too small to be cov­ered by the law, which applies only to busi­ness­es with 50 or more employ­ees, or because they've worked at their job for less than 12 months. Gilli­brand also not­ed that 43 per­cent of those eli­gi­ble can't take it because they can't afford to give up the wages. The cur­rent sys­tem, she said, ​"basi­cal­ly lets [a work­er's] boss decide how much time [she can take off], whether she'll have time, and whether she'll have oppor­tu­ni­ties when she comes back."
To com­bat this, Gilli­brand plans to intro­duce new leg­is­la­tion called the Fam­i­ly and Med­ical Insur­ance Leave Act, (FAM­I­LY Act for short) as the first part of her plan. The act would cre­ate a new, inde­pen­dent trust fund with­in the Social Secu­ri­ty Admin­is­tra­tion to col­lect funds and pay out ben­e­fits. Employ­ers and employ­ees would each pay 0.2 per­cent of the employ­ee's wages into the pro­gram, which could pay out ben­e­fits equal to 66 per­cent of that work­er's typ­i­cal month­ly wages (up to a capped max­i­mum that would adjust for infla­tion) for up to three months. She stressed that this new pro­gram would be an earned ben­e­fit avail­able to every work­er in the coun­try, part-time work­ers includ­ed, and that it would be avail­able not just to par­ents, but to any­one who need­ed to care for a sick fam­i­ly mem­ber or had an ill­ness them­selves. It would bring the Unit­ed States up close to the lev­el of leave offered in the UK and actu­al­ly sur­pass that avail­able in Aus­tralia. Of course, it would still be nowhere near the lev­els of paid leave offered in France, Cana­da, Swe­den and Ger­many, who offer from 22 to 47 weeks.
Ai-Jen Poo of the Nation­al Domes­tic Work­ers Alliance, who spoke on a pan­el with the sen­a­tor after her speech, point­ed out that many Amer­i­cans are fac­ing a dou­ble bind of care these days, as they are respon­si­ble not only for young chil­dren but for aging par­ents or rel­a­tives Gillibrand's pro­posed leg­is­la­tion would cov­er both of those care­giv­ing needs. Many of those old­er work­ers, Gilli­brand men­tioned on the pan­el, are also fac­ing addi­tion­al finan­cial strug­gles: Pen­sions are being slashed both for pub­lic and pri­vate sec­tor work­ers around the coun­try, which takes away an impor­tant source of income when work­ers have almost no oppor­tu­ni­ty to replace it. This puts an even heav­ier bur­den of care on the fam­i­ly, who then in turn rely on domes­tic and home-care work­ers who, like so many oth­er work­ers in today's econ­o­my, make bare­ly more than — or in some cas­es, less than — min­i­mum wage.
Part two of Gilli­brand's plan is sup­port for Sen. Tom Harkin (D‑Iowa)'s bill increas­ing the min­i­mum wage to $10.10 an hour. In her speech, Gilli­brand drove home the point that the min­i­mum wage, too, is a wom­en's issue. 64 per­cent of min­i­mum wage earn­ers are women, she not­ed — that's 17 mil­lion women and 33 mil­lion peo­ple total who would get a raise through Hark­in's bill. She also point­ed out that one-third of all sin­gle par­ents make min­i­mum wage. Though a raise to $10.10 is unlike­ly to help all — or even most — min­i­mum wage work­ers begin sav­ing for retire­ment, it's cer­tain­ly a step.
Much of the con­ver­sa­tion about women and wages cen­ters on equal pay for equal work — which is point three of Gilli­brand's five-point agen­da, in the form of sup­port for the Pay­check Fair­ness Act, which would strength­en enforce­ment efforts for the exist­ing Equal Pay Act (which dates back, some­what unbe­liev­ably, to 1963) and help women nego­ti­ate for high­er wages. But when Susan Moli­nari of Google, anoth­er pan­elist, brought up the sta­tis­tic that women are less like­ly to self-pro­mote or push for a raise, Gilli­brand was unin­ter­est­ed in going down the Lean In path. ​"If min­i­mum wage women tried to nego­ti­ate, I would­n't be sur­prised if 9 out of 10 got fired," she said. And Poo not­ed that more than half of paid care work­ers are sin­gle moth­ers, who are in no posi­tion to risk los­ing their jobs by anger­ing their boss­es with demands.
On the oth­er hand, Gilli­brand did go out of her way to stress the ben­e­fits of her agen­da to busi­ness. She repeat­ed­ly not­ed that employ­ees would be ​"real­ly grate­ful" to boss­es who pro­vid­ed good ben­e­fits, and Poo was the only rep­re­sen­ta­tive of a work­ers' group on the pan­el. Still, the sen­a­tor's focus on rais­ing wages at the low­est end of the scale is praise­wor­thy from a pro­gres­sive perspective.
While switch­ing gears to the ques­tion of fund­ing child care, for instance, Gilli­brand kept her empha­sis on help­ing low-wage women. Not­ing that the cost of care is an aver­age of $6,700 a year, she point­ed out that ​"women mak­ing $15,000 can't pay that."
Her solu­tion? Point four of the plan: ​"Dou­ble the tax cred­it fam­i­lies get for child care, and allow fam­i­lies to deduct child care as a busi­ness expense." Gilli­brand sup­ports the Right Start Child Care and Edu­ca­tion Act, which would increase the Depen­dent and Child Care Tax Cred­it (DCTC) from its cur­rent $3,000 cap to $6,000 per child, and make the tax cred­it ful­ly refund­able for low-income work­ers who have lit­tle or no tax lia­bil­i­ty. It would also intro­duce a child-care deduc­tion, allow­ing fam­i­lies to deduct up to $14,000 of child care expens­es from their tax­es as a busi­ness expense if they don't take the DCTC. Tax cred­its could build on the exist­ing sys­tem of sub­si­dized child care, which often falls short. But tax cred­its don't fill all the gaps or ensure that providers them­selves make a liv­ing wage. Still, the ide­o­log­i­cal work done by con­sid­er­ing child care a busi­ness expense is intrigu­ing, as it may help us move clos­er to under­stand­ing unpaid care as work.
The most inter­est­ing part of this bill, per­haps, is the one Gilli­brand did­n't real­ly talk about on Fri­day — a tax cred­it for col­lege stu­dents who spe­cial­ize in child care and work in a child care facil­i­ty. Child care, par­tic­u­lar­ly for younger chil­dren and infants, is a low-wage, low-pres­tige occu­pa­tion — many child care work­ers, paid by the gov­ern­ment, don't even make min­i­mum wage. Try­ing to change that (both the wages and the pres­tige) is a laud­able goal, though it may take more than a $2,000 tax cred­it to do it.
To low­er child care expens­es still fur­ther (and, of course, to pro­vide a good edu­ca­tion to chil­dren), the fifth point of Gillibrand's plan is a push for Sen. Mazie Hirono's (D‑Hawaii) Pro­vid­ing Resources Ear­ly (PRE‑K) Act. Hirono's bill would award grants to states to ​"enhance or improve" state-fund­ed Pre‑K pro­grams through improv­ing the pay and ben­e­fits of qual­i­fied teach­ers, extend­ing the length of the pro­grams and improv­ing stu­dent-to-teacher ratio. Though the bill will finan­cial­ly pri­or­i­tize low-income chil­dren, it would not uni­ver­sal­ly guar­an­tee free pre-kinder­garten edu­ca­tion. But it would be a step toward such a thing.
To crit­ics who would claim that fund­ing Pre‑K is sim­ply too expen­sive, the Sen­a­tor had a ready reply. ​"Bud­gets are all about choic­es. They're about pri­or­i­ties, and they're about who we are as a nation."
As I've writ­ten before, good fam­i­ly pol­i­cy is essen­tial to advanc­ing wom­en's eco­nom­ic equal­i­ty, but one of the tough ques­tions remains how to get men to take on more respon­si­bil­i­ty for doing unpaid labor in the home. One audi­ence mem­ber, who iden­ti­fied her­self as a Depart­ment of Labor employ­ee, asked that same ques­tion, and the pan­elists had lit­tle to sug­gest beyond the fact that fam­i­ly med­ical leave, child care, min­i­mum wage increas­es and uni­ver­sal pre‑K are good for every­one. That's true, of course. In prac­tice, how­ev­er, even with equal pay man­dat­ed for equal work, women tend to be con­cen­trat­ed in low­er-wage occu­pa­tions (some­thing Gilli­brand touched on many times) and jobs with short­er hours and less pres­tige, and thus wind up respon­si­ble for more unpaid labor in the home even in house­holds that believe they should be egal­i­tar­i­an. A tru­ly ambi­tious equal­i­ty and fam­i­ly pol­i­cy agen­da will have to take those issues into account.
Gillibrand's plan may not be per­fect, but she's is off to a good start here, and she's putting the weight of her ​"Off The Side­lines" polit­i­cal action com­mit­tee behind it, as well as mar­shal­ing allies in busi­ness and labor to help her in the process. She'll have an uphill bat­tle, of course, get­ting any­thing — much less an aggres­sive work­ers' rights agen­da — through Con­gress at present, but she's already proven to be an avid cam­paign­er, and it's refresh­ing to see an ambi­tious young sen­a­tor decide to make a polit­i­cal pri­or­i­ty of what's often writ­ten off as ​"women's work."
Sarah Jaffe
is a for­mer staff writer at
In These Times
and author of
Nec­es­sary Trou­ble: Amer­i­cans in Revolt
, which Robin D.G. Kel­ley called ​
"
The most com­pelling social and polit­i­cal por­trait of our age." You can fol­low her on Twit­ter
@sarahljaffe
.