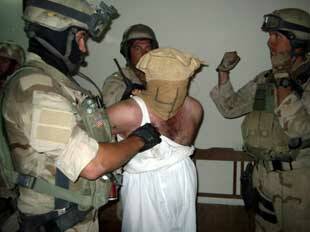 "Those AP reporters who pub­lished those pho­tos (and their apol­o­gists) are no bet­ter than street scum and deserve a hearty dose of street jus­tice," writes ​"Boot Hill," the pseu­do­nym of a vis­i­tor to the right-wing chat room FreeRe​pub​lic​.com. The reporter in ques­tion is Seth Het­te­na, a reporter for the Asso­ci­at­ed Press' San Diego bureau.
What raised Boot Hill's ire was a Decem­ber 3 arti­cle detail­ing Hettena's dis­cov­ery of more than 40 pho­tos that appear to show Navy SEALs cheer­ful­ly abus­ing Iraqi pris­on­ers. Many of the images were date-stamped May 2003 — months before even worse treat­ment of Iraqis took place at Abu Ghraib prison. Het­te­na found the pic­tures by using a sim­ple Google key­word search, which led him to a Web site where the pho­tos were post­ed by one of the sol­diers' wives.
Hettena's report spoke vol­umes about why these pho­tos of the SEALs' ​"approved pro­ce­dures" for ​"legit­i­mate intel­li­gence-gath­er­ing pur­pos­es" (as Navy Cmdr. Jeff Ben­der described the acts pic­tured) are not like­ly to win the Unit­ed States new allies in its war on terror.
"These and oth­er pho­tos found by the AP appear to show the imme­di­ate after­math of raids on civil­ian homes," Het­te­na wrote. ​"A mug shot shows a man with an auto­mat­ic weapon point­ed at his head and a gloved thumb jabbed into his throat. In many pho­tos, faces [of the cap­tives] have been blacked out. What appears to be blood drips from the heads of some. A fam­i­ly hud­dles in a room in one pho­to, while oth­ers show debris and upturned furniture."
Anoth­er pho­to — repost­ed by an approv­ing FreeRe​pub​lic​.com read­er in late Decem­ber ("I don't know if this is one of them, but I love it!!!") — showed a sol­dier grin­ning ear-to-ear and giv­ing the thumbs-up while sit­ting between two bound and hood­ed Iraqi captives.
Instead of apol­o­giz­ing for these actions, the vic­tim­iz­ers claimed vic­tim­hood. On Decem­ber 28 a half-dozen Navy SEALs and two of their wives filed a civ­il law­suit against Het­te­na and the AP. The SEALs seek unspec­i­fied dam­ages and a court injunc­tion against fur­ther use of the pho­tos or iden­ti­fi­ca­tion of the com­man­dos by the AP. The plain­tiffs, none of whom are named in the law­suit, claim the AP invad­ed their pri­va­cy and inten­tion­al­ly caused them emo­tion­al harm. Unmen­tioned is what became of the Iraqi pris­on­ers or the extent of the harm done to them.
The plain­tiffs' lawyer claims the faces of most of the cap­tive ​"insur­gents and ter­ror­ists" pho­tographed were obscured by the SEALs out of ​"respect" for them — a cour­tesy the AP didn't extend to the SEALs before trans­mit­ting the pic­tures. But, as the AP explained in a Jan­u­ary 5 state­ment, the wire ser­vice doesn't alter pho­tos and ​"the expres­sions of the ser­vice­men are a key part of the story."
Due to the law­suit and a direc­tive from his edi­tors and their lawyers, Het­te­na could not com­ment for this sto­ry. But Lucy Dalglish, exec­u­tive direc­tor of the Reporters Com­mit­tee for Free­dom of the Press, notes that all Het­te­na and the AP did was repub­lish what was already pub­licly avail­able. ​"There is no ques­tion [the AP] had a legal right" to trans­mit the pho­tos for pub­li­ca­tion, Dalglish says. ​"Not in any way, shape or form was it an inva­sion of [the SEALs'] privacy."
The Navy has so far dis­tanced itself from the SEALs' law­suit, call­ing it a pri­vate mat­ter. But if only to avoid fur­ther embar­rass­ment or pub­lic scruti­ny of the SEALs' oper­a­tions in Iraq, Dalglish says, ​"I wouldn't be sur­prised if the mil­i­tary got involved" to encour­age an out-of-court set­tle­ment. ​"This thing could get mon­u­men­tal­ly messy."
An edi­to­r­i­al in the New York Post said the SEALs ​"at the very least, deserve an apol­o­gy" from the AP. But the tabloid got it back­ward. It's the SEALs who owe their fel­low ser­vice­men and the Amer­i­can peo­ple an apol­o­gy. Their acts have dimin­ished all of us in the eyes of the world.
Joel Pate­naude
is the edi­tor of
Silent Sports
mag­a­zine and a for­mer col­league of Seth Hettena.