SUNY Defies Court Order as Nurses Fight to Save Long Island Hospital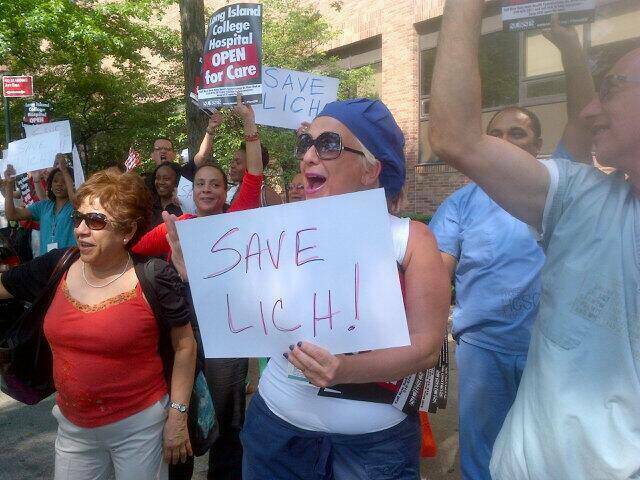 We wanted to make sure you didn't miss the announcement of our new Sustainer program. Once you've finished reading, take a moment to check out the new program, as well as all the benefits of becoming a Sustainer.

The Cobble Hill, Brooklyn neighborhood surrounding the Long Island College Hospital is peppered with cardboard signs reading, ​"Save LICH" and ​"Long Island College Hospital: Open for Care!" A few demand, ​"Wall Street, don't mess with Brooklyn hospitals!"
Even more signs hang inside the hospital itself, which the New York State Nurses Association, 1199 SEIU and a group of doctors have been fighting to keep open since February despite repeated attempts by its operator, SUNY Downstate Medical Center, to close it.
SUNY claims that the hospital loses $1 million a week and is a drain on the larger medical center. But the hospital staff and their community supporters cite the care that the hospital provides to residents of surrounding neighborhoods — which include posh Cobble Hill and Superstorm Sandy-ravaged Red Hook, downtown Brooklyn, Fort Greene and even, after 9/11, lower Manhattan. Last year LICH's emergency room served 58,000 people, and more than 11,000 of those were admitted to the hospital.
The workers have fought tooth and nail to save their hospital, staging rallies and a community health fair and taking their battle to court. They've won a series of unlikely victories — early in April, in response to a lawsuit filed by NYSNA, 1199, and Concerned Physicians of LICH, Justice Johnny Lee Baynes of the Supreme Court of New York issued a temporary restraining order preventing SUNY from proceeding with its plan to close LICH down. Later that month, SUNY withdrew the shutdown plan entirely.
Yet it appears that closing LICH is still on the agenda. Though the judge ordered that the hospital must maintain staffing levels, the past week has seen what nurse Natalie Zubairu describes as an ​"internal implosion." Medical residents have departed from SUNY Downstate's teaching program, ambulances have been diverted to other hospitals and now, according to nurses, patients are being transferred out and entire departments closed.
One EMT told New York news station NY1 that because ambulances were being sent away from LICH, he had to take a heart attack patient to an ER 15 minutes away, to a crowded emergency room where he couldn't see a doctor immediately. ​"I'm sitting there with this patient in this crowded ER knowing that there was a fully staffed ER at Long Island College Hospital," he said.
According to LICH nurse Linda O'Neil, when ambulances began to be diverted from LICH, ​"There was chaos in every surrounding hospital." Brooklyn Hospital even had to divert ambulances itself, according to O'Neil, and patients reported waiting 10 hours for doctors at surrounding facilities. ​"Imagine what would happen if this place was to shut down for good," she said.
The diversion, in defiance of both the court order and Department of Health regulations requiring a closure plan to ensure patient safety, ostensibly happened because the hospital is understaffed. Or that's what attorneys for SUNY claimed in court last week. But the nurses I met Saturday at LICH tell a different story.
​"We have the staff. The physicians are here. We have enough supplies," says O'Neil, who spoke with Working In These Times at the nurses' station in the Intensive Care Unit where she has worked for 18 years. ​"We're here to work. What's extremely troubling is the fact that SUNY Downstate have been allowed up to this point to break the law. They've been given instructions from the Supreme Court no less and three times they've totally ignored it."
In a transcript of Wednesday, June 19 court proceedings provided by NYSNA, Justice Baynes sounded equally frustrated, threatening SUNY with contempt of court.. ​"They are not taking anymore ambulances at the emergency room at LICH. If that is the case, that is in violation, clear violation of my order," he said. ​"That is shameful, on the day that they are coming to see the judge. Does it get any worse than that?"
​'They're just torturing us'
I met Zubairu and her colleagues on Saturday in the Labor & Delivery unit's nurses' station, where they sat surrounded by ​"Save LICH!" signs. They had one patient left; everyone else had been discharged or sent elsewhere. It was an enviable nurse-to-patient ratio, but the tears in one nurse's eyes left little doubt as to how they felt about what was happening.
Despite the determination of the nurses and other hospital workers to stay, SUNY seems equally determined to close. Zubairu says that her unit got three different messages on Thursday regarding its closing. ​"It was supposed to be the end of the day on Friday, and then on Saturday it was supposed to be the end, now it's supposed to be the end on Monday at 5:00. We don't know, it's just so uncertain. They're just torturing us." (At press time, reports are that the unit has indeed been closed.)
When Claudette Thompson, a nurse in LICH's top-rated stroke unit, got back from her break on Thursday, she says she found one of her patients on a stretcher, being prepared to leave the hospital. The transporters asked her why the patient was being transferred. ​"They should have known that answer already," she said. ​"You have her wrapped up on a stretcher and ready to go, why are they now asking me why is a patient going?"
That same evening, Thompson says, she had another peculiar run-in — this time, with an armed state police officer. ​"We have never seen one here before. I wondered, is he guarding me, or…?" she says. ​"I saw a whole bunch of new security guards. It was just all of a sudden so strange. It looked hostile in my mind. I thought that was very demeaning after all these years of working in this institution."
Another nurse, Miriande Philistin, describes patients being hustled out the door or diverted away without time to consult anyone. ​"Even a prisoner has the right to call their family," she says.
Since the fight began at LICH, NYSNA has been printing business cards that inform patients of their right to participate in decisions about their care and where they receive it, providing a phone number for the New York Department of Health that patients can call if they don't want to be transferred.
Though NYSNA reports only normal attrition since February, not the massive exodus of staff that SUNY has claimed, the nurses say they have been receiving calls trying to lure them to new jobs. On Thursday morning at 6:45, Philistin fielded a call and responded curtly: ​"Ma'am, you are calling at the wrong time, we are at the bedside providing patient care."
Nurses are in demand, certainly, but Philistin wonders if the calls aren't an attempt by the hospital to check on staff morale and see if the nurses are likely to jump ship rather than stick out the fight.
The stroke unit where Philistin and Thompson work is on the 11th floor of the building; its windows look out over the East River to Manhattan, the Statue of Liberty in the distance. It is the view that makes the nurses suspect that the hospital's operators consider it more valuable for condos than it is to them as a functioning medical facility. The property has been valued at some $500 million.
​"When you walk out there you can barely put one foot in front of the other, there are so many people," Zubairu said. ​"Just to think they're considering making this building a condo, to add more people with no health care facility to take care of them. It's unconscionable. But some very rich, very powerful people have almost gotten their way. Almost."
To the bitter end
Legal battles are only one part of NYSNA's strategy to save the hospital. The union, which has embraced a new militancy since a reform slate took over in 2011, built strong community ties doing volunteer work in the aftermath of Sandy — especially in Red Hook, one of the neighborhoods that depends on LICH for care. Local groups such as New York Communities for Change have joined the fight to save the hospital, and even Occupy activists have stepped up to support it. The union has held rallies, brought crowds to SUNY board meetings and busloads of nurses to Albany, and held, this past Sunday, an impromptu health fair offering free health screenings to the neighborhood.
​"They didn't think we were going to fight so hard. They thought we were going to surrender peacefully," Zubairu says.
As they struggle to keep LICH open, the unions are also fighting another battle to ensure that they don't save the hospital only to see it handed over to a for-profit chain. New York State's 2013 budget included a for-profit hospital pilot project, which would be the first in the state. But hospital workers made keeping profit-driven investors out of healthcare a cornerstone of the ​"Save LICH" campaign, and the pilot plan was dropped from the budget.
The court battle continues. July 15 will see a hearing on the charge of civil contempt of court, but if SUNY continues to close units and divert ambulances, patients — and overcrowded local hospitals — will bear the brunt of the crisis.
That's where the organizing and community base that NYSNA has built may come into play, as the hospital workers look for other ways to pressure SUNY. Elected officials — including mayoral candidates Christine Quinn and Bill DeBlasio, Public Advocate candidate Letitia James, and city councilmembers Steve Levin and Brad Lander — have come out in support.
​"We will fight until the bitter end," O'Neil says. ​"This was never about our paychecks. We are healthcare professionals. We understand that there is a need in this community and that has been our goal. We are not giving up, no matter what they do."
Be a Sustainer
We surveyed thousands of readers and asked what they would like to see in a monthly giving program. Now, for the first time, we're offering three different levels of support, with rewards at each level, including a magazine subscription, books, tote bags, events and more—all starting at less than 17 cents a day. Check out the new Sustainer program.
Sarah Jaffe is a Type Media Center Fellow, co-host (with Michelle Chen) of Dissent magazine's Belabored podcast, and a columnist at The New Republic and New Labor Forum. She was formerly a staff writer at In These Times and the labor editor at AlterNet. Her previous book is Necessary Trouble: Americans in Revolt, which Robin D.G. Kelley called ​"The most compelling social and political portrait of our age." You can follow her on Twitter @sarahljaffe.