The Super Bowl's Violence Is America's Violence
Connecting the dots between football and the violence throughout our society might tell us more than we care to know about ourselves.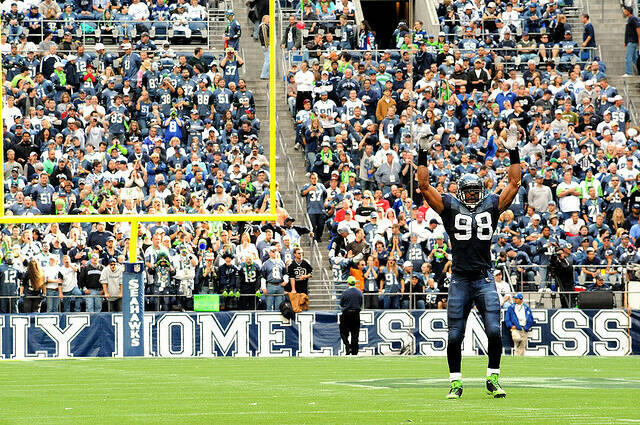 When our unof­fi­cial nation­al hol­i­day, Super Bowl Sun­day, comes and goes, it will mark the end of one the most remark­able NFL sea­sons in many years — a sea­son dom­i­nat­ed by uproars over deflat­ed foot­balls, brain injuries and graph­ic evi­dence of Ray Rice cold cock­ing his fiancé and Adri­an Peter­son beat­ing his son.
It might soothe our conscience to deny the connection between the violence of our streets and the brutality of the NFL. But let's at least have the courage to see our reflection in our favorite sport.
The focus on fair play and bru­tal­i­ty in foot­ball has been par­al­leled by broad­er dis­cus­sions about fair­ness, vio­lence and the behav­ior of law enforce­ment in poor com­mu­ni­ties over the past few months. Yet those dis­cus­sions have rarely inter­sect­ed. And for many Amer­i­cans, there is good rea­son for keep­ing the vio­lence of the grid­iron sep­a­rate from the vio­lence of the streets: Con­nect­ing the dots might tell us more than we care to know about ourselves.
Sports are more than games. They reflect core val­ues and social ten­sions, a point made by anthro­pol­o­gist Clif­ford Geertz in his famous 1972 study of Bali­nese cock­fight­ing. Geertz showed that cock­fights were a form of ​"deep play" that sim­u­lat­ed clash­es between social groups. Sim­i­lar­ly, his­to­ri­an Elliott Gorn has shown that men in the rugged colo­nial Amer­i­can back­coun­try embraced the vio­lence of their soci­ety through sports such as ​"eye goug­ing," in which rivals pum­meled each oth­er until one ripped his opponent's eye from its socket.
Foot­ball is our dis­tinc­tive­ly Amer­i­can deep play, a sport in which mag­nif­i­cent ath­letes slow­ly crush and crip­ple each oth­er in front of sold-out crowds. The bru­tal­i­ty some­times takes dis­con­cert­ing forms. From 2009 to 2011, defen­sive play­ers on the New Orleans Saints paid ​"boun­ties" to com­rades who injured oppos­ing play­ers. But injury occurs regard­less of intent. We now know that foot­ball col­li­sions cause brain dam­age, and that this on-field vio­lence eas­i­ly bleeds into oth­er areas of life.
The NFL has down­played inci­dents of play­ers abus­ing women and kids, and its response to the cri­sis of head trau­ma has been to offer a reward for a safer hel­met design. This is hard­ly sur­pris­ing. The NFL is a high­ly prof­itable and rapid­ly grow­ing busi­ness, with its com­mis­sion­er Roger Good­ell stat­ing that he has the goal of reach­ing rev­enues of $25 bil­lion by 2027. It has inter­ests to protect.
But what's our inter­est in play­ing along?
Vio­lence is our culture's libido, freely cel­e­brat­ed while also sup­pressed. The insti­tu­tions most devot­ed to cel­e­brat­ing it, the mil­i­tary and the NFL, are also among the most revered. Foot­ball is our most pop­u­lar sport — about half of Amer­i­cans self-iden­ti­fy as fans — and the mil­i­tary con­sti­tutes about a fifth of our fed­er­al bud­get. Football's abil­i­ty to fos­ter the war­rior spir­it — ​"clear eyes, full hearts, can't lose," as the show Fri­day Night Lights puts it — pre­sum­ably jus­ti­fies the bru­tal­i­ty inher­ent in the game.
But while we cel­e­brate and reward vio­lence when it takes these forms, and is spon­sored by these insti­tu­tions, we either con­demn or turn a blind eye to the vio­lence of the streets.
Spec­tac­u­lar cas­es of gun vio­lence receive the most atten­tion, and they usu­al­ly involve shoot­ing sprees on school cam­pus­es. But in our nation's poor­est neigh­bor­hoods, there is the equiv­a­lent of a mass shoot­ing, or the real poten­tial for one, every day. In one week­end last July, 13 peo­ple died and 58 were wound­ed by gun­fire in Chica­go, where such blood­shed is so rou­tine it hard­ly mer­its com­ment beyond the local media.
For young peo­ple grow­ing up in this hos­tile envi­ron­ment, the lure of pro­fes­sion­al sports is pow­er­ful. This is espe­cial­ly true for African Amer­i­cans, who make up just less than 13 per­cent of the pop­u­la­tion but 67 per­cent of NFL players.
They choose to play the game and are paid fab­u­lous sums. But their choic­es are nar­rowed by our refusal to hon­est­ly address the pow­er, wealth, and oppor­tu­ni­ty inequal­i­ties that leave cer­tain peo­ple with few options. Vio­lence, in what­ev­er form, is their best hope of sur­vival. Gangs offer pro­tec­tion and com­mu­ni­ty. Mil­i­tary ser­vice promis­es upward mobil­i­ty. The NFL holds out the hope of mag­nif­i­cent wealth and fame. All demand the sac­ri­fice of young male bodies.
Soci­eties have long exploit­ed the poor for plea­sure and prof­it. In this respect, Amer­i­cans exhib­it the same cal­lous­ness that Jonathan Swift sat­i­rized in his famous 1729 essay ​"A Mod­est Pro­pos­al," which encour­aged the wealthy to eat poor Irish babies to alle­vi­ate poverty.
We are unlike­ly to fol­low Swift's recipe. Yet we rou­tine­ly con­demn poor kids to com­mu­ni­ties where prison is a com­mon des­ti­na­tion and death by vio­lence is an ever-present pos­si­bil­i­ty. That real­i­ty isn't exclu­sive to black neigh­bor­hoods, cer­tain­ly, but it is most strik­ing in them. A third of black men end up in prison in the U.S., and young black men are 21 times more like­ly than young white men to be killed by police.
It might soothe our con­science to deny the con­nec­tion between the vio­lence of our streets and the bru­tal­i­ty of the NFL. But let's at least have the courage to see our reflec­tion in our favorite sport.
A clear-eyed assess­ment would take us to a dark con­clu­sion: Foot­ball gen­uine­ly enacts our val­ues and pri­or­i­ties. It reflects and feeds on deep social and eco­nom­ic inequal­i­ty. We ask ath­letes, dis­pro­por­tion­ate­ly young black men, to per­form mock war­fare for our amuse­ment. If the vio­lence that ensues (on and off the field) is dis­turb­ing, build­ing a bet­ter hel­met is hard­ly the answer. We should focus instead on build­ing a bet­ter society.
If not, we shouldn't be pris­sy about brain injuries and the crimes of the NFL's lat­est (or next) perp. Maybe, instead, the NFL should ampli­fy the vio­lence and give Amer­i­ca the kind of deep play that it tru­ly deserves. Boun­ties for bro­ken bones, per­haps? That would draw a clear­er con­nec­tion between the bru­tal­i­ty and the big salaries. Per­haps some eye-goug­ing along the line of scrim­mage? The hor­rors of the game would be more imme­di­ate and grotesque, unlike the creep­ing brain dam­age that so many ex-NFL play­ers endure.
Out­ra­geous? Sure. But hard­ly more out­ra­geous than the vio­lence we so will­ing­ly cel­e­brate — and ignore — already.
Theo Ander­son is a staff writer for In These Times. Joshua Salz­mann is an assis­tant pro­fes­sor of his­to­ry at North­east­ern Illi­nois University.