Does the Super Bowl Feel Too Political? Thank American Militarism.
The staging of professional sports events is deeply political. It's only when someone breaks character that we notice it.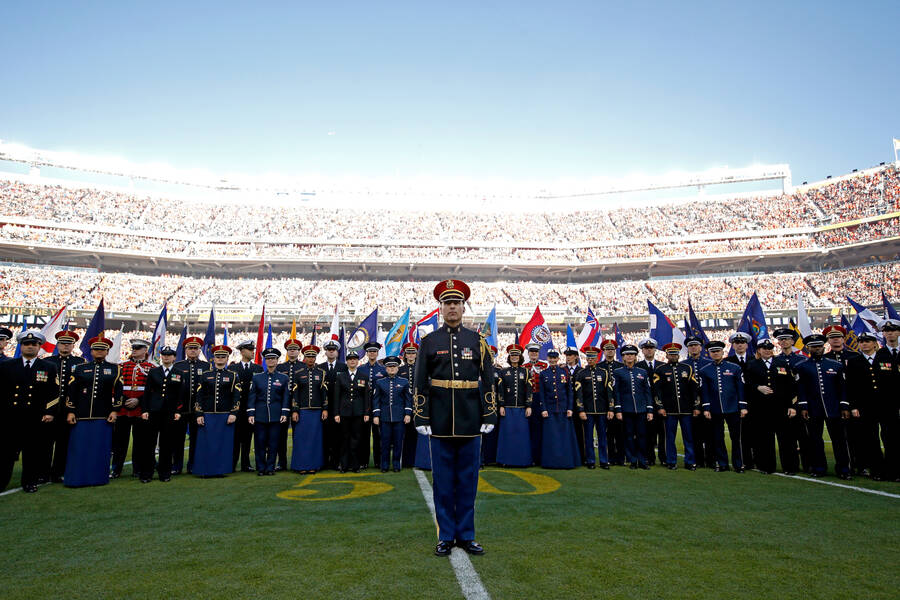 Super Bowl sea­son is like the hol­i­days — a cel­e­bra­tion shared by peo­ple more accus­tomed to argu­ing than sit­ting down togeth­er. As one of the few transpar­ti­san, mass media events left to our trib­al cul­ture, the biggest TV night of the year can't help but chan­nel the polit­i­cal ten­sions most of us endure all year long.
Make no mistake — even "non-political" celebrations of veterans are deliberately political.
This year, pop super­star Rihan­na turned town the Super Bowl half­time show, cit­ing the NFL's crack­down on protests against racial dis­crim­i­na­tion. For the same rea­son, come­di­an Amy Schumer pub­licly swore off doing any commercials.
Mean­while, adver­tis­ers fret that run­ning any ads at all could be read as a state­ment one way or the oth­er. (Last year, Bud­weis­er faced boy­cott calls for an ad mere­ly men­tion­ing that one of its founders was an immigrant.)
It's a nor­mal thing to want a break from argu­ing. But in a politi­cized envi­ron­ment, even shut­ting up is a polit­i­cal act.
In fact, pro­fes­sion­al foot­ball has been deeply politi­cized for years. Maybe you didn't notice before Col­in Kaeper­nick took a knee, but the fact that one guy on one knee sparked a nation­al firestorm high­lights the pol­i­tics of the stage he act­ed on.
It wasn't until 2009, for exam­ple, that NFL play­ers were even required to leave the lock­er room for the nation­al anthem, much less stand for it.
That year, the Pen­ta­gon was gear­ing up for a major troop surge in the Afghan war, which even 10 years ago was already old, unpop­u­lar, and large­ly for­got­ten. It need­ed recruits, and it need­ed a com­pli­ant public.
So where did it look? To sports fans. A Sen­ate inves­ti­ga­tion revealed that the mil­i­tary dumped tens of mil­lions of dol­lars into the NFL and oth­er leagues for PR help. This accel­er­at­ed a post‑9/​11 trend of increas­ing­ly patri­ot­ic — and mar­tial — dis­plays at foot­ball games.
"Con­sid­er the dis­play put on at Super Bowl 50," recalls writer Stephen Beale for The Amer­i­can Con­ser­v­a­tive: ​"A fly­over by the Blue Angels fight­er jets, and 50 rep­re­sen­ta­tives of all mil­i­tary branch­es singing ​'Amer­i­ca the Beau­ti­ful' against a back­drop of a giant flag."
Some even spec­u­late that the NFL's nation­al anthem rules were bought by that Pen­ta­gon mon­ey. Either way, warfight­ers are now hon­ored at vir­tu­al­ly every sport­ing event. A vis­i­tor from else­where might won­der what all this has to do with mov­ing a ball around.
Make no mis­take — even ​"non-polit­i­cal" cel­e­bra­tions of vet­er­ans are delib­er­ate­ly polit­i­cal. William Astore, a 20-year Air Force vet, has writ­ten that the ​"post‑9/​11 dri­ve to get an Amer­i­ca pub­lic to ​'thank' the troops end­less­ly for their ser­vice in dis­tant con­flicts" amounts to ​"sti­fling crit­i­cism of those wars by link­ing it to ingratitude."
Astore quotes the late Nor­man Mail­er, who warned dur­ing the Iraq War that ​"the com­plete investi­ture of the flag with mass spec­ta­tor sports has set up a pre-fascis­tic atmos­phere." (How pre­scient that seems now that the pres­i­dent him­self sets out to pun­ish polit­i­cal speech on the field.)
It was only in this atmos­phere that a sim­ple, silent protest against police bru­tal­i­ty and racism could be con­strued as an attack on ​"our troops" — as opposed to, say, police bru­tal­i­ty or racism. Despite this thor­ough­ly polit­i­cal stag­ing, it was only Kaeper­nick and his sup­port­ers who were attacked for ​"bring­ing pol­i­tics" into football.
The con­di­tion­ing was so deep that even real-life vet­er­ans com­ing out in sup­port of the quar­ter­back were unable to pre­vent him from being demo­nized and black­balled. (In fact, it was vet­er­an Nate Boy­er who advised Kaeper­nick to take a knee in the first place.) Small won­der that rich celebri­ties and adver­tis­ers now have to grap­ple with it, too.
That's no com­fort to the belea­guered foot­ball fan (or their friend who just watch­es for the com­mer­cials). But even if nobody deigns to kneel dur­ing the anthem, and even if adver­tis­ers and half­time per­form­ers play it safe and bor­ing, you aren't being spared pol­i­tics. You're swim­ming in it.
Some­where out­side that bil­lion­aire-owned, tax­pay­er-fund­ed sta­di­um (hey, that's polit­i­cal too), your neigh­bors are liv­ing with pover­ty, racism, and vio­lence. Far­ther afield, thou­sands of troops remain mired in count­less for­got­ten bat­tle­fields, while inno­cent peo­ple abroad endure anoth­er year of war.
Every­thing we do that affects each oth­er is polit­i­cal — and few acts are more decep­tive­ly polit­i­cal than telling the affect­ed peo­ple to pipe down.
Enjoy the game!
This arti­cle was first pub­lished by Inside Sources.
Peter Cer­to
is the edi­to­r­i­al man­ag­er of the Insti­tute for Pol­i­cy Stud­ies. He edits its For­eign Pol­i­cy In Focus and Oth­er­Words ser­vices and coach­es writ­ing in the New Econ­o­my Mary­land Fel­low­ship pro­gram. He's a for­mer asso­ciate edi­tor of Right Web, a project that mon­i­tors efforts to influ­ence U.S. for­eign pol­i­cy, and helped coor­di­nate the first annu­al Glob­al Day of Action on Mil­i­tary Spending.