Superdelegate Showdown: Round One Goes to the Democratic National Committee
Democratic Party activists lost at the Rules Committee meeting, but garnered enough support to take their fight to abolish superdelegates to the floor of the convention.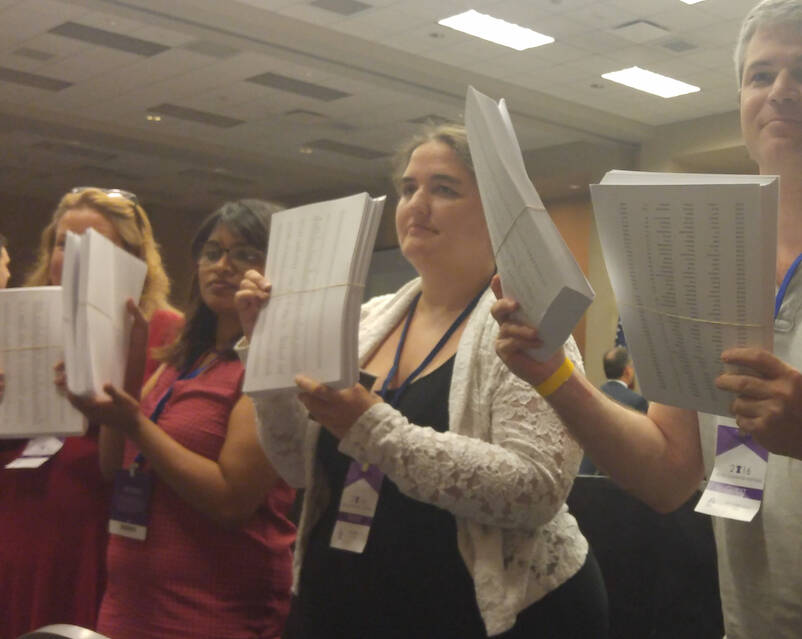 Reader donations, many as small as just $1, have kept In These Times publishing for 45 years. Once you've finished reading, please consider making a tax-deductible donation to support this work.
The Democratic Party did not abolish superdelegates today, but it might before this year's convention in Philadelphia is over. This afternoon the Democratic Party's Rules Committee overwhelmingly struck down an amendment — backed by Demand Progress, National Nurses United, MoveOn and several other groups — to do just that. But because they won over more than a quarter of the committee's members, those in support of abolition will bring a ​"minority report" to a vote on the Democratic National Convention (DNC) floor in the next few days. And even if the use of superdelegates doesn't come to an end by Thursday night, Democratic Party politics as we know it almost certainly will.
"We're going to open the DNC with a huge fight—an even bigger fight than the one that opened the RNC."
"We'll floor fight the hell out of this," Moumita Ahmed, Millennials for Bernie founder and Sanders delegate from Queens, told In These Times. ​"We're going to open the DNC with a huge fight — an even bigger fight than the one that opened the RNC."
Delegates and organizations backing the amendment gathered in a sleepy hallway of Philadelphia's Convention Center this morning to deliver some 750,000 supporting signatures to members of the Rules Committee.
"Either we believe in democracy or we don't," National Nurses United Political Director and Rules Committee member Ken Zinn said at this morning's press conference. ​"Insiders are granted as much power as voters in 23 states. We are seizing on an opportunity to change this. It's the will of the people."
Diane Russell, a member of Maine's House of Representatives and Bernie delegate, pointed out in the New York Times yesterday that 58 percent of the 712 superdelegates are male. Sixty-two percent are white, and the average age of a super delegate is 60. In other words, the demographic mean of superdelegates is everything the ​"Rising American Electorate" — of millennials, single women and people of color — are not.
This afternoon, the amendment's introduction to the committee floor turned an ordinarily boring meeting a rowdy one, as the 2016 DNC saw its first protests. By noon, the line to get into the Rules Committee meeting — which is open to the public — was out the door. Police arbitrarily cleared a hallway outside the meeting room where members of the press had been told to gather before being let in, leaving Washington Post, Associated Press and National Public Radio reporters, among others, outside as the meeting got started after they had been guaranteed seats and told to set up equipment. Just a day after the ​"DNC leaks," police blocking the press and public out of a discussion on party transparency isn't likely to win the party leadership many friends among their opposition.
As the first round of voting proceeded this afternoon, chants of ​"open the doors" were audible from outside the room where the committee met. While votes were being cast by electronic clicker, cheers broke out to vote ​"yes," with shouts that no votes were ​"killing our future." On the streets outside, protesters with Democracy Spring demonstrated in support.
Few speaking against the amendment issued full-throated endorsements of the superdelegate process, with most focusing on issues of process concerns and roundabout arguments about superdelegates being a mechanism intended to allow for greater diversity in party leadership. As Ahmed noted, many who spoke out against the amendment were superdelegates themselves.
Multiple rounds of debate saw delegates opposed to abolishing superdelegates introduce tweaks intended to water down the initial amendment, the point being to make sure that any amendment that goes to the floor will look different from the first version, proposed by ​"End Superdelegates" activists. In a prime example of the sort bureaucratic doublespeak on which political conventions thrive, amendments to the amendment are meant to weaken the amendment.
While many of the amendment's supporters are Bernie delegates, all were quick to point out they'd back the party's nominee come November, emphasizing that the proposed rule change was about opening up the party's structures in the years to come. Rules Committee member and Rhode Island state Rep. Aaron Regenberg argued in support of the amendment to end superdelegates, saying, ​"If we want to unite our party, to face the hate-filled campaign of Donald Trump, I can think of no better step than to come together and eliminate this anti-democratic structure."
Even as many are ready to get behind Clinton as a blunt force against Trump, ​"open the doors" chants are a sign of the atmosphere enveloping Philadelphia as delegates flood in this weekend. Emboldened by Wikileaks release of 20,000 not-entirely-flattering DNC emails yesterday, Bernie delegates and supporters are coming to the convention ready for a fight with the party's establishment. If today's showing and the dozens of protests planned for the coming week are any gauge, they won't back down quietly.
Update: The Rules Committee has voted to form a 21-member ​"Unity Committee," which would reign in the role of superdelegates by tying around two-thirds of them to state caucus and primary votes. Larry Cohen, former president of the Communication Workers of America, will serve as vice-chair of the committee, with Clinton backer Jennifer O'Malley Dillon as chair. Its first meeting will take place no more than 60 days after the general election.
Your donation makes In These Times possible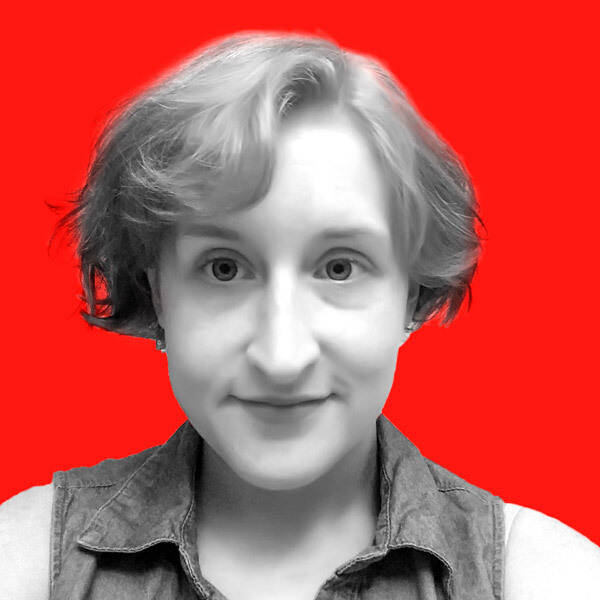 Kate Aronoff is a staff writer at The New Republic and author of Overheated: How Capitalism Broke the Planet — And How We Fight Back. She is co-author of A Planet To Win: Why We Need a Green New Deal and co-editor of We Own the Future: Democratic Socialism—American Style. Follow her on Twitter @katearonoff.