Supreme Court Inc.
The Roberts Court unravels a generation of progress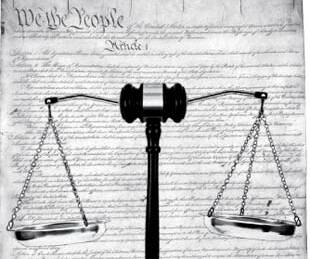 While in law school in Wash­ing­ton, D.C., in the late ​'60s, I heard Jus­tice William O. Dou­glas explain at a pub­lic forum that his sup­port for the War­ren Court's ​"crim­i­nal law rev­o­lu­tion" was under­gird­ed by his fear that the nation's police sta­tions were staffed in no small part by ​"cryp­to-fas­cists."
Though his pithy phrase nev­er found its way into any of the War­ren era's cas­es – many of which solid­i­fied the Constitution's pro­tec­tion for those accused of crime – Jus­tice Dou­glas shared with his col­leagues a pas­sion for the Found­ing Fathers' lumi­nous idea that the Bill of Rights was cre­at­ed to restrain, and some­times thwart, the actions of gov­ern­ment officials.
Along with Chief Jus­tice Earl War­ren and Asso­ciate Jus­tices Hugo Black, William Bren­nan and Thur­good Mar­shall – as well as his more cau­tious brethren, Jus­tices John Mar­shall Har­lan and Felix Frank­furter – Dou­glas and his col­leagues vis­cer­al­ly under­stood Chief Jus­tice John Marshall's famous 1819 dec­la­ra­tion that ​"it is a Con­sti­tu­tion we are expound­ing." They pro­tect­ed and expand­ed free speech rights for anti­war and civ­il rights activists, and drew with­in the Constitution's pro­tec­tions many groups pre­vi­ous­ly exclud­ed: racial minori­ties, women, pris­on­ers, pro­ba­tion­ers and school children.
The Bush-Roberts Court rejects this com­mit­ment to lib­er­ty and equal­i­ty. Under Chief Jus­tice John Roberts and his major domo Antonin Scalia, ​"the spir­it of the laws" (to bor­row the 18th cen­tu­ry French philoso­pher Montesquieu's apt phrase) exalts order over lib­er­ty, and insti­tu­tion­al pre­rog­a­tives – gov­ern­men­tal or pri­vate – over the individual.
There are occa­sion­al hap­py excep­tions to this: The cur­rent court pre­served con­fronta­tion­al rights for the accused in crim­i­nal tri­als and sought to ame­lio­rate the harsh­ness of fed­er­al sen­tenc­ing guide­lines. And the 2004 Guan­tá­namo cas­es curbed some of Bush's more odi­ous powers.
Still, folk wis­dom sup­plies the most char­i­ta­ble assess­ment of this court: Even a blind pig finds an acorn now and then.
— —  —  —  —  —  —  — -
Where does this def­er­ence to insti­tu­tion­al pow­er and pre­rog­a­tives, with its accom­pa­ny­ing hos­til­i­ty toward ​"aver­age peo­ple," come from? In 1921, Jus­tice Ben­jamin Car­do­zo sug­gest­ed an answer that was as applic­a­ble then as it is today: ​"The great tides and cur­rents which engulf the rest of men do not turn aside in their course and pass the judges by."
Telling­ly, no mem­ber of the cur­rent Supreme Court has ever defend­ed a per­son accused of com­mit­ting a felony, which means they have no expe­ri­ence with the dynam­ics of a crim­i­nal tri­al and have nev­er rubbed shoul­ders in a dilap­i­dat­ed cell block with the poor and bat­tered souls, pre­dom­i­nant­ly of col­or, who are hauled into the nation's crim­i­nal courts. Roberts made his for­tune rep­re­sent­ing the inter­ests of cor­po­rate Amer­i­ca, and all mem­bers of the court were cor­po­rate, aca­d­e­m­ic or gov­ern­men­tal careerists. With the excep­tion of Jus­tice Ginsburg's back­ground lit­i­gat­ing for women's repro­duc­tive free­dom and fair­ness in the work­place, no cur­rent jus­tice came to the high court with a rep­u­ta­tion as a cham­pi­on of civ­il rights or poor people.
Con­trast the back­grounds of the Bush-Roberts Court with those who served pri­or to 1986, the begin­ning of the court's demise, when Rea­gan ele­vat­ed William Rehn­quist to chief jus­tice and appoint­ed Scalia as asso­ciate jus­tice. Where the Bush-Roberts Court is suf­fused with cor­po­rate parochial­ism, the War­ren Court was world­ly. In the aggre­gate, it includ­ed a for­mer Cal­i­for­nia gov­er­nor (War­ren); a coun­try lawyer who defend­ed accused moon­shin­ers and strik­ing min­ers, and lat­er served in the U.S. Sen­ate (Black); a bril­liant strate­gist and lit­i­ga­tor who kicked open the legal doors of school seg­re­ga­tion (Mar­shall); a tri­al judge from a labor union house­hold (Bren­nan); an anti-rack­ets pros­e­cu­tor (Har­lan); and a Har­vard Law School pro­fes­sor who defend­ed Sac­co and Vanzetti (Frank­furter).
Con­trary to the method­ol­o­gy of the War­ren Court, the high court under Roberts fol­lows in the tra­di­tion of Rehn­quist. It scraps the teach­ings of the social sci­ences and ignores social real­i­ties when it suits its pur­pos­es. This is illus­trat­ed by a com­par­i­son of lead­ing cas­es from the social­ly alert court of the War­ren era and the real­i­ty-blind court of the past decade. In 1965's Miran­da v. Ari­zona, the lead­ing deci­sion on self-incrim­i­na­tion is writ­ten in a style under­stand­able by any­one who can read a news­pa­per. At the same time, it grounds its con­clu­sions on a thor­ough and thought­ful analy­sis of gov­ern­ment and aca­d­e­m­ic stud­ies, court records and his­to­ry regard­ing police bru­tal­i­ty and the third-degree inter­ro­ga­tions police employed to extract confessions.
Thir­ty years lat­er, in Whren v. Unit­ed States (1996), Scalia saw no need to con­sid­er any data on racial pro­fil­ing and the ​"dri­ving while black" phe­nom­e­non when he wrote for a unan­i­mous court that reject­ed claims by two young African-Amer­i­can males who said they were vic­tims of racial pro­fil­ing dur­ing a traf­fic stop (lin­ger­ing too long at a stop sign; fail­ure to sig­nal a right turn, etc.). The plain-clothes offi­cers who stopped them were assigned to a spe­cial squad con­cerned with drug traf­fick­ing in a ​"high crime" area of Wash­ing­ton, D.C., and were sub­ject to a depart­ment reg­u­la­tion that pro­hib­it­ed them from enforc­ing traf­fic laws unless they observed a vio­la­tion that threat­ened pub­lic safety.
Scalia did not ref­er­ence the race of the young men until halfway through his deci­sion, and then he scoffed in his opaque and oro­tund style that the intent of the offi­cers was of no con­sti­tu­tion­al con­se­quence. Scalia and his col­leagues, even the ones the media occa­sion­al­ly tags as ​"lib­er­al," sub­mit­ted no com­men­tary regard­ing racial pro­fil­ing and police prac­tices in minor­i­ty neigh­bor­hoods. For a right-wing court, like a right-wing admin­is­tra­tion, an unac­knowl­edged prob­lem is one that does not exist.
Scalia, who remains the court's des­ig­nat­ed hit­ter to swat the Fourth Amendment's pro­hi­bi­tion against unrea­son­able search­es and seizures into obliv­ion, gar­nered unan­i­mous deci­sions in oth­er cas­es involv­ing claims against the police. No relief from unrea­son­able search­es, said a unan­i­mous court, for a white cou­ple that was roust­ed out of bed and forced to stand naked before police final­ly real­ized that the sub­jects of their search war­rant were sup­posed to be African Amer­i­can (Los Ange­les Coun­ty v. Ret­tele, 2006).
Devoid of passion for civil liberties and civil rights, and oblivious to economic injustice and inequality, the Roberts court will not change its direction anytime soon.
Sim­i­lar­ly in anoth­er opin­ion Scalia authored (Unit­ed States v. Grubbs, 2006), a unan­i­mous court informed police offi­cers that they had no oblig­a­tion to describe the trig­ger­ing mech­a­nism in so-called antic­i­pa­to­ry search war­rants. Police obtain these war­rants after an officer's sworn rep­re­sen­ta­tion that, at some future time, crim­i­nal activ­i­ty or evi­dence of crime will be at a par­tic­u­lar loca­tion. But the Supreme Court has, in effect, made these war­rants per­pet­u­al by declar­ing that a trig­ger­ing mech­a­nism (e.g. the arrival of a par­tic­u­lar truck at a giv­en loca­tion) need not be described. In fair­ness, it must be not­ed that Jus­tice Souter, joined by Jus­tices Gins­burg and Stevens, whim­pered that the bet­ter prac­tice is to include the trig­ger­ing mech­a­nism, but they nev­er­the­less concurred.
— —  —  —  —  —  —  — -
Not all the jus­tices are always on the same page, but the court's unan­i­mous deci­sions reveal fre­quent col­lu­sion between the con­ser­v­a­tive major­i­ty and the lib­er­al wing. And there are few sig­nif­i­cant ide­o­log­i­cal fis­sures in any of the court's decisions.
The cur­rent jus­tices are espe­cial­ly in lock­step with their endorse­ment of the exist­ing eco­nom­ic order and their insen­si­tiv­i­ty to the prob­lems of the poor and the mid­dle class. While the Supreme Court has no man­date to redesign the econ­o­my, there are many instances where con­sti­tu­tion­al and statu­to­ry inter­pre­ta­tion allow jus­tices to use their dis­cre­tion to choose between the preda­tor and the prey. The Bush-Roberts Court hunts with the predator.
In 2007, in Long Island Care at Home Ltd. v. Coke, the Supreme Court unan­i­mous­ly held that ambigu­ous Depart­ment of Labor reg­u­la­tions exempt­ed hun­dreds of thou­sands of home health­care work­ers (most­ly women) from min­i­mum wage protection.
In a 2006 opin­ion for a unan­i­mous court writ­ten by Roberts, the for­mer cor­po­rate lit­i­ga­tor, the court told tax­pay­ers they had no right to chal­lenge the State of Ohio's tax abate­ments and invest­ment cred­its extend­ed to Daim­ler­Chrysler. Tax­pay­ers had argued that they and their com­mu­ni­ties would sus­tain injury because the less mon­ey Daim­ler­Chrysler paid, the less mon­ey the state would dis­trib­ute man­dat­ed rev­enue to its cities.
But Roberts and his col­leagues offered a short les­son in neo­con­ser­v­a­tive, sup­ply-side eco­nom­ics: ​"The very point of the tax ben­e­fits is to spur eco­nom­ic activ­i­ty, which in turn increas­es gov­ern­ment rev­enues." Appar­ent­ly, the con­ser­v­a­tive activists of the Bush-Roberts Court have reject­ed the obser­va­tion of Jus­tice Oliv­er Wen­dell Holmes that ​"A con­sti­tu­tion is not intend­ed to embody a par­tic­u­lar eco­nom­ic theory."
When the Daim­ler­Chrysler Corp. v. Cuno case is read togeth­er with Kelo v. City of New Lon­don (2005) – a con­tro­ver­sial case per­mit­ting pri­vate homes to be con­demned so that the land on which they sit can be trans­ferred to a pri­vate devel­op­er – the result is a pop­u­la­tion stripped of all defens­es against cor­po­rate pow­er. Work­ers and tax­pay­ers can­not fight against cor­po­ra­tions that take prop­er­ty for the ben­e­fit of prof­it-mak­ing, and they are just as pow­er­less to seek redress in court when a town's offi­cials give the store away to a corporation.
The Bush-Roberts Court also slammed the cour­t­house door shut on peo­ple chal­leng­ing the Bush administration's affir­ma­tive action efforts, which were real­ly designed to insure that faith-based social pro­grams would seek and obtain fed­er­al fund­ing. Tak­ing casu­istry to new heights, the major­i­ty ruled in 2007's Hein v. Free­dom From Reli­gion Foun­da­tion that because the funds were com­ing from the administration's bud­get, there was no need to fol­low a War­ren prece­dent, which allowed tax­pay­ers to chal­lenge con­gres­sion­al appro­pri­a­tions that fund text­books for reli­gious schools.
With rare excep­tion, the Bush-Roberts Court has no incli­na­tion to restrain exec­u­tive power.
It was this unbri­dled def­er­ence that led a unan­i­mous court to uphold the Solomon amend­ment, which autho­rized a halt in fed­er­al fund­ing for col­leges and uni­ver­si­ties that barred mil­i­tary recruiters access to cam­pus. An asso­ci­a­tion of law schools had pro­hib­it­ed cam­pus recruit­ing because of the military's anti-gay ​"don't ask, don't tell" pol­i­cy, but the high court – heed­less of its own recent deci­sion allow­ing the Boy Scouts of Amer­i­ca to pre­serve its moral code by expelling a gay scout­mas­ter from its ranks, and unwill­ing to have the mil­i­tary rely on off-cam­pus recruit­ing facil­i­ties – chose spine­less­ly not to defend the law schools' efforts to pro­tect a mar­gin­al­ized minor­i­ty (Rums­feld v. FAIR, 2006).
The Supreme Court's reac­tionary agen­da over the last decade has left few areas untouched by its restric­tive read­ing of the Con­sti­tu­tion. It has cur­tailed in var­i­ous ways repro­duc­tive free­dom, efforts to racial­ly inte­grate schools, and First Amend­ment and pri­va­cy rights of high school students.
Devoid of pas­sion for civ­il lib­er­ties and civ­il rights, and obliv­i­ous to eco­nom­ic injus­tice and inequal­i­ty, this court will not change its direc­tion any time soon. As for the pos­si­bil­i­ty of change in the future, the task for pro­gres­sives is to begin insist­ing that Demo­c­ra­t­ic pres­i­den­tial can­di­dates pledge now that any Supreme Court nom­i­nee dur­ing their admin­is­tra­tion will be drawn from the human rights, civ­il rights and racial jus­tice com­mu­ni­ties. Not from the cor­po­rate struc­ture that per­pet­u­ates the pow­er of the elite.
Stephen J. For­tu­na­to Jr.
was as an Asso­ciate Jus­tice of the Rhode Island Supe­ri­or Court for
13
years. He is now an Adjunct Pro­fes­sor at the Roger Williams Uni­ver­si­ty School of Law.