These Mainers Aren't Ready To Give Up on Flipping Susan Collins' Tax Vote
A conversation with Mike Tipping of the Maine People's Alliance.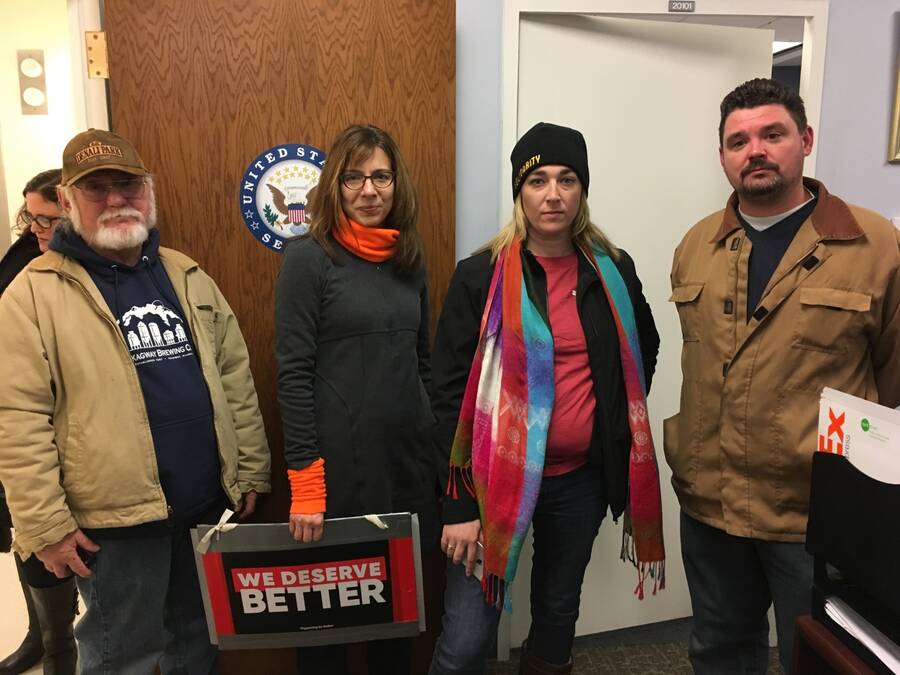 Wel­come to Inter­views for Resis­tance. We're now sev­er­al months into the Trump admin­is­tra­tion, and activists have scored some impor­tant vic­to­ries in those months. Yet there is always more to be done, and for many peo­ple, the ques­tion of where to focus and how to help remains. In this series, we talk with orga­niz­ers, agi­ta­tors and edu­ca­tors, not only about how to resist, but how to build a bet­ter world.
She may not be as ideological as Ted Cruz, but she is a hardcore Republican.
Mike Tip­ping: My name is Mike Tip­ping, and I'm com­mu­ni­ca­tions direc­tor for the Maine Peo­ple's Alliance.
Sarah Jaffe: Yes­ter­day was Mon­day, the first week­day since the Repub­li­can Sen­ate passed the tax bill. Tell us what went on in Maine yes­ter­day after your Sen­a­tor vot­ed for the tax cuts.
Mike: As you may remem­ber, Susan Collins, upon return­ing to Maine after vot­ing against the Repub­li­can health­care repeal, got applaud­ed at the air­port. There were sev­er­al scenes of peo­ple on the street thank­ing her for her vote. After her tax vote, she did not have the same reac­tion in Maine. She stayed in Wash­ing­ton, D.C. and did the Sun­day shows, but in Maine peo­ple were protest­ing up and down the state — and they are con­tin­u­ing to do so all this week.
Yes­ter­day in Ban­gor, dozens of peo­ple were out­side her office. Five very brave souls went inside and refused to leave until she talked to them about her vote. She did not, and they got arrest­ed and cart­ed out in a police van. So things are def­i­nite­ly esca­lat­ing here. I think peo­ple believe that she's not lis­ten­ing to them, that she's doing real dam­age to the state, that she's been lying about her votes and about the pol­i­cy and that they're not going to take it anymore.
Sarah: She was one of the three votes that stopped the repeal of the Afford­able Care Act, and she's known for being some­what of an inde­pen­dent Repub­li­can. Talk about the process of watch­ing her go through this and decide to vote yes for the tax cuts.
Mike: I think one thing to remem­ber about Susan Collins is that she has been mod­er­ate on many issues. But the sec­ond part of the for­mu­la­tion, the Repub­li­can part, is almost more impor­tant. She may not be as ide­o­log­i­cal as Ted Cruz, but she is a hard­core Repub­li­can. She cares about the par­ty, she cares about her lead­er­ship, she does­n't want to offend her col­leagues. If she can find a way to vote for some­thing, if it's pro­ce­dur­al tricks or being able to claim she got some kind of deal or some­thing, she will do it to advance their interests.
On this bill it was an inter­est­ing process. She sat down with Pres­i­dent Trump and appar­ent­ly got some promis­es out of him, and is appar­ent­ly the only per­son in the world that who promis­es from Pres­i­dent Trump. She was told she would get some health­care bills that do a bit of work around the edges, that she would get some tax cuts changed in some slight ways, and it looks like not even that is going to hap­pen. But even if she did get those things, they are fig leaves for an awful bill that dra­mat­i­cal­ly increas­es inequal­i­ty, that blows a hole in the deficit, that will lead to deep health­care cuts and cuts to Medicare and Social Security.
Maine is the old­est state in the coun­try. We have 300,000 peo­ple who rely on Medicare, and it is an incred­i­bly dam­ag­ing vote for her constituents.
Sarah: Talk a lit­tle more about Maine in par­tic­u­lar, what this bill would do to Maine.
Mike: Well, Maine is not the home of a lot of giant multi­na­tion­al cor­po­ra­tions and rich CEOs. We have a lot of peo­ple who work in tra­di­tion­al indus­tries on the ocean or in the for­est, and there are a ton of peo­ple that work or run small busi­ness­es. This bill tar­gets seniors and small busi­ness­es and rur­al areas: It is a bill designed to harm peo­ple in Maine.
That's why there's been so much protest and such a feel­ing of betray­al from Susan Collins, who has claimed to speak on these kinds of things. Just a few weeks ago, she said she would not vote for the health­care bill because it made some of the same cuts. Just a few months ago, she said she would nev­er vote for a bill with­out a full Con­gres­sion­al Bud­get Office score and hear­ings and every­thing else. Then she goes and votes for a bill that has hand­writ­ten scrib­bles in the mar­gins and things crossed out. She betrayed a lot of the things that she claimed to stand for and which she real­ly built her rep­u­ta­tion as a com­mon­sense mod­er­ate around — those are out the window.
Sarah: And we already have Mar­co Rubio say­ing that this is the path to cut­ting Social Secu­ri­ty and Medicare, which is cer­tain­ly impor­tant to the old­est state in the country.
Mike: He real­ly let the cat out of the bag here: You're sup­posed to wait until it pass­es to start talk­ing about how they're going to use it to cut Social Security.
Along those lines, Collins also went on the Sun­day shows and said that this won't actu­al­ly increase the deficit, that growth will out­pace that. She even cit­ed some econ­o­mists, appar­ent­ly the only econ­o­mists she could find who said any­thing like that — and now they've walked that back.
Before this hap­pened, Susan Collins was cho­sen as co-chair of No Labels, which is that cen­trist deficit hawk group. Their whole thing is say­ing that the deficit is already so large that they have to go after peo­ple's health­care and go after Social Secu­ri­ty. Now she's vot­ed to explode it fur­ther and real­ly dam­age those things she claims to care about.
Sarah: Chuck Schumer and oth­ers are hand­wring­ing about deficits when this bill is going to cause actu­al harm. I can't imag­ine that that is the most com­pelling argu­ment to the peo­ple you work with on the ground in Maine.
Mike: I think peo­ple under­stand what it means is cuts to Medicare and Social Secu­ri­ty, and they're def­i­nite­ly wor­ried about that. Collins is the one who made Pres­i­dent Oba­ma scale back the stim­u­lus pack­age dur­ing the Great Reces­sion. That's actu­al­ly one of the more inter­est­ing things in her career. She did­n't have an ide­o­log­i­cal basis for the num­ber that she want­ed for the stim­u­lus, she just chose a num­ber almost exact­ly in the mid­dle of what the Repub­li­cans want­ed and what Pres­i­dent Oba­ma want­ed and said this is where I stand.
She is a cen­trist but not a mod­er­ate in many ways. And what that did, peo­ple have point­ed out, it made the stim­u­lus less effec­tive: A lot more of it was in tax cuts, some of that to the wealthy, than it prob­a­bly should have been. It delayed the recov­ery, it allowed Repub­li­cans to cam­paign on a bad econ­o­my, it got a lot more of them elect­ed. And it turns out all of that was a ter­ri­ble farce because she does­n't actu­al­ly care about the deficit any­way here.
Sarah: That is the most per­fect descrip­tion of cen­trism I've ever heard actu­al­ly. So what do you think the odds are of get­ting her to flip on this final bill, what­ev­er it is that comes out of conference?
Mike: Well I think we're already see­ing some move­ment. She has tried to defend her vote. I don't know if she'll change it enough before the next vote, which obvi­ous­ly could come lat­er this week.
But I think she's def­i­nite­ly feel­ing the pres­sure. Protests were front-page head­lines today, and peo­ple got arrest­ed. Her staff was appar­ent­ly hav­ing a heat­ed con­ver­sa­tion with the police, try­ing not to make this a visu­al thing. She was very con­cerned about that mod­er­ate image that she has tried to project. I think that is at risk here. If peo­ple con­tin­ue to speak out, I think there could be a chance at stop­ping her final vote.
Sarah: And so what are the plans for the rest of the week?
Mike: There are protests sched­uled in Port­land and in Kit­tery, and there's more lat­er in the week in Orland and in Lewis­ton, and more in Ban­gor. Peo­ple are doing things all over. There are a ton of Indi­vis­i­ble groups that are doing things inde­pen­dent­ly all the time — try­ing to find Sen­a­tor Collins to talk to her about this, to flood her phone lines.
Sarah Jaffe
is a for­mer staff writer at
In These Times
and author of
Nec­es­sary Trou­ble: Amer­i­cans in Revolt
, which Robin D.G. Kel­ley called ​
"
The most com­pelling social and polit­i­cal por­trait of our age." You can fol­low her on Twit­ter
@sarahljaffe
.