Taking the Caring Out of Teaching
New York's new teacher evaluation system is tests, tests and more tests.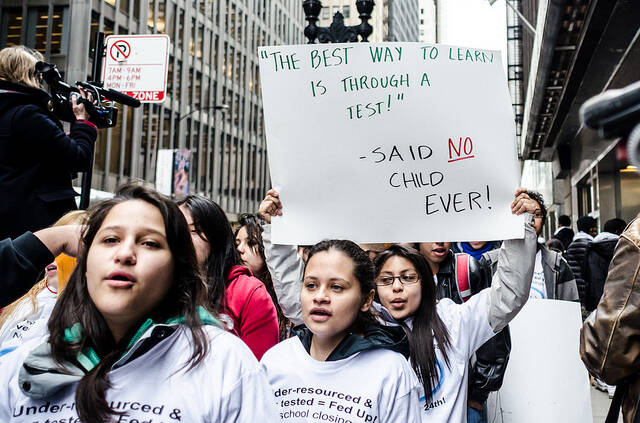 ​"Teach­ing is a car­ing pro­fes­sion – a humane pro­fes­sion about human beings engag­ing with one anoth­er," says Bri­an Jones, a for­mer New York City pub­lic-school teacher now pur­su­ing a PhD in urban edu­ca­tion. ​"Rela­tion­ships between the teach­ers and the learn­ers are an impor­tant part of the whole process."
It's not like tests themselves are inherently evil. Almost every teacher gives some kind of test or assessment. But when you place so much, so many outcomes on that edifice it's too much weight for that instrument to bear. It distorts and warps the whole teaching and learning process.
Jones and oth­er teach­ers wor­ry that the new sys­tem of teacher eval­u­a­tions slat­ed to be imple­ment­ed this fall in New York's pub­lic schools will take car­ing out of the equation.
The new sys­tem, which was imposed by state edu­ca­tion com­mis­sion­er John King after the Unit­ed Fed­er­a­tion of Teach­ers and May­or Michael Bloomberg's admin­is­tra­tion could not nego­ti­ate a deal, will bring mil­lions in fed­er­al ​"Race to the Top" funds to the city's schools.
In a state­ment, Michael Mul­grew, the pres­i­dent of the UFT, wrote: ​"New York City teach­ers will now have addi­tion­al pro­tec­tions and oppor­tu­ni­ties to play a larg­er role in the devel­op­ment of the mea­sures used to rate them. Despite May­or Bloomberg's desire for a ​'gotcha' sys­tem, as Com­mis­sion­er King not­ed today, New York City ​'is not going to fire its way to aca­d­e­m­ic suc­cess.'" He point­ed out that there are addi­tion­al oppor­tu­ni­ties for teach­ers to chal­lenge vio­la­tions of the process by super­vi­sors before they get their ratings.
But UFT mem­bers now face the pos­si­bil­i­ty that they could lose their jobs if they receive ​"inef­fec­tive" rat­ings two years in a row. Teach­ers will be ranked ​"high­ly effec­tive," ​"effec­tive," ​"devel­op­ing," or ​"inef­fec­tive" — or, as John Suri­co at the Vil­lage Voice describes it, ​"Instead of pass/​fail, we now have more of a let­ter-grade-esque method to grade our edu­ca­tors with more lethal con­se­quences if you earn too many Fs."
The deal requires that 20 to 25 per­cent of the teacher's rat­ing come from state tests, anoth­er 15 to 20 per­cent from ​"mea­sures estab­lished by the school" (which Jones says are like­ly to be more tests), and 55 to 60 per­cent from in-class obser­va­tions or video-record­ed per­for­mance assess­ments by principals.
But an ​"inef­fec­tive" rat­ing on the tests trumps the oth­er mea­sures. Jones explains, ​"Teach­ers rat­ed inef­fec­tive on the tests have to be rat­ed inef­fec­tive over­all. Even a glow­ing teacher with great rap­port with her stu­dents, if the test scores don't rise at the pre­de­ter­mined lev­el, that teacher has to be rat­ed ineffective.
Car­ol Bur­ris, New York's 2013 Prin­ci­pal of the Year, crit­i­cized this aspect of the sys­tem in the Wash­ing­ton Post, call­ing it a ​"fool­ish inequity, with real life consequences."
A brief his­to­ry of (resis­tance to) stan­dard­ized tests
The new eval­u­a­tion deal comes at a time when the push­back against stan­dard­ized test­ing, from par­ents and stu­dents as well as teachers,has reached new heights. Seat­tle's Garfield High School teach­ers rocked the edu­ca­tion world when they refused to admin­is­ter the Mea­sures of Aca­d­e­m­ic Progress (MAP) test this past Jan­u­ary, gain­ing sup­port from stu­dents and see­ing their boy­cott spread to oth­er Wash­ing­ton schools before win­ning a huge vic­to­ry—the MAP will now be option­al. And the pres­i­dent of the Amer­i­can Fed­er­a­tion of Teach­ers, Ran­di Wein­garten, called for a mora­to­ri­um on high-stakes stan­dard­ized test­ing tied to new Com­mon Core Stan­dards, not­ing that tests have led to unprece­dent­ed stu­dent stress and propos­ing that until states and dis­tricts work with teach­ers to imple­ment the stan­dards prop­er­ly, ​"the tests should be decou­pled from deci­sions that could unfair­ly hurt stu­dents, schools, and teach­ers."
Last win­ter, I spoke to Ira Shor, a City Uni­ver­si­ty of New York pro­fes­sor who stud­ies urban edu­ca­tion, about the prob­lems with stan­dard­ized testing:
These tests, he explained, emerged around World War I as ​"intel­li­gence" tests for the US Army. Pub­lic schools took them up at a time when dropout rates were high among work­ing-class stu­dents and young peo­ple were ​"sort­ed" into tracks, push­ing work­ing-class stu­dents into voca­tion­al pro­grams while the more elite stu­dents were tracked for more rig­or­ous aca­d­e­m­ic work. Dur­ing the Cold War, stu­dents were test­ed more rig­or­ous­ly, but the ​'60s and ​'70s saw push­back from social move­ments on the way edu­ca­tion was set up. But, Shor not­ed, for the last 40 years, there has been a stren­u­ous pub­lic rela­tions cam­paign push­ing for more test­ing – more ​"account­abil­i­ty" to keep Amer­i­can stu­dents ​"com­pet­i­tive."
As dis­con­tent has grown, par­ents around the coun­try have been opt­ing out of stan­dard­ized tests for their chil­dren, but New York, it appears, is dou­bling down instead.
​"For the stu­dents, this is going to be way more time spent tak­ing assess­ments, in every sin­gle class they take, there will be no break from assess­ments," Jones says. ​"If we thought the test­ing régime was too much already, it's going to be more out of con­trol now that you're going to have to have a test for the gym teacher, a test for the music teacher."
That's right — even gym class, art and music will need to have a test. So will kindergarten.
​"It's not like tests them­selves are inher­ent­ly evil. Almost every teacher gives some kind of test or assess­ment," Jones says. ​"But when you place so much, so many out­comes on that edi­fice it's too much weight for that instru­ment to bear. It dis­torts and warps the whole teach­ing and learn­ing process."
That teach­ing process becomes focused on the test, drilling stu­dents over and over so they can answer the ques­tions prop­er­ly, so the teach­ers' rat­ings don't fall. It incen­tivizes cheat­ing, Jones notes, and indeed we've seen this prob­lem in oth­er cities that relied heav­i­ly on stan­dard­ized test­ing. And all that cram­ming leaves less room for the oth­er parts of a teacher's job, the parts that aren't as easy to test.
​"Wom­en's work"
As I wrote recent­ly for Jacobin, the emo­tion­al labor com­po­nent of many jobs, includ­ing teach­ing, has been sys­tem­i­cal­ly under­val­ued even as those jobs were shaped by the expec­ta­tion that those who did them would be nat­ur­al car­ers. Their pur­port­ed inher­ent abil­i­ty to care was a con­ve­nient ide­o­log­i­cal excuse to seek out women, who would work for less mon­ey, for teach­ing jobs, as Dana Gold­stein has writ­ten. Emi­ly Giles, a high school sci­ence teacher in the South Bronx, not­ed dur­ing a recent pan­el I host­ed at Left Forum that since the begin­ning of pub­lic schools, teach­ing has been dom­i­nat­ed by women. Cur­rent­ly, 75 per­cent of New York State pub­lic school teach­ers are women.
Women teach­ers had to then fight to get equal pay and job secu­ri­ty. ​"In some states it took up until 1960 for, specif­i­cal­ly, mar­ried women to be grant­ed the right to tenure," said Giles. ​"In oth­er places, like New York City, equal wages for women in the class­room and tenure for mar­ried women were won as ear­ly as 1911, because along with super-high demand for teach­ers in the class­room, there was an active fem­i­nist move­ment fight­ing along­side [the teach­ers], say­ing ​'Yeah, we're going to put women in the class­room but you're going to pay them the right amount, they're going to be grant­ed the rights that they deserve.'"
The care women were expect­ed to pro­vide was nev­er treat­ed as a skill that deserved decent pay; instead, it was (wrong­ly) seen as an inher­ent char­ac­ter­is­tic. Yet in the push to strip down teach­ing to its testable com­po­nents, the very traits that were once seen as inte­gral to the pro­fes­sion are now being cut out. ​"The space for oth­er kinds of ped­a­go­gies that are more child-cen­tered or more child or learn­er-direct­ed is very much clos­ing," says Jones.
The end of any pre­tense at valu­ing care instead seems to lay bare the real rea­son­ing that the field became dom­i­nat­ed by women — the low­er wages and less respect.
Now, Giles sees what she con­sid­ers the removal of tenure as a fem­i­nist issue. Only 13 per­cent of teach­ers who receive an ​"inef­fec­tive" rat­ing will be allowed to appeal, she not­ed, and it's unclear how those 13 per­cent will be chosen.
Teach­ers under the microscope
Con­cerns about the new eval­u­a­tion sys­tem stretch beyond the stan­dard­ized test­ing com­po­nent. Jones notes that the new eval­u­a­tion sys­tem requires far more obser­va­tion of teach­ers by administrators.
​"Admin­is­tra­tors are going to have very lit­tle time for par­ents or chil­dren or pro­gram­ming or plan­ning or any­thing oth­er than these obser­va­tions and teacher eval­u­a­tion," he says.
Video record­ings of teach­ers' work may be part of the eval­u­a­tion process, adding yet anoth­er lay­er of sur­veil­lance to the process that already leaves many teach­ers feel­ing like they're not trusted.
(But it could be worse — news broke ear­li­er this month that the Gates Foun­da­tion is spend­ing $1.4 mil­lion to test bio­met­ric bracelets that claim to mea­sure stu­dent engage­ment by a sen­sor on their wrists. They're not required in class­rooms yet, but the very news that they're being test­ed shows the increas­ing desire to observe, con­trol and mea­sure every aspect of what hap­pens in the class­room. Mea­sur­ing how much a stu­dent is respond­ing to a les­son by their ​"arousal" might seem in some sense more humane than boil­ing every­thing down to a Scant­ron sheet, but in the end the result, a Gates spokesper­son admit­ted, would prob­a­bly be the same — a process orig­i­nal­ly sold as a way to help teach­ers improve wind­ing up as a way to make it eas­i­er to fire them instead. It's the dri­ve to mea­sure every facet of the class­room expe­ri­ence tak­en to its most absurd end. )
May­oral can­di­date and for­mer school-board pres­i­dent and City Comp­trol­ler Bill Thomp­son called the new eval­u­a­tion plan ​"unwork­able in its com­plex­i­ty and bureau­cra­cy." The com­ments were notable, the Wall Street Jour­nal point­ed out, because Thomp­son's cam­paign co-chair is Mer­ryl Tisch, the New York state Board of Regents chan­cel­lor, who over­sees the edu­ca­tion com­mis­sion­er who imposed the plan. (Tisch, not sur­pris­ing­ly, dis­agreed with Thomp­son's comments.)
The posi­tion tak­en by may­oral can­di­dates on the eval­u­a­tion sys­tem is par­tic­u­lar­ly impor­tant because the UFT still has no con­tract with the city and will be look­ing to the next may­or to be will­ing to nego­ti­ate. In his state­ment, Mul­grew not­ed, ​"The pre­cise mea­sures of stu­dent learn­ing estab­lished by this rul­ing will be in effect unless and until they are altered in col­lec­tive bar­gain­ing with the new May­or who takes office in sev­en months."
UFT mem­bers have been work­ing with­out a con­tract for over four years now, longer than most of the oth­er pub­lic unions, who've also been strug­gling to come to a deal with Bloomberg's admin­is­tra­tion. Thomp­son received the endorse­ment of the UFT after his com­ments, despite a report that he's been cozy­ing up to char­ter school back­ers who are close with the out­go­ing mayor.
For teach­ers, though, the ques­tion isn't one of pol­i­tics, but of teach­ing. With the focus remain­ing on find­ing more and more ways to track, test, and pun­ish indi­vid­ual teach­ers, the human parts of their job get shoved to the back burn­er, and they — and their stu­dents — suffer.
​"The parts of help­ing stu­dents find con­fi­dence, help­ing them to latch on to their pas­sions, empow­er­ing them," Jones says, ​"that aspect of teach­ing and learn­ing is great­ly under­val­ued, and that's a very dif­fi­cult thing to impose from above. If you want that kind of teach­ing and learn­ing you have to work at that from the ground up. You can't just issue an edict: ​'Thou shalt be an inspir­ing teacher.' "
Sarah Jaffe
is a for­mer staff writer at
In These Times
and author of
Nec­es­sary Trou­ble: Amer­i­cans in Revolt
, which Robin D.G. Kel­ley called ​
"
The most com­pelling social and polit­i­cal por­trait of our age." You can fol­low her on Twit­ter
@sarahljaffe
.