Tar Sands Drones Are On Their Way
The energy industry wants to use unmanned aerial vehicles to monitor pipelines.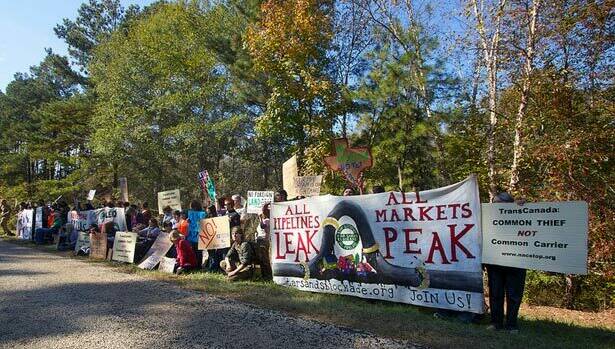 North Amer­i­can ener­gy com­pa­nies are plan­ning to use drones to mon­i­tor their pipelines — in part to check for poten­tial gas or oil leaks, but also to lim­it ​"third-par­ty intru­sions," a broad range of activ­i­ty that includes any­thing from unwant­ed vehi­cles enter­ing restrict­ed areas around pipelines to envi­ron­men­tal activists.
It isn't all that difficult to imagine a scenario in which hundreds of pipeline drones are actively working to block direct action across the continent.
The Pipeline Research Coun­cil Inter­na­tion­al (PRCI), a mul­ti-nation­al orga­ni­za­tion fund­ed by some of the world's largest pipeline oper­a­tors like BP, Shell, Tran­sCana­da and Enbridge, is lead­ing efforts to research and devel­op unmanned aer­i­al vehi­cle (UAV) tech­nol­o­gy for pipeline mon­i­tor­ing. The PRCI has been work­ing with the Amer­i­can Petro­le­um Insti­tute and the Inter­state Nat­ur­al Gas Asso­ci­a­tion on drone research for the last two years, accord­ing to PRCI Pres­i­dent Cliff John­son. He says researchers are cur­rent­ly run­ning test flights.
​"It could be a more effi­cient and more cost-effec­tive tool … than a manned sys­tem," John­son says.
Today, com­pa­nies often rely on pilot­ed air­craft for pipeline mon­i­tor­ing. That involves sur­veil­lance of the pipeline's ​"right of way," a strip of land sur­round­ing the pipeline whose rights are typ­i­cal­ly shared by pipeline oper­a­tors and landown­ers. In the right of way, which can range from about 25 to 125 feet, com­pa­nies check for unau­tho­rized vehi­cles, peo­ple and any­thing else that's not sup­posed to be there. Mean­while, com­pa­nies engage in addi­tion­al envi­ron­men­tal mon­i­tor­ing to check for poten­tial threats to the integri­ty of the pipeline, such as leakage.
Drones may ulti­mate­ly be able to accom­plish both of these mon­i­tor­ing tasks more effec­tive­ly than humans, says Peter Lidi­ak, pipeline direc­tor at the Amer­i­can Petro­le­um Insti­tute (API). Lidi­ak believes that pipeline oper­a­tors will start adopt­ing drones in the next five to 10 years.

These drones will prob­a­bly be deployed in the Unit­ed States before tak­ing off in Cana­da. In 2015, the Fed­er­al Avi­a­tion Author­i­ty (FAA) will release its reg­u­la­tions for com­mer­cial drones, paving the way for thou­sands of UAVs to enter domes­tic air­space. Cana­da, on the oth­er hand, does not yet have any such plans. The country's FAA equiv­a­lent, Trans­port Cana­da, does issue licens­es for com­mer­cial drones, but the exist­ing reg­u­la­tions are strin­gent.
But this doesn't mean Cana­da will miss out on all the action — espe­cial­ly once mul­ti-nation­als like Tran­sCana­da, which oper­ate on both sides of the bor­der, start using drones on the Amer­i­can seg­ments of their network.
​"Giv­en that Cana­da and the Unit­ed States, in terms of ener­gy, are very close­ly con­nect­ed, I can't see but that once the restric­tions are lift­ed in the States, there won't be pres­sure to do so in Cana­da," says Angela Gen­dron, a nation­al secu­ri­ty expert and senior fel­low at Car­leton University's Cana­di­an Cen­tre of Intel­li­gence and Secu­ri­ty Studies.
The use of drones to mon­i­tor pipelines, like any oth­er form of domes­tic sur­veil­lance, rais­es an array of pri­va­cy concerns.

In the eyes of the ener­gy indus­try, any­thing enter­ing the pipeline's right of way is ulti­mate­ly con­sid­ered a secu­ri­ty threat. The log­ic behind drone sur­veil­lance is focused on mak­ing it eas­i­er for com­pa­nies to detect those threats — an ambigu­ous con­cept that can refer to ani­mals, vehi­cles, non-vio­lent pro­test­ers, vio­lent pro­test­ers or unau­tho­rized developers.

Paul Drover, the exec­u­tive direc­tor of Unmanned Sys­tems Cana­da, the nation's top drone lob­by, adver­tis­es the ben­e­fits of pipeline UAVs by point­ing out their abil­i­ty to scan for envi­ron­men­tal activists. At the inter­na­tion­al drone lobby's annu­al con­ven­tion in Wash­ing­ton last week, Drover told In These Times that aer­i­al sur­veil­lance from UAVs would enable pipeline com­pa­nies to bet­ter detect ​"folks set­ting up camp." When asked if he was refer­ring to activists, Drover replied ​"that's the left side of the arc."
The API's Lidi­ak insists that con­cerns about envi­ron­men­tal activism are not dri­ving indus­try inter­est in devel­op­ing drones. Yet he acknowl­edges that pro­test­ers could be cov­ered as poten­tial intruders.
​"The pri­ma­ry rea­son for those mon­i­tor­ing for any kind of intru­sion, whether it's indi­vid­u­als that are poten­tial­ly protest­ing or for con­struc­tion equip­ment, is real­ly to find out if there's any­one doing any­thing on the right of way that might be harm­ful for the pipeline," Lidi­ak says. ​"The pri­ma­ry pur­pose wouldn't be mon­i­tor­ing for activists. You might be able to detect that activ­i­ty as a result of doing your patrols, but that's not the pri­ma­ry rea­son for any kind of patrolling."
Angela Gen­dron, who wrote a Decem­ber 2010 report for Canada's Depart­ment of Nation­al Defence about the need to pro­tect the nation's ​"crit­i­cal ener­gy infra­struc­ture," says that mon­i­tor­ing activists makes a lot of sense from the ener­gy industry's perspective.
​"You do get secu­ri­ty offi­cers at pri­vate-sec­tor ener­gy com­pa­nies who are very con­cerned about envi­ron­men­tal activists and I can see that they would feel that a UAV sit­ting up there hov­er­ing for 19 hours or what­ev­er [it may be] would be quite use­ful," Gen­dron says. ​"As it now stands, they have to rely on police reports and any­thing else they have on hand to mon­i­tor where those activists are going to demon­strate next and so on. Hav­ing a UAV up there would be much a more eco­nom­ic measure."
While the indus­try appears to only be inter­est­ed in using drones on com­plet­ed pipelines for now, UAVs could poten­tial­ly be used in the future to mon­i­tor pipelines under con­struc­tion. The tech­nol­o­gy may not be ready today, but if indus­try enthu­si­asts are to believed, drones could be a fix­ture of pipelines 10 to 20 years from now. And with the expan­sion of the nat­ur­al gas indus­try com­bined with an oil indus­try eager to link Alber­tan tar sands to glob­al export mar­kets, pipeline con­struc­tion doesn't exact­ly show signs of slow­ing down.
As those plans face increased push­back from cli­mate jus­tice activists — whether it's from rad­i­cals in the Great Plains or First Nations groups in west­ern Cana­da — it isn't all that dif­fi­cult to imag­ine a sce­nario in which hun­dreds of pipeline drones are active­ly work­ing to block direct action across the continent.
Cather­ine Crump, staff attor­ney at the Amer­i­can Civ­il Lib­er­ties Union, says that ​"nar­row­ly-tar­get­ed" pipeline mon­i­tor­ing isn't nec­es­sar­i­ly prob­lem­at­ic in itself, but warns about its poten­tial for abuse. ​"I think drones raise the prospect that Amer­i­cans will be sub­ject­ed to con­stant aer­i­al sur­veil­lance in ways they've nev­er expe­ri­enced before and that pos­es the pos­si­bil­i­ty of chang­ing our abil­i­ty to engage in polit­i­cal protest," Crump says.
Jesse Cole­man, a Wash­ing­ton, D.C.-based researcher for Green­peace, points to the fact that Tran­sCana­da recent­ly col­lud­ed with law enforce­ment offi­cials to infil­trate a camp of anti-pipeline activists in Okla­homa to block a protest from tak­ing place.
​"To think they would do that and not use drones to spy on their oppo­si­tion, I think that'd be a lit­tle naïve," Cole­man says. ​"You are fly­ing over all these miles of pipeline and pick­ing up all this infor­ma­tion. What hap­pens when you do see things that are inter­est­ing to you? There are so many eth­i­cal considerations."
Drones could also infringe on the pri­va­cy of res­i­dents who sign agree­ments with ener­gy com­pa­nies to allow pipelines to cross their property.
​"I would sug­gest that folks did not sign up for video sur­veil­lance when they signed ease­ment con­tracts," says Ron Seifert, spokesper­son for the Tar Sands Block­ade, an activist group try­ing to pre­vent con­struc­tion of the Key­stone XL's south­ern seg­ment in Texas and Okla­homa. ​"Of course, keep in mind that a lot of these ease­ments go right through landown­ers' front yards and back­yards. Does that mean that every time they go out­side they have to wor­ry that Tran­sCana­da, a multi­na­tion­al cor­po­ra­tion who is known to share infor­ma­tion with the fed­er­al gov­ern­ment, might be film­ing them? Does that mean in sign­ing a con­tract with Tran­sCana­da folks are sub­ject­ed to sur­veil­lance and shar­ing infor­ma­tion with the government?"
But Seifert says he wouldn't expect drone sur­veil­lance to dis­suade cli­mate jus­tice activists, many of whom are already unafraid of engag­ing in civ­il dis­obe­di­ence and risk­ing arrest.

​"Regard­less of the type of sur­veil­lance, I think folks have come to the con­clu­sion that those risks are nec­es­sary to take," he says. ​"Because to not take action is far more dan­ger­ous than to set up a block­ade or par­tic­i­pate in direct action. We all know that tar sands infra­struc­ture is too dan­ger­ous to exist. It's a threat to the future of the planet."
Cor­rec­tion: An ear­li­er ver­sion of this arti­cle said that police had infil­trat­ed a ​"Tar Sands Block­ade activist camp." While the group that was infil­trat­ed, the Great Plains Tar Sands Resis­tance, is affil­i­at­ed with the Tar Sands Block­ade, the groups are distinct.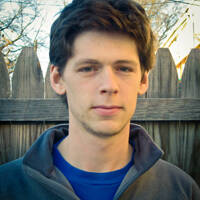 Cole Stan­gler
writes about labor and the envi­ron­ment. His report­ing has also appeared in The Nation, VICE, The New Repub­lic and Inter­na­tion­al Busi­ness Times. He lives in Paris, France. He can be reached at cole[at]inthesetimes.com. Fol­low him
@colestangler
.