"No More Racist Bosses": Why Workers at a Suburban Target Store Are Protesting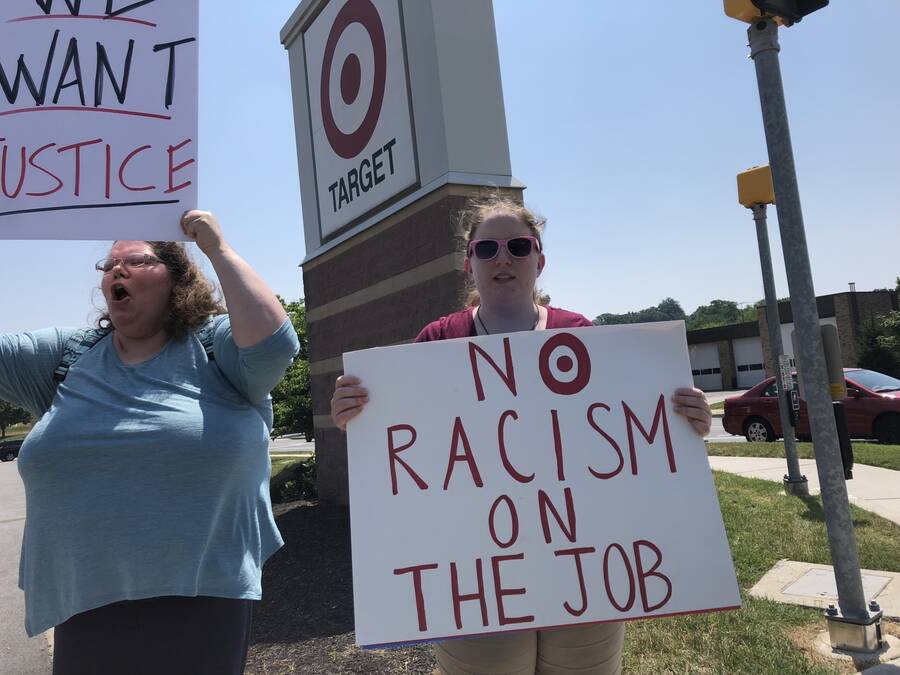 A small group of work­ers at retail­er Tar­get Cor­po­ra­tion is demand­ing account­abil­i­ty from local store man­agers in the Bal­ti­more area, high­light­ing issues of dis­crim­i­na­tion and fair sched­ul­ing that affect retail work­ers nationwide.
The work­ers at the Tar­get out­let in sub­ur­ban Cock­eysville staged a demon­stra­tion this week, gath­er­ing sup­port from the local labor rights com­mu­ni­ty to demand that some man­agers be fired for alleged­ly racist and sex­ist behav­ior, and that the com­pa­ny address fair sched­ul­ing issues. Led by Tar­get employ­ees Eri­ca Felden­z­er and Sarah Shif­flet, the group issued its demands July 3 as it gath­ered just inside the entrance to the store, and then led a walk­out and pick­et that attract­ed unusu­al police attention.
The demon­stra­tion was par­tial­ly inspired by a sim­i­lar protest last year at a Tar­get store in Chris­tian­burg, Va., Felden­z­er reports. Adam Ryan, prin­ci­pal orga­niz­er of the Chris­tian­burg strike, helped the Cock­eysville work­ers design their protest and trav­eled to Mary­land this week to help lead the effort, which is intend­ed to also include recog­ni­tion of work­er orga­niz­ing rights at the non-union Target.
"We were suc­cess­ful enough [in Chris­tian­burg] that there is a lot of hope out there that direct action by work­ers" can be effec­tive in alter­ing Target's cor­po­rate behav­ior, Ryan says. ​"I've heard from [Tar­get] work­ers all over the coun­ty." Bad man­agers were fired as a result of last year's work­er action in Chris­tian­burg, Ryan asserts, and even though efforts to form a union at Tar­get have not pro­gressed, the strike is being viewed as at least par­tial­ly successful.
Under a bold red ban­ner, ​"No More Racist Boss­es," the demands of the Cock­eysville work­ers were voiced by Shif­flet and writ­ten on a hand­bill dis­trib­uted at the protest. The work­ers called on two man­agers ​"be fired on the grounds unpro­fes­sion­al­ism in the work­place and mak­ing racist and ableist com­ments about team mem­bers repeat­ed­ly and talk­ing down to team mem­bers." The hand­bill con­tin­ues: ​"We demand that work­ers receive fair hours each week that they are not chron­i­cal­ly sched­uled out­side of their availability."
The demands are auda­cious, Shif­flett con­cedes, giv­en that they have the open sup­port of only a small per­cent­age of the work­ers at the store. And Tar­get Cor­po­ra­tion itself is for­mi­da­ble indeed, with 1,829 stores nation­wide and a total work force of more than 350,000. But the com­pa­ny appears to real­ize it has an over­all prob­lem with its work­force and has announced plans to raise wages across the coun­try with the goal of reach­ing a min­i­mum of $15 an hour by 2020.
In response to com­plaints at the sub­ur­ban Bal­ti­more store, Tar­get spokes­woman Danielle Schu­mann tells In These Times lead­ers of the com­pa­ny ​"take any alle­ga­tions of work­place mis­con­duct seri­ous­ly. We've been work­ing for sev­er­al weeks to address issues brought forth by team mem­bers … and have already tak­en actions to address them. We will con­tin­ue to work close­ly with this store's new lead­er­ship to ensure the team mem­ber expe­ri­ence meets Tar­get's work­place standards."
Shif­flett and Felden­z­er backed up their charges with a for­mal com­plaint to the Nation­al Labor Rela­tions Board in June and say they are also plan­ning a com­plaint to the Equal Employ­ment Oppor­tu­ni­ty Com­mis­sion (EEOC). ​"They are def­i­nite­ly try­ing to intim­i­date us. One of the man­agers … called me into his office and tried to inter­ro­gate me about the EEOC, I refused to answer any ques­tions," Felden­z­er tells In These Times.
Intim­i­da­tion was a tac­tic also employed against work­ers by Tar­get in Chris­tian­burg, Ryan says. Ryan's NLRB com­plaint against Tar­get there took months to nego­ti­ate, he says, end­ing with a set­tle­ment this spring to fore­close any future vio­la­tions of worker's labor union rights. Efforts are ongo­ing there to form a work­ers com­mit­tee that can deal effec­tive­ly with the man­agers, he reports.
At the protest last week, Tar­get employ­ees were out­num­bered by local labor activists who came out in sup­port of the work­ers. Among them was Alan Rebar, an activist on the Bal­ti­more Teach­ers Union who had been alert­ed to the Tar­get action by the local chap­ter of the Demo­c­ra­t­ic Social­ists of Amer­i­ca. ​"All work­ing peo­ple need a liv­ing wage and trade union rights. I' glad they are fight­ing racist boss­es as well," Rebar comments.
The Tar­get employ­ees on the infor­ma­tion­al pick­et were also out­num­bered by local police. Ear­ly in the protest the Bal­ti­more Coun­ty Police Depart­ment deployed five squad cars to the scene and the offi­cers claimed they were under the impres­sion there was some sort of pub­lic dan­ger attached to the peace­ful protest.
Anoth­er Bal­ti­more teacher at the protest was Mike Pesa, who is also active in the local chap­ter of the Indus­tri­al Work­ers of the World. ​"Retail work­ers at these giant com­pa­nies like Tar­get and Wal­mart are in des­per­ate need of union rep­re­sen­ta­tion," Pesa says. ​"They deserve out support."
Bruce Vail
is a Bal­ti­more-based free­lance writer with decades of expe­ri­ence cov­er­ing labor and busi­ness sto­ries for news­pa­pers, mag­a­zines and new media. He was a reporter for Bloomberg BNA's Dai­ly Labor Report, cov­er­ing col­lec­tive bar­gain­ing issues in a wide range of indus­tries, and a mar­itime indus­try reporter and edi­tor for the Jour­nal of Com­merce, serv­ing both in the newspaper's New York City head­quar­ters and in the Wash­ing­ton, D.C. bureau.