The Tax Bill Battle Shows the Left Needs a "Single Payer of Fiscal Policy"
A conversation with Michael Kink, executive director of the Strong Economy for All Coalition.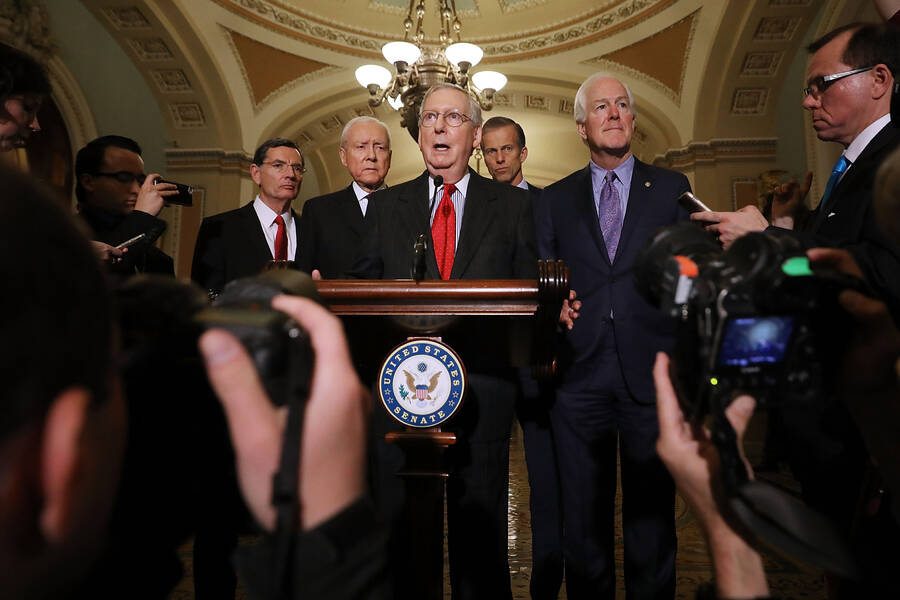 Wel­come to Inter­views for Resis­tance. We're now sev­er­al months into the Trump admin­is­tra­tion, and activists have scored some impor­tant vic­to­ries in those months. Yet there is always more to be done, and for many peo­ple, the ques­tion of where to focus and how to help remains. In this series, we talk with orga­niz­ers, agi­ta­tors and edu­ca­tors, not only about how to resist, but how to build a bet­ter world.
When the heirs and heiresses of billionaire fortunes can take over an entire political party and force them to pass public policies that the vast majority of even their own voters don't want, there is a problem with democracy.
Michael Kink: I am the exec­u­tive direc­tor of the Strong Econ­o­my for All Coalition.
Sarah Jaffe: The last time we did one of these inter­views, we were talk­ing hypo­thet­i­cal­ly about a tax bill. Now there is a tax bill that has passed one house of Con­gress. What are some of the high­lights and/​or low­lights of this thing?
Michael: I would say that it is almost all low­lights. It is a car­toon par­o­dy of the most ridicu­lous­ly unfair tax plan that any­one could come up with. It lit­er­al­ly adds new sub­si­dies for pri­vate jets while tak­ing away tax deduc­tions for the par­ents of dis­abled kids. It is utter­ly, utter­ly ridiculous.
The only high­light is that it is tremen­dous­ly unpop­u­lar. The vast major­i­ty of Amer­i­cans don't like it, don't want it, under­stand that it ben­e­fits the wealthy over reg­u­lar peo­ple, and under­stand that it doesn't close any loop­holes and opens up some new ones. The broad pop­u­lar dis­sat­is­fac­tion with the tax plan is sim­i­lar in per­cent­ages to where the health­care bills were, but maybe not quite at the lev­el of intense oppo­si­tion. You had peo­ple with the health­care bills whose lives were lit­er­al­ly on the line.
I would argue that the tax bill puts lives at stake in many of the same ways that the health­care bills did. It includes a mas­sive cut to Med­ic­aid and Medicare. But it's a tax bill, so there is cer­tain­ly a pre­sump­tion in the media that most peo­ple don't par­tic­u­lar­ly care about tax bills or most peo­ple fig­ure, ​"They will give a bunch of mon­ey to the rich, and maybe they will give a lit­tle bit of mon­ey to me or some­one like me. I will be okay."
The fact is, unless you are incred­i­bly, ridicu­lous­ly, pre­pos­ter­ous­ly rich, you are not going to get much of a ben­e­fit at all out of this. And most reg­u­lar work­ing-class or mid­dle-class peo­ple are going to see tax increases.
The folks who get big tax cuts are the heirs and heiress­es of bil­lion­aires. They are going to inher­it their mas­sive for­tunes tax-free. Ivan­ka Trump and Don­ald Trump, Jr. and the kids of the hedge fund moguls and pri­vate equi­ty titans are going to do real­ly well. Multi­na­tion­al cor­po­ra­tions are going to get a mas­sive cut in their tax rate. There are going to be new cor­po­rate loop­holes, includ­ing actu­al new sub­si­dies for out­sourc­ing jobs. That's one of the things that Trump vot­ers, Bernie vot­ers and every vot­er in between was pissed about. They are open­ing up new sub­si­dies for cor­po­ra­tions to move prof­its and jobs overseas.
The car­ried-inter­est loop­hole is still wide open, and hedge fund man­agers and pri­vate equi­ty man­agers will ben­e­fit from a new pass-through tax scam that will cut their tax­es even more. All of these folks are big cam­paign donors, and they use their polit­i­cal con­tri­bu­tions to real­ly rig the sys­tem. They have got a tax bill that is a dream for them.
Young peo­ple with stu­dent debt are going to lose their inter­est deduc­tion for that debt. School teach­ers are going to lose their deduc­tions for teach­ing sup­plies. Fam­i­lies strug­gling with med­ical expens­es are going to see deduc­tions elim­i­nat­ed. The tax bill itself sets off $25 billi­no a year in auto­mat­ic cuts to Medicare.
They are still try­ing to pass this bill even though it is incred­i­bly unpop­u­lar. Chris Collins, the con­gress­man from Buf­fa­lo, admit­ted to The Hill, ​"My donors are basi­cal­ly say­ing, ​'Get it done or don't ever call me again.'" So they are even admit­ting that the main pres­sure for this bill is com­ing from their biggest cam­paign contributors.
We are work­ing around the coun­try to fight this. A lot of the health­care activists and grass­roots activists who fought and beat the health­care bill are engaged in this and are fight­ing back against it. The Amer­i­can Fed­er­a­tion of Teach­ers, the Com­mu­ni­ca­tion Work­ers of Amer­i­ca, the Nation­al Nurs­es Unit­ed and a bunch of com­mu­ni­ty groups have come togeth­er for a nation­al day of action on Wednes­day, Novem­ber 29. There is a web­site with some details of the actions at www​.stop​GOP​taxs​cam​.com. We are aim­ing for a kind of grass­roots march on Wall Street on Sat­ur­day Decem­ber 2. If the bill keeps going into Decem­ber, as we expect it will, we are going to aim for a sec­ond wave of direct actions and protests on Capi­tol Hill on Decem­ber 5.
Sarah: I have been think­ing about the last time we had a Repub­li­can pres­i­dent sell­ing us a big pack­age of tax cuts for rich peo­ple. It was George W. Bush, and the argu­ment was that it was tax cuts for every­body, and it just so hap­pens that rich peo­ple make more mon­ey and so they got big­ger tax cuts. And this bill is just ludi­crous. They would have passed some­thing by now with much less oppo­si­tion if they were not being so grotesque­ly class war about it. I just won­der what is even hap­pen­ing here.
Michael: I think that the own­er­ship of the Repub­li­can Par­ty by the most aggres­sive and most enti­tled and sys­tem-rig­ging rungs of cap­i­tal is entire­ly com­plete. The Bush tax cuts for the rich includ­ed a refund­able tax cred­it where fam­i­lies got checks. Work­ing peo­ple got an actu­al check. Now, you can say, ​"I got a $400 check, and some bil­lion­aire a dozen zip codes away got a $4 mil­lion check." But reg­u­lar peo­ple who might be Repub­li­can or Demo­c­ra­t­ic vot­ers got something.
Nobody gets any­thing out of this bill. It goes to pri­vate equi­ty titans, hedge fund man­agers, inter­na­tion­al banks, multi­na­tion­al cor­po­ra­tions. I do think that the pol­i­cy appa­ra­tus in Wash­ing­ton in the Repub­li­can Par­ty is so com­plete­ly and utter­ly bro­ken, so dis­tant from the real­i­ty of the vast major­i­ty of peo­ple who pro­vide the votes to keep these peo­ple in pow­er, that they just don't talk to those peo­ple, they don't lis­ten to those peo­ple, they don't care about those people.
It shows such utter con­tempt for their vot­ers that I don't know how long they can exist as a polit­i­cal par­ty. I don't think most peo­ple who are get­ting noth­ing and are get­ting hurt from pub­lic poli­cies are going to put up with it. There is a larg­er ques­tion of whether there is an actu­al, force­ful, pop­ulist pro­gres­sive option that any­body in main­stream pol­i­tics is going to put out there. But the Repub­li­cans are work­ing to pass bills that ben­e­fit bil­lion­aires and their lob­by­ists. I don't think that the Paul Ryans and Mitch McConnells of the world real­ly care about any­body else right now. That is very clear from the leg­is­la­tion that they are pre­sent­ing to the public.
Sarah: That is an inter­est­ing ques­tion you bring up: What would we like to see as the alter­na­tive? What should Bernie Sanders and Kei­th Elli­son and any­body else who wants to be the lead­er­ship of a left alter­na­tive to this be push­ing for­ward right now? Sin­gle-pay­er health­care was the obvi­ous thing in the wake of the repeat­ed health­care dis­as­ters, but what should we be demand­ing in response to this?
Michael: I think there are two angles to look at. One, at even the most mod­er­ate lev­el, if you look at pub­lic opin­ion polls, things that poll­sters already ask peo­ple about, most Amer­i­cans want the wealthy to pay their fair share. Most Amer­i­cans want to see high­er tax­es on rich peo­ple, not low­er tax­es on rich peo­ple. Most Amer­i­cans would like to see a lot of loop­holes elim­i­nat­ed, par­tic­u­lar­ly the loop­holes for out­sourc­ing jobs. Most Amer­i­cans would like to see a tax sys­tem that doesn't over­ly reward peo­ple who are already wealthy, that doesn't over­ly reward peo­ple who just invest for a liv­ing, that does some­thing to help fam­i­lies that are strug­gling. We don't have any leg­is­la­tion that does that.
More aggres­sive­ly, what is the sin­gle pay­er of eco­nom­ic pol­i­cy or fis­cal pol­i­cy? I would argue that if most peo­ple want to see the wealthy pay their fair share, and most peo­ple want to see gov­ern­ment bud­gets that actu­al­ly invest in and cre­ate jobs by hir­ing peo­ple and giv­ing them pay­checks as opposed to just sprin­kling heli­copter-loads full of cash on rich zip codes, we could talk about fis­cal poli­cies that actu­al­ly redis­trib­ute income and invest in the future. We can talk about pub­lic goods. We can talk about the oppor­tu­ni­ty to close loop­holes, make the wealthy pay their fair share and invest in an econ­o­my that would actu­al­ly employ a lot more peo­ple then we have now. We could make the tran­si­tion into a clean ener­gy infra­struc­ture. We can move for­ward with sin­gle pay­er health­care that responds to our opi­oid addic­tion cri­sis, that responds to the aging of Amer­i­ca, that pro­vides more inde­pen­dent liv­ing options for seniors and for peo­ple with disabilities.
There are a lot of things we could do that would cre­ate a lot of good, mean­ing­ful jobs for Amer­i­cans with decent pay­checks, and we have the mon­ey to do it. The Repub­li­cans are say­ing they would be will­ing to spend a $1.5 tril­lion on some­thing. If we were going to spend $1.5 tril­lion on clean ener­gy and pub­lic health and edu­ca­tion and high­er edu­ca­tion, a lot of peo­ple would be in favor of that. The tax sys­tem can pro­vide the resources to do it. You could be scared of the phrase ​"redis­tri­b­u­tion of income." But when poll­sters ask ques­tions about mak­ing the wealthy pay their fair share and invest­ing in pro­grams that cre­ate, that is what they are talk­ing about. When we have young peo­ple sup­port­ing social­ism over cap­i­tal­ism by sig­nif­i­cant mar­gins because they have been screwed so bad­ly by the econ­o­my, I think it is incum­bent on politi­cians to pro­vide more effec­tive pub­lic policies.
There aren't too many peo­ple who are doing that right now, but there are start­ing to be some, and I think we are start­ing to see the pub­lic reward­ing politi­cians who come out with more force­ful and pos­i­tive solu­tions. Sin­gle-pay­er health­care is very pop­u­lar. We are see­ing the weak­ness of the cen­ter-right sys­tem of mod­er­ate Democ­rats that relies on tax incentives.
The alter­na­tive is: Let's have some­thing big and pow­er­ful and force­ful like sin­gle-pay­er health care. Let's have free, afford­able, uni­ver­sal child­care for all kids that includes a strong ear­ly edu­ca­tion pro­gram that gets every sin­gle kid in Amer­i­ca ready to go to school and be a great learn­er. If oth­er coun­tries do it, we could do it, too. Let's have a dis­trib­uted net­worked clean ener­gy sys­tem that reduces peo­ples' elec­tric bills, that reduces cli­mate destroy­ing green­house gas­es, and that cre­ates mil­lions of Amer­i­can jobs for peo­ple of every race every­where in the coun­try. The abil­i­ty to do big pow­er­ful things that peo­ple want is there.
Sarah: We talked a lot about the health­care fight and how that worked and how at the end of it, we come out with more sup­port than ever for a sin­gle-pay­er health­care bill. This could, indeed, work the same way if the push­back to this is actu­al­ly paired with a pos­i­tive demand. Not just, ​"No" but actu­al­ly, ​"No, and while you are at it, if you think we have how­ev­er many tril­lions to spend here, then, good. Let's spend it on cre­at­ing jobs."
Michael: It's $1.5 tril­lion. In terms of pub­lic pol­i­cy, it sug­gests new areas to go for­ward. Every­one under­stands that if you get rid of the estate tax, it is only ben­e­fit­ing these heirs and heiress­es of the bil­lion­aires. That is ridicu­lous. You could have a 100 per­cent inher­i­tance tax on for­tunes over $1 bil­lion or over $5 bil­lion. You could say, ​"We do not want dynas­tic wealth in this coun­try. You can get your first bil­lion and keep it, but we are not going to let you keep this 2nd, 3rd, and 14th, and 30th. We are going to take that and put it back into pub­lic goods. Because you cre­at­ed Face­book or that hedge fund or what­ev­er with huge amounts of pub­lic resources. You use math­e­mati­cians trained at land-grant uni­ver­si­ties. You use the advanced research facil­i­ties at col­leges and uni­ver­si­ties. You took patents that were in the pub­lic realm, and you made pri­vate prof­its off of them."
When the heirs and heiress­es of bil­lion­aire for­tunes can take over an entire polit­i­cal par­ty and force them to pass pub­lic poli­cies that the vast major­i­ty of even their own vot­ers don't want, there is a prob­lem with democracy.
I don't know if we will get to 100 per­cent inher­i­tance tax. That is a lit­tle bit hyper­bol­ic. But I do think the same way we saw a lot of the sup­port for sin­gle pay­er health­care, after the GOP tax bill, you are going to see a lot of pro­pos­als for high­er inher­i­tance tax­es. You are going to see tax bills that close loop­holes on out­sourc­ing jobs that are going to be tak­en more seri­ous­ly. You are going to see con­tin­ued progress for our state-lev­el bills to close the car­ried inter­est loop­hole. If Con­gress is so bought and paid for that they won't do it in Wash­ing­ton, then state law­mak­ers in Albany, Spring­field, Sacra­men­to and Har­ris­burg can take steps to bring the mon­ey back for state gov­ern­ments until and unless Con­gress does it. There is going to be more sup­port for fair tax­es at the state level.
I think this is an edu­ca­tion process. I hope to God we beat it. I think the idea of giv­ing huge amounts of mon­ey to the super wealthy while we are destroy­ing our pub­lic health­care sys­tem is a real­ly, real­ly scary thing for the future. It is a kind of dystopi­an night­mare of pub­lic pol­i­cy for the future of our coun­try and that is why peo­ple are fight­ing so hard against it.
Sarah: What lessons did you and the oth­er folks who are plan­ning all these actions learn from the health­care bill that is being applied to fight­ing the tax bill?
Michael: From a move­ment per­spec­tive, it was real­ly inter­est­ing see­ing a lot of dif­fer­ent peo­ple from dif­fer­ent back­grounds real­iz­ing how much they have in com­mon. There was a kind of com­mon­al­i­ty of pur­pose and expe­ri­ence with the health­care fight that I think is real­ly an anti­dote to the divi­sion — the pol­i­tics of hate — that Trump, Bre­it­bart, the Mer­cers and Ban­non have thrown at us. They real­ly want to keep peo­ple divid­ed. They want to keep peo­ple hat­ing each other.
On health­care, you saw a lot of peo­ple in the same boat, and they came from a lot of dif­fer­ent places. There were folks from Arkansas and Alas­ka and New York and Cal­i­for­nia and Con­necti­cut and Ver­mont and Alaba­ma all work­ing togeth­er, all doing teach-ins in church base­ments, all sleep­ing in sleep­ing bags togeth­er. That was a very pow­er­ful thing to see. I think in tax pol­i­cy you have seen some­thing of the same thing hap­pen­ing with the Indi­vis­i­ble groups, labor unions, stu­dents, Bernie folks and more con­ven­tion­al big nation­al unions jump­ing into this fight.
They declared class war­fare. Whether or not you agree with fight­ing class war­fare on behalf of peo­ple who are work­ers, the bil­lion­aires declared class war­fare on everyone.
Sarah: How can peo­ple get involved in some of these var­i­ous actions that are going to be com­ing up in the next week?
Michael: Go to Stop​GOP​taxs​cam​.com. There are some sim­ple bul­lets on the plan, and there is a whole set of days of actions where folks can click through. That hash­tag #GOP­taxs­cam is also going to be in place where you can look on Twit­ter and Face­book. There will be a lot of local events. I think the face to face is real­ly impor­tant: going to events, join­ing with oth­er people.
There is cer­tain­ly a pletho­ra of online call­ing tools. You should call your mem­ber of Con­gress, your House mem­ber and your Sen­a­tor. If you know those num­bers, fine. If you go to www.stoptrumptaxcuts.org, www​.tax​pol​i​cy​cen​ter​.org or www​.notonepen​ny​.org, there are a lot of places you are going to get a ​"Click here, put in your zip code, and we will call your Sen­a­tor and your House mem­ber for you."
I do think that they need to be get­ting calls every day next week. There are a lot of Repub­li­can Sen­a­tors who have expressed con­cerns: Sen­a­tor McCain on process and Collins on the health­care angles. Sen­a­tors Cork­er and Flake and Moran and Lang­ford have all talked about the prob­lems with the bill in increas­ing the deficit. This bill explodes the deficit by $1.5 tril­lion dol­lars even after you have cut $1.5 tril­lion from Med­ic­aid and Medicare. They are going to have prob­lems with­in their own con­fer­ence pass­ing this bill quickly.
We need every Demo­c­ra­t­ic Sen­a­tor to oppose it and we need those cou­ple dozen House Repub­li­can mem­bers, par­tic­u­lar­ly from big states: New York, Cal­i­for­nia, Illi­nois, New Jer­sey and Penn­syl­va­nia. Many Repub­li­can House mem­bers in those states vot­ed against the bill, but many of them vot­ed in favor of the bill. I think the bill that comes back to the House to con­sid­er is prob­a­bly going to be worse than the bill they got before. It is going to hurt more peo­ple, it is going to be more destruc­tive to work­ing-class and mid­dle-class vot­ers who will either re-elect these peo­ple or kick them out of office.
So, I do think that there are going to be sev­er­al oppor­tu­ni­ties over the next cou­ple of weeks for peo­ple pow­er to try to work its mag­ic one more time. That is some­thing that has worked over and over and over this year in stop­ping the worst of the pub­lic pol­i­cy pro­pos­als that Trump is try­ing to jam through Con­gress. There is one more thing we have got to stop this year before we can take a break.
Inter­views for Resis­tance is a project of Sarah Jaffe, with assis­tance from Lau­ra Feuille­bois and sup­port from the Nation Insti­tute. It is also avail­able as a pod­cast on iTunes. Not to be reprint­ed with­out permission.
Sarah Jaffe
is a for­mer staff writer at
In These Times
and author of
Nec­es­sary Trou­ble: Amer­i­cans in Revolt
, which Robin D.G. Kel­ley called ​
"
The most com­pelling social and polit­i­cal por­trait of our age." You can fol­low her on Twit­ter
@sarahljaffe
.