Taxi Workers Strike Over Muslim Ban—And Uber Takes Advantage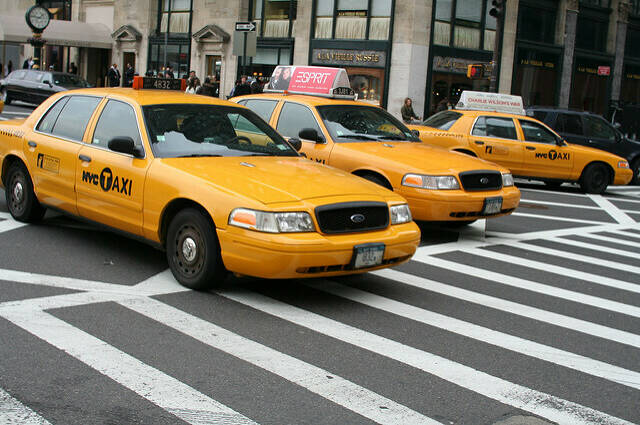 This arti­cle was first post­ed by Labor Notes.
In sol­i­dar­i­ty with a mas­sive protest that erupt­ed at New York's JFK Air­port Jan­u­ary 28, the city's Taxi Work­ers Alliance orga­nized a one-hour strike at the inter­na­tion­al terminal.
New York­ers flocked to protest after Pres­i­dent Don­ald Trump's Exec­u­tive Order banned legal immi­gra­tion from sev­en pre­dom­i­nate­ly Mus­lim coun­tries and refugees from anywhere.
Hun­dreds of immi­grants were detained that day by bor­der agents upon arrival at inter­na­tion­al air­ports across the U.S., includ­ing dozens at JFK.
The New York Taxi Work­ers Alliance rep­re­sents more than 19,000 dri­vers in the city. ​"Nine­ty-five per­cent of cab dri­vers are immi­grants, from over 100 coun­tries," said co-founder Javaid Tariq. ​"Six­ty to 70 per­cent of our mem­bers are Muslim."
Accord­ing to the taxi union, racist poli­cies like Trump's Mus­lim ban fuel anti-immi­grant vio­lence, putting for-hire dri­vers at increased risk.
"We had this expe­ri­ence after 9⁄11," Tariq said. ​"Many Amer­i­cans don't know the dif­fer­ence between the Sikh and Mus­lims reli­gions. Sikh and Mus­lims were the vic­tims of many hate crimes.
"Since Pres­i­dent Trump signed the Exec­u­tive Order, there was a bomb­ing of a mosque in Texas, and we are wor­ried that there is going to be more vio­lence against drivers."
Rapid­ly organized
The Taxi Work­ers orga­nized quick­ly to get the word out to mem­bers in just a few hours.
"We sent a robo-call and email blast and sent mes­sages to our mem­bers," Tariq said. ​"Our mem­bers and orga­niz­ing com­mit­tee mem­bers went to the dis­patch lot — where they dis­patch cabs to the dif­fer­ent ter­mi­nals — and asked dri­vers to not go pick up pas­sen­gers there for the dura­tion of the strike."
The work stop­page was a suc­cess. The airport's taxi cab pick­up line sat emp­ty dur­ing the 6:00 hour.
Uber takes advantage
That night the app-based ride com­pa­ny Uber con­spic­u­ous­ly announced over social media that its ​"surge pric­ing" pric­ing was no longer in effect at JFK, in essence low­er­ing the cost of a ride from the air­port dur­ing peak hours.
Almost imme­di­ate­ly #Dele­teU­ber start­ed trend­ing on Twit­ter, as pro­tes­tors around the coun­try decried the com­pa­ny for encour­ag­ing dri­vers to cross a pick­et line. Though the announced strike had tech­ni­cal­ly just end­ed, there were still no taxis around, and the protests were still growing.
Uber CEO Travis Kalan­ick has been advis­ing Trump as a mem­ber of the administration's 16-mem­ber busi­ness pol­i­cy com­mit­tee, which also includes cor­po­rate exec­u­tives from Wal­mart, IBM, Gen­er­al Elec­tric, Dis­ney, Gen­er­al Motors and sev­er­al Wall Street invest­ment firms.
More strikes needed
By the next day, Uber was backpedal­ing. The com­pa­ny claimed it wasn't attempt­ing to break the taxi strike. Kalan­ick even issued a state­ment offer­ing to pro­vide three months' com­pen­sa­tion to Uber dri­vers impact­ed by the ban.
But taxi work­ers aren't buy­ing what Uber is sell­ing — and they don't think you should be either. ​"Uber is a greedy com­pa­ny with very close ties to Don­ald Trump," said Tariq. ​"Every­one should delete Uber and give their busi­ness to pro­fes­sion­al drivers."
Look­ing to the future, Tariq believes that the over­whelm­ing mem­ber par­tic­i­pa­tion and pub­lic sup­port the strike attract­ed are clear sig­nals that unions should esca­late their actions against the administration.
"In the future, we might engage in sim­i­lar strate­gies," he said. ​"We need to keep work­ing against these unfair exec­u­tive orders."
Chris Brooks
is a staff writer and labor edu­ca­tor at
Labor Notes,
where he cov­ers the Unit­ed Auto Work­ers. He is a mem­ber of the Nation­al Writ­ers Union (UAW Local
1981
).