L.A. Teachers on What Was Won—And Which Battles Are Next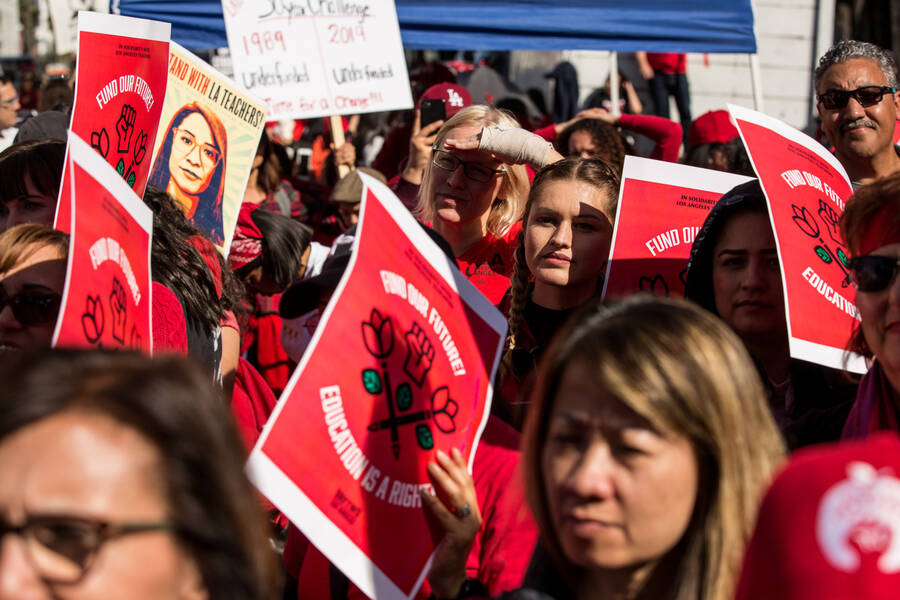 Fol­low­ing a six-day teach­ers' strike over inad­e­quate pub­lic-school fund­ing, Unit­ed Teach­ers Los Ange­les (UTLA) and the Los Ange­les Uni­fied School Dis­trict (LAUSD) reached a ten­ta­tive agree­ment Tues­day. While tal­lies haven't yet been released, UTLA has con­firmed that teach­ers vot­ed in favor of the con­tract and, as of Wednes­day, have returned to their classrooms.
The agree­ment, which was pre­ced­ed by a near­ly 21-month bar­gain­ing peri­od, revers­es some of the trends the union was protest­ing, includ­ing bloat­ed class sizes, insuf­fi­cient staffing of nurs­es and coun­selors, exces­sive stan­dard­ized test­ing and a lack of resources for spe­cial edu­ca­tion. (UTLA's protests, includ­ing the strike, were large­ly the prod­uct of a reform move­ment among edu­ca­tion­al unions nationwide.)
It also calls for a greater reck­on­ing with char­ter schools: pub­licly fund­ed, pri­vate­ly oper­at­ed schools boost­ed pri­mar­i­ly by wealthy financiers and exec­u­tives. UTLA mem­bers rebuke these schools for siphon­ing fund­ing from pub­lic schools and view a pro-char­ter dis­trict agen­da as the cause of the afore­men­tioned problems.
The new con­tract would restrict school pri­va­ti­za­tion, call­ing on Cal­i­for­nia to estab­lish a cap on char­ter schools. It also states that Los Ange­les may­or Eric Garcetti will endorse the Schools and Com­mu­ni­ties First bal­lot ini­tia­tive, which will osten­si­bly redi­rect $11 bil­lion per year to Cal­i­for­nia schools, com­mu­ni­ty col­leges, health clin­ics and oth­er local institutions.
In These Times spoke to five teach­ers from five dif­fer­ent LAUSD schools. While most of them con­tend that more could have been won, these rank-and-file mem­bers over­whelm­ing­ly con­sid­er the new terms an improve­ment and a tes­ta­ment to the pow­er of strikes.
"I am pleased with the agree­ment for sev­er­al rea­sons," sec­ond-grade teacher and rank-and-file UTLA mem­ber Traci Rustin told In These Times. ​"I think we start­ed a con­ver­sa­tion about char­ter schools among those mem­bers of the com­mu­ni­ty and UTLA who had not pre­vi­ous­ly giv­en it much thought."
Rustin and some oth­er teach­ers, how­ev­er, found the vote bit­ter­sweet, argu­ing that while they're eager to return to work, the pro­posed terms should have includ­ed more aggres­sive changes. The agree­ment pre­vents the dis­trict from ​"uni­lat­er­al­ly ignor[ing]" all class sizes and promis­es a grad­ual reduc­tion of class size — which rou­tine­ly exceeds 40—over the next four years, impos­ing max­i­mums of 39 stu­dents for Eng­lish and math cours­es in sec­ondary schools. While the change marks an improve­ment, some remain frustrated.
"There are class­es with 45 stu­dents in them. Do we real­ly think that 41 stu­dents, three years from now will be accept­able? Absolute­ly not!" a kinder­garten teacher in West Los Ange­les who wished to remain anony­mous told In These Times. ​"I am glad that the school dis­trict can­not come in and change that on a whim, like they were ini­tial­ly try­ing to do. … But the reduc­tion isn't enough."
The 2019 – 2020 school year will see addi­tion­al full-time teacher librar­i­ans and coun­selors for sec­ondary schools, and nurs­es for all schools. By the 2020 – 2021 school year, the­o­ret­i­cal­ly, each school will be equipped with one nurse, five days a week. In the 2014 – 2015 school year, Cal­i­for­nia ranked below all oth­er states in stu­dent-to-librar­i­an ratios, while near­ly 40 per­cent of LAUSD schools were staffed with a nurse only one day a week, accord­ing to UTLA.
Still, the pro­posed staff-to-stu­dent ratios con­tin­ue to wor­ry some. ​"I don't think that hav­ing a ratio of 500 stu­dents to one coun­selor is accept­able," said the kinder­garten teacher. ​"Yes, the dis­trict is giv­ing us 17 more coun­selors to meet that ratio, final­ly, but a 500 to 1 ratio for men­tal health is not show­ing our stu­dents that we're there for them."
"It's a lit­tle dis­heart­en­ing to real­ize that we've gained no ground on school psy­chol­o­gists and librar­i­ans for ele­men­tary schools," added fourth-grade teacher Anavelia Valencia.
To address the issue of ram­pant stan­dard­ized test­ing, UTLA has also vowed to estab­lish a com­mit­tee with LAUSD to cut test­ing in half — a move teach­ers over­whelm­ing­ly approve. Teach­ers will also receive a retroac­tive raise of three per­cent for the 2017 – 2018 school year, as well as an addi­tion­al three per­cent retroac­tive raise dat­ing from July 1, 2018. While edu­ca­tors empha­size that their salaries are a low-lev­el con­cern, the rais­es come at a time when many Cal­i­for­nia teach­ers can scarce­ly afford to rent or buy a home, yet don't qual­i­fy for pub­lic housing.
The con­tract also ensures a num­ber of changes designed to bol­ster stu­dents' well­be­ing. Schools will cur­tail ​"ran­dom" search­es of stu­dents — a prac­tice that has elicit­ed strong crit­i­cism for tar­get­ing and crim­i­nal­iz­ing Black, Lat­inx and Mus­lim stu­dents. Schools will also plan to replace some of their indus­tri­al envi­rons — bun­ga­lows, asphalt — with plant life, which has been shown to have ther­a­peu­tic effects. Fur­ther­more, accord­ing to the agree­ment, the dis­trict will pro­vide an attor­ney for immi­grant fam­i­lies as part of an Immi­grant Defense Fund initiative.
While teach­ers find many of these changes promis­ing, the cir­cum­stances sur­round­ing vot­ing were some­what con­tentious. Because UTLA teach­ers learned of the con­tract the same day they were expect­ed to vote, ​"sev­er­al mem­bers were upset about vot­ing so quick­ly," said Rustin. ​"I would­n't have mind­ed hav­ing an extra day to vote, but I also under­stand the need to return to work ASAP." Relat­ed­ly, some orga­nized impromp­tu meet­ings to dis­cuss the con­tract and the mer­its of vot­ing either way.
What­ev­er the out­come of the new terms, teach­ers agree much more work remains on the local, state and nation­al lev­els — espe­cial­ly as edu­ca­tors in Den­ver and Oak­land are prepar­ing for poten­tial strikes in response to pub­lic-school fund­ing issues — and are return­ing to the class­room intent on keep­ing the strug­gle alive. In the mean­time, they look for­ward to a fair­er — and more gal­va­nized — labor land­scape. ​"The future of pub­lic edu­ca­tion depends on mak­ing informed deci­sions about char­ter schools ver­sus com­mu­ni­ty schools," said Rustin. ​"We were suc­cess­ful in call­ing atten­tion to this."
"Teach­ers have been beat down," UTLA pres­i­dent Alex Caputo-Pearl said at a press con­fer­ence on Tues­day night. ​"One of the things we're most proud of is that this cam­paign… had our mem­bers say, ​'I deserve better.'"
Julianne Tveten
writes about tech­nol­o­gy, labor, and cul­ture, among oth­er top­ics. Her work has appeared in The Nation, Cap­i­tal
&
Main, KPFK Paci­fi­ca Radio, and elsewhere.