Want More Proof Teachers' Strikes Work? Look to Washington State.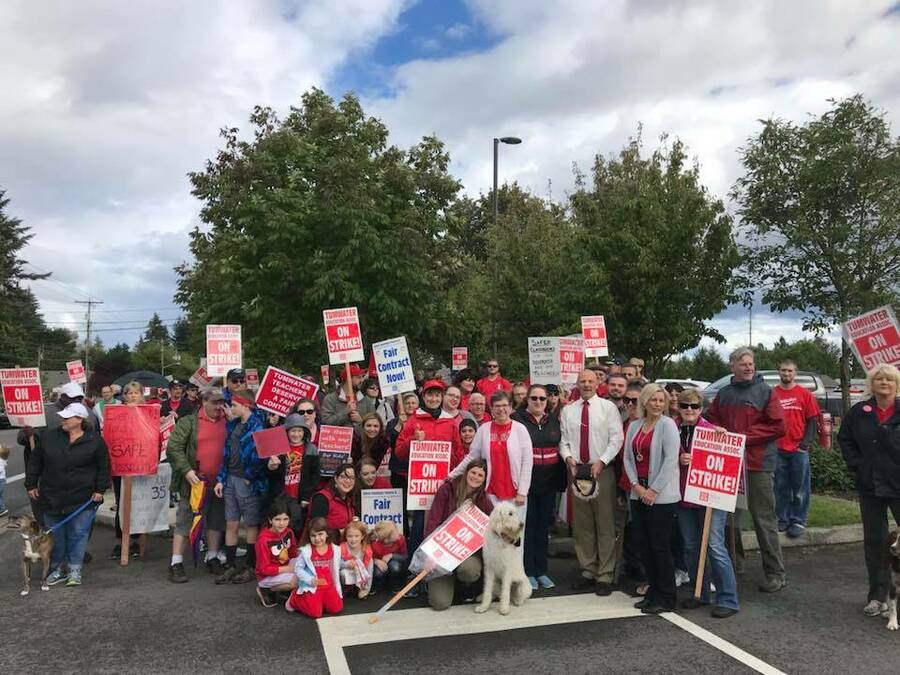 Fif­teen dis­tricts start­ed the school year on strike in Wash­ing­ton state — the lat­est to ride the West Vir­ginia wave.
"For my whole life I thought this was just the way it was, that I would have to strug­gle to have a sus­tain­able life," said Anna Cock­rum, a teacher in Ever­green, out on her first pick­et line. ​"I teach stu­dents to stand up for them­selves, and it is so cool to be liv­ing that.
Ever­green teach­ers walked for almost two weeks before agree­ing to rais­es aver­ag­ing 11.5 per­cent, con­sid­er­ably more than the district's ini­tial 1.9 per­cent offer. Bat­tle Ground and Tumwa­ter were the last to set­tle, after more than two weeks out.
Edu­ca­tors were demand­ing salary increas­es in line with the imple­men­ta­tion of the state Supreme Court's McCleary deci­sion. In 2012 the court ruled that the state was not meet­ing its con­sti­tu­tion­al oblig­a­tion ​"to make ample pro­vi­sion for the edu­ca­tion of all chil­dren resid­ing with­in its bor­ders with­out dis­tinc­tion or pref­er­ence on account of race, col­or, caste, or sex."
The deci­sion required the state to come up with a plan to address the chron­ic under­fund­ing of pub­lic schools. But the leg­is­la­ture kept stalling.
Teach­ers launched rolling strikes in 2015 to push for the addi­tion­al fund­ing. Three years ago the court held the state in con­tempt and issued fines of $100,000 a day for fail­ure to com­ply with its ruling.
Final­ly, six years after the ini­tial rul­ing, the leg­is­la­ture has addressed the last of the court require­ments and approved a bud­get that includ­ed an addi­tion­al $2 bil­lion in fund­ing specif­i­cal­ly for edu­ca­tors salaries.
Con­tracts for both teach­ers and sup­port staff were opened statewide to bar­gain for these increases.
ALL AT ONCE
Locals bar­gain indi­vid­u­al­ly. Across the state there was a wide dis­par­i­ty in ini­tial offers, from 1.9 per­cent in Ever­green to as much as 30 per­cent in some districts.
The for­mu­la to dis­trib­ute the $2 bil­lion was based on local salaries and prop­er­ty val­ues. That meant sub­ur­ban dis­tricts got more of the new fund­ing, while poor and urban dis­tricts got less.
The Wash­ing­ton Edu­ca­tors Asso­ci­a­tion, which rep­re­sents the vast major­i­ty of K‑12 edu­ca­tors in the state, encour­aged mem­bers to demand sig­nif­i­cant rais­es — upwards of 15 per­cent for teach­ers and 30 per­cent for sup­port staff.
The union sup­port­ed the strikes, pub­lish­ing updates on its web­page, join­ing sol­i­dar­i­ty ral­lies, and adding staff to embat­tled locals, accord­ing to Richard Wood, a WEA com­mu­ni­ca­tions staffer.
But the pos­si­bil­i­ty for coor­di­nat­ed statewide action was lost, said Jesse Hagopi­an, a Seat­tle high school teacher active in the Social Equi­ty Edu­ca­tors cau­cus. ​"It would have been great for the statewide union to say, ​'We want to bar­gain all of these togeth­er,'" he said, ​"because it is such a unique sit­u­a­tion with the infu­sion of funding."
Seat­tle, the state's largest dis­trict, was one of at least two dozen where teach­ers vot­ed to autho­rize strikes. The union reached a ten­ta­tive agree­ment just in time to start school. Mem­bers rat­i­fied it a few days lat­er with 83 per­cent support.
Cau­cus mem­bers were frus­trat­ed that the district's final offer of 10.3 per­cent was well below the state aver­age — in a city where the cost of liv­ing was already dri­ving teach­ers to oth­er districts.
CEN­TER OF ATTENTION
Despite the lack of statewide coor­di­na­tion, bar­gain­ing all at the same time had an upside. The top­ic drew media inter­est. Com­mu­ni­ty mem­bers and teach­ers alike were alert to the new fund­ing and what it would mean.
As teach­ers reached deals in some dis­tricts — with or with­out strike autho­riza­tions— anger rose in the dis­tricts where man­age­ment was stonewalling, bring­ing pal­try offers, and mak­ing false claims about the funds available.
"I have nev­er seen such an informed mem­ber­ship in [my] 12 years in this dis­trict," said Shan­non Ergun, a bar­gain­ing team mem­ber in Tacoma.
All this atten­tion threw into relief a lack of trans­paren­cy from lead­ers in some locals — usu­al­ly because they had agreed to ground rules that pre­vent­ed them from dis­clos­ing bar­gain­ing details.
In North Thurston, teacher Megan Lit­tle couldn't find out much about offers and counter-offers on the table. Final­ly at a gen­er­al meet­ing, after the bar­gain­ing team shared as much infor­ma­tion as pos­si­ble with­in the ground rules, mem­bers vot­ed 98 per­cent to autho­rize a strike.
A ten­ta­tive agree­ment quick­ly fol­lowed. Watch­ing all this unfold made her real­ize that ​"mem­ber­ship can­not act if they don't have the infor­ma­tion," Lit­tle said. She saw her union lead­ers too com­ing to real­ize that ​"the rela­tion­ship [of col­lab­o­ra­tion] with the dis­trict that they were work­ing so hard to pre­serve was not realistic.''
DEFI­ANT MOOD
In Bat­tle Ground and Tumwa­ter, defy­ing court injunc­tions that ordered them back to work, teach­ers vot­ed over­whelm­ing­ly to stay out on strike. Both dis­tricts set­tled with­in days after that.
Taco­ma teach­ers struck for a week, furi­ous at a 3.1 per­cent raise offer. The dis­trict offered bonus pay to any­one who crossed the pick­et line. Anne Hawkins, who was select­ed last year as one of Tacoma's ​"unfor­get­table teach­ers," protest­ed by sub­mit­ting her resignation.
"When I real­ized that the dis­trict was not going to pass along the McCleary mon­ey, and looked at my salary increas­es com­pared to the salaries down­town, I just couldn't do it," she said. Among the district's 10 largest school dis­tricts, Taco­ma has the high­est admin­is­tra­tive expens­es. Salaries for its senior exec­u­tives have soared in recent years.
Taco­ma teach­ers final­ly rat­i­fied a ten­ta­tive agree­ment with 14.5 per­cent increas­es for teach­ers and 19 per­cent increas­es for office pro­fes­sion­als. They also reduced the work year from 190 to 185 days.
GEN­ER­AL EXUBERANCE
Edu­ca­tors were buoyed by what Taco­ma Long­shore (ILWU) work­er Zack Pat­tin described as ​"mas­sive shows of support."
Pick­et lines and ral­lies attract­ed long­shore work­ers, Team­sters, fire­fight­ers, car­pen­ters, health care work­ers, elec­tri­cians, and school march­ing bands.
Face­book videos from the pick­et lines dis­played strik­ers' gen­er­al exu­ber­ance. Sha­ha­la teach­ers and staff, for instance, reworked Meghan Trainor's song ​"All about That Bass" into ​"All about Fair Wages."
Ellsworth Ele­men­tary edu­ca­tors turned ABBA's ​"Mam­ma Mia" into a ​"Red for Ed" anthem. Bat­tle Ground teach­ers made a three-minute lip-sync of ​"We're Not Gonna Take It."
Most of the con­tracts in Wash­ing­ton will be open again next year. While salaries were the focus this year, ongo­ing issues such a class size are like­ly to draw more atten­tion next time.
With a pos­si­ble teacher strike on the hori­zon in Los Ange­les this fall, we can expect this wave to con­tin­ue to build. A recent nation­al poll by PDK, which polls atti­tudes toward pub­lic schools, found that 73 per­cent of the pub­lic would sup­port a strike by teach­ers in their area for high­er pay.
This sto­ry first appeared at Labor Notes.
Bar­bara Made­loni
is the Edu­ca­tion Coor­di­na­tor at Labor Notes. She recent­ly served as pres­i­dent of the Mass­a­chu­setts Teach­ers Asso­ci­a­tion and is a long­time writer and educator.