How West Virginia Teachers Went on Strike Again and Defeated a School Privatization Bill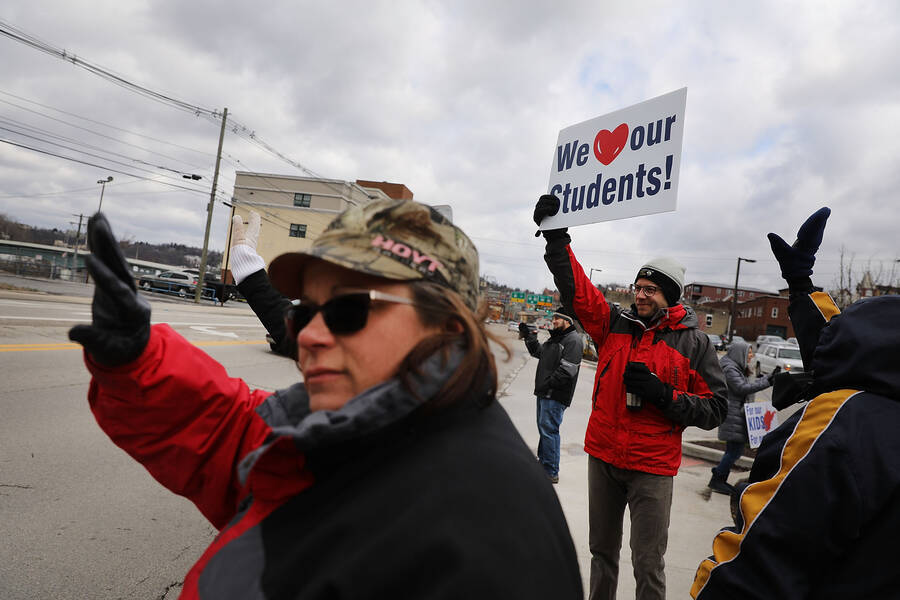 "Don't start those bus­es tomor­row," said Joe White, exec­u­tive direc­tor of the West Vir­ginia School Ser­vice Per­son­nel Association.
He was announc­ing the sec­ond statewide edu­ca­tion strike in West Vir­ginia in a year, along­side the lead­ers of the state's two teacher unions.
The next morn­ing, Feb­ru­ary 19, bus­es through­out the state sat idle in garages.
And by the mid­dle of the day, strik­ers declared vic­to­ry with the defeat of an anti-union, pro-pri­va­ti­za­tion edu­ca­tion bill in the state House.
West Vir­ginia teach­ers embold­ened edu­ca­tors across the coun­try last year when they struck to defend their health insur­ance and win rais­es. But when the leg­is­la­ture returned this Jan­u­ary, hos­tile leg­is­la­tors brought for­ward an omnibus edu­ca­tion bill.
It would have opened the state's first char­ter schools, attacked teacher senior­i­ty, and cre­at­ed edu­ca­tion sav­ings accounts (ESAs) and school vouch­ers to divert pub­lic funds to pri­vate schools.
Although the bill also includ­ed pay rais­es, funds for ris­ing health insur­ance costs, and more mon­ey for pub­lic edu­ca­tion, edu­ca­tors weren't fooled. They could see it was designed to suck funds from pub­lic schools and open the door to privatizers.
A learn­ing process
After last year's strike, mem­bers of both teacher unions formed the WV Unit­ed Cau­cus to strength­en the con­nec­tions they had built dur­ing the walkout.
Mean­while union lead­ers were call­ing on vot­ers to ​"remem­ber in Novem­ber," but they failed to oust the Repub­li­can major­i­ty in either house of the legislature.
When word came down about the leg­is­la­tion, the cau­cus began a cam­paign to edu­cate teach­ers and the com­mu­ni­ty about how char­ters and ESAs move pub­lic mon­ey into pri­vate hands and under­mine pub­lic education.
Since West Vir­ginia doesn't have char­ter schools, cau­cus mem­bers asked edu­ca­tors else­where about the effects of char­ters and ESAs. ​"Just like peo­ple learned from West Vir­ginia, we learned from oth­er states," said Ter­ri Eng­noth, an Eng­lish teacher in Mer­cer County.
The cau­cus designed pam­phlets, held meet­ings in schools, leaflet­ed the com­mu­ni­ty, and held a webi­nar about the bill's cor­po­rate backer, the Amer­i­can Leg­isla­tive Exchange Council.
Mean­while the state Sen­ate, led by Sen­ate Pres­i­dent Mitch Carmichael, was press­ing the 130-page leg­is­la­tion for a speedy approval.
Statewide elect­ed union lead­ers encour­aged mem­bers to con­tact leg­is­la­tors. Mem­bers and com­mu­ni­ty sup­port­ers flocked to a hear­ing, where the voic­es against the bill far out­num­bered those speak­ing for it — 4 to 1 by some estimates.
Leg­is­la­tors angered edu­ca­tors by allow­ing speak­ers against the bill only 70 to 85 sec­onds to speak, while set­ting no time lim­its on speak­ers for the bill.
State union lead­ers worked with House mem­bers to mod­i­fy the bill, and late last week were urg­ing mem­bers to sup­port a com­pro­mise. But the rank and file had a dif­fer­ent mes­sage: ​"Kill the bill."
Pick­ets stopped busses
Just like last year, coun­ty-lev­el unions start­ed tak­ing their own strike votes, with Min­go Coun­ty again the first to sup­port a strike. Statewide lead­ers then ini­ti­at­ed their own votes, which won over­whelm­ing support.
As the bill went from the Sen­ate to the House and back to the Sen­ate, union mem­bers talked to each oth­er about how and when to mobilize.
On the night of Sun­day, Feb­ru­ary 18, the cau­cus invit­ed West Vir­ginia edu­ca­tors to join a phone call with teacher activists from oth­er states, who report­ed on their own expe­ri­ences with pri­va­ti­za­tion, suc­cess­ful fights against char­ters, and the inspi­ra­tion they drew from last year's strike in West Virginia.
As these mem­bers were strate­giz­ing about what to do if the bill passed, things fell apart in the state­house. The Sen­ate was forc­ing votes on amend­ments that leg­is­la­tors had no time to read and refus­ing any com­pro­mis­es. Fed up and fear­ing a quick deal, at 6 p.m. on Mon­day, the state's union lead­ers announced a strike for the next day.
That evening, 54 of the state's 55 coun­ty super­in­ten­dents announced school clo­sures. With­out bus­es, rur­al dis­tricts can­not keep schools open, so the role of the School Ser­vice Per­son­nel Asso­ci­a­tion was crucial.
But in Put­nam Coun­ty — which also hap­pens to be in the dis­trict of the teach­ers' top foe, Sen­ate Pres­i­dent Carmichael — the super­in­ten­dent refused to close the schools and mes­saged work­ers to show up the next day.
Face­book feeds start­ed pop­ping with calls to sup­port strik­ing teach­ers and school employ­ees there. Before dawn on Tues­day, edu­ca­tors from sur­round­ing coun­ties joined Put­nam pick­et lines. No bus­es left their garages.
'

By the way, strikes work'
Edu­ca­tors didn't know how the com­mu­ni­ty would respond when they walked a sec­ond time. But as it turned out, ​"that fear that we would not have com­mu­ni­ty sup­port — it was wrong," Eng­noth said. ​"We have piz­za, chick­en nuggets, and home­made cin­na­mon rolls. I think peo­ple are real­ly proud of us."
By mid­day Tues­day, with schools closed and hun­dreds of edu­ca­tors flood­ing the state­house, the House of Del­e­gates vot­ed to table the omnibus bill indef­i­nite­ly — effec­tive­ly killing it.
Cau­tious that leg­is­la­tors might use par­lia­men­tary pro­ce­dures to res­ur­rect the bill the next day, union lead­ers announced the strike would con­tin­ue for a sec­ond day to assure the bill was dead. Put­nam Coun­ty was once again the lone hold­out, but union mem­bers again set up ear­ly-morn­ing pick­et lines there. Once again, no bus­es rolled out.
There will be more fights ahead. But now ​"we have a whole state that under­stands the pri­va­ti­za­tion agen­da," said Charleston Eng­lish teacher Jay O'Neal. ​"And by the way, strikes work." His mes­sage for union lead­ers and mem­bers: ​"Stop try­ing to lob­by — we were doing that and it didn't get us anywhere."
Eng­noth agreed: ​"Every vote went against us until we walked, and then we killed the bill."
Bar­bara Made­loni
is the Edu­ca­tion Coor­di­na­tor at Labor Notes. She recent­ly served as pres­i­dent of the Mass­a­chu­setts Teach­ers Asso­ci­a­tion and is a long­time writer and educator.