Here's How Tech Workers and Flight Attendants Are Resisting Immigrant Family Separation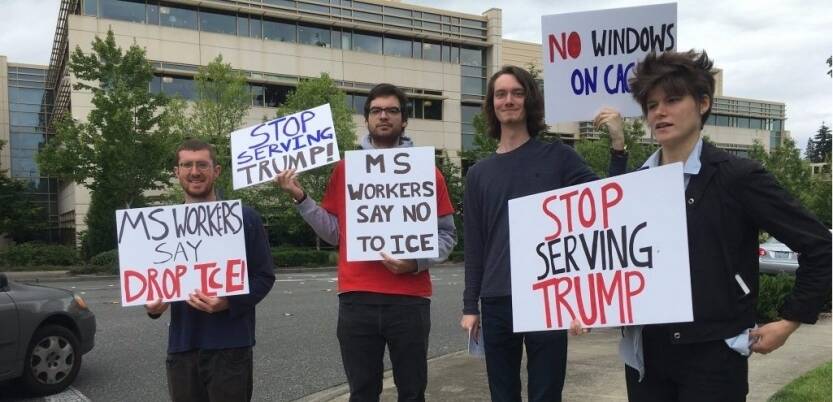 The bru­tal and wild­ly unpop­u­lar Trump admin­is­tra­tion pol­i­cy that sep­a­rat­ed thou­sands of chil­dren from their immi­grant par­ents trig­gered wide­spread protests.
It also pro­voked resis­tance from work­ers whose jobs are cru­cial to car­ry­ing it out.
Immi­gra­tion and Cus­toms Enforce­ment (ICE) and U.S. Cus­toms and Bor­der Pro­tec­tion (CBP) don't oper­ate in a vac­u­um. They depend on a host of prod­ucts and ser­vices — includ­ing tech­nol­o­gy pro­duced by soft­ware engi­neers and trav­el assist­ed by flight attendants.
By choos­ing to take a stand, these work­ers — some union, some nonunion — added their efforts to a nation­al push that got the admin­is­tra­tion to sus­pend its pol­i­cy, though thou­sands of chil­dren who were already sep­a­rat­ed have yet to be reunit­ed with their families.
Tech work­ers
Ama­zon, Microsoft, and Sales­force all have lucra­tive con­tracts with immi­gra­tion enforce­ment agen­cies, like ICE and CBP. What for? The details aren't pub­lic, but the pos­si­bil­i­ties are alarming.
Ama­zon and Microsoft are devel­op­ing facial recog­ni­tion tech­nol­o­gy that could iden­ti­fy indi­vid­u­als in crowds, at protests, on the street, and even through drone cam­eras. Ama­zon is already mar­ket­ing these tools to police depart­ments and fed­er­al agen­cies. Work­ers are con­cerned that they could be help­ing ICE to use them.
Tech work­ers at all three com­pa­nies are peti­tion­ing their employ­ers to devel­op eth­i­cal guide­lines for how their ser­vices are used by gov­ern­ment agen­cies. So far they haven't met with the same suc­cess as Google employ­ees, who in June pres­sured their employ­er into can­cel­ing a con­tract with the Pentagon's drone program.
Google caved after sev­er­al dozen employ­ees pub­licly resigned and thou­sands more signed onto a let­ter protest­ing the use of Google's arti­fi­cial intel­li­gence tech­nol­o­gy to ana­lyze footage tak­en by mil­i­tary drones.
What makes these actions nov­el is that the tech indus­try is almost uni­ver­sal­ly nonunion, leav­ing work­ers fear­ful of retaliation.
"For good, not for harm"
Three-hun­dred employ­ees signed a pub­lic let­ter in June call­ing on Microsoft to ter­mi­nate its con­tracts with ICE, after the company's $19.4 mil­lion deal with the agency caught media attention.
An offi­cial Microsoft mar­ket­ing blog had gone viral, boast­ing that the company's con­tract to pro­vide arti­fi­cial intel­li­gence tech­nol­o­gy to ICE could ​"accel­er­ate facial recog­ni­tion technology."
Employ­ees were livid. ​"As the peo­ple who build the tech­nolo­gies that Microsoft prof­its from, we refuse to be com­plic­it," the let­ter read. ​"We are part of a grow­ing move­ment, com­prised of many across the indus­try who rec­og­nize the grave respon­si­bil­i­ty that those cre­at­ing pow­er­ful tech­nol­o­gy have to ensure what they build is used for good, and not for harm."
Employ­ees also called on Microsoft to com­mit not to work with clients accused of vio­lat­ing inter­na­tion­al human rights law. The Unit­ed Nations human rights office had ruled that the fam­i­ly sep­a­ra­tion prac­tices vio­lat­ed inter­na­tion­al law.
Feel­ing the heat, Microsoft backpedaled, deny­ing that any of its ser­vices have been used for bio­met­ric sur­veil­lance by ICE.
Facial recog­ni­tion
Mean­while, after the ACLU pub­lished a report in May that Ama­zon ​"has devel­oped a pow­er­ful and dan­ger­ous new facial recog­ni­tion sys­tem and is active­ly help­ing gov­ern­ments deploy it," sev­er­al hun­dred tech­nol­o­gy work­ers at Ama­zon signed a let­ter demand­ing that the com­pa­ny ter­mi­nate its con­tracts with law enforce­ment agencies.
The ACLU had exam­ined mar­ket­ing mate­ri­als that Ama­zon sent to police agen­cies around the coun­try. Nicole Ozer, tech­nol­o­gy and civ­il lib­er­ties direc­tor for the ACLU of Cal­i­for­nia, described them to the press as ​"a user man­u­al for author­i­tar­i­an surveillance."
Ama­zon employ­ees also called on their employ­er to stop pro­vid­ing infra­struc­ture for Palan­tir Tech­nolo­gies, a $20 bil­lion CIA-con­nect­ed data-min­ing firm owned by bil­lion­aire Peter Thiel that was con­tract­ed to cre­ate the immi­grant track­ing ser­vice for ICE.
And 650 employ­ees of the data­base giant Sales­force signed anoth­er June let­ter, this one call­ing on CEO Marc Benioff to exam­ine the use of Sales­force prod­ucts by U.S. Cus­toms and Bor­der Pro­tec­tion and to ensure that its tech­nol­o­gy was not being used to facil­i­tate Trump's ​"destruc­tive" policies.
Qui­et meetings
This tech revolt was months in the mak­ing. After the ACLU report came out, ​"there was a group of work­ers who knew each oth­er through con­nec­tions out­side of work," said one Ama­zon work­er who spoke on the con­di­tion of anonymi­ty, ​"who were meet­ing to talk about the use of facial recog­ni­tion tech­nol­o­gy by police and what could be done about it."
The fam­i­ly sep­a­ra­tions gave those meet­ings a new sense of urgency.
"A group start­ed work­ing on a let­ter col­lab­o­ra­tive­ly," the work­er said. ​"Then the news broke about Microsoft employ­ees doing the same thing, because Microsoft was sell­ing ser­vices direct­ly to ICE. The deci­sion was made to cap­ture the moment and release the letter."
The let­ter said, in part, ​"We learn from his­to­ry, and we under­stand how IBM's sys­tems were employed in the 1940s to help Hitler. IBM did not take respon­si­bil­i­ty then, and by the time their role was under­stood, it was too late. We will not let that hap­pen again."
Ini­tial­ly the let­ter was pub­lished on the company's inter­nal serv­er with no sign­ers, but then work­ers began sign­ing on. In a week the num­ber of sig­na­tures reached 400, includ­ing some senior soft­ware engineers.
Flight atten­dants
In his 29 years as a flight atten­dant and active union mem­ber, Hunt Palmquist always assumed that if he saw some­thing objec­tion­able or sus­pi­cious, he would act.
But that idea was put to the test when an ICE agent, chap­er­on­ing five chil­dren, board­ed his flight from San Anto­nio to McAllen, Texas.
"I saw a kid, about five years old," Palmquist said. ​"He just had tears run­ning down his cheeks and his chin was quiv­er­ing, but he was almost stone-faced, like he was try­ing to hold back the rest of his tears."
They were already in the air by the time Palmquist spoke with the ICE agent and con­firmed that he was tak­ing the chil­dren to one of the large facil­i­ties where chil­dren were being ware­housed in cages.
"I couldn't under­stand how some­thing like this could get by some­one, until it got by me," said Palmquist. ​"The thing that both­ers me every day is that I didn't act sooner."
Ground­ing ICE
After a few days' reflec­tion, Palmquist wrote an edi­to­r­i­al for the Hous­ton Chronicle.
"As a result of what I wit­nessed," he wrote, ​"I have made a deci­sion that if I'm ever assigned to a flight with chil­dren who've been sep­a­rat­ed from their fam­i­lies, I will imme­di­ate­ly remove myself from the trip due to the nature of this uncon­scionable act by my gov­ern­ment and my employ­er's complicity.
"I have told my sto­ry to many of my flight atten­dant col­leagues and they have pledged to do the same."
Palmquist's edi­to­r­i­al was picked up in inter­na­tion­al press. Flight atten­dants shared it on social media, where hun­dreds pledged that they too would refuse a flight assign­ment if fed­er­al agents trans­port­ing chil­dren boarded.
That would ground the plane. ​"As we used to say dur­ing the strike," said Palmquist, who once coor­di­nat­ed a strike for his union, ​"if the flight atten­dants are not work­ing, the met­al doesn't move."
He believes it was these pledges from ​"hun­dreds of my co-work­ers" that forced the air­lines to act. With­in two days of the Hous­ton Chron­i­cle pub­li­ca­tion, mul­ti­ple air­lines — includ­ing his own employ­er, which he asked us not to name — released state­ments telling the fed­er­al gov­ern­ment not to use their flights to trans­port detained immi­grants or their children.
This arti­cle first appeared on Labor Notes.
Chris Brooks
is a staff writer and labor edu­ca­tor at
Labor Notes,
where he cov­ers the Unit­ed Auto Work­ers. He is a mem­ber of the Nation­al Writ­ers Union (UAW Local
1981
).