Tech Workers of the World, Unite!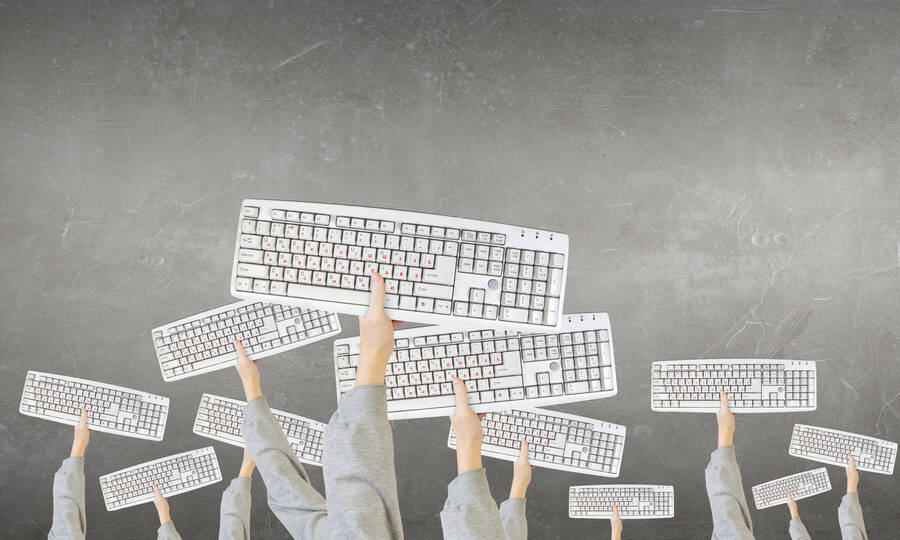 In just a hand­ful of years, the tide of blue-col­lar orga­niz­ing has risen in Sil­i­con Val­ley. Secu­ri­ty offi­cers and shut­tle dri­vers across tech firms, work­ers at Tesla's Fre­mont man­u­fac­tur­ing plant and cafe­te­ria work­ers at Face­book and Yahoo, have unit­ed in pur­suit of more equi­table work­ing conditions.
Such momen­tum marks a resur­gence of work­ing-class sol­i­dar­i­ty — a response to the unten­able blights of exces­sive hours, scant-to-nonex­is­tent ben­e­fits and pay rates inad­e­quate for even bare neces­si­ties. Yet the trend con­sti­tutes a mere frac­tion of orga­niz­ing efforts nec­es­sary for the tech indus­try. In recent years, Sil­i­con Val­ley has become home to a move­ment call­ing for all rank-and-file mem­bers of the tech labor force, includ­ing hand­some­ly com­pen­sat­ed engi­neers and oth­er white-col­lar employ­ees, to view them­selves as what they are — work­ers — and orga­nize for the ben­e­fit of their communities.
There are numer­ous bar­ri­ers to unit­ing blue-col­lar and white-col­lar work­ers in Sil­i­con Val­ley, not least of which is tech exec­u­tives' tra­di­tion of rig­or­ous anti-union­ism. This ethos dates back decades, root­ed in the coun­ter­cul­ture-inflect­ed view that tech­nol­o­gy would be a demo­c­ra­t­ic, pio­neer­ing tool of indi­vid­ual lib­er­a­tion from ​"big gov­ern­ment." Termed the ​"Cal­i­forn­ian Ide­ol­o­gy" by media the­o­rists Richard Bar­brook and Andy Cameron in 1995, this phi­los­o­phy adopt­ed, as Moira Weigel not­ed last year in The Guardian, tenets of ​"per­son­al lib­er­ty" and ​"mar­ket dereg­u­la­tion" — that is, the pro­lif­er­a­tion of free enter­prise, unchal­lenged by work­ers or gov­ern­ments. These tropes have seeped into the envi­ron­ments of high-tech com­pa­nies, encour­ag­ing indi­vid­u­al­ism and ​"entre­pre­neuri­al­ism" among white-col­lar employees.
The ide­ol­o­gy appears in osten­si­bly rosy work­ing envi­rons: pris­tine build­ings, com­par­a­tive­ly high salaries, on-site ameni­ties, casu­al dress codes, inter­nal moti­va­tion posters and reminders to do the right thing. Such set­tings are key to keep­ing employ­ees con­tent, as busi­ness rags observe. The fine print, of course, is that work­ers will have lit­tle desire to con­front com­pa­nies will­ing to lav­ish them with lux­u­ries and nur­ture their enter­pris­ing spir­its. Unlike their low-wage coun­ter­parts, many high­er-paid office work­ers often aren't liv­ing under dire eco­nom­ic cir­cum­stances — quite the con­trary, in some cas­es. This gap, in part, explains why the prospect of white-col­lar orga­niz­ing among tech work­ers is a rel­a­tive­ly new one.
Yet some white-col­lar tech work­ers, par­tic­u­lar­ly pro­gram­mers and engi­neers, are rec­og­niz­ing the need for change. Con­ceived as recent­ly as 2016, activist groups such as Tech Work­ers Coali­tion (TWC), Tech Sol­i­dar­i­ty, and Sil­i­con Val­ley Ris­ing (SVR) pro­mote tech-work­er rights and labor aware­ness across class lines. TWC orga­niz­er Ares Geo­vanos empha­sizes that many white-col­lar employ­ees don't nec­es­sar­i­ly view them­selves the way their com­pa­nies goad them to — an impor­tant dis­tinc­tion for fos­ter­ing work­er con­scious­ness. ​"Does a per­son work­ing in the mar­ket­ing depart­ment at Google see them­selves as an entre­pre­neur? Prob­a­bly not," he told In These Times.
More­over, media por­tray­als of Sil­i­con Val­ley pro­fes­sion­als are often one-dimen­sion­al. The notion that white-col­lar work­ers might object to their employ­ers' pro­pa­gan­da and seek a fair­er liv­ing doesn't exact­ly per­vade main­stream news out­lets, which large­ly con­cen­trate on the most advan­taged engi­neers, Geo­vanos not­ed. ​"The belief among tech work­ers that they are priv­i­leged can pre­vent them from look­ing at their griev­ances, but this is real­ly only true for white male engi­neers with a degree from a high-pro­file insti­tu­tion," he said.
Addi­tion­al tar­gets of such orga­niz­ing are volatile work­ing con­di­tions and insuf­fi­cient pay rel­a­tive to cost of liv­ing. Ser­vice work­ers aren't the only mem­bers of the tech labor force who work as inde­pen­dent con­trac­tors; many IT pro­fes­sion­als work at-will, even at flush Sil­i­con Val­ley firms. White-col­lar tech employ­ees, too, face the threat of automa­tion with lit­tle to no recourse. Con­sid­er the mass 2016 fir­ings of Facebook's ​"Trend­ing" news edi­to­r­i­al staff.
What's more, Bay Area soft­ware engi­neers, among the tech sector's most high­ly paid employ­ees, are often rent-bur­dened. They must ded­i­cate more than 30 per­cent of their salaries to live close to where they work — thanks large­ly to the gen­tri­fi­ca­tion cat­alyzed by their own employers.
High-tech orga­niz­ing wouldn't sim­ply ben­e­fit engi­neers and oth­er high-wage work­ers: It could be a ser­vice to users as well. A prin­ci­ple of the Cal­i­forn­ian Ide­ol­o­gy is that tech­no­log­i­cal plat­forms are apo­lit­i­cal blank slates. How­ev­er, TWC urges pro­gram­mers and oth­er pro­fes­sion­als to con­sid­er and react to the notion that their com­pa­nies' prod­ucts are deeply polit­i­cal. To grasp this point, one must only look to Facebook's race-tar­get­ed ad plat­forms or Twitter's cen­sor­ship of Black activists, among myr­i­ad oth­er exam­ples. ​"You might be working…at Palan­tir, build­ing a Mus­lim reg­istry," Geo­vanos said, ref­er­enc­ing the CIA-backed sur­veil­lance com­pa­ny. ​"There might be Mus­lim peo­ple who are work­ing on these things who don't nec­es­sar­i­ly have the pow­er to speak up at risk of los­ing their jobs."
For this rea­son, TWC encour­ages pro­fes­sion­als to con­sult with their fel­low work­ers about griev­ances, rather than the cor­po­rate cus­tom of air­ing them to one's man­ag­er. ​"We want peo­ple to con­sid­er talk­ing to their co-work­ers first to see what type of agree­ment there is among the rank-and-file peo­ple. And once you estab­lish con­nec­tions and some affin­i­ty with your co-work­ers … you'll be in a much stronger posi­tion to get those demands met," Geo­vanos said. Mod­el­ing this form of col­lec­tive action, tech employ­ees — includ­ing some from TWC — have already refused to coop­er­ate and placed pres­sure on Palan­tir not to com­pile the afore­men­tioned registry.
In addi­tion, white-col­lar pro­fes­sion­als who orga­nize can poten­tial­ly bet­ter the lives of those who trans­port, feed and clean up after them. White- and blue-col­lar work­ers in Sil­i­con Val­ley, as in near­ly every indus­try, are inex­tri­ca­bly linked: Every high-tech office job in Sil­i­con Val­ley gen­er­ates many more ser­vice jobs. As high­ly spe­cial­ized builders of plat­forms used by mil­lions — if not bil­lions — of peo­ple every day har­bor an incred­i­ble amount of pow­er. ​"I think many high-tech execs are much more con­cerned, much more threat­ened, by the prospect of white-col­lar orga­niz­ing than the tra­di­tion­al ser­vice-sec­tor blue-col­lar work that we're doing," Ben Field, co-founder of Sil­i­con Val­ley Ris­ing, told In These Times.
Col­lec­tive­ly with­draw­ing labor for polit­i­cal rea­sons, while rare, isn't unheard of in Sil­i­con Val­ley. Thanks to the work of grass­roots groups, many engi­neers walked off the job in May in protest of the Trump admin­is­tra­tion. Yet low-wage con­trac­tors in Sil­i­con Val­ley are often far more vul­ner­a­ble when tak­ing sim­i­lar col­lec­tive action. ​"We are stronger when we fight togeth­er," Geo­vanos said, ​"and an orga­nized white-col­lar work­force would be able to mobi­lize for oth­er struggles."
Com­mu­ni­ca­tion between white- and blue-col­lar work­ers, then, is imper­a­tive to build­ing sol­i­dar­i­ty. Yet this is no easy task. Though they may work on the same cam­pus, occu­pa­tion­al seg­re­ga­tion sep­a­rates class­es of work­ers. Activist orga­ni­za­tions are seek­ing to bridge that gap, empha­siz­ing that all work­ers share a strug­gle, regard­less of which part of the build­ing they occu­py. ​"Peo­ple just aren't real­ly used to break­ing down those bar­ri­ers. That's def­i­nite­ly some­thing where we push and encour­age," said Geovanos.
"I think there's room for improve­ment there, but there are cer­tain­ly many white-col­lar work­ers who have engaged with efforts to orga­nize cafe­te­ria work­ers and Google bus dri­vers and secu­ri­ty offi­cers," Field added. ​"Also, although they are already orga­nized, the jan­i­tors have had a num­ber of big cam­paigns, one of which was last year. White-col­lar work­ers have — some of them — been engaged in all of those efforts."
What­ev­er form this orga­niz­ing takes, it marks the start of the process of lib­er­at­ing work­ers from labor that con­strains them eco­nom­i­cal­ly, social­ly and moral­ly. Tech work­ers, despite the pro­pa­gan­dis­tic nar­ra­tives of their employ­ers and the media, can't ignore the pol­i­tics of the present sim­ply because they're told they're build­ing the future. Now that the momen­tum of col­lec­tive action is build­ing, the time is nigh for tech work­ers across the spec­trum to defy the indi­vid­u­al­ism that has long con­fined them and unite.
Julianne Tveten
writes about tech­nol­o­gy, labor, and cul­ture, among oth­er top­ics. Her work has appeared in The Nation, Cap­i­tal
&
Main, KPFK Paci­fi­ca Radio, and elsewhere.