Telling Cops to Get Criminal Justice Degrees Won't End Police Violence
The field of criminal justice is itself part of the problem.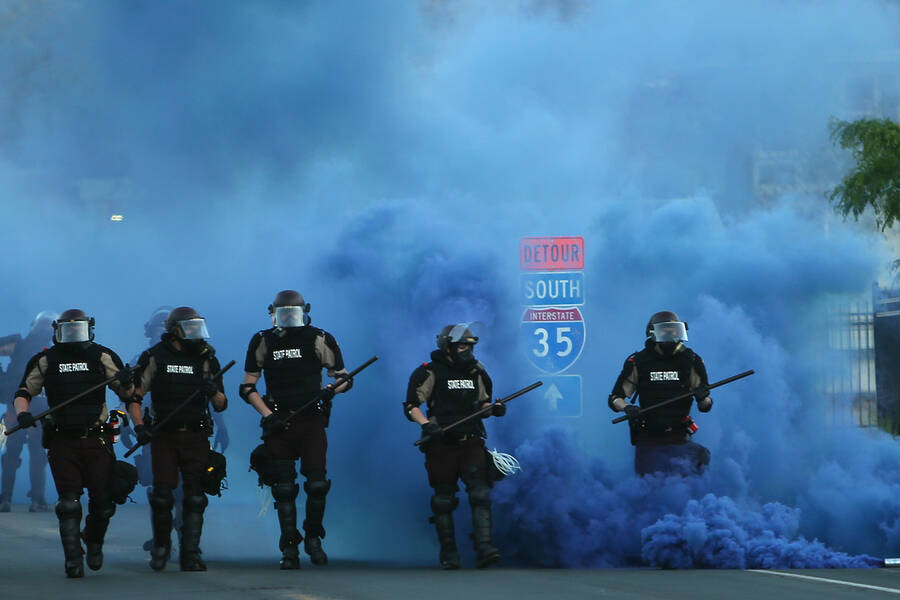 Across the coun­try, stu­dents and edu­ca­tors from ele­men­tary school through col­lege are demand­ing that their cam­pus­es and schools reimag­ine forms of com­mu­ni­ty safe­ty by invest­ing in its Black stu­dents and divest­ing from polic­ing and pun­ish­ment. In this moment of upris­ings and calls for defund­ing the police and abol­ish­ing polic­ing, we have wit­nessed the Uni­ver­si­ty of Min­neso­ta com­mit to end­ing con­tracts with the Min­neapo­lis Police Depart­ment, the Oak­land Uni­fied School Dis­trict vote to dis­band its school police force, and the Den­ver school board vote unan­i­mous­ly to end its con­tract with the Den­ver Police Depart­ment. Stu­dents of all grade lev­els are push­ing their schools to cut ties from munic­i­pal and cam­pus police departments.
Capitalism needs policing in order to protect the interests of wealthy white people and property, and to produce workers that can be exploited and free laborers.
In response, I've heard many peo­ple pro­pose that a way to end police vio­lence is to give police offi­cers more train­ing by requir­ing that they get crim­i­nal jus­tice degrees. Schol­ars in the crim­i­nal jus­tice field have pro­claimed this idea, as well as groups of peo­ple on social media. As some­one with a bachelor's degree in crim­i­nal jus­tice, a master's degree in crim­i­nol­o­gy, and soon a PhD in crim­i­nol­o­gy, I seri­ous­ly dis­agree with this propo­si­tion. The foun­da­tion of the crim­i­nal jus­tice field exam­ines the con­nec­tions between four pil­lars: ​"crim­i­nal activ­i­ty," policing/​law enforce­ment, courts, and cor­rec­tions or jails/​prisons. Foun­da­tion­al­ly, this area of study does not exam­ine how these four pil­lars are root­ed in a his­to­ry of indige­nous geno­cide, set­tler-colo­nial­ism and chat­tel-slav­ery, and their expan­sion over time. In Are Pris­ons Obso­lete?, Dr. Angela Davis notes that after slav­ery was abol­ished, states passed leg­is­la­tion revis­ing the slave codes [Black codes] in order to crim­i­nal­ize free Black peo­ple. These four pil­lars helped estab­lish today's racial hier­ar­chy that sus­tains white suprema­cy as the sta­tus quo through racist prac­tices of col­o­niz­ing and dis­plac­ing indige­nous peo­ples from their lands, crim­i­nal­iza­tion, pover­ty, red-lin­ing and anti-Black vio­lence. And it is with this foun­da­tion­al his­to­ry, and after years doing schol­ar­ship in this field, that I've con­clud­ed that the field itself is part of the problem.
Requir­ing that more police offi­cers have degrees in crim­i­nal jus­tice will not ​"solve" vio­lence. Many police offi­cers already have two-year, four-year and even grad­u­ate degrees. Dur­ing the polit­i­cal upris­ings of the late 1960s, the Kern­er Com­mis­sion was formed and a rec­om­men­da­tion was made in 1970 that police offi­cers have at least two-year col­lege degrees. This spe­cif­ic turn towards pro­fes­sion­al­iz­ing polic­ing has led to over 50% of police offi­cers now hav­ing at least a two-year degree, accord­ing to the Nation­al Police Foundation.
More impor­tant­ly, a degree in crim­i­nal jus­tice does not change the roles of police offi­cers them­selves, the func­tion of polic­ing, or polic­ing as an insti­tu­tion. The pur­pose of polic­ing is to pro­tect prop­er­ty and main­tain order and social con­trol pri­mar­i­ly by enact­ing vio­lence on all peo­ple, and dis­pro­por­tion­ate­ly on Black and non-Black peo­ple of col­or, peo­ple with dis­abil­i­ties, queer and trans peo­ple, women, migrants and immi­grants, and young people.
Cap­i­tal­ism needs polic­ing in order to pro­tect the inter­ests of wealthy white peo­ple and prop­er­ty, and to pro­duce work­ers that can be exploit­ed and free labor­ers. Incen­tiviz­ing crim­i­nal jus­tice degrees to stu­dents pro­tects cap­i­tal­ism and estab­lish­es a rela­tion­ship between police depart­ments and cam­pus­es. Law enforce­ment recruiters act as liaisons (sim­i­lar to how mil­i­tary recruiters func­tion) with col­leges and uni­ver­si­ties to estab­lish offi­cial rela­tion­ships to recruit the most vul­ner­a­ble by mak­ing false promis­es, guar­an­tee­ing them a ​"good job," ben­e­fits, a col­lege fund, and health care — essen­tial­ly, all of the resources that vul­ner­a­ble com­mu­ni­ties should have access to with­out hav­ing to join the mil­i­tary or police. And in turn, many police bud­gets offer tuition reim­burse­ment, and pay and posi­tion increas­es to police offi­cers who have col­lege degrees. Because of these promis­es, lack of liv­able wages, wide­spread job inse­cu­ri­ty, and pover­ty, many poor and work­ing-class, Black and Brown peo­ple enlist to become police offi­cers. The union between incen­tiviz­ing crim­i­nal jus­tice degrees and join­ing the police force is a part of the por­trait of the Black and Lat­inx offi­cers who are high­ly ​"pro­fes­sion­al" that we con­tin­ue to see more of. Yet, peo­ple con­tin­ue to be harmed and killed by police because they work in ser­vice of an insti­tu­tion meant to safe­guard white supremacy.
Some crim­i­nal jus­tice pro­fes­sion­als hold dual roles: teach­ing col­lege stu­dents and col­lud­ing with local police on research projects and train­ing oppor­tu­ni­ties. Stu­dents are taught to indi­vid­u­al­ize insti­tu­tion­al and sys­temic racism as ​"uncon­scious bias" or ​"implic­it bias," a frame­work that teach­es them to view the killings of Black peo­ple as unin­ten­tion­al mis­takes and not struc­tur­al con­se­quences of policing.
Some­times a class on ​"ethics" or moral behav­ior is required for an under­grad­u­ate degree in crim­i­nal jus­tice. But what does it tru­ly mean to require an ethics course when the law allows police offi­cers the dis­cre­tion to act with impuni­ty? If any­thing, police are the ones who get to deter­mine what is ​"moral" and ​"eth­i­cal," and what ​"ethics" looks like and means for them. They, in turn, get to influ­ence and author the very lit­er­a­ture used in these ethics courses.
Lib­er­al police reforms, or moves to pro­fes­sion­al­ize and expand police pow­er, are also root­ed in crim­i­nal jus­tice stud­ies. These approach­es look like ​"women and queer peo­ple should get to shoot peo­ple too so let them be cops too!" These class­es pro­mote police recruit­ment under the pre­tense of ​"diver­si­ty" and ​"inclu­siv­i­ty" and are premised in the mis­ap­pro­pri­a­tion of inter­sec­tion­al­i­ty. Lib­er­al polic­ing, or police with a nicer face, is a pub­lic rela­tions cam­paign of police depart­ments across the coun­try to build their legit­i­ma­cy. An exam­ple of this is police offi­cers kneel­ing along­side pro­test­ers pre­tend­ing to empathize with them, when in real­i­ty it is a de-esca­la­tion method used to calm pro­tes­tors down to bet­ter enact vio­lence on them.
Some may argue that we can reform these insti­tu­tions, includ­ing crim­i­nal jus­tice pro­grams, by decou­pling them from police depart­ments, diver­si­fy­ing the lit­er­a­ture, or includ­ing cours­es on harm reduc­tion and anti-racist prax­is. And, part of that teach­ing (I hope) would divert stu­dents away from careers in policing.
We need to do all of that work, too. But, that work is pro­vi­sion­al and part of a project of reform. Again, it is the foun­da­tion of crim­i­nal jus­tice stud­ies that needs redress­ing. To replace it (if we should) we need an inter­dis­ci­pli­nary field of some­thing like Lib­er­a­tion Stud­ies. The move­ment orga­ni­za­tion Crit­i­cal Resis­tance defines abo­li­tion as ​"elim­i­nat­ing impris­on­ment, polic­ing, and sur­veil­lance and cre­at­ing last­ing alter­nates to pun­ish­ment and impris­on­ment." Abo­li­tion is about build­ing the things that we want, the things that to get to the roots of racial cap­i­tal­ism. Abo­li­tion allows us to see the foun­da­tion of crim­i­nal jus­tice stud­ies in full scope — and the foun­da­tion is rot­ted, racist and can­not be trans­formed. If we build up more crim­i­nal jus­tice depart­ments and degrees, we will con­tin­ue to rein­force these dis­ci­plines as legit­i­mate, and we will also pro­duce more cops, which equals more of the same: more vio­lence, more harm.
As some­one with degrees in this area, I also rec­og­nize that I sit with­in many con­tra­dic­tions. I chose this degree path. And yet, because of my expe­ri­ence I have a bet­ter propo­si­tion to make: How about instead of ask­ing for more crim­i­nal jus­tice pro­grams, we work to shrink and dis­man­tle polic­ing, the prison indus­tri­al com­plex, and racial capitalism?