Ten Governors' Races To Watch In 2014
A handy guide for progressives and working people.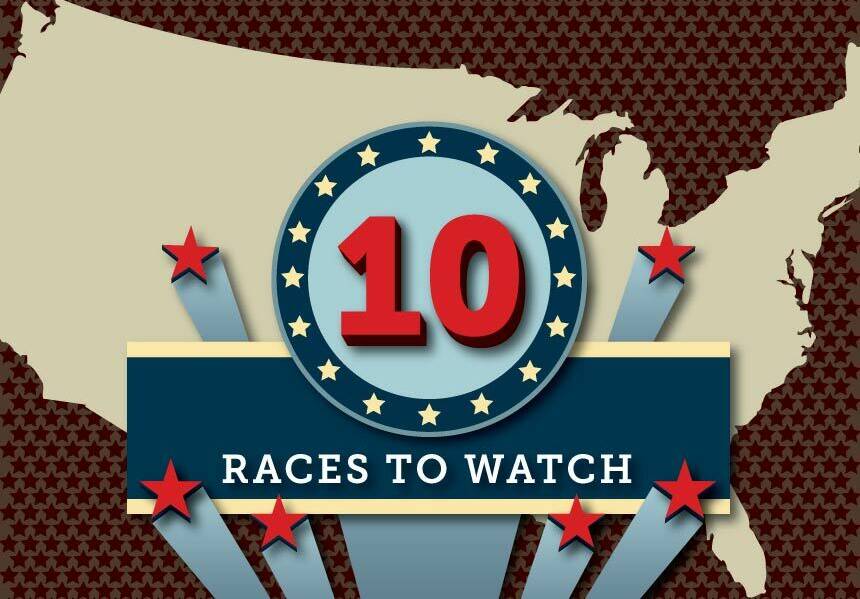 A wave of Tea Par­ty gov­er­nors took office in 2010, pro­pelled by ​"high unem­ploy­ment, a demor­al­ized Demo­c­ra­t­ic base, an activist Tea Par­ty, and, thanks to the Supreme Court's Cit­i­zens Unit­ed deci­sion ear­li­er that year, big bucks from oli­garchs like the Koch broth­ers," writes David Moberg in ​"Top­pling the Tea Par­ty," In These Times' June cov­er story.
Scott Walker epitomizes the new wave of Republican governors enacting pitiless austerity measures. He's gutted government, union rights and any remnants of social democracy in a state that was once moderately progressive.
This year, those gov­er­nors are up for re-elec­tion, but this time they have records to defends. Below, read about the play­ers and the odds in those races, as well as oth­er 2014 guber­na­to­r­i­al con­tests that have high stakes for work­ing people.
1. FLORI­DA
Rick Scott (R, Incum­bent): The scan­dal-plagued Scott tried to pri­va­tize Med­ic­aid by hand­ing over the health pro­gram to HMOs and pri­vate health­care com­pa­nies, includ­ing one in which his wife had a $62 mil­lion stake. He's also enact­ed laws that will make it more dif­fi­cult for minori­ties to vote.
Char­lie Crist (D): The for­mer Repub­li­can gov­er­nor of Flori­da crit­i­cized the par­ty for its right­ward shift and for­mal­ly switched to the Demo­c­ra­t­ic Par­ty in 2012. As a gov­er­nor, he vetoed teacher tenure and sup­port­ed school vouch­ers, but he's now attack­ing Scott for fail­ing to push the Repub­li­can leg­is­la­ture to accept the Med­ic­aid expansion.
The Polling: Scott 38%, Crist 46%
The Stakes: Already expen­sive and vit­ri­olic, the race offers a good chance for a Demo­c­ra­t­ic gov­er­nor in the South.
2. ILLI­NOIS
Pat Quinn (D, Incum­bent): A self-styled pop­ulist who took office after Rod Blagojevich's fall, Quinn went on to alien­ate labor by cut­ting pub­lic employ­ee pen­sions and to clash with pow­er­ful Illi­nois Democ­rats, includ­ing Chica­go May­or Rahm Emanuel. But he has also made some unpop­u­lar-but-nec­es­sary moves, such as rais­ing income tax­es to address the state's fis­cal crisis.
Bruce Rauner ®: A mem­ber of the 0.01%, investor Rauner wants to ​"run Illi­nois like a busi­ness" by cut­ting spend­ing and pri­va­tiz­ing gov­ern­ment ser­vices such as education.
The Polling: No mean­ing­ful polls yet, but expect­ed to be close.
The Stakes: What­ev­er faults Quinn has, Rauner's are like­ly to be far worse.
3. KANSAS
Sam Brown­back (R, Incum­bent): A for­mer sen­a­tor and mem­ber of Con­gress, in his four years as gov­er­nor Brown­back has elim­i­nat­ed the state arts agency, cut tax­es on the rich and raised them on the poor, passed one of the country's most restric­tive abor­tion laws, and made recip­i­ents of wel­fare and unem­ploy­ment ben­e­fits sub­mit to drug testing.
Paul Davis (D): Davis, the minor­i­ty leader of the Kansas House of Rep­re­sen­ta­tives, pro­motes his abil­i­ty to forge bipar­ti­san agree­ments. He has called the Brown­back tax cuts ​"reck­less," sug­gest­ing he might reverse them if elected.
The Polling: Brown­back 40%, Davis 42%
The Stakes: Brownback's low vot­er approval rat­ing cre­ates an open­ing for Davis.
4. MAINE
Paul LeP­age (R, Incum­bent): The hot-head­ed Tea Parti­er has got­ten bad press for his off-col­or remarks — such as report­ed­ly say­ing that Oba­ma ​"hates white peo­ple" — and his cor­po­rate cronyism.
Rep. Mike Michaud (D): A favorite of labor, Con­gress­man Michaud is a long­time paper­work­ers union mem­ber and a 20-year vet­er­an of the East Millinock­et mill. He is one of the few open­ly gay mem­bers of Congress.
Eliot Cut­ler (I): Cut­ler, a lawyer, nar­row­ly lost to LeP­age in 2010.
The Polling: LeP­age 35%, Michaud 39%, Cut­ler 16%
The Stakes: A chance to oust LeP­age, if Michaud and Cut­ler don't split the Demo­c­ra­t­ic vote.
5. MICHI­GAN
Rick Sny­der (R, Incum­bent): Polit­i­cal new­com­er Sny­der has pushed through a ​"right-to-work" law, a tax on pub­lic employ­ee pen­sions, restric­tions on gay rights and women's rights, and the short­est time lim­it on unem­ploy­ment ben­e­fits in the U.S.
Mark Schauer (D): Schauer is a for­mer U.S. rep­re­sen­ta­tive and state leg­is­la­tor with strong labor sup­port in his cam­paign against Sny­der. He was pep­per-sprayed by police while protest­ing the 2012 ​"right-to-work" law.
The Polling: Sny­der 42%, Schauer 39%
The Stakes: Snyder's con­tin­ued cut­backs vs. Schauer's plans to improve Michigan's hard-hit economy.
6. OHIO
John Kasich (R, Incum­bent): Dur­ing his 1983 to 2000 tenure as a U.S. rep­re­sen­ta­tive, Kasich was a bud­get-cut­ting hawk and helped prompt the 1995 to 1996 gov­ern­ment shut­down. He won the Ohio gov­er­nor­ship in 2010, where he con­tin­ued his efforts to slash pub­lic spending.
Ed FitzGer­ald (D): FitzGer­ald is a for­mer FBI agent and cur­rent­ly serves as exec­u­tive of Cuya­hoga Coun­ty. His plat­form is still sketchy, but he has put Kasich on the spot for fail­ing to stop the clo­sure of an alu­minum plant, which cost Ohio 700 jobs.
The Polling: Kasich 43%, FitzGer­ald 38%
The Stakes: Kasich tried to gut pub­lic employ­ee union rights and once promised to ​"break the back of orga­nized labor in the schools." If giv­en anoth­er term, he might succeed.
7. PENN­SYL­VA­NIA
Tom Cor­bett (R, Incum­bent): Corbett's 2012 bud­get pro­pos­al includ­ed edu­ca­tion cuts so steep that his own par­ty over­rode him. He has been deemed one of the most vul­ner­a­ble gov­er­nors in the coun­try, with lit­tle sup­port from Democ­rats or Republicans.
Tom Wolf (D): Wolf, a busi­ness­man who wants to pro­mote job growth, par­tic­u­lar­ly in man­u­fac­tur­ing, shot ahead in March polls after a big adver­tis­ing blitz.
U.S. Rep. Allyson Schwartz (D): Schwartz strong­ly sup­ports afford­able health­care, abor­tion rights and Israel. She resigned as hon­orary co-chair of the cen­trist think tank Third Way after its lead­ers wrote an edi­to­r­i­al lam­bast­ing pop­ulist Democrats.
The Polling: Cor­bett trails any poten­tial Demo­c­ra­t­ic nom­i­nee. Demo­c­ra­t­ic vot­ers poll 36% for Wolf, 9% for Schwartz, and 48% unde­cid­ed.
The Stakes: This should be an easy Demo­c­ra­t­ic pick-up.
8. SOUTH CAROLINA
Nik­ki R. Haley (R, Incum­bent): The wealthy busi­ness­woman has said that union­ized com­pa­nies aren't wel­come in South Car­oli­na. She's been crit­i­cized for a $127,000 tax­pay­er-fund­ed jun­ket and for allow­ing 4.5 mil­lion Social Secu­ri­ty num­bers to be stolen from the state's unen­crypt­ed database.
Vin­cent She­heen (D): As a state sen­a­tor, She­heen has led the effort to expand kinder­garten to 4‑year-olds and is com­mit­ted to clos­ing cor­po­rate income tax loopholes.
The Polling: Haley 48%, She­heen 39%
The Stakes: A long-shot oppor­tu­ni­ty to oust an anti-union governor.
9. TEXAS
Greg Abbott ®: If elect­ed, Abbott, cur­rent­ly the state attor­ney gen­er­al, says he would end Oba­macare, rein in the EPA and enact stronger vot­er-ID laws.
Wendy Davis (D): Davis is a state sen­a­tor who became famous in the sum­mer of 2013 for an 11-hour fil­i­buster to stop a bill restrict­ing abor­tion access. She nego­ti­at­ed an increase in the cost-of-liv­ing for retired teach­ers and sup­ports reduc­ing the num­ber of stan­dard­ized tests.
The Polling: Abbott 51%, Davis 37%
The Stakes: Many view Davis as a ris­ing star in pro­gres­sive pol­i­tics. While Texas is shift­ing left­ward, thanks in part to its grow­ing Lati­no pop­u­la­tion, it may not be chang­ing quick­ly enough to embrace Davis.
10. WIS­CON­SIN
Scott Walk­er (R, Incum­bent): Elect­ed in 2010, Scott Walk­er epit­o­mizes the new wave of Repub­li­can gov­er­nors enact­ing piti­less aus­ter­i­ty mea­sures. He's gut­ted gov­ern­ment, union rights and any rem­nants of social democ­ra­cy in a state that was once mod­er­ate­ly progressive.
Mary Burke (D): Despite her cor­po­rate roots as a Trek Bicy­cle exec, Burke has promised to raise wages, pro­tect labor rights and improve edu­ca­tion. But so far, she comes across more as a sen­si­tive soul than a tri­bune of the people.
The Polling: Walk­er 49%, Burke 44%
The Stakes: Stop­ping the sym­bol­ic leader of the Repub­li­can assault on the indus­tri­al Mid­west. End­ing Walker's pres­i­den­tial bid before it starts.
Want to know more about how labor and pro­gres­sives are mobi­liz­ing vot­ers in key 2014 gov­er­nors' races? Read David Moberg's ​"Top­pling the Tea Party."