As Tensions Flare Between Turkey and the Kurds, the U.S. Backs Both Sides
Negotiations, not more U.S. weapons, are needed to resolve the decades-long conflict.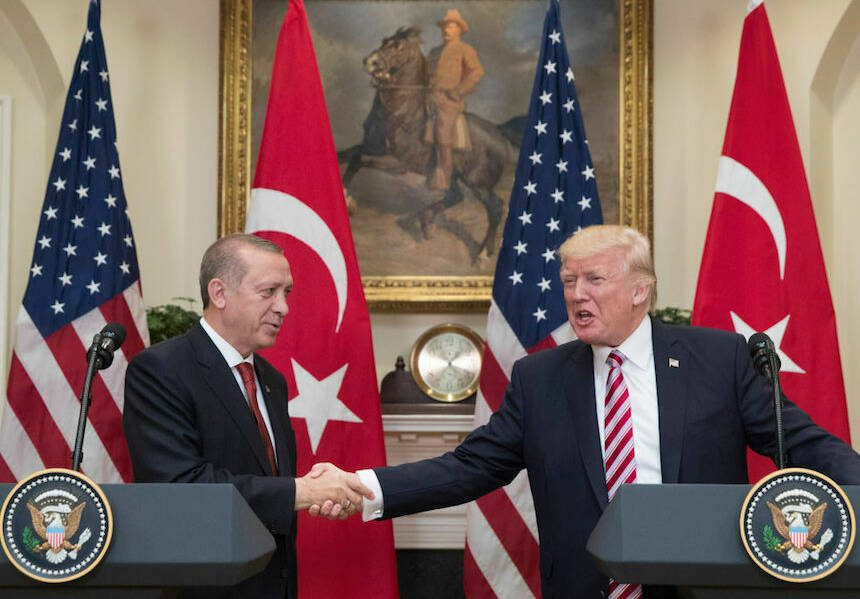 On Tues­day, Turk­ish Pres­i­dent Recep Tayyip Erdo­gan made his first vis­it to the Don­ald Trump White House. The vis­it came amid esca­lat­ing ten­sions between the two coun­tries around the grow­ing U.S. mil­i­tary part­ner­ship with Kur­dish groups in Syria.
The growing incoherence in U.S. policy toward Turkey and the Syrian Kurds is unsustainable.
The meet­ing took place three weeks to the day after Turk­ish war­planes bombed a base belong­ing to the Kur­dish People's Pro­tec­tion Units (YPG) on Mount Kara­chok in north­east­ern Syr­ia, killing at least 18 of its fight­ers. The bomb­ing result­ed in days of cross-bor­der clash­es and threats by Turkey to launch a sec­ond incur­sion into Syr­ia. It also height­ened long-sim­mer­ing ten­sions over the Unit­ed States' role as an ally of both parties.
Turkey con­sid­ers the YPG to be a proxy of the Kur­dis­tan Work­ers' Par­ty (PKK), which has fought a decades-long insur­gency against the Turk­ish state. Since 2014, how­ev­er, the YPG has also become the Unit­ed States' pri­ma­ry part­ner in its fight against ISIS in Syr­ia, and is a cen­tral actor in ongo­ing U.S.-led efforts to cap­ture the city of Raqqa from the Islam­ic State. The U.S., which osten­si­bly sup­ports Turkey — a NATO Mem­ber and long-term ​"strate­gic part­ner" in the region — in its ​"War on Ter­ror" against the PKK, nav­i­gates this tightrope by main­tain­ing a dis­tinc­tion between the YPG and PKK. But giv­en the inter­twined his­to­ries and close work­ing rela­tion­ship between the two groups, this dis­tinc­tion is hard to main­tain in practice.
Last year Cemil Bayik, a major leader in the PKK, told the BBC that the group has devel­oped direct con­tacts with U.S mil­i­tary. Fol­low­ing the bomb­ing, U.S. mil­i­tary per­son­nel were doc­u­ment­ed tour­ing the wreck­age with YPG offi­cials, one of whom was a well-known PKK commander.
In the after­math of the airstrikes, U.S. offi­cials strug­gled to con­vince their Kur­dish part­ners that they were com­mit­ted to them. The attacks had stoked larg­er fears among the Kurds that the U.S. could aban­don them to fight Turkey alone once ISIS is defeat­ed. Such fears are com­pound­ed by the casu­al man­ner in which cer­tain U.S. gov­ern­ment offi­cials have often spo­ken about the rela­tion­ship. Some Kurds alleged that the U.S. had failed to pre­vent or was even com­plic­it in the attacks.
The U.S. State Depart­ment expressed ​"deep con­cern" over the strikes, and in a fur­ther show of sup­port, U.S. sol­diers attend­ed a cer­e­mo­ny for YPG fight­ers killed in the Turk­ish bomb­ings. As of now, U.S. sol­diers have tak­en up posi­tions along the Turk­ish-Syr­i­an bor­der in order to pre­vent fur­ther hos­til­i­ties between its two way­ward allies.
Yet Kur­dish offi­cials demand­ed more from the Unit­ed States, call­ing on it to enforce a No-Fly Zone over its ter­ri­to­ry in north­ern Syr­ia to pre­vent future attacks. One Syr­i­an Kurd offi­cial even sug­gested that Trump was in part to blame for the strikes, say­ing Trump's con­grat­u­la­to­ry phone call fol­low­ing Erdogan's vic­to­ry in a high­ly con­tro­ver­sial con­sti­tu­tion­al ref­er­en­dum on April 16 had embold­ened the Turk­ish President.
The day after the attack, Nes­rin Abdul­lah, a spokesper­son for the YPJ (an all-women's branch of the YPG), told reporters the U.S. had not tak­en a firm enough stance against Turkey's aggres­sion, say­ing that sim­ple respons­es such as " ​'we are con­cerned or uncom­fort­able with these attacks,' " were not enough. ​"If there is anoth­er such attack and the response is the same then it would mean they are say­ing ​'yes' to Turkey's approach. This is how we view it."
She also indi­cat­ed the YPG could with­draw from the Raqqa oper­a­tion entire­ly if the U.S. atti­tude did not change.
"Our peo­ple have demand­ed an answer from us as to why the coali­tion has not pro­vid­ed a stronger response to Turkey," she said. ​"If the coali­tion does not take a clear posi­tion then we will pull back our forces in Raqqa. … We are not anyone's stick with which they can just beat their enemies."
The U.S. has since tak­en fur­ther steps to reas­sure its Kur­dish allies in Syr­ia. Just last week, the Trump admin­is­tra­tion signed an order allow­ing the U.S. mil­i­tary to step up its arm­ing of the YPG in prepa­ra­tion for the lat­est stage of its offen­sive on Raqqa. A few days lat­er the Syr­i­an Demo­c­ra­t­ic Forces (SDF) — an umbrel­la group of Arab, Syr­i­ac and Kur­dish groups built around the YPG—announced that it would resume its oper­a­tion to cap­ture the city from ISIS, now backed by U.S. weapons and airpower,
The SDF are now posi­tioned just a few miles from the Raqqa city cen­ter. The final bat­tle for Raqqa, where ISIS has declared its cap­i­tal, promis­es to be par­tic­u­lar­ly long and painful — not only for the com­bat­ants, but for the hun­dreds of thou­sands of civil­ians who live there. Scores, if not hun­dreds, of civil­ians have already been killed (see here and here) in coali­tion airstrikes in recent months as SDF forces advanced on the city. As with the bat­tle to cap­ture Mosul from ISIS in Iraq, now in its sev­enth month, the inten­si­ty of the fight­ing will only increase as the SDF attempts to enter the city itself.
Deep and ongo­ing ten­sions between Syr­i­an Kurds and Turkey are only like­ly to make this sit­u­a­tion worse. If Turkey resumes its attacks dur­ing the bat­tle, it could over­whelm the capac­i­ty of Kur­dish offi­cials to cope with the tens of thou­sands of refugees expect­ed to flee from Raqqa, not to men­tion the thou­sands of Syr­i­an inter­nal­ly dis­placed per­sons and Iraqi refugees already shel­ter­ing in the region. The fight­ing might be pro­longed for months, which could desta­bi­lize one of the few safe havens for those flee­ing the vio­lence in north­ern Syr­ia. Final­ly, esca­lat­ed con­flict could lead to even fur­ther vio­lence and polit­i­cal tur­moil in Turkey, home to mil­lions of Kurds as well as over three mil­lion Syr­i­an refugees. Some com­men­ta­tors have even sug­gest­ed it could pull the Unit­ed States into con­flict with Turkey.
The grow­ing inco­her­ence in U.S. pol­i­cy toward Turkey and the Syr­i­an Kurds is unsus­tain­able. Yet there was lit­tle that occurred dur­ing Erdogan's vis­it to sug­gest the Unit­ed States has devel­oped a fun­da­men­tal­ly new approach under the Trump admin­is­tra­tion than the one adopt­ed by his pre­de­ces­sor. Before the meet­ing, Trump promised that he and Erdo­gan would have ​"long and hard dis­cus­sions." Yet the pair emerged for a press con­fer­ence after a closed-door meet­ing last­ing just 20 min­utes. In the con­fer­ence, Trump declared his full sup­port for Turkey's fight against the PKK and declared that the group would be giv­en ​"no safe quarter."
A few hours after the meet­ing — around the time Erdogan's body­guards were bru­tal­ly assault­ing Kur­dish (and oth­er) pro­test­ers in front of the Turk­ish ambas­sador's res­i­dence in Wash­ing­ton — Pen­ta­gon spokesper­son Dana W. White announced that Defense Sec­re­tary Jim Mat­tis and Turk­ish Defense Min­is­ter Fikri Işık had agreed to increase coop­er­a­tion around Turkey's counter-PKK efforts.
Yet it remains uncer­tain what such coop­er­a­tion might mean for both the U.S. part­ner­ship with the Syr­i­an Kurds or for the mil­lions liv­ing in Turkey's Kur­dish regions who con­tin­ue to be affect­ed by the con­flict, which has left hun­dreds dead and dis­placed hun­dreds of thou­sands of peo­ple over the past two years.
Respond­ing to Erdogan's meet­ing with Trump, PKK com­man­der Murat Kara­su told reporters May 18th that this pol­i­cy was bound to fail in prac­tice. ​"Noth­ing like this can work," he said. ​"Accord­ing to the out­come of the meet­ing the [U.S.] rela­tion­ship with the PYG and SDF will con­tin­ue, but at the same time sup­port will be giv­en to Turkey to destroy the PKK. This is a dirty pol­i­cy and can­not be accepted."
Giv­en the seem­ing­ly con­tra­dic­to­ry nature of the U.S. posi­tion there is much that remains uncer­tain about the U.S.'s role going for­ward. One promi­nent Turk­ish jour­nal­ist declared the Trump-Erdo­gan sum­mit the most unsuc­cess­ful Wash­ing­ton vis­it ever by a Turk­ish leader, inso­far as noth­ing of sub­stance appears to have been accom­plished. But one thing is clear: Due to the inter­lock­ing con­flicts and alliances between Turkey, the Kurds and the Unit­ed States, any last­ing peace in Syr­ia will require a peace in Turkey. Emp­ty saber-rat­tling about the PKK and ter­ror­ism will not help achieve such a peace, nor will easy, albeit jus­ti­fied, con­dem­na­tions of Erdo­gan and his auto­crat­ic pol­i­tics — which all too often slip into a gen­er­al­ized anti-Turk­ish rhetoric that is as dan­ger­ous as it is inef­fec­tive. Instead, the U.S. must end its hyp­o­crit­i­cal, destruc­tive and ulti­mate­ly self-defeat­ing poli­cies in Syr­ia and become a gen­uine advo­cate for peace and real diplo­ma­cy. It might start with the PKK and Turkey.
Patrick Lewis
is a Ph.D. stu­dent in anthro­pol­o­gy at the Uni­ver­si­ty of Chica­go who works in Turkey and Kurdistan.