The U.S. Betrayal of the Kurds Is Five Years in the Making
Though Trump struck the match, the latest crisis in Syria is the predictable result of long-standing U.S. policy.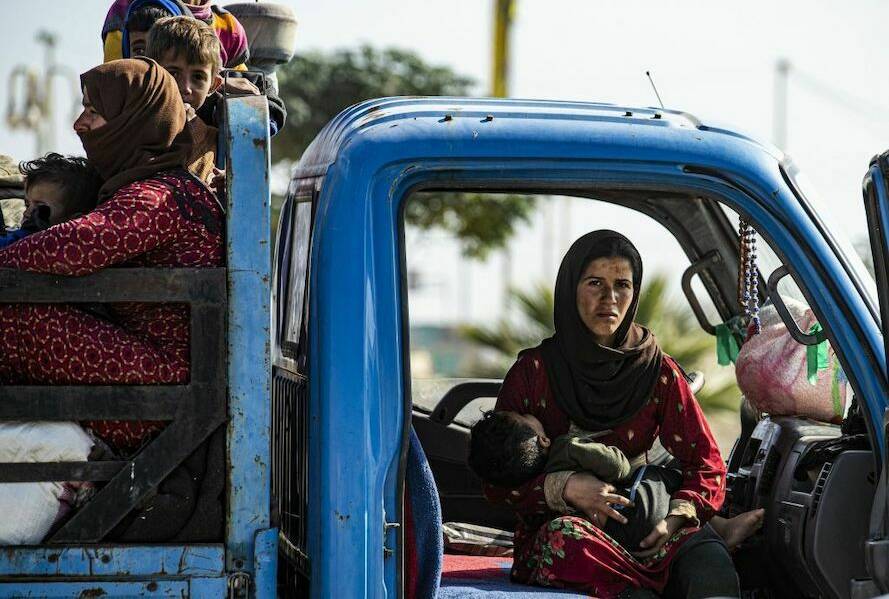 On Octo­ber 9, Turk­ish forces opened a new front in the Syr­i­an civ­il war with a cross-bor­der offen­sive into north­ern Syr­ia. The UN is report­ing that more than 100,000 peo­ple have already fled their homes and Amnesty Inter­na­tion­al is pre­dict­ing a ​"human­i­tar­i­an dis­as­ter" if the Turk­ish inva­sion continues.
U.S leaders could have sought to mediate between their new Kurdish partners and old NATO ally—but instead, they pursued a double game.
World lead­ers have been right to con­demn Turkey's aggres­sion. Par­tic­u­lar­ly wor­ry­ing was a pledge by Turk­ish pres­i­dent Erdo­gan before the UN Gen­er­al Assem­bly to forcibly relo­cate mil­lions of Syr­i­ans refugees cur­rent­ly resid­ing in Turkey to the areas ​"lib­er­at­ed" from Kur­dish con­trol. Local jour­nal­ists have already detailed dozens of civil­ian deaths and injuries by Turk­ish shelling and airstrikes. And over the week­end, as Kur­dish peo­ple and their allies took to the streets in an inter­na­tion­al day of sol­i­dar­i­ty for the peo­ple of North­ern Syr­ia, jihadist fight­ers attached to the Turk­ish-backed Free Syr­i­an Army advanced south to the M4 high­way, the pri­ma­ry east-west route through North­ern Syr­ia. After set­ting up a check­point, they began stop­ping civil­ian cars and exe­cut­ing civil­ians they sus­pect­ed of links to Kur­dish polit­i­cal par­ties. One such vic­tim was Hevrin Kha­laf, the gen­er­al sec­re­tary of the Future Syr­ia Par­ty — a small, new par­ty advo­cat­ing plu­ral­is­tic democ­ra­cy and coop­er­a­tion between Kurds and Arabs — who was dragged from her car and shot dead along with her driver.
In the Unit­ed States, many politi­cians and media fig­ures are blam­ing Pres­i­dent Trump for the cri­sis, point­ing to his role in alleged­ly ​"green­light­ing" the Turk­ish oper­a­tion, pulling U.S. sol­diers from north­ern Syr­ia. For its part, the Trump admin­is­tra­tion claims it did not approve the Turk­ish attacks, and that it strong­ly oppos­es them. But, admin­is­tra­tion offi­cials con­tend, they were forced to pull back once Turkey made clear it wouldn't be deterred from its attack; oth­er­wise they would have been risk­ing U.S sol­diers' lives.
There are many in Syr­ia and Kur­dis­tan, as well as in U.S. pol­i­cy cir­cles, who have found this argu­ment uncon­vinc­ing. Is it real­ly pos­si­ble, they ask, that Turkey would have risked direct mil­i­tary con­fronta­tion with the Unit­ed States if the admin­is­tra­tion had stood firm? When pushed on their rea­son­ing, some defend­ers of the admin­is­tra­tion have resort­ed to old clichés about ancient eth­nic ani­mosi­ties, por­tray­ing the con­flict as inevitable.
How­ev­er, the con­flict is not an issue of two peo­ples who can­not get along or have been ​"fight­ing for cen­turies." Rather, it is the prod­uct of 100 years of state vio­lence and colo­nial­ism. Turkey is home to rough­ly 15 mil­lion Kurds — the largest Kur­dish pop­u­la­tion of any coun­try — who were denied basic rights and free­doms, includ­ing the free­dom to speak their own lan­guage, for most of the his­to­ry of the Turk­ish Repub­lic. Many of the Kur­dish com­mu­ni­ties liv­ing along the Turk­ish bor­der in Syr­ia are descend­ed from com­mu­ni­ties that fled Turk­ish state vio­lence a cen­tu­ry ago.
The Unit­ed States, in recent years, had an oppor­tu­ni­ty to con­tribute to the res­o­lu­tion of this con­flict. Instead, it has only fanned the flames. There is no ques­tion that Trump's Syr­ia pol­i­cy, like his pres­i­den­cy more gen­er­al­ly, has been feck­less, clue­less and cru­el. But it also true that respon­si­bil­i­ty for the cur­rent cri­sis in Syr­ia goes beyond Trump, and also lies with a wider fail­ure on the part of the U.S. polit­i­cal estab­lish­ment. Though it was ulti­mate­ly Trump who struck the match, the smol­der­ing pow­der-keg in north­ern Syr­ia that could soon explode is a prod­uct of U.S. pol­i­cy half-a-decade in the making.
Ear­ly Sup­port for the Kurds in Syria
The cur­rent cri­sis comes five years to the month that the Unit­ed States began mil­i­tary coop­er­a­tion with the Kur­dish YPG as a ​"part­ner" in its cam­paign against ISIS in Syr­ia. Ini­tial­ly this part­ner­ship was an ad hoc arrange­ment that came togeth­er at anoth­er moment of cri­sis for U.S. cred­i­bil­i­ty in the Mid­dle East. Over the course of 2014, ISIS seized Raqqa (Jan­u­ary); cap­tured Mosul (June) and launched a geno­ci­dal attack against Sin­jar (August). By ear­ly Octo­ber 2014, ISIS forces had advanced even fur­ther, over­run­ning most of the Kobani can­ton — at the time a pre­dom­i­nant­ly Kur­dish enclave on the Turk­ish bor­der — forc­ing hun­dreds of thou­sands of civil­ians to flee into Turkey and leav­ing its remain­ing, poor­ly-armed defend­ers pinned between the bor­der and advanc­ing ISIS fighters.
The Oba­ma admin­is­tra­tion had already approved a lim­it­ed U.S. air cam­paign against ISIS over Syr­ia ear­li­er that sum­mer, but its response dur­ing the first weeks of the ISIS advance against Kobane had been tepid. At the time many com­men­ta­tors sug­gest­ed this was out of def­er­ence to Turkey, whose polit­i­cal and mil­i­tary lead­ers saw the Kur­dish enclaves that emerged along its bor­der since 2012 as an immi­nent threat, and pre­ferred (Kur­dish lead­ers alleged) to see them destroyed.
But in ear­ly Octo­ber, just as ISIS was expand­ing into Kobane, a series of urban upris­ings shook Turk­ish Kur­dis­tan, leav­ing dozens dead. Thou­sands of Kurds in Turkey also mobi­lized along the bor­der with Kobani, while Kur­dish dias­po­ra com­mu­ni­ties launched night­ly demon­stra­tions on the streets of Euro­pean cities. Ulti­mate­ly, Turkey was pres­sured to open a cor­ri­dor to allow Kur­dish fight­ers and weapons to reach the city from Iraq.
Mean­while, pub­lic opin­ion in the West, moved by the protests and already deeply alarmed by the rapid expan­sion of ISIS's self-declared caliphate, quick­ly solid­i­fied around the need to defend Kobani. Only weeks before the 2014 midterm elec­tions, and in plain view of the glob­al news media, U.S. jets stepped up their attacks on ISIS tar­gets in and around Kobani. By the end of Octo­ber, the Unit­ed States was coor­di­nat­ing its air strikes with the YPG and drop­ping weapons and ammu­ni­tion direct­ly to the city's Kur­dish and Arab defend­ers. In total, the bat­tle for Kobani would last sev­er­al months.
Soon, U.S., UK and French spe­cial forces were also work­ing direct­ly with YPG fight­ers, and by autumn 2015, YPG fight­ers had lib­er­at­ed most of the Kur­dish-pop­u­lat­ed area of north­ern Syr­ia from ISIS con­trol, cap­tur­ing the entire bor­der region with Turkey east of the Euphrates.
A Two-Faced Strategy
For the YPG, these suc­cess­es brought increased mil­i­tary aid and more pub­lic dec­la­ra­tions of con­fi­dence from U.S. lead­ers, as well as a grow­ing pub­lic admi­ra­tion in the West more gen­er­al­ly. How­ev­er, these suc­cess­es also fur­ther alarmed the Turk­ish state and strained its rela­tion­ship with the Unit­ed States and Europe.
U.S lead­ers could have sought to medi­ate between their new Kur­dish part­ners and old NATO ally — but instead, they pur­sued a dou­ble game. Despite con­tin­ued mil­i­tary sup­port, they down­played their rela­tion­ship with Kur­dish fight­ers, stress­ing that it was tem­po­rary and based on the neces­si­ty of com­bat­ing ISIS ("our part­ners in the ongo­ing fight against ISIS" as they became known in Pen­ta­gon-speak). In a fur­ther attempt to pla­cate Turkey, U.S. diplo­mats and top mil­i­tary offi­cials pub­licly recom­mit­ted to a decades-old U.S. pol­i­cy of mil­i­tary and diplo­mat­ic sup­port for the Turk­ish state's efforts to crush the PKK-led (and pop­u­lar­ly sup­port­ed) Kur­dish move­ment in Turkey, despite the PKK's his­tor­i­cal­ly close ties to America's new Kur­dish part­ners in Syria.
How­ev­er, this approach did lit­tle to assuage Turk­ish con­cerns, and had imme­di­ate, severe and pre­dictable con­se­quences for the mil­lions of Kurds liv­ing on both sides of the bor­der. The first was that the YPG's gains, cou­pled with the sink­ing pop­u­lar­i­ty of the rul­ing gov­ern­ment, fed exist­ing ten­sions and mis­trust with­in Turkey that pre­cip­i­tat­ed the col­lapse of a two-year old peace process between Turk­ish state and the PKK in 2015. This in turn led to destruc­tive fight­ing in urban cen­ters of Turk­ish Kur­dis­tan that left hun­dreds dead and dis­placed thou­sands more. The sec­ond was to draw Turk­ish sol­diers direct­ly into Syr­ia. In 2016, After U.S.-backed Kur­dish fight­ers suc­cess­ful­ly cap­tured Man­bij from ISIS, near the Turk­ish bor­der, the Turk­ish army launched its first cross-bor­der offen­sive that August. Osten­si­bly the tar­get was the ISIS-con­trolled cities of Jarab­u­lus and Al-Bab, but it was wide­ly acknowl­edged that the real objec­tive was to pre­vent fur­ther advances by Kur­dish fight­ers. Turkey sol­diers con­tin­ue to occu­py the region.
In May 2017, as Kur­dish fight­ers encir­cled the ISIS cap­i­tal of Raqqa, Turk­ish fight­ers bombed Kur­dish posi­tions near U.S. sol­diers and pub­licly threat­ened an inva­sion to thwart the grow­ing US-Kur­dish part­ner­ship. The fol­low­ing Jan­u­ary, Turk­ish forces again crossed the bor­der into Syr­ia in an oper­a­tion euphemisti­cal­ly named ​"Olive Branch." This time they tar­get­ed Kur­dish auton­o­my in Syr­ia direct­ly, attack­ing a rel­a­tive­ly peace­ful enclave called Afrin fol­low­ing the with­draw­al of Russ­ian sol­diers. Over a peri­od of about a month, Turk­ish sol­diers and their jihadist allies over­ran the enclave, dri­ving tens of thou­sands from their homes and reset­tling the region with jihadist fight­ers and their fam­i­lies. At the time U.S. offi­cials expressed con­cern about Turk­ish actions and called for restraint, but stressed that they did not oper­ate in north­west­ern Syr­ia (and there­fore were not respon­si­ble). Today, Afrin also remains under Turk­ish occupation.
Over the past half-decade Kur­dish and Arab fight­ers of the Syr­i­an Demo­c­ra­t­ic Forces (SDF) — a larg­er coali­tion of oppo­si­tion fight­ers that has formed around the YPG — backed by U.S. air pow­er lib­er­at­ed all of east­ern Syr­ia from ISIS. More than 10,000 SDF fight­ers were killed in these cam­paigns. Yet at no point did the Unit­ed States or any of its West­ern mil­i­tary allies in Syr­ia (U.K., France, Cana­da) tak­en any steps to rec­og­nize the legit­i­ma­cy of their ​"part­ners" beyond their role as ​"boots on the ground." Nor did they grant any offi­cial sta­tus or direct aid to the autonomous coun­cils that now admin­is­ter these lib­er­at­ed ter­ri­to­ries. In fact, both U.S. mil­i­tary and State Depart­ment offi­cials pub­licly stat­ed U.S. oppo­si­tion to any form of fed­er­al­ism in Syr­ia — in effect, mean­ing the U.S. gov­ern­ment would not rec­og­nize any autonomous struc­ture set up by the Kurds with­in Syr­ia. Giv­en the Unit­ed States' simul­ta­ne­ous hos­til­i­ty toward and grudg­ing accep­tance of the Assad régime in Dam­as­cus, this rais­es the ques­tion of exact­ly what their plan for a post-con­flict Syr­ia looked like. Per­haps now we know; or, more like­ly, per­haps they nev­er had one.
Absent any form of polit­i­cal recog­ni­tion for the Autonomous Admin­is­tra­tion of North and East Syr­ia (NES) by the Unit­ed States and its West­ern allies in polit­i­cal con­sul­ta­tion with Turkey, it was always dif­fi­cult to imag­ine how a seri­ous peace process could move for­ward. Look­ing at the sit­u­a­tion today, it appears that the Unit­ed States, hav­ing aban­doned its only local ​"part­ners" and any real stake in the con­flict, is unlike­ly to play a major role in any future set­tle­ment. So far, Turkey's lead­ers have pub­licly dis­missed calls by the U.S. and its Euro­pean allies to halt its offen­sive, threat­en­ing to lim­it coop­er­a­tion with the Euro­pean Union and even delib­er­ate­ly tar­get­ed a U.S. spe­cial forces base on Fri­day with artillery fire, accord­ing to Pen­ta­gon offi­cials (although Turkey has denied this).
Mean­while, the SDF has open­ly called for sup­port from the Assad régime to defend itself from Turkey — some­thing it had long said it would do if it was left to fight Turkey by itself. By Sun­day evening, Kur­dish offi­cials claimed to have reached a mem­o­ran­dum of under­stand­ing with the Assad régime and Rus­sia to allow Syr­i­an sol­diers to move toward bor­der regions with Turkey cur­rent­ly under SDF con­trol. ​"We know that we would have to make painful com­pro­mis­es with Moscow and Bashar al-Assad if we go down the road of work­ing with them," the com­man­der of the SDF wrote in a let­ter pub­lished Sun­day in For­eign Pol­i­cy, ​"but if we have to choose between com­pro­mis­es and the geno­cide of our peo­ple, we will sure­ly choose life for our peo­ple." Soon after the agree­ment was made pub­lic, U.S. troops were report­ed pre­vent­ing Syr­i­an troops from enter­ing ter­ri­to­ry under SDF con­trol. Almost simul­ta­ne­ous­ly, the admin­is­tra­tion announced it was pulling all U.S. troops from North­ern Syria.
Fight­ing between Turkey, its allies and the SDF could quick­ly esca­late into a larg­er con­flict between Turkey and the Syr­i­an régime. As of Mon­day evening régime fight­ers and Turk­ish-backed forces were already exchang­ing fire around the cities of Man­bij and Ayn Isa. If rapid de-esca­la­tion is not achieved, such clash­es are like­ly to grow in num­ber over the com­ing days and weeks.
To pre­vent cat­a­stro­phe in North­ern Syr­ia requires an all-out diplo­mat­ic effort cou­pled with sus­tained inter­na­tion­al pres­sure to con­vince Turkey to halt its offen­sive in Syr­ia and to estab­lish a cease­fire encom­pass­ing all par­ties. France and Ger­many have already called for lim­it­ing arms exports to Turkey. The response by the Trump admin­is­tra­tion so far has been less force­ful. As of Mon­day evening, the admin­is­tra­tion line remained that all U.S. troops will be com­ing out of Syr­ia. But already a bipar­ti­san effort in con­gress is mov­ing to block the with­draw­al. Right now it appears that U.S. sol­diers are still at bases as far North­east as Kobane and as far South as Deiz ez-Zor, even as the Syr­i­an régime released an agree­ment with the SDF to move their own forces into these regions.
On Mon­day, Vice Pres­i­dent Pence called for direct nego­ti­a­tions between the Kur­dish SDF and the Turk­ish gov­ern­ment about polit­i­cal set­tle­ment for Syr­ia and he announced that he would per­son­al­ly lead a del­e­ga­tion to Turkey ​"as soon as pos­si­ble" to over­see the process. Absent from Pence's state­ment was an expla­na­tion of why no such ini­tia­tive was under­tak­en soon­er. The U.S. had a half-decade to bring Turkey and Kur­dish polit­i­cal actors in Turkey, Syr­ia and Iraq to a com­mon bar­gain­ing table and it failed. Such a process would no doubt have been dif­fi­cult, espe­cial­ly giv­en the Turk­ish state's entrenched anti-Kur­dish pho­bia, but was it incon­ceiv­able? And if such a process is nec­es­sary now, why wasn't it attempt­ed two, three or five years ago, when the U.S. was in a much stronger posi­tion to medi­ate? It seems that a just solu­tion was sim­ply nev­er a priority.
The Trump's administration's dis­as­trous han­dling of events over the past week has cer­tain­ly made the sit­u­a­tion in Syr­ia more dan­ger­ous. But look­ing beyond the incom­pe­tence and hubris of the Trump admin­is­tra­tion, we see that this cri­sis is the also the pre­dictable con­se­quence of a half-decade of cyn­i­cal estab­lish­ment for­eign pol­i­cy, and its dis­re­gard for the rights and lives of the peo­ple over whom Washington's pow­er is exercised.
Patrick Lewis
is a Ph.D. stu­dent in anthro­pol­o­gy at the Uni­ver­si­ty of Chica­go who works in Turkey and Kurdistan.