Texas Covid-19 Massacre
In the face of coronavirus, the nation's largest prison system refused to release prisoners or take recommended health precautions.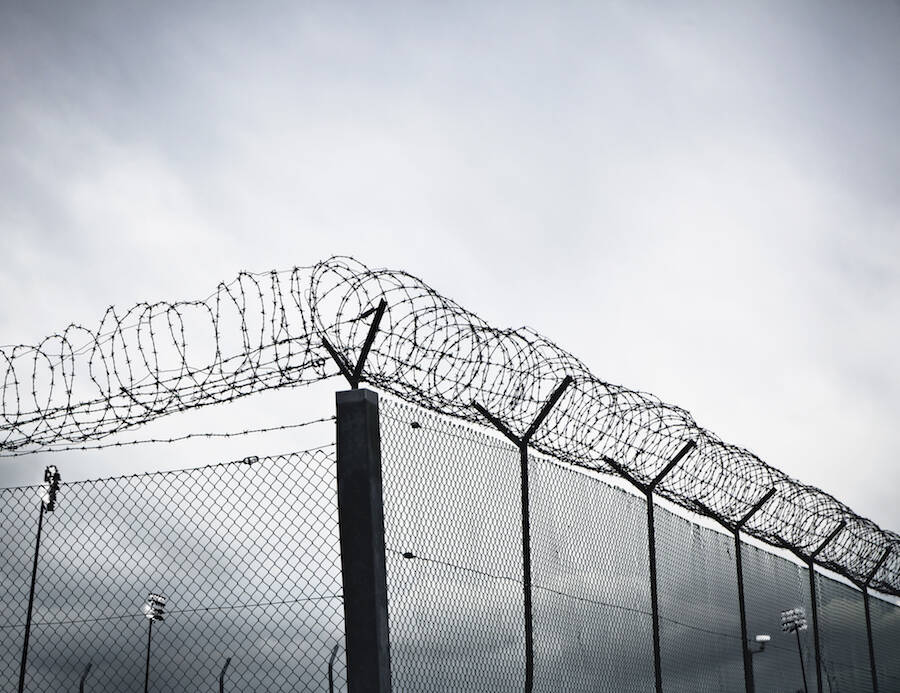 For more than a decade now, Texas has been wide­ly hailed across the polit­i­cal spec­trum as a mod­el for crim­i­nal jus­tice reform, thanks to some mod­est mea­sures enact­ed in 2007. Even as oth­er states have far sur­passed Texas in reduc­ing incar­cer­at­ed pop­u­la­tions and reform­ing pris­ons, politi­cians from Barack Oba­ma to Don­ald Trump have laud­ed Texas for being ​"smart on crime" and for incu­bat­ing Right on Crime — the crim­i­nal jus­tice reform move­ment asso­ci­at­ed with brand-name con­ser­v­a­tives like Newt Gin­grich, Grover Norquist and the Koch brothers.
Covid-19 could finally kill off the myth of the Texas penal reform miracle.
Covid-19 could final­ly kill off the myth of the Texas penal reform mir­a­cle. In a grim achieve­ment, the Lone Star State may end up lead­ing the nation in reduc­ing its prison pop­u­la­tion by releas­ing a record num­ber of peo­ple in body bags.
Fac­ing legal and polit­i­cal pres­sure over Covid-19 out­breaks, state offi­cials and depart­ments of cor­rec­tions across the coun­ty have sought to reduce their prison pop­u­la­tions and pro­tect those who remain. Not in Texas.
The Texas Depart­ment of Crim­i­nal Jus­tice refused to abide by some of the key health and safe­ty guide­lines issued by the Cen­ters for Dis­ease Con­trol and Pro­tec­tion in March to stem the spread of the virus in pris­ons and jails. The TDCJ, which runs the state's vast arch­i­pel­ago of more than 100 pris­ons, went to court in April to defend its right not to pro­vide basic health pro­tec­tions after it was sued by two elder­ly pris­on­ers at the Wal­lace Pack prison, a facil­i­ty in south­east­ern Texas that con­fines pri­mar­i­ly old­er and dis­abled peo­ple. Hand san­i­tiz­er, the state insist­ed, pos­es a major secu­ri­ty risk, even though the state agency could not pro­vide a sin­gle instance of an incar­cer­at­ed per­son drink­ing or ignit­ing hand san­i­tiz­er — which incar­cer­at­ed peo­ple at anoth­er Texas state prison actu­al­ly manufacture.
On April 16, Judge Kei­th P. Elli­son of the Fed­er­al Dis­trict Court in Hous­ton issued a tem­po­rary order requir­ing the TDCJ to pro­vide basic pro­tec­tions, includ­ing ade­quate hand san­i­tiz­er, masks, gloves, clean­ing sup­plies and tis­sues, at Wal­lace Pack prison. He also ordered the TDCJ to devise a plan to test every­one at Pack prison for the virus. He charged that ​"at a time when hygiene is a life or death mat­ter" the prison's actions ​"reflect a delib­er­ate indif­fer­ence toward the safe­ty" of its ​"espe­cial­ly vul­ner­a­ble" prisoners.
But the country's most polit­i­cal­ly con­ser­v­a­tive fed­er­al court of appeals threw TCDJ a legal life­line, as it has many times before. On April 22, a three-judge pan­el of the Fifth U.S. Cir­cuit Court of Appeals in New Orleans issued an injunc­tion against Ellison's court order. Lawyers for the incar­cer­at­ed men at Pack prison could not muster the nec­es­sary four votes from the U.S. Supreme Court to rein­state the emer­gency order. Although it was an unsigned deci­sion with­out a for­mal dis­sent, on May 14 Jus­tice Sonia Sotomay­or, joined by Jus­tice Ruth Bad­er Gins­burg, issued a scorch­ing state­ment. ​"It has long been said that a society's worth can be judged by tak­ing stock of its pris­ons," Sotomay­or wrote. ​"That is all the truer in this pandemic."
To take stock of Texas's pris­ons: To take stock of Texas's state pris­ons: In mid-May, the TDCJ final­ly ramped up test­ing among its 136,000 pris­on­ers. As of June 4, it had con­firmed 6,666 cas­es of Covid-19 among them (the most report­ed by any state sys­tem, accord­ing to the Mar­shall Project) and near­ly 1,000 among staff mem­bers, with 42 pris­on­er deaths and 7 employ­ee deaths. This is cer­tain­ly a seri­ous under­count. By com­par­i­son, Har­ris Coun­ty (which includes the city of Hous­ton and oper­ates the country's sec­ond largest coun­ty jail) insti­tut­ed wide­spread test­ing in its mas­sive local lock­up. The Har­ris Coun­ty sher­iff report­ed more than 1,000 cas­es of Covid-19 among the jail's 2,000 staff mem­bers and approx­i­mate­ly 7,000 prisoners.
Instead of release or pre­ven­tion, Repub­li­can gov­er­nor Greg Abbott and the TDCJ have respond­ed to the virus by ramp­ing up ​"Texas tough," includ­ing impos­ing a mas­sive lock­down on facil­i­ties where Covid-19 has been detect­ed. As of mid-May, near­ly one-third of the peo­ple held by the TDCJ were con­fined to their cells and dorms near­ly round-the-clock, denied access to reg­u­lar show­ers and even pur­chas­es from com­mis­sary to sup­ple­ment the cold, mea­ger, unpalat­able food deliv­ered to their cells in brown paper ​"john­ny sacks." Some incar­cer­at­ed peo­ple report­ed­ly have con­cealed their symp­toms rather than be trans­ferred to soli­tary con­fine­ment, an even more extreme form of iso­la­tion that has been likened by the U.N. rap­por­teur and oth­ers to torture.
With the onset of Covid-19, the thick shroud that con­ceals what is actu­al­ly hap­pen­ing in Texas pris­ons and jails has become even more opaque. Fam­i­ly and media vis­its, as well as pro­grams run by out­side vol­un­teers, have been cur­tailed or sus­pend­ed. So have mail deliv­er­ies and phone calls. As a con­se­quence, the infor­mal chan­nels to the out­side world have been dry­ing up.
Oth­er states have expe­dit­ed com­pas­sion­ate release and parole to reduce their prison pop­u­la­tions to stem the spread of the virus. Not Texas. Texas sel­dom uses its pro­vi­sion for com­pas­sion release on med­ical grounds — in 2018, prison offi­cials released only 63 of 2,100 pris­on­ers who qual­i­fied — and that has not changed in the face of Covid-19. As for parole, the num­bers of peo­ple con­sid­ered and approved actu­al­ly decreased between March and April. And a Mar­shall Project inves­ti­ga­tion found that more than 15,000 peo­ple who have been approved for parole still lan­guish in Texas pris­ons, in many cas­es due to Covid-19-relat­ed and oth­er bureau­crat­ic delays. One inter­vie­wee, Tam­mie Lewis, was stuck in prison because a course in deci­sion-mak­ing, a pre­req­ui­site for her release, had been suspended.
Between March and April, the TDCJ pop­u­la­tion fell by about 4,300 peo­ple. But as Grits for Break­fast, the indis­pens­able blog on crim­i­nal jus­tice in Texas, observed, this is large­ly a ​"phan­tom" reduc­tion, for thou­sands of peo­ple have been back­ing up in coun­ty jails as trans­fers to state pris­ons have sus­pend­ed to stem the virus.
While the TDCJ and oth­er state-lev­el offi­cials have resist­ed releas­ing incar­cer­at­ed peo­ple, some coun­ty offi­cials have been scram­bling to reduce the num­ber of peo­ple in their local jails. The pace of releas­es has var­ied by jail, but the total Texas coun­ty jail pop­u­la­tion fell by near­ly 13,000 peo­ple—or about 19% — between March 1 and May 1. This is a remark­able drop, espe­cial­ly con­sid­er­ing the grow­ing back­log of peo­ple in coun­ty facil­i­ties who are await­ing trans­fers to state prisons.
Gov­er­nor Abbott and some Texas judges have sought to block these local ear­ly-release efforts. The gov­er­nor tried to use the pan­dem­ic as an oppor­tu­ni­ty to hob­ble the grow­ing reform move­ment to rein in cash bail in Texas by issu­ing an exec­u­tive order that cur­tails the use of no-cost per­son­al bonds. He was aid­ed in his efforts by the Texas Supreme Court, which ruled in late April that the Har­ris Coun­ty judges who sought to over­turn his exec­u­tive order did not have legal stand­ing to do so.
An attempt by Har­ris Coun­ty sher­iff Ed Gon­za­lez to expand the use of com­pas­sion­ate release to thin his jail pop­u­la­tion was thwart­ed by the courts. So was an exec­u­tive order issued by Lina Hidal­go, Har­ris County's top elect­ed offi­cial, to release 1,000 peo­ple being held for low-lev­el crimes at the jail, which she called a ​"tick­ing time bomb" for the virus. In the 2018 elec­tion, Hidal­go, who ran on a crim­i­nal jus­tice reform plat­form, scored an upset vic­to­ry in the race to become Har­ris Coun­ty Judge, a non­ju­di­cial posi­tion that is equiv­a­lent to coun­ty chief executive.
Faced with crit­i­cal staffing short­ages even before the virus struck, the TDCJ con­tin­ues to shuf­fle guards between facil­i­ties, rais­ing addi­tion­al con­cerns about spread­ing the virus. Coun­ties have com­plained of receiv­ing lit­tle guid­ance from the Texas Depart­ment of Health Ser­vices or oth­er state agen­cies on how to slow the spread of Covid in local lock­ups, nor suf­fi­cient assis­tance to expand testing.
Oth­er states con­tin­ue to sur­pass Texas in reduc­ing the size of their incar­cer­at­ed pop­u­la­tions and in pro­vid­ing safer and more humane lock-ups that are not such bla­tant affronts to the Eighth Amend­men­t's pro­hi­bi­tion on cru­el and unusu­al pun­ish­ment. For all the hype, Texas remains, as Scott Hen­son of Grits for Break­fast puts it, ​"more or less the epi­cen­ter of mass incar­cer­a­tion on the planet."
Marie Gottschalk
is a pro­fes­sor of polit­i­cal sci­ence at the Uni­ver­si­ty of Penn­syl­va­nia. Her lat­est book is Caught: The Prison State and the Lock­down of Amer­i­can Politics.