Margaret Thatcher's Ghost
The Iron Lady is being laid to rest, but her policies haunt the White House.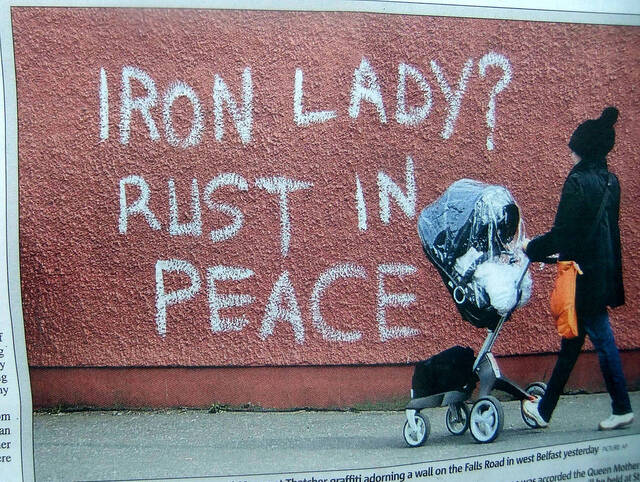 Ici­ness is the defin­ing fea­ture of Mar­garet Thatch­er, the Unit­ed Kingdom's first and only female prime min­is­ter, who died last week. She was the cold-as-steel Iron Lady. Pres­i­dent Oba­ma, warm, friend­ly, shak­ing hands, hug­ging the bereft, is the opposite.
Thatcher once argued for taking milk from the mouths of babes, lobbying to restrict free milk for school children. Similarly, the White House budget proposes taking money out of the pockets of the elderly by cutting Social Security cost-of-living payments.
It's the same with their philoso­phies. Pres­i­dent Oba­ma, who worked as a com­mu­ni­ty orga­niz­er, believes in the pow­er of con­sen­sus and col­lec­tive action. Thatch­er, a con­ser­v­a­tive, scorned com­pro­mise and com­mu­ni­ty.
It's inex­plic­a­ble, then, how a Thatch­er-style pol­i­cy appeared in the White House bud­get released last week. Thatch­er once argued for tak­ing milk from the mouths of babes, lob­by­ing to restrict free milk for school chil­dren. Sim­i­lar­ly, the White House bud­get pro­pos­es tak­ing mon­ey out of the pock­ets of the elder­ly by cut­ting Social Secu­ri­ty cost-of-liv­ing pay­ments. Social Secu­ri­ty is com­mu­ni­ty action. It is Amer­i­cans com­ing togeth­er to care for their par­ents and grand­par­ents. Thatch­er would def­i­nite­ly cut it. Repub­li­cans in Con­gress would. But Democ­rats should nev­er allow the mean spir­it of Mar­garet Thatch­er to mate­ri­al­ize in a pro­gres­sive pol­i­cy document.
Even in death, which tends to ease loathing, Thatch­er is reviled by vast swaths of the Unit­ed King­dom. Graf­fi­ti gives her a rocky send off. The writ­ing on the wall says: Iron Lady? Rust in Peace. Reac­tion to a glow­ing obit­u­ary in The Dai­ly Tele­graph was so vile that the paper shut down all com­ment boards on arti­cles about her. Those who still despise her held ​"death par­ties" and used social media last week to push the 1930s song, ​"Ding Dong, The Witch Is Dead," to the top of the U.K. sin­gles chart.
She evokes this response because she slashed the fab­ric of British soci­ety. She took office in 1979 amid high infla­tion and unem­ploy­ment and left office in 1991 amid high infla­tion, unem­ploy­ment and a widened gap between rich and poor. In her dozen years in office, she cut social wel­fare pro­grams, evis­cer­at­ed trade unions, dereg­u­lat­ed, sold state-owned com­pa­nies and util­i­ties and closed coal mines. All this killed good jobs that sup­port­ed fam­i­lies and vil­lages across the coun­try­side. Lives were destroyed, com­mu­ni­ties dev­as­tat­ed. This, how­ev­er, was in keep­ing with her phi­los­o­phy of every man for him­self, as she said in a 1987 inter­view: ​"There is no such thing as soci­ety. There are indi­vid­ual men and women and there are families."
She refused to allow the Unit­ed King­dom to ful­ly join the com­mu­ni­ty of the Euro­pean Union. The indi­vid­u­al­ist wouldn't let her coun­try uni­fy with con­ti­nen­tal society.
Barack Oba­ma is no Mar­garet Thatch­er. In his first inau­gur­al address, he spoke of the need for con­cert­ed action for the well­be­ing of coun­try and com­mu­ni­ty. In his sec­ond, he said it bluntly:
We reject the belief that Amer­i­ca must choose between car­ing for the gen­er­a­tion that built this coun­try and invest­ing in the gen­er­a­tion that will build its future.

For we remem­ber the lessons of our past, when twi­light years were spent in pover­ty and par­ents of a child with a dis­abil­i­ty had nowhere to turn. We do not believe that in this coun­try free­dom is reserved for the lucky or hap­pi­ness for the few. We rec­og­nize that no mat­ter how respon­si­bly we live our lives, any one of us at any time may face a job loss or a sud­den ill­ness or a home swept away in a ter­ri­ble storm. The com­mit­ments we make to each oth­er through Medicare and Med­ic­aid and Social Secu­ri­ty, these things do not sap our initiative.

They strength­en us.

They do not make us a nation of tak­ers. They free us to take the risks that make this coun­try great.

We, the peo­ple, still believe that our oblig­a­tions as Amer­i­cans are not just to our­selves, but to all posterity.
In many ways, the bud­get offered by the White House last week reflects Pres­i­dent Obama's belief in com­mu­ni­ty. For exam­ple, to cre­ate jobs, it includes $166 bil­lion over 10 years for repair and con­struc­tion of roads and rails and to launch an infra­struc­ture bank to finance more pub­lic works. Also to ease high unem­ploy­ment, the bud­get con­tains aid to states for job train­ing and to retain teach­ers and first responders.
To pay for these and oth­er pro­grams, the plan pro­pos­es elim­i­nat­ing spe­cial deals and loop­holes that have allowed the rich and priv­i­leged to pay a decreas­ing por­tion of their income toward the cost of gov­ern­ment. It would require the wealthy and cor­po­ra­tions to step up and ful­fill their respon­si­bil­i­ties to the Amer­i­can com­mu­ni­ty that facil­i­tat­ed their pros­per­i­ty. Mil­lion­aires would have to pay a min­i­mum rate of 30 per­cent. Deduc­tions for the rich would be lim­it­ed. Loop­holes enabling some cor­po­ra­tions to pay no tax­es at all would be closed.
But the bud­get also offers to change the cal­cu­la­tion for cost-of-liv­ing increas­es giv­en to Social Secu­ri­ty recip­i­ents to a for­mu­la called Chained CPI. Senior cit­i­zens, injured vet­er­ans, the dis­abled, chil­dren who have suf­fered the death of a par­ent would all receive less to off­set inflation.
The bud­get mit­i­gates this loss for poor­er and old­er ben­e­fi­cia­ries, but the change would be painful for mil­lions of senior citizens.
Pres­i­dent Oba­ma has said he would not change Social Secu­ri­ty with­out the tax increas­es he has pro­posed for the rich. But Repub­li­cans lead­ers like House Speak­er John Boehn­er, R‑Ohio, imme­di­ate­ly demand­ed the nation dive into the wal­lets of old peo­ple while leav­ing those of the rich per­fect­ly well-lined. This is the phi­los­o­phy of Mar­garet Thatcher.
British polit­i­cal colum­nist Hugo Young, a biog­ra­ph­er of Thatch­er, wrote of her in 2003:
What hap­pened at the hands of this woman's indif­fer­ence to sen­ti­ment and good sense in the ear­ly 1980s brought unnec­es­sary calami­ty to the lives of sev­er­al mil­lion peo­ple who lost their jobs… More insid­i­ous­ly, it fathered a mood of tol­er­at­ed harsh­ness. Mate­ri­al­is­tic indi­vid­u­al­ism was blessed as a virtue, the dri­ver of nation­al suc­cess. Every­thing was jus­ti­fied as long as it made mon­ey – and this, too, is still with us.
Democ­rats must exor­cise the evil specter of Mar­garet Thatch­er and pro­mote a bud­get that respects Amer­i­cans' time-hon­ored com­mit­ment to each oth­er and to community.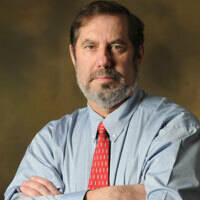 Leo Ger­ard is inter­na­tion­al pres­i­dent of the Unit­ed Steel­work­ers Union, part of the AFL-CIO. The son of a union min­er; Ger­ard start­ed work­ing at a nick­el smelter in Sud­bury, Ontario, at age
18
, and rose through the union's ranks to be appoint­ed the sev­enth inter­na­tion­al pres­i­dent Feb.
28
,
2001
. For more infor­ma­tion about Ger­ard, vis­it
usw​.org
.