In Max Blumenthal's 'The 51 Day War,' Life in Gaza Looks Bleak, But Resistance is Growing
Blumenthal offers an unembellished look at the misery on the ground in the Gaza Strip during Israel's Operation Protective Edge in 2014.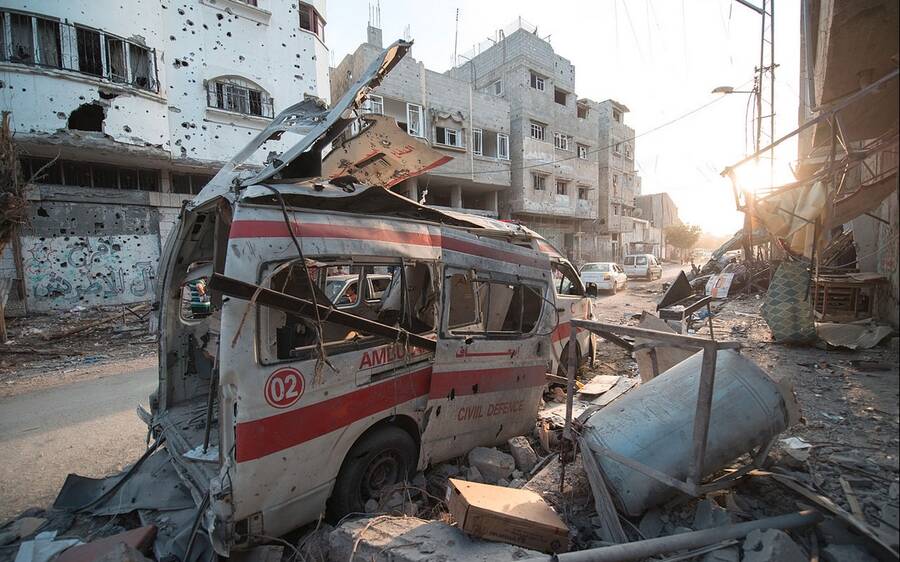 When Amer­i­can jour­nal­ist Max Blu­men­thal arrived in the Gaza Strip on August 14, 2014, it was the 38th day of Israel's bom­bard­ment of the coastal enclave. By the time Oper­a­tion Pro­tec­tive Edge end­ed on August 26, over 2,100 Pales­tini­ans had been killed, includ­ing more than 1,500 civil­ians and over 500 chil­dren, and over 10,000 wound­ed. With more than 7,000 homes destroyed and 10,000 more severe­ly dam­aged by Israeli bomb­ing, approx­i­mate­ly 30 per­cent of the 1.8 mil­lion res­i­dents of Gaza were inter­nal­ly dis­placed, with hun­dreds of thou­sands need­ing emer­gency food assis­tance and seek­ing shel­ter in UN-run schools.
Blumenthal allows the young men and women of Gaza to speak.
Blumenthal's new book, The 51 Day War: Ruin and Resis­tance in Gaza, lays bare some of the names, faces and expe­ri­ences behind these sta­tis­tics, and stands both as a har­row­ing account of the destruc­tion wrought by the Israeli army, and a tes­ta­ment to the resilience and strength of the Pales­tin­ian peo­ple. The book takes us inside the halls of hos­pi­tals over­flow­ing with wound­ed patients and the corpses of inno­cent adults and chil­dren; through the streets of shell-shocked cities and towns, flood­ed with refugees dodg­ing shrap­nel, fran­ti­cal­ly search­ing for loved ones and flee­ing for safe­ty; and across the blood-stained court­yards of UN schools scorched and dec­i­mat­ed by Israeli airstrikes.
Flip­ping through the pages of The 51 Day War, the read­er is con­front­ed by count­less atroc­i­ties. A teenag­er sobs as he speaks of his broth­er, a bright account­ing stu­dent killed by an Israeli sniper as he searched for miss­ing fam­i­ly mem­bers in the rub­ble of his home. Anoth­er man describes wit­ness­ing an Israeli sol­dier exe­cute an elder­ly neigh­bor, with­out expla­na­tion, in front of ter­ri­fied and cap­tive onlook­ers. A fam­i­ly tells how, under Israeli bom­bard­ment, they took to the streets and fled their neigh­bor­hood engulfed in flames, illu­mi­nat­ing the way with cell phone flash­lights as all around them, homes crum­bled and civil­ians per­ished under Israeli shelling.
Dur­ing the 51 days of Oper­a­tion Pro­tec­tive Edge, the Israeli army fired 3 mil­lion bul­lets into the dense­ly pop­u­lat­ed Gaza Strip — almost two per res­i­dent — and dropped around 20,000 tons of explo­sives, equiv­a­lent to one of the atom­ic bombs dropped by the US on Japan in 1945. Israeli forces attacked hos­pi­tals, ambu­lances and med­ical staff, pow­er gen­er­a­tion and water sup­ply infra­struc­ture, ceme­ter­ies, com­mer­cial cen­ters, schools used by the UN to shel­ter civil­ians and even mul­ti­sto­ry res­i­den­tial build­ings in down­town Gaza City that housed the back­bone of the Strip's media work­ers and mid­dle class. Accord­ing to the UN Office for the Coor­di­na­tion of Human­i­tar­i­an Affairs (OCHA), the scale of dam­age from Oper­a­tion Pro­tec­tive Edge was unprece­dent­ed since the begin­ning of the Israeli occu­pa­tion of the West Bank and Gaza Strip in 1967.
Through­out the book, moments of human­i­ty shine through the sur­re­al fog of death and destruc­tion. As Blu­men­thal sits with a fam­i­ly atop the rub­ble of their destroyed home, an elder­ly neigh­bor rush­es into his dilap­i­dat­ed house and returns to the for­eign­er with grapes and ice-cold water. At every turn, the stark tragedy wrought by Israel's destruc­tion is pre­sent­ed sim­ply, need­ing no embell­ish­ment. As Blu­men­thal wan­ders away from a press con­fer­ence orga­nized by the defi­ant al-Qas­sam resis­tance brigades — the mil­i­tary wing of Hamas — and ​"into the blacked-out streets of Shu­jaiya, which were lit only by the light of cell­phones and piles of bro­ken fur­ni­ture set aflame, … a dozen young men stood around in silence, star­ing at the bon­fire and the shad­ows that danced against the pock­marked walls of the homes they used to live in." Blu­men­thal allows these young men and women of Gaza to speak.
Since 2007, Israel's land, air and sea block­ade has turned the 140 square mile strip, one of the most dense­ly pop­u­lat­ed places on the plan­et, into what British Prime Min­is­ter David Cameron once referred to as an ​"open-air prison." An inter­na­tion­al­ly con­demned act of col­lec­tive pun­ish­ment, Israel's siege effec­tive­ly seals the strip, deny­ing its 1.8 mil­lion inhab­i­tants of free­dom of move­ment; caus­ing con­stant water, cook­ing gas, fuel and elec­tric­i­ty short­ages; crip­pling the econ­o­my; and severe­ly restrict­ing the import of much-need­ed food, cloth­ing, live­stock and con­struc­tion materials.
Through­out The 51 Day War, Blu­men­thal depicts the every­day impact of this siege upon Gazans: a doc­tor strug­gles in a vast­ly under­equipped hos­pi­tal to treat the dying and wound­ed; dis­placed per­sons line up for UN rations; a break­danc­ing troupe from Nus­seirat Refugee Camp asks Blu­men­thal to run to Tel Aviv and bring them back turnta­bles and a mix­er; a stu­dent blog­ger yearns for the visa she needs to see the world and study abroad.
In his last book, Goliath: Life and Loathing in Greater Israel, Blu­men­thal took read­ers into the reli­gious-nation­al­ist under­bel­ly of Israeli soci­ety, lay­ing bare the web of expan­sion­ist politi­cians, fun­da­men­tal­ist reli­gious lead­ers, xeno­pho­bic pub­lic fig­ures and war-crazy cit­i­zens under­gird­ing Israel's seis­mic shift to the right. Though the bulk of The 51 Day War focus­es on the peo­ple of Gaza, Blu­men­thal also shines his scathing spot­light, again, upon the vio­lent forces send­ing Israeli soci­ety lurch­ing towards fascism.
As the war unfolds, Blu­men­thal chron­i­cles pop­u­lar Israeli rap­pers work­ing along­side far-right politi­cians to stir up nation­al­ist sen­ti­ment and call for attacks on left­ists and anti-war demon­stra­tors. He writes of reli­gious mil­i­tary com­man­ders like Col. Ofer Win­ter who boast that Israel's ​"war­riors" are ​"pro­tect­ed by clouds … of divine hon­or" as they ​"shred­ed" Pales­tin­ian civil­ian homes and infra­struc­ture. He also inter­views Israeli left­ists, caught off guard by the unprece­dent­ed surge of far-right street vio­lence, who orga­nize under­ground self-defense train­ings to pro­tect themselves.
While opin­ion polls showed Israeli cit­i­zens strong­ly backed the assault on Gaza — some actu­al­ly drag­ging lawn­chairs up to hill­tops to watch and cheer on the bom­bard­ment of Pales­tin­ian homes in Gaza — hun­dreds of thou­sands of peo­ple took to the streets across the world to demand an end to Israel's attack. In Chica­go, home to per­haps the largest pop­u­la­tion of Pales­tin­ian immi­grants in the coun­try, thou­sands of peo­ple flood­ed the streets of down­town mul­ti­ple times a week for mas­sive demon­stra­tions led by a coali­tion of Pales­tin­ian, Arab and Mus­lim groups. In a slew of direct actions through­out the city, Jew­ish and anti-war groups (includ­ing Jew­ish Voice for Peace-Chica­go, where I work) dis­rupt­ed pro-Israel fundrais­ers and ral­lies, occu­pied the cor­po­rate head­quar­ters of war prof­i­teer Boe­ing and more.
Such sen­ti­ment shows that while Israeli civ­il soci­ety may be slid­ing ever fur­ther to the right, Israel has become more and more iso­lat­ed inter­na­tion­al­ly — a trend like­ly to accel­er­ate after the recent re-elec­tion of Prime Min­is­ter Ben­jamin Netanyahu along­side per­haps the most right-wing coali­tion in the country's history.
Today, Gaza's pover­ty rate remains at 70%, its unem­ploy­ment rate has risen to 44% — the high­est in the world, and much high­er for youth aged 20 to 24 — and its infra­struc­ture remains severe­ly dam­aged, with donor coun­tries fail­ing to deliv­er $5.4 bil­lion in promised rebuild­ing aid. As facts on the ground wors­en for Pales­tini­ans, the glob­al Boy­cott, Divest­ment and Sanc­tions (BDS) move­ment against the Israeli occu­pa­tion con­tin­ues to gain momentum.
First called for by Pales­tin­ian civ­il soci­ety orga­ni­za­tions in 2005 and mod­eled after the 1980s glob­al boy­cott move­ment that helped end apartheid in South Africa, the BDS move­ment has in recent months caused multi­na­tion­al cor­po­ra­tions prof­it­ing from Israel's occu­pa­tion to lose bil­lions in lucra­tive con­tracts, led the push for the label­ing of set­tle­ment prod­ucts enter­ing the EU, com­pelled celebri­ty artists like Lau­ryn Hill to can­cel con­certs in Israel, and more.
In Amer­i­ca — the coun­try, as Blu­men­thal repeat­ed­ly reminds his read­ers, that replen­ished Israel's weapons stocks dur­ing Oper­a­tion Pro­tec­tive Edge, and just approved anoth­er mas­sive $1.9 bil­lion arms sale to Israel — advo­ca­cy groups close­ly aligned with the Israeli gov­ern­ment are push­ing nation­al and state leg­is­la­tion designed to fight the BDS move­ment and scram­bling to stamp out a groundswell of sup­port for BDS on col­lege cam­pus­es. In the past year alone, a record 15 uni­ver­si­ties have adopt­ed res­o­lu­tions demand­ing that col­lege funds divest from Israel, while on count­less more cam­pus­es, chap­ters of Stu­dents for Jus­tice in Pales­tine (SJP) and Jew­ish Voice for Peace (JVP) have edu­cat­ed thou­sands of stu­dents about Israel's occu­pa­tion and the call for BDS.
In the pages of The 51 Day War, Blu­men­thal shows that, in the hearts and minds of every­day Gazans, the Pales­tin­ian lib­er­a­tion move­ment is alive and well, ani­mat­ed by val­ues com­mon to anti-colo­nial strug­gles through­out his­to­ry — val­ues like sumud (stead­fast­ness), fidaa (sacrifice/​redemption), and ebaa (stub­born­ness in the face of pow­er). His report­ing makes clear that in Gaza — where a six-year-old child has already lived through three Israeli bom­bard­ments — the sit­u­a­tion is bleak, but the resis­tance is strong.
Ben Lor­ber
is Cam­pus Coor­di­na­tor for Jew­ish Voice for Peace.