The Childrens Crusade
Military programs move into middle schools to fish for future soldiers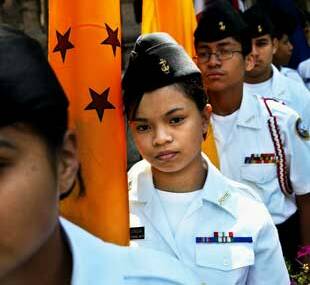 Tar­sha Moore stands as tall as her 4‑foot 8‑inch frame will allow. Star­ing straight ahead, she yells out an order to a squad of peers lined up in three per­fect columns next to her. Hav­ing been in the mil­i­tary pro­gram for six years, Tar­sha has earned the rank of cap­tain and is in charge of the 28 boys and girls in her squad. This is Lav­iz­zo Ele­men­tary School. Tar­sha is 14.
The Mid­dle School Cadet Corps (MSCC) pro­gram at the K‑8 school is part of a grow­ing trend to mil­i­ta­rize mid­dle schools. Stu­dents at Lav­iz­zo are among the more than 850 Chica­go stu­dents who have enlist­ed in one of the city's 26 MSCC pro­grams. At Madero Mid­dle School, the MSCC has evolved into a full-time mil­i­tary acad­e­my for kids 11 to 14 years old.
Chica­go pub­lic schools are home to the largest Junior Reserve Offi­cers' Train­ing Corps (JROTC) pro­gram, which over­sees the MSCC, in the coun­try. When mov­ing up to high school, Chicago's grad­u­at­ing eighth-graders can choose from 45 JROTC pro­grams, includ­ing three full-time Army mil­i­tary acad­e­mies, five ​"school-with­in-a-school" Army JROTC acad­e­mies and one JROTC Naval academy.
Pro­po­nents of the pro­grams tout lead­er­ship train­ing and char­ac­ter devel­op­ment. But crit­ics quote for­mer Defense Sec­re­tary Gen. William Cohen, who described JROTC as ​"one of the best recruit­ing ser­vices that we could have." Rick Mills, the direc­tor of Mil­i­tary Schools and JROTC for the Chica­go Pub­lic School sys­tem, dis­miss­es these con­cerns. ​"These kinds of pro­grams would not be in schools if there weren't kids who want­ed it, par­ents who sup­port­ed it and admin­is­tra­tors who facil­i­tat­ed it," he says.
The ele­men­tary school cadet corps is a vol­un­tary after-school pro­gram that meets two or three times a week. Pro­grams dif­fer from school to school, but MSCC stu­dents gen­er­al­ly learn first-aid, civics, ​"cit­i­zen­ship" and char­ac­ter devel­op­ment. They also learn mil­i­tary his­to­ry and take field trips to local mil­i­tary bases. Once a week, stu­dents wear their uni­forms to school for inspec­tions. Tar­sha describes buff­ing her uni­form shoes in prepa­ra­tion for inspec­tion days. ​"Every­thing has to be per­fect," she says. Dur­ing drill prac­tices they learn how to stand, turn and salute in syn­chro­niza­tion. When they dis­obey an order, they do pushups. ​"Only 10," says one administrator.
Joanne Young, a sixth-grade teacher at Goethe School in Chica­go, recent­ly wrote a let­ter to the local school coun­cil protest­ing the imple­men­ta­tion of the cadet corps in her school. ​"I was told that it is not a mil­i­tary pro­gram, yet every aspect of it is mil­i­tary," she wrote. ​"This pro­gram is train­ing our stu­dents, as young as 11-years old, to march in for­ma­tion and car­ry guns. … Stu­dents could be sus­pend­ed for bring­ing some­thing that appears to be a weapon to our school, yet we are hand­ing them fake guns for this pro­gram." Young, like many oth­er teach­ers, feels that lead­er­ship and dis­ci­pline could eas­i­ly be taught in oth­er types of after-school programs.
Her­man Bar­nett, direc­tor of Lavizzo's award-win­ning MSCC pro­gram, asks the pub­lic to give the stu­dents the ben­e­fit of the doubt. ​"They don't look at it as get­ting ready for the army," he says. ​"They're just doing it for enter­tain­ment and fun."
In 2002 the Bush admin­is­tra­tion passed the No Child Left Behind Act with a small, unpub­li­cized pro­vi­sion: Sec­tion 9528, ​"Armed Forces Recruiter Access to Stu­dents and Stu­dent Recruit­ing Infor­ma­tion," requires high schools to give all stu­dent con­tact infor­ma­tion to the mil­i­tary. Most stu­dents aren't aware they can opt out by fill­ing out a form.
Ran­jit Bhag­wat, an orga­niz­er for Chicago's South­west Youth Col­lab­o­ra­tive, has worked with stu­dents at Kel­ly High School in Chica­go to inform their class­mates about the pro­vi­sion and how to opt out. The Kel­ly group, found­ed in Jan­u­ary, has already con­vinced more than 10 per­cent of the school's pop­u­la­tion to sign the opt-out peti­tion. Bhag­wat says the group tar­get­ed mil­i­tary recruit­ment because the stu­dents felt the military's pres­ence in their school was an issue that need­ed to be addressed. ​"They had a prob­lem with the fact that there were a lot of lies the mil­i­tary told," he says.
The MSCC and JROTC pro­grams are fund­ed by the Defense Depart­ment, which has a $3 bil­lion annu­al recruit­ment bud­get. Recruit­ment offi­cers roam high schools pro­mot­ing the image of a secure mil­i­tary career and entic­ing stu­dents with promis­es of mon­ey for college.
The ​"lies" men­tioned by Bhag­wat include the real­i­ty that, on aver­age, two-thirds of recruits nev­er receive col­lege fund­ing and only 15 per­cent grad­u­ate with a four-year degree. As for a ​"secure" career, the unem­ploy­ment rate for vet­er­ans is three times high­er than non-veterans.
Oppo­nents of the JROTC pro­gram also cite eth­nic pro­fil­ing, argu­ing that the mil­i­tary tar­gets stu­dents from minor­i­ty and low-income areas. The Chica­go Pub­lic School sys­tem is 49.8 per­cent African Amer­i­can and 38 per­cent Lati­no. Stu­dents com­ing from low-income fam­i­lies make up 85.2 per­cent of Chicago's stu­dent pop­u­la­tion. JROTC direc­tor Mills is cor­rect when he says the racial and socioe­co­nom­ic sta­tus of those in Chicago's JROTC pro­gram reflects the school sys­tem as a whole, but only five schools in all of the more afflu­ent Chica­go sub­urbs have JROTC programs.
Mil­i­tary recruiters are known for their flashy tac­tics: tele­vi­sion ads, omnipresent brochures, recruit­ing ships, trucks and vans, and even a free Army video game kids can down­load off the Inter­net. Yet, the Army hasn't met its recruit­ment goals in three months. The Marines haven't met their quo­tas since Jan­u­ary. Sus­pi­cious recruit­ment tac­tics are in the head­lines and Army recruiters took off May 20 to retrain in the ethics and laws of recruitment.
Mean­while, Mills insists the mil­i­tary does not look to JROTC groups for stu­dents to boost its num­bers. ​"I get absolute­ly no pres­sure from any of the ser­vices," he says. ​"None."
Only 18 per­cent of grad­u­at­ing JROTC seniors are con­sid­er­ing join­ing the ser­vice, says Mills. He does not have sta­tis­tics on how many of the 71 per­cent that go on to post-sec­ondary school stay with the ROTC pro­gram. Lavizzo's Bar­nett also says that not all of his mid­dle school stu­dents move on to JROTC pro­grams in high school. Tar­sha, how­ev­er, has already signed up. While she wants to be a lawyer and is not plan­ning on join­ing the armed forces when she grad­u­ates, the 14-year-old says, ​"If I were to join the mil­i­tary, I would be ready for it."