The Deadly Reality of Construction Work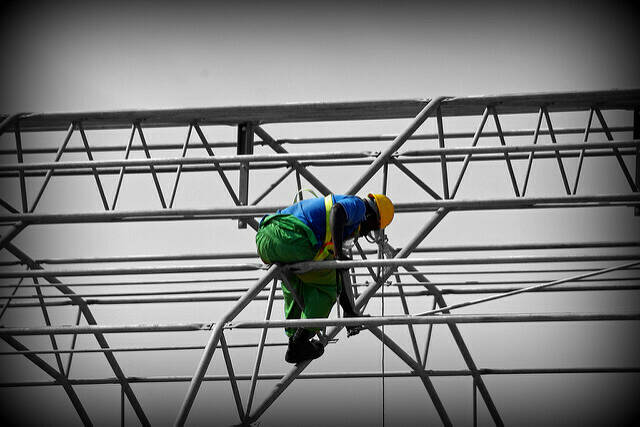 Con­struc­tion work­er deaths are ris­ing in New York and Lati­nos are espe­cial­ly at risk.
That's accord­ing to a new report, released last month, by the New York Com­mit­tee for Occu­pa­tion­al Safe­ty and Health (NYCOSH). Between 2006 – 2015, at least 464 con­struc­tion work­ers died while on the job in New York. The study also found safe­ty vio­la­tions at more than 68 per­cent of con­struc­tion site inspec­tions. The penal­ties for such infrac­tions are small.
Released in the shad­ow of Don­ald Trump's con­tro­ver­sial exec­u­tive orders on immi­gra­tion, the report iden­ti­fies the spe­cif­ic vul­ner­a­bil­i­ties of being a Lati­no con­struc­tion work­er. While Lati­nos made up just 30 per­cent of the con­struc­tion work­force in 2015, they account­ed for 57 per­cent of the fatal­i­ties due to falls.
"[Lati­nos] are more like­ly than non-Lati­nos to die on the job due to cas­es of extreme employ­er reck­less­ness and dis­re­gard for human life, and they are more like­ly to die from fatal falls," the report reads. ​"They are also more like­ly to be vic­tims of wage theft, expe­ri­enc­ing dual exploita­tion by their employers."
The report also expos­es the dif­fer­ence between union and nonunion job sites. As recent­ly as the 1980s, almost all res­i­den­tial projects in the city were con­struct­ed with union labor. That is no longer true. A 2014 study showed that only 30 per­cent of mid- and high-rise res­i­den­tial and hotel projects used union con­crete work­ers, exclusively.
Some of the city's largest firms have opened the door to using nonunion labor, includ­ing com­pa­nies like Turn­er Con­struc­tion Co. and Plaza Con­struc­tion, accord­ing to the Wall Street Jour­nal. When devel­op­ers Michael Stern and Kevin Mal­oney decid­ed to use main­ly nonunion labor to build a 1,400 foot lux­u­ry con­do on ​"Billionaire's Row" in Man­hat­tan, the move was per­ceived as a water­shed moment for the future of orga­nized labor in New York.
The Build­ing and Con­struc­tion Trades Coun­cil of Greater New York ran a con­tentious cam­paign that tar­get­ed Stern's JDS Devel­op­ment, ques­tion­ing his safe­ty record.
"I guess I'm the cur­rent tar­get at the moment — there have been oth­ers in the past," Stern told Politi­co at the time. ​"The unions are try­ing to find issues, like safe­ty, and disin­gen­u­ous­ly use them to fur­ther their own polit­i­cal inter­ests. The real­i­ty is, construction's dan­ger­ous. Every­body wants all build­ings to be safe."
But the new report makes clear that con­cerns about the safe­ty of nonunion labor sites tran­scend polit­i­cal inter­ests. It found that nonunion sites are espe­cial­ly dan­ger­ous. In 2014, 80 per­cent of the sites inspect­ed by OSHA after fatal­i­ties occurred were nonunion. In 2015, that num­ber was 74 per­cent. Dou­ble the amount of safe­ty vio­la­tions were found at nonunion sites in 2014, com­pared to union con­struc­tion sites, the study said.
This bat­tle between union and nonunion con­struc­tion labor in New York City has made its way to City Hall before, but there's a new round of pro­posed leg­is­la­tion that is caus­ing com­mo­tion. Short­ly after a con­struc­tion work­er fell to his death in Decem­ber, New York City Coun­cil Speak­er Melis­sa Mark-Viver­i­to voiced her sup­port for leg­is­la­tion that would increase safe­ty. Wil­fre­do Enriques, 59, was work­ing on the devel­op­ment of the old Domi­no Sug­ar refin­ery in Williams­burg when he fell to his death.
One of the most con­tro­ver­sial pieces of leg­is­la­tion is a bill that would require con­trac­tors be trained in appren­tice­ship pro­grams approved by the New York State Depart­ment of Labor if they're work­ing on con­struc­tion projects that are 100,000 square feet or more or have 50 or more res­i­den­tial units. Crit­ics say the rule is mere­ly a back­hand­ed way for NYC unions to regain some of the pow­er they've lost. Since unions already par­tic­i­pate in these pro­grams, the pro­posed bill would require work­ers to either join a union or go through the process of apply­ing independently.
Iron­i­cal­ly, one of the strongest crit­ics of the train­ing pro­gram is New York City May­or Bill de Bla­sio, seen by many as a pro-union law­mak­er. The may­or has refused to sup­port an appren­tice­ship requirement.
"I want to sup­port the max­i­mum use of it, but it's not going to solve the prob­lem any­time soon because there are always going to be some nonunion sites and that's where our stricter reg­u­la­tion is going to make a real impact," he said in January.
But sup­port­ers of the leg­is­la­tion aren't giv­ing up. Thou­sands of con­struc­tion work­ers, law­mak­ers and fam­i­lies of deceased con­struc­tion work­ers ral­lied near City Hall recent­ly to sup­port the legislation.
"We can no longer tol­er­ate irre­spon­si­ble devel­op­ers and con­trac­tors who are putting prof­its over the safe­ty of work­ers," said Gary LaBar­bera pres­i­dent of the Build­ing and Con­struc­tion Trades Coun­cil of Greater New York. ​"This must end now."
"
Michael Arria
is the U.S. cor­re­spon­dent for Mon­doweiss. Fol­low him on Twit­ter: @michaelarria.