The Elusive Emily Dickinson
A new film explores the poet's restless mind and lonely life.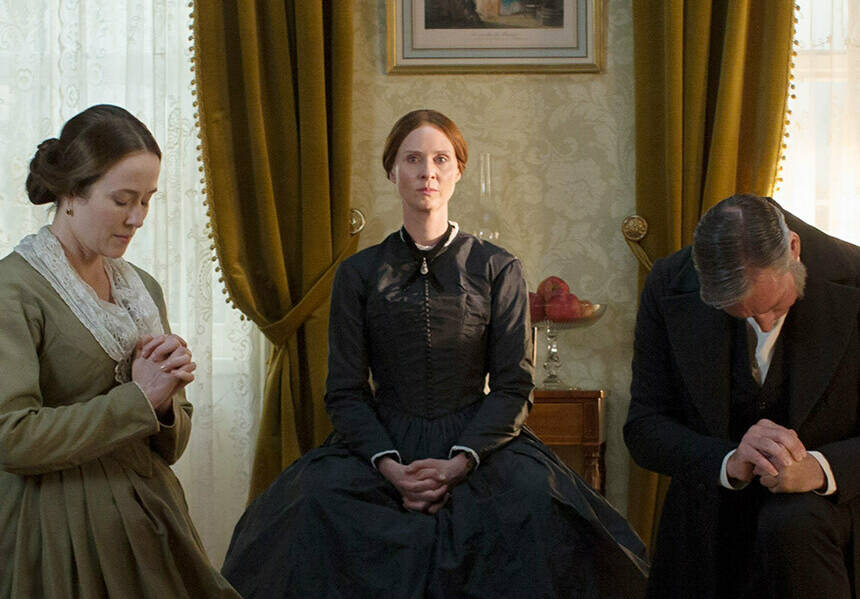 It's no small task to make a biopic from the stuff of Emi­ly Dickinson's life. She is vir­tu­al­ly defined, his­tor­i­cal­ly, by how lit­tle hap­pened to her. But it feels like the nat­ur­al domain of film­mak­er Ter­ence Davies, whose rumi­na­tive, at times arch­ly con­trived career has spe­cial­ized in inte­ri­or states and a fear­some anti-nos­tal­gia. Davies has always explored the past, and how our idea of it tends to mask real suf­fer­ing; he's been to 1940s Louisiana, fin-de-siè­cle New York, post­war Lon­don, 1910s rur­al Scot­land and now 19th-cen­tu­ry Amherst. His best films, Dis­tant Voic­es, Still Lives (1988) and The Long Day Clos­es (1992), are pre­cise and scorch­ing­ly felt mem­oir movies about his post­war Liv­er­pool child­hood. Their some­times styl­ized bal­ance between beatif­ic remem­brance and domes­tic hor­ror is unforgettable.
As the sisters' lives slide into an autumnal dark age, director Terence Davies' artificiality gives way to emotional nakedness that's at times hard to watch
A Qui­et Pas­sion, while scrupu­lous about visu­als and facts, is also wild­ly arti­fi­cial, at times jar­ring­ly. Davies has the Dick­in­sons and their satel­lites speak in height­ened, pro­pri­etous nov­el-speak, in stiff com­po­si­tions that empha­size the sur­face cor­dial­i­ty and social rit­u­als that per­vad­ed the cul­ture. Or is it that the past is too dis­tant, too unknow­able, to por­tray real­is­ti­cal­ly? Dick­in­son her­self (Cyn­thia Nixon) begins here as a school­girl, and the movie fol­lows her through the years, along­side her less neu­rot­ic, more nur­tur­ing younger sis­ter, Lavinia (Jen­nifer Ehle), as she rebels against her father (Kei­th Car­ra­dine) and the community's church­go­ing stan­dards. Giv­en her milieu, decid­ing not to go to church is an earthquake.
Even­tu­al­ly, oth­ers mar­ry, the Civ­il War comes and goes (in a rather Ken Burns‑y mon­tage), Emily's father dies, and, chill­ing­ly, time accrues. As age grad­u­al­ly wracks her fea­tures, she angri­ly recus­es her­self from all social inter­ac­tion, con­sid­er­ing it laden with hypocrisy and lies. At the same time, she begins suf­fer­ing pain and seizures that are even­tu­al­ly diag­nosed as Bright's disease.
Davies has always exud­ed sym­pa­thy for lone­ly women cru­ci­fied by social con­ven­tion. Amidst the insis­tent­ly man­nered dia­logue and frieze-like images, Nixon and Ehle offer a blood­pound­ing coun­ter­charge; both are con­sis­tent­ly grip­ping, and as the sis­ters' lives slide into an autum­nal dark age, Davies' arti­fi­cial­i­ty gives way to emo­tion­al naked­ness that's at times hard to watch. This shift hap­pens vis­i­bly. When Emi­ly gives a beloved young rev­erend her poems to read, we watch her watch him with a side­long stare that sug­gests life and death hang in the balance.
Davies holds on the moment, lin­ger­ing on Emi­ly, mak­ing it clear that this is her real­i­ty, all the polite blath­er be damned. His praise comes to lit­tle; as her years pass, Dick­in­son evolves into a cave-dwelling ogre, lash­ing out at every­one for the slight­est incur­sion into her soli­tude. Through­out, the poems are read, by Nixon, on the sound­track — at first in a light singsong that seems to betray the work's chilly odd­ness. In the end, how­ev­er, the read­ings turn steady and grave, land­ing inevitably on ​"Because I could not stop for Death" and Dickinson's defi­ant, incan­ta­to­ry voice does its own death­less work.
What's odd­est about A Qui­et Pas­sion—besides its rather unad­ven­tur­ous title — is Davies' deci­sion to por­tray Dickinson's life as a down­ward spi­ral, and one fueled by her roar­ing lone­some­ness and bit­ter­ness about not being beau­ti­ful enough to attract a mate. In all of their ques­tion­ing weird­ness, the poems seem to tell a deep­er sto­ry. Her sex­u­al­i­ty remains mys­te­ri­ous, for one thing. In one seem­ing­ly rev­e­la­to­ry scene, Dick­in­son is con­front­ed late at night by her new sis­ter-in-law, Susan Gilbert (Jod­hi May), who in the peri­od patois's ago­niz­ing euphemisms all but con­fess­es to being gay and loathing the prospect of sex with her husband.
Dick­in­son, in return, con­soles her with abstruse hints at her own per­haps-Sap­ph­ic alien­ation, though by the end we are only sure of her pas­sion to be under­stood, via her poet­ry, by some­body, any­body. Cer­tain­ly, Dickinson's poems remain just as mys­te­ri­ous as they are evoca­tive of their maker's imag­i­na­tion, a lit­er­ary fact no movie is like­ly to plumb very effectively.
Davies is left, then, with the woman, a rest­less mind side­lined by patri­ar­chal Amer­i­can life and left to age and sick­ness, alone and unloved. As much as we may trea­sure them, her poems could not save her. For Davies, she was a mar­tyr to them — first to their being writ­ten and, even­tu­al­ly, to their being rec­og­nized as genius.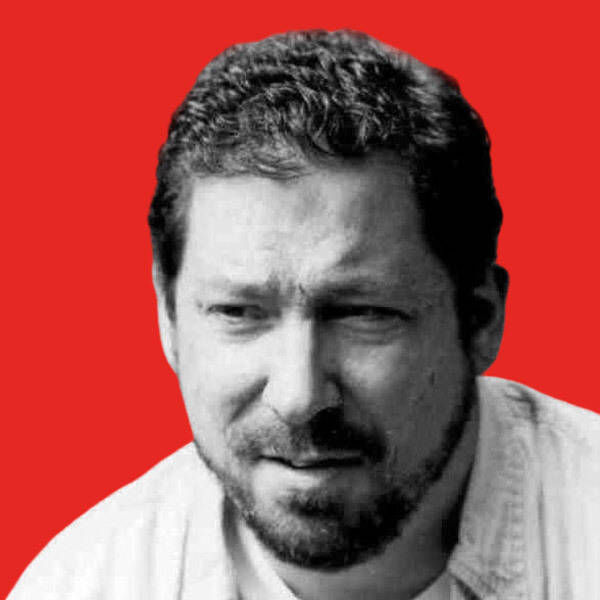 Michael Atkin­son
is a film review­er for
In These Times.
He has writ­ten or edit­ed many books, includ­ing
Exile Cin­e­ma: Film­mak­ers at Work Beyond Hol­ly­wood
(
2008
) and the mys­tery nov­els
Hem­ing­way Dead­lights
(
2009
) and
Hem­ing­way Cut­throat
(
2010
). He blogs at
Zero For Con­duct
.